REVIEW
In an article last month, I suggested two portfolios with differing characteristics in terms of their likely risk reward outlook:
Alternative A, which contained stocks which appeared less risky on the basis of their outperformance ratios, and which appeared to have continued upside potential; and

Alternative B, which I considered slightly more risky in that many of the stocks were at the upper end of their out performance ratios, and consequently might soon suffer a reversal of trend.
In the past month, neither has exhibited out performance, but they have at least partially matched our expectations in terms of risk.
The portfolios comprised the following stocks: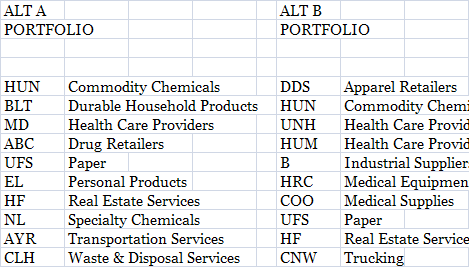 The relative performance for the period was: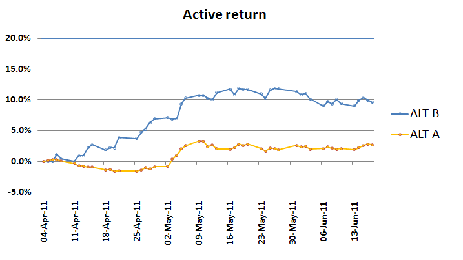 In respect of performance attribution, the detractors were mainly HUN (-15%) and HF (-7%). Interestingly, if these two stocks had not been included, the level of absolute return would have increased, but the overall trajectory of alpha would have been remarkably similar.
NO APOLOGIES: A DIAGNOSIS
Despite my best efforts, it has proven difficult to generate a portfolio that has increased in value over the past few weeks. Therefore, any positive alpha generated is attributed more to having a portfolio that lost less than the index. In this period, cash or inverse ETFs would have been an excellent alternative, and far less frustrating.
Needless to say, there were portfolios, which in hindsight did outperform on the basis of my methodology, and it appears worthwhile to review the outcomes. As with our previous analysis:
Alternative C, is a portfolio which was selected on the basis of lower risk

Alternative D, the best performing portfolio in the period, was selected on the basis of higher risk.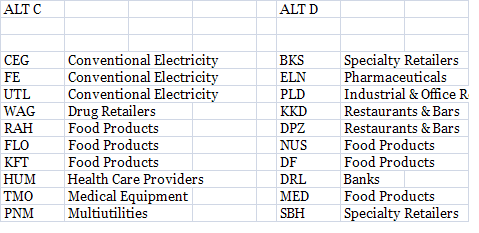 And the relative performance is: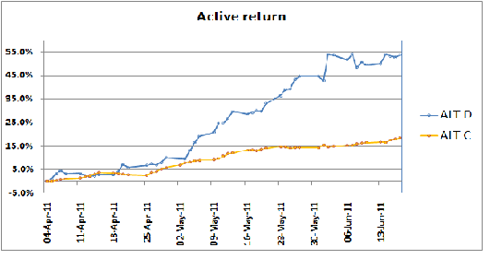 Why did I not have more of ALT D stocks in my previous portfolios?
My observations are:
Of the 10 stocks, 5 had very poor earnings history and forecasts, and a further 2 more were indifferent on the same basis.

In the past, we would have considered these stocks, but experience taught us to avoid them.

6 of the 10 stocks exhibited sharp price rises, which implies that timing would have been an issue in portfolio performance.
My view is that special circumstances are the probable drivers of share price in these cases.
Of the ALT C stocks:
8 of the 10 stocks had an earnings profile that would not suggest extraordinary price performance.

3 of the 10 stocks exhibited sharp price increases.
In my view, a plausible explanation for price increases could be attributed to investor interest in gaining dividend income.
On reflection, the stocks in ALT C & D that could have met our filters are limited to NUS, MED, SBH, FLO and PNM.
THEMATICS
We all know that Warren Buffett said something to the effect that we can see who is swimming naked when the tide goes out. The tide is going out, and it looks like the naked swimmers are in the Olympic team. What to do?
I do not intend to relax the filtering process I have adopted so as to justify a few weeks of performance. Better to look for more enduring solutions. I think two additional measures that might show promise are:
A qualitative overlay which involves

scanning bloggs for investment themes.

As an example, the numerous articles on dividend investing started appearing in recent history, followed by out performance of dividend stocks.

This spate of articles could have been seen as an indicator of a major shift of interest in this style of investing.
An additional quantitative filter that identifies a problem before real damage is done.

Standard volatility measures are not enough.
DIVIDEND STOCKS
In keeping with the first bullet point above, I aggregated the dividend stock recommendations of several contributors to SA, and then applied my usual analysis to arrive at two portfolios.
The DIV A portfolio exhibits a steady value over time, while DIV B has a small measure of price appreciation. Over time, I would be inclined to take both the dividends and the better capital gain. In my view, that means looking at the ability of the underlying stock to provide the required dividend stream, and the growth prospects of its industry sector.
The stock and sector list is:

And the alpha of each portfolio is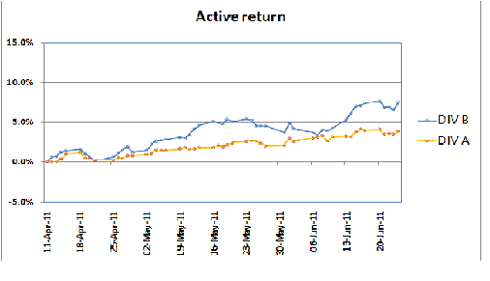 Disclosure: I have no positions in any stocks mentioned, and no plans to initiate any positions within the next 72 hours.
Disclaimer: The content in this document is provided as general information only and should not be taken as investment advice. The contents in this explanatory paper shall not be construed as a recommendation to buy or sell any security or financial product, or to participate in any particular trading or investment strategy. The ideas expressed on this site are solely the opinions of the author. The author may or may not have a position in any security referenced herein. Any action that you take as a result of information or analysis on this site is ultimately your responsibility.