Consumers are the most obvious beneficiary of lower crude oil prices. The price at the gas pump has fallen 40 cents in the last month alone, according to AAA. However another, less obvious beneficiary of lower prices at the pump are the downstream fuel retailers. TravelCenters of America (NYSEMKT:TA) is a large owner/operator of travel centers across the U.S. highway system (250 as of September 30). 80 percent of total revenue comes from gasoline and diesel fuel sales. It also offers truck repair and maintenance, restaurant, travel and convenience stores, which make up the remaining 20 percent of sales.
Selling fuel to the end consumer is a notoriously low margin business (6.2% gross margin in Q3 for TA per the 10-Q). However, TravelCenters benefits as falling crude prices lowers their costs of purchasing gasoline in the wholesale market. Retail prices tend to be much stickier, declining only gradually as most fuel retailers will keep prices high as long as their competitors allow them to. It is a classic example of game theory. As long as no one cheats, all the retailers can benefit from higher selling prices and lower input prices. The problem is of course that there are just too many competitors. One station can lower prices and make up for the lost profits with higher volume. More station owners will continue to do the same until a new, lower equilibrium price is found.
With this article, I am attempting to quantify the gross margin impact on fuel sales for TA during the current quarter. In recent years, there have been a few quarters where the daily national average gasoline price declined precipitously over the course of a reporting quarter. 2012 produced two such quarters.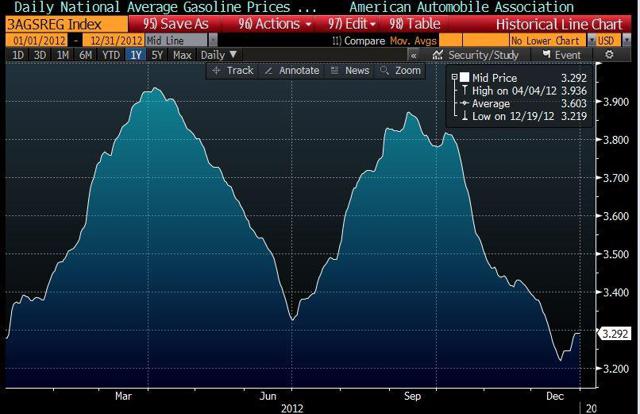 Source: AAA National Average Gasoline Price Data
For the purpose of this article, I am going to highlight the second quarter move lower and use that as a benchmark for how much the gross margin likely improved for TA in Q4. The average national price peaked in early April 2012 at $3.94/gallon according to this data from AAA. It hit the quarterly low right on June 30 at $3.30/gallon, for a difference of $0.61/gallon. During the Q2 earnings call the gross margin was specifically addressed during the Q&A:

Source: Earnings call transcript
As CEO Thomas O'Brien stated, the falling fuel prices contributed $0.03 to $0.04 of incremental margin, or an increase of 22% to 30% from the first quarter of 2012. Now let's compare the move lower in gasoline in Q2 2012 to that of Q4 2014. Here is what the AAA price index has done over the course of 2014.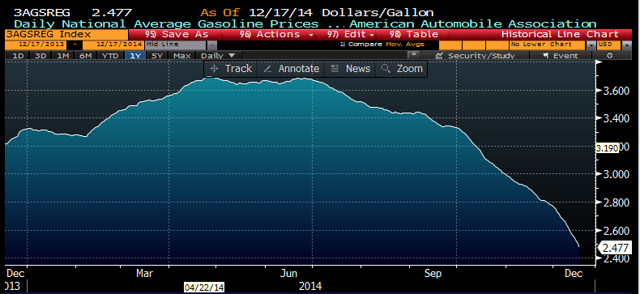 As you can see, the average price of a gallon of gas across the country began to decline right around July 1 this year. The pace of decline really accelerated in the fourth quarter. The price began the quarter at $3.33/gallon and currently sits at $2.48; it is likely headed even lower before year-end. The current price decline is $0.85/gallon over the course of the quarter, which is even larger than the $0.61 move lower during Q2 2012. The greater slope of the current decline versus the decline in the second quarter of 2012 suggests that the fuel margin for TravelCenters should be even larger than it was in my comparable period, as crude prices fell faster and harder. Now let's try to extrapolate this information to estimate Q4 sales and gross margin. Here is an excerpt from the Q4 2013 earnings press release.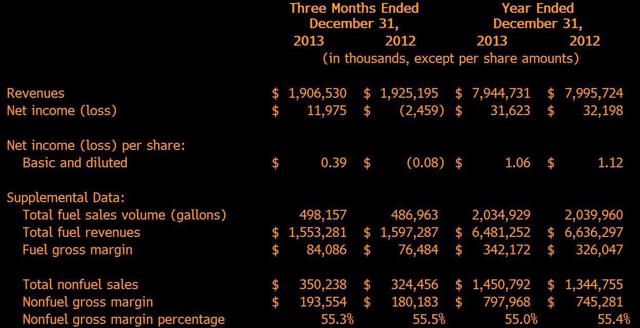 Total fuel sales were $1.553B during the quarter and total gallons sold were 498.157M, which implies an average price per gallon of $3.12 (includes sales of higher priced diesel). If you assume a modest increase in the number of gallons sold (+7M gallons) due to new travel centers added to the network and increased economic activity and an average sale price of $2.80/gallon (midpoint of 4th quarter starting price and current price), then sales likely totaled around $1.41B in the quarter. Turning to gross margin -- it was 5.4% in Q4 2013 or $0.168 per gallon. The average price of a gallon of gasoline fell slightly from beginning to end in Q4 2013 (see below).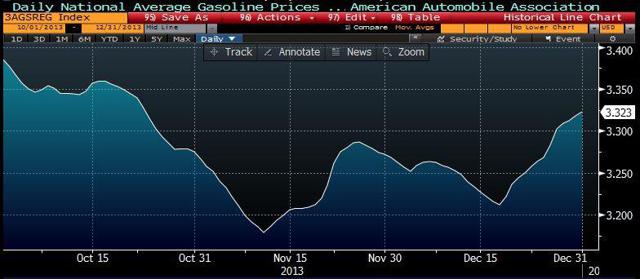 This is nothing like what we have seen so far in Q4 this year. I think it is safe to add another $0.04 in margin for the current quarter, or about a 24% increase YoY. On that basis, the gross margin for fuel sales should climb to $105.0M, which would be a 25% increase YoY. That would essentially be another $20M in incremental cash flow that should fall to the bottom-line, since the company should incur no additional cost for it.
Will that make a noticeable difference for shareholder returns? It is nice incremental cash flow, but it shouldn't make anyone run out and buy the stock considering the margin will likely fall in the next quarter. TA generates the vast majority of its gross profit from nonfuel sales. While less than 30 percent of total sales, nonfuel sales generated 70 percent of gross profits in Q3 2014 (source: earnings press release). Good news for shareholders is that nonfuel sales are rising as the company adds more travel centers and services.
So is TravelCenters a good investment opportunity going forward? Cash flow from operations has increased dramatically in the last 12 months, up to $116.5M from $71.5M in 2013. It is difficult to know if that is a sustainable increase as a lot of that comes from working capital adjustments. The company is spending more than it takes in from operations on capital improvements and acquisitions of additional travel centers. The company has been selling some assets in recent quarters, which helps fund cap. ex. -- though the disposal of assets is not likely a sustainable source of cash flow.
If the rate of spend can decrease so that the company generates sustainable, positive free-cash-flow it will become a much more attractive investment opportunity. Until it can generate positive FCF, it will have to take on additional debt or issue new equity, as it did last December, to fund its capital plans. That will likely keep the stock price range bound. So until the company is prepared to announce to shareholders that it will dial back on investments in the business, I'd remain on the sidelines, particularly with the stock price flirting with a 52-week high.
Disclosure: The author has no positions in any stocks mentioned, and no plans to initiate any positions within the next 72 hours.
The author wrote this article themselves, and it expresses their own opinions. The author is not receiving compensation for it (other than from Seeking Alpha). The author has no business relationship with any company whose stock is mentioned in this article.