The Texas Railroad Commission has updated their Oil & Gas Production Data Query to include the production numbers for October. The Texas data is always incomplete so the charts all look like there is a big decline in the last few months. This is not the case, the charts only reflect the data that has been received and the production numbers will look a lot more positive after several months.
That being said there is something that can be gleaned from these numbers. Even though the data is incomplete, if production is increasing then last month's incomplete numbers should be higher than this month's incomplete numbers. Using that logic, there seems to have been a strong slowdown in Texas oil and gas production.
All the last data points are October and is in barrels per day.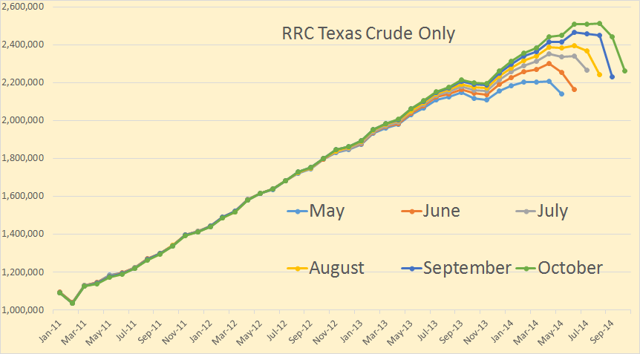 In June and July, there was a strong increase in production reported to the Texas RRC by the oil companies. But in August, September and October things slowed down considerably.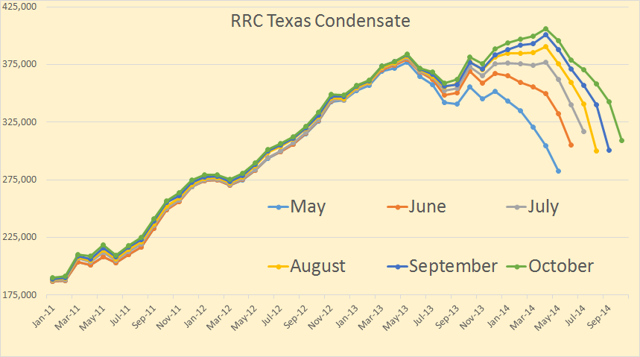 Texas condensate production has slowed down a lot more than crude. Most Texas condensate comes from their natural gas wells, but there are a some wells in the Eagle Ford that produce mostly just condensate.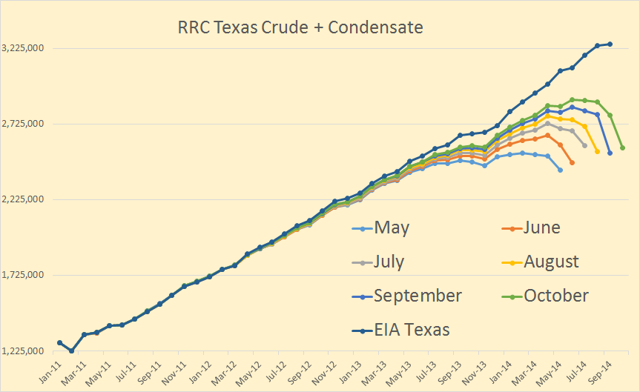 Combining the two we get what the EIA reports as C+C. I have posted the EIA's estimate of what the final Texas production numbers will look like when all the data comes in. The EIA data is only through September. The EIA changes their estimate every month. They are getting slightly more realistic than they were last month. They used to just add about 50,000 barrels per day to the numbers, but now appear to be making an honest effort to make a pretty good guess. Here is the EIA's estimate of Texas increase in production so far in 2014:
January up 94,000 bpd
February up 64,000 bpd
March up 59,000 bpd
April up 61,000 bpd
May up 86,000 bpd
June up 20,000 bpd
July up 81,000 bpd
August up 65,000 bpd
September up 9,000 bpd
I, for one, just don't think that is very accurate. I don't believe Texas went from increasing production by 94,000 bpd in January to up only 9,000 bpd in September. Since December 2013, the EIA says US production is up 1,051,000 barrels per day. Slightly more than half that, 537,000 barrels per day, has been from Texas.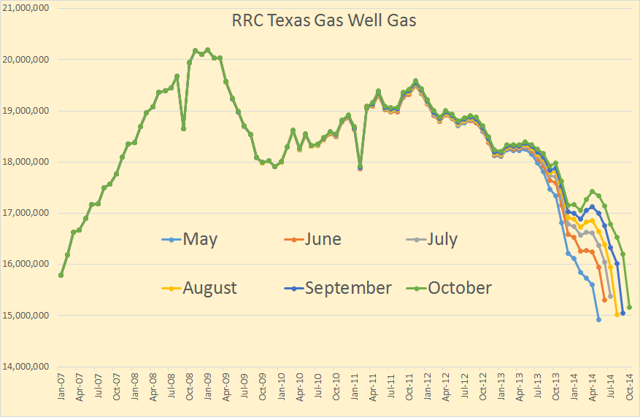 All Charts are in MCF per day. Most of Texas' gas comes from pure gas wells. Texas gas well gas peaked back in January 2009 at just over 20 million MCF per day.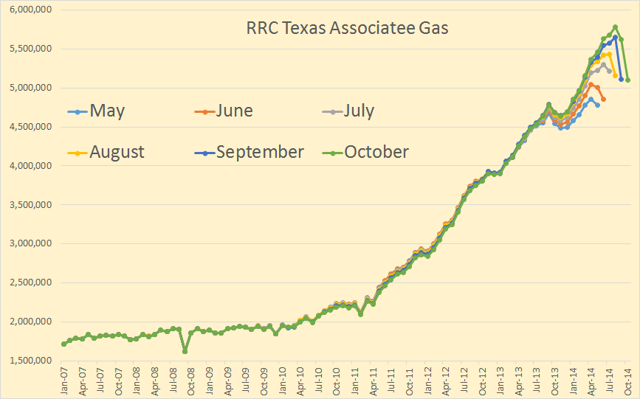 Texas associated gas, or what they call casinghead gas, took off with the shale boom and is still increasing. Their associated gas will likely largely follow shale oil. It will continue to increase as shale oil production increases, but will likely see a definite slow down or decline next year as shale drilling is cut back due to low oil prices.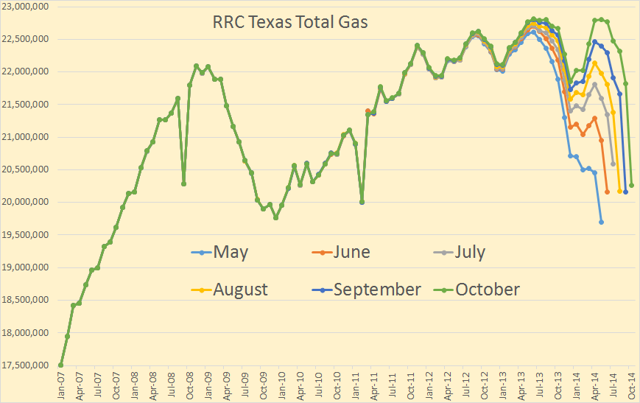 Combining the two, we get Texas total gas production. It is still increasing, but will likely see a slow down or more likely a decline in 2015 as shale oil production drops off.