On May 20, I added to my position of Hibbett (NASDAQ:HIBB), purchasing shares at $39.42. Hibbett is currently one of nine holdings in my Covestor "Buy and Hold Value" model. I have been a long-term fan of this company and have owned shares on and off over the years. One of my earliest review of Hibbett was more than six years ago, when I wrote up Hibbett on March 10, 2005.
What has intrigued me and continues to attract me to HIBB is the retail model that seems to parallel the tremendous growth that another retailer, Wal-Mart Stores (NYSE:WMT), has experienced. Like Wal-Mart, Hibbett started out in the south, headquartered in Birmingham, Alabama, and has chosen to locate its sporting good stores in small towns often right in a Wal-Mart shopping center.
Ideally, a retail firm can develop a concept and then roll it out into additional outlets with growth coming both from same-store increases and additional growth as new sites are established. Until such time as the concept has exhausted its retail opportunity, an investor can successfully hold a stock that likely will parallel the underlying growth with appreciation in the price of the related shares. At least that's the theory.
According to the Hibbett Sports website, the company
operate[s] sporting goods stores in small to mid-sized markets predominantly in the Southeast, Southwest, Mid- Atlantic and the Midwest. As of January 29, 2011, we operated 779 Hibbett Sports stores as well as 16 smaller-format Sports Additions athletic shoe stores and 3 larger-format Sports & Co. superstores in 26 states. Our primary retail format and growth vehicle is Hibbett Sports, a 5,000 square foot store located primarily in strip centers which are usually influenced by a Wal-Mart store. Approximately 76% of our Hibbett Sports store base is located in strip centers, which includes free-standing stores, while approximately 24% of our Hibbett Sports store base is located in enclosed malls. We expect to continue our store base growth in strip centers versus enclosed malls.
Certainly, when picking stocks we need more than just good ideas; we need implementation of those ideas into practice. One of the best ways to examine a company's performance is to check its latest quarterly report. On May 23, HIBB reported first quarter (ending April 30) results. Earnings came in at $0.76/share ahead of the Zacks estimate of $0.68/share and significantly higher than last year's $0.59/share.
Sales for the quarter came in at $203.7 million, up 10.4% from $184.5 million and ahead of Zacks estimate of $201 million. Comparable stores increased a very healthy 6.8%. According to this report, this was the company's sixth consecutive quarter of comparable store sales growth. Operating margin improved 180 basis points to 16.8% from the prior-year quarter.
During the quarter, the company opened eight new stores and closed seven underperforming stores, with a total reported at 799 stores in 26 states. In addition, the company raised guidance for the fiscal year to a new range of $1.80 to $1.95/share up from $1.70 to $1.90/share previously provided.
Looking at some longer-term results, Morningstar.com shows that revenue has improved from $512 million in 2007 to $665 million in 2011 and $684 million in the trailing 12 months (ttm). Earnings came in at $1.17/share in 2007, dipped to $0.96/share in 2008 and then improved steadily to $1.60/share in 2011 and $1.76/share in the TTM. Outstanding shares have decreased from 33 million in 2007 to 29 million in the TTM. (Stock Buybacks can help support a stock price and improve financial results.)
According to Morningstar, HIBB has total current assets of $269 million as of January. Total current liabilities are at $94 million, yielding a current ratio of just under 3. Free cash flow has improved from $20 million in 2007 to $51 million in 2011 and $65 million in the TTM.
In terms of valuation, looking at the Yahoo "Key Statistics" on HIBB, we can see that this company is a small-cap stock with a market capitalization of $1.08 billion. The trailing p/e is moderate at 22.45 with a forward p/e (fye Jan 29, 2013 est.) at 17.77. The PEG ratio (five-year expected earnings) works out to a more reasonable 1.16.
Yahoo reports 27.32 million shares outstanding with 27.16 million that float. As of June 15, there were 4.68 million shares out short, representing a short ratio of 9.7 days of trading volume. This is above my own arbitrary three-day rule for short interest and may be a bullish indicator for this stock. The company does not pay a dividend and last split 3:2 in September 2005.
If we examine the StockCharts.com point and figure chart on HIBB, we can see that this stock -- which traded as low as $10.50 in November 2008 -- has steadily and regularly moved higher to its current level of $39.44 where it closed on June 27.
[Click to enlarge]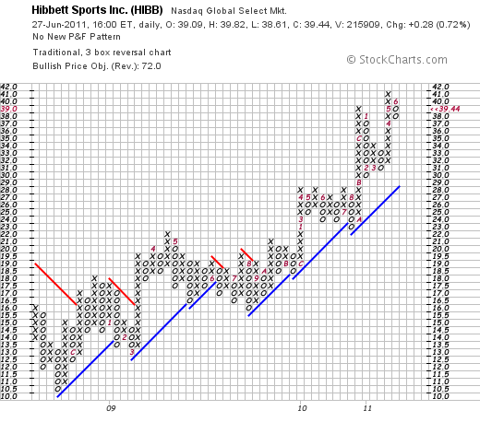 Simply put, the above chart is quite strong as the company has broken through resistance time after time the past two years and has moved higher above support levels.
To summarize, I like Hibbett and have been a fan and intermittent owner of the stock over the last eight years. The company is carefully executing its expansion tracking alongside many Wal-Mart stores in strip malls in the south, southeast and midwest. It reported strong earnings that exceeded expectations in both the earnings amount as well as the sales figures. Furthermore, it raised expectations. Valuation appears reasonable, althought the p/e is in the low 20s, the PEG is just a bit over 1.1. Finally, the chart looks strong.
Frankly, I am more couch potato than jock, but I can see value in the investment in this sporting goods firm.
Disclosure: Long HIBB.