In the spirit of year-end prognostication, here's my annual review of secular trends and behavioral tendencies that are likely to influence key markets in 2015.
U.S. Equities
From a behavioral perspective, U.S. equities entered a secular bull market in 2013, "breaking out" above their 13-year range, and doing so in grand style.
The equity breakout was corroborated by a reversal in the Dow/Gold ratio which, in April 2013, posted its first higher high since 1999.
The equity bull market is arguably stretched in terms of price, time and valuation… but we haven't yet witnessed a classic narrowing of leadership that normally precedes important tops.
Figure 1. S&P 500 and Dow/Gold Ratio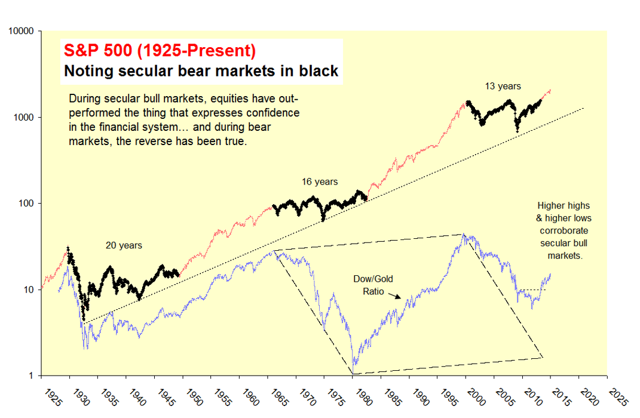 Figure 2. The market is stretched in price and time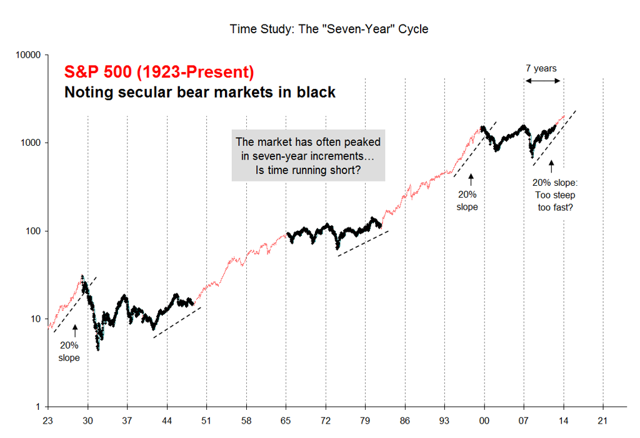 Figure 3. Valuation is also stretched... But within the range of modern experience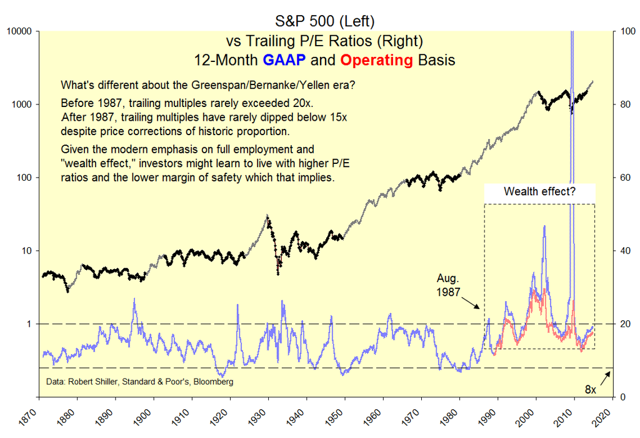 Figure 4. Important tops are normally preceeded by narrowing breadth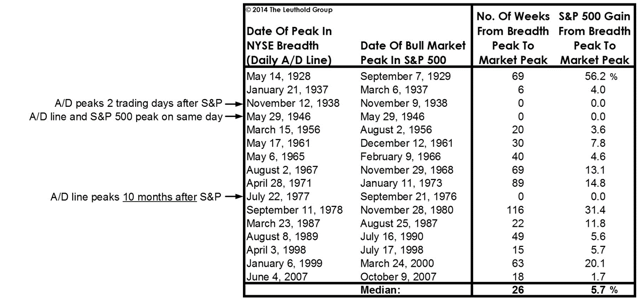 Figure 5. Participation remains broad... Record breadth has confirmed record prices thus far
U.S. Equities: "A line in the sand"
While the U.S. market remains healthy by many counts, it is also dangerously extended in slope and time.
An aggressive zero-interest-rate policy has arguably made equities "the only game in town."
If horizon-challenged baby boomers are overly reliant on common stocks as a fixed-income substitute, a normal correction might easily become a well-fueled stampede.
Investment strategies should therefore include a line in the sand designed to avoid a catastrophic loss, however remote.
Figure 6. Line in the sand? The "Coppock curve" has signaled most disasters of the past century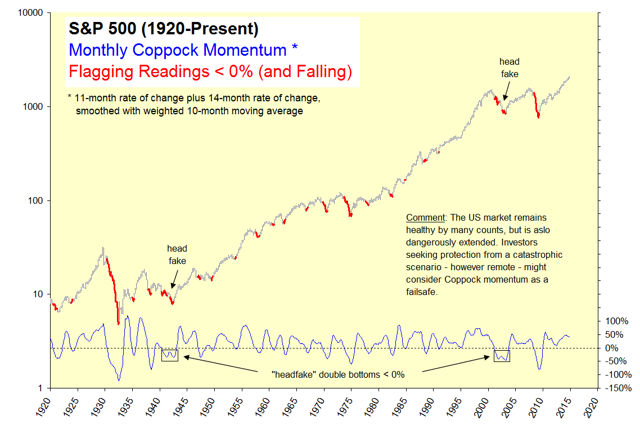 U.S. Bonds
After three decades of downward trajectory, 30-year U.S. Treasury yields may have reached a secular trough near 2.5%, a level which has been tested repeatedly since December 2008.
A convincing move through this level would suggest a bizarre new (deflationary?) environment. A failure to breach 2.5%, after six years and three attempts, would set the stage for a major trend reversal.
A move above the December 2013 peak of 4.0% on 30's would constitute a "change of character," marking the first higher high since 1980. A move above 3.0% on 10's might provide an early sign of secular trend reversal.
Figure 7. 30's are near important resistance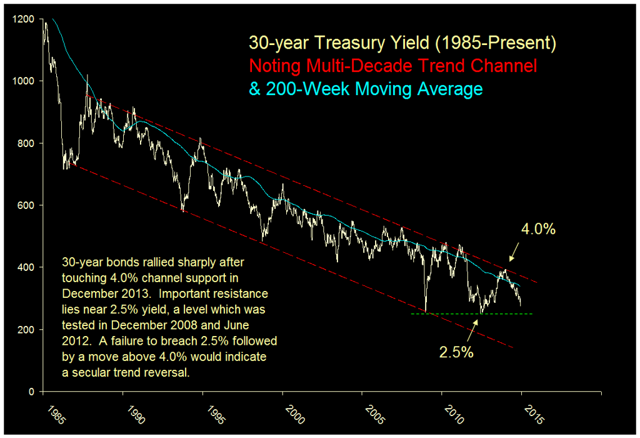 Figure 8. Are 10's the "canary in the cave"?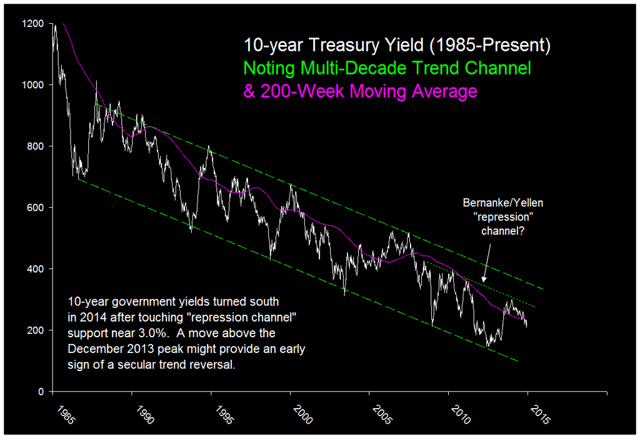 Gold
The long-term trend in $/Gold was severely damaged in April 2013 when price broke down from an otherwise normal 20-month consolidation.
It should be noted that gold was similarly damaged near the middle of the 1970's bull market, losing 40% from 1974-1976, before rising eight-fold into January 1980.
A single historic example, however, is of little use. The long-term trend for gold is bearish until proven otherwise.
Comment: $/Gold has been setting lower highs for more than three years. A higher high (above $1400/oz.) would constitute the "change of character" needed to support a positive bias.
Figure 9. Gold must surpass $1400 to re-establish a long term uptrend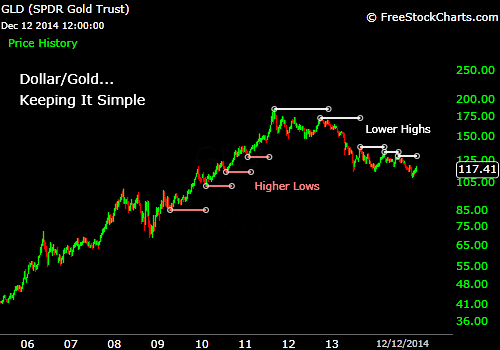 Figure 10. Momentum study... Maintaining negative bias for now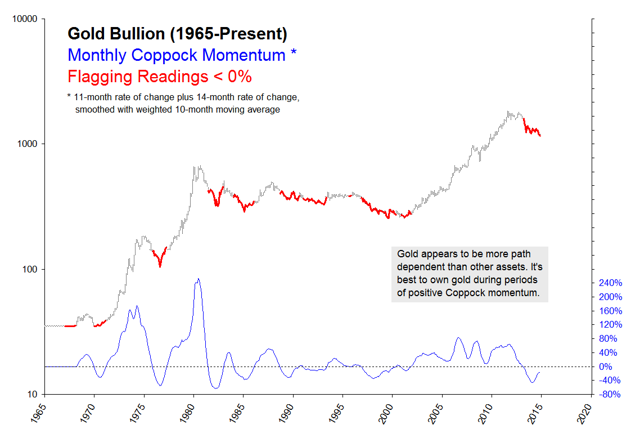 Crude Oil
Oil has plummeted since October in what appears to be a "supply shock," or recognition thereof.
"The final lows in declines like the ones in oil and the energy sector are usually created by some sort of forced selling." -Walter Deemer, 12/12/14
Energy stocks are well correlated with the price of oil, and are now fairly priced versus the historic relationship.
Comment: Do falling oil prices constitute unwanted "deflation," or are we experiencing technology-induced productivity? How should the Fed respond to sluggish CPI, if the latter case is true?
Figure 11. Energy stocks are well-correlated with the price of oil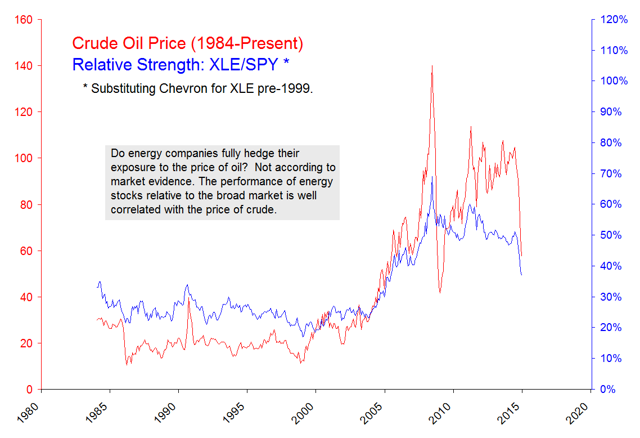 Figure 12. Unless one is betting on higher oil prices, energy stocks seem fairly priced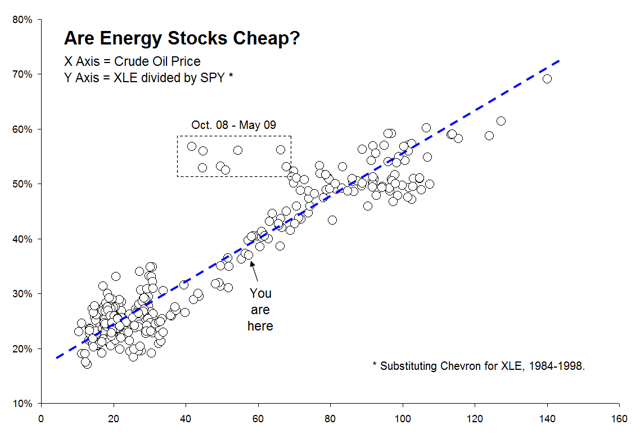 Focus: Global Equities
One of today's most glaring inter-market divergences is the relative performance of U.S. versus non-U.S. equities.
For dollar-based investors, non-U.S. stocks have underperformed US stocks by a whopping 40% over the past four years.
Non-U.S. markets have traded sideways for 44 months in what is either a giant topping process or a giant base-building process. The eventual resolution of this pattern is likely to set the long-term trend.
Technical conditions continue to favor the U.S., but extreme valuation divergences suggest the possibility of a sea change.
Figure 13. In contrast with U.S. equities, the rest of the world is trading sideways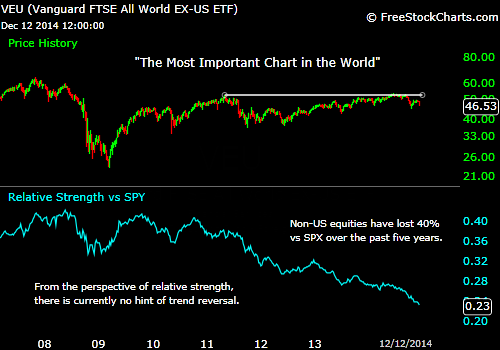 Europe, develped-Pacific and emerging markets have all traded sideways for the past four years.
None of these major sectors has achieved a higher high in currency-adjusted gold terms since the initial bounce off the panic lows of 2008/9.
Figure 14. Europe is trading sideways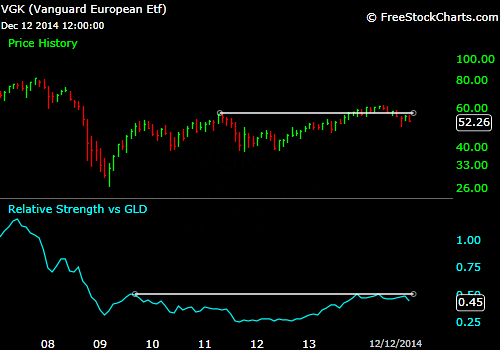 Figure 15. The developed-Pacific is trading sideways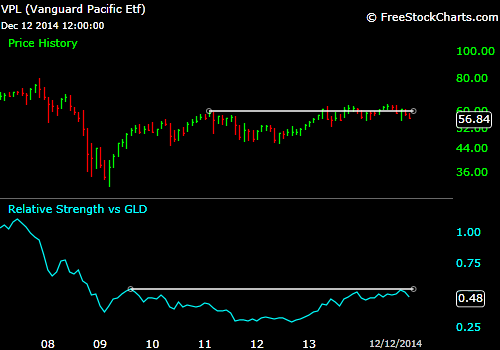 Figure 16. Emerging markets are trading sideways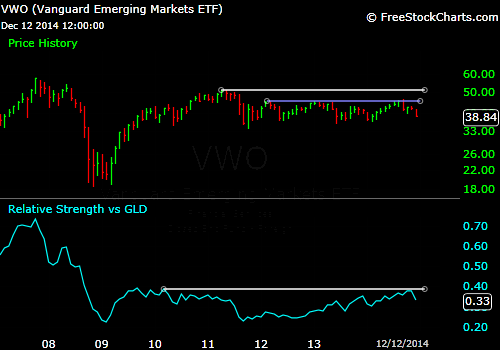 Figure 17. Valuation divergences are extreme, suggesting the possibility of of a sea change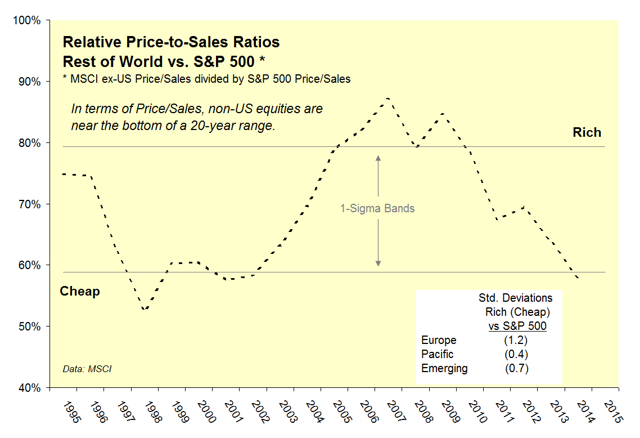 Figure 18. Comment: Is this a contrarian signal?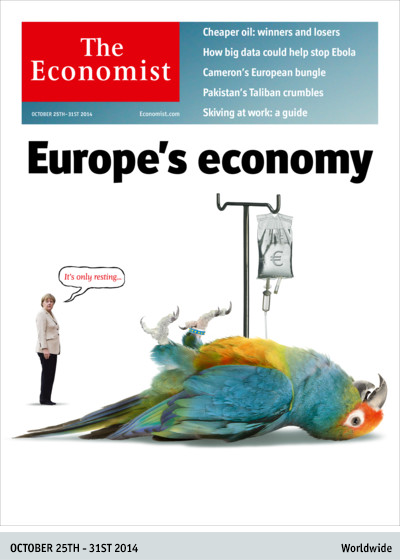 Wrap...
U.S. equities remain healthy for now. Watch breadth and momentum for signs of serious trouble.
U.S. bonds are currently range bound: A break above 4.0% or below 2.5% on 30-year Treasury yields is likely to determine the secular trend.
Gold must surpass $1400/oz. to re-establish a positive long-term outlook.
A bottom in oil and energy stocks is likely to be attended by some sort of forced liquidation.
Extreme divergences between U.S. and non-U.S. equities are the stand-out features in today's market landscape.
Disclosure: The author has no positions in any stocks mentioned, and no plans to initiate any positions within the next 72 hours.
The author wrote this article themselves, and it expresses their own opinions. The author is not receiving compensation for it. The author has no business relationship with any company whose stock is mentioned in this article.