Recent turmoil in Russia has made headlines all over the world. Just by looking at Google trends, we see the frequency of the search term "ruble" has quadrupled compared to the last peek earlier this year.

It has also coincided with recent declines in crude oil prices which have declined more than 40% from their peak in the summer.
This coincidence has the media discussing the 1998 Russian default which hit the ruble hard and took a big bite out of stock returns.
I would like to discuss an opposing viewpoint.
The case appears to be clean and simple, crude oil drops 40-50%, the ruble crumbles to a low of 78 rubles per dollar, the Russian stock market goes down with it and soon Russia has no other option but to default.
Well, as clear as this path might seem, a lot has changed over the past 16 years.
Russian economy
Let's take a look at the Russian economy compared to 1998.
The first chart is of Russian GDP. If we take a look at the past 16 years we see a five fold increase from 406 billion to 2.1 trillion USD.

The second chart is the average wage of a Russian. We see that it has grown 32 fold over the past 16 years from a paltry 1000 rubles to 32408 rubles which equates to 543USD with the latest weakened exchange rate. In the summer this was equal to 935USD.

The third chart shows the Russian stock market rising 15 fold over the past 16 years.

So as I said a lot has changed over 16 years. The economy of Russia has actually grown exponentially and it has modernized in many ways. Quite a bit of that growth is not attributable to crude oil products. The structure of the Russian market has changed: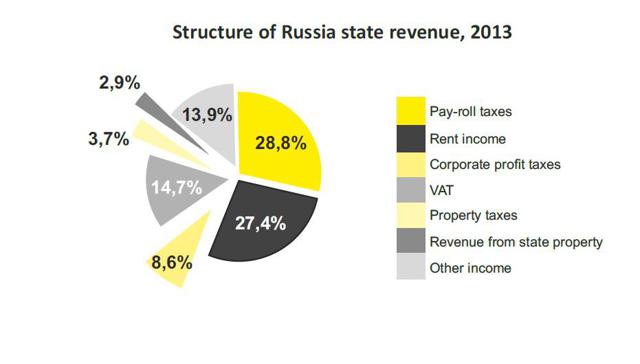 As you can see, only 27.4% of Russian state revenue has been extracted from natural resources. Add to this the much higher foreign currency reserve capital standing at 418 billion USD (in 1998 it was just $15 billion USD) and you have a much stronger state that can handle short term downturns in crude oil prices.
Consider that this time Russia hiked its short term lending rate from 10.5% to 17%. For context, in 1998 they raised it from 30% to 150% which is a far cry from 2014.
This all leads us to the conclusion that considering the high volatility and panic we are already seeing with the ruble and oil, the chances of another default and devaluing of the ruble are much slimmer than they were 16 years ago, as short term volatility in crude oil has a much smaller effect on the Russian economy. We should see a rapid increase both in Russian stocks (NYSEARCA:RSX) and the ruble in the coming year if oil price volatility subsides.
Disclosure: The author has no positions in any stocks mentioned, and no plans to initiate any positions within the next 72 hours.
The author wrote this article themselves, and it expresses their own opinions. The author is not receiving compensation for it (other than from Seeking Alpha). The author has no business relationship with any company whose stock is mentioned in this article.