Sprint (NYSE:
S
) shares, closing at $5.15 on June 27, have done well since I
first wrote
about the company's turnaround potential last May (closing May 12, 2010 at $4.15), and
in November
when Sprint's shares fell back to the $4 range during its now resolved spat with Clearwire (
CLWR
)
[i]
(closing $4.03 on November 12). But this month they pulled back significantly from a 52-week high of $6.45 on June 2. So is the current lull a buying opportunity or a signal to get out? My view: This is a good chance to jump in or add to positions.
The Challenge: Rebuilding the Post-Paid Subscriber Base
Sprint has not turned an annual profit since 2006. In the first quarter of 2011 the company lost 15 cents a share, and a $439 million deficit, yet it was the best performance since Q2 of 2009.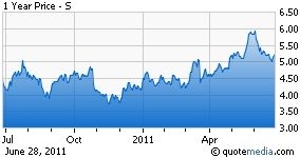 The central challenge Sprint faces is rebuilding a subscriber base that has been ravaged. Sprint ended the first quarter of 2011 with 51 million wireless subscribers, 2.6 million less than four years before in Q1 of 2007. However, the real magnitude of the gap is in the loss of post-paid subscribers who bring in far more revenue per user – 33 million in 2011 versus 41.6 million four years ago, a loss of 8.6 million. The company has made up some of the balance through 13.1 million prepaid accounts in the last quarter versus 4.3 million prepaid in Q1/2007 (the rest are wholesale or affiliate accounts), but the prepaid accounts only generated $28 average revenue per user (ARPU) versus $56 for post-paid subscribers in the recent quarter.
[ii]
Factors That Show Sprint Can Turn the Corner
The above being said, several factors show Sprint is working in the right direction and that market conditions will be favorable for its efforts:
1. Quality position is very strong.
The company has become a quality powerhouse, winning recognition as a J.D. Power customer service champion,
[iii]
and accolades for its smart phone offerings.
[iv]
I've also
argued
that Sprint's 4G network may have been one factor behind the shorter lines when the Verizon (NYSE:
VZ
) version of Apple's (NASDAQ:
AAPL
) iPhone was introduced.
2. Price pressure from AT&T (NYSE:T) should not significantly increase while the AT&T/T-Mobile merger is pending.
AT&T (
T
) needs Sprint to be strong to show regulators there is enough competition to allow AT&T's proposed merger with T-Mobile (owned by Deutsche Telekom AG (
OTCQX:DTEGY
)) to proceed. AT&T would need to pay $6 billion if the merger fizzles,
[v]
so the bigger wireless provider has an incentive not to overly pressure Sprint while the merger is pending.
3. First full quarter with Sprint's new $10 smart phone fee still to come.
Sprint added a $10 premium data add-on charge to smart phones activated after January 30, which apparently did not slow upgrades, so the current quarter will be the first to reflect this price improvement for the full quarter.
[vi]
4. The iPhone factor.
Rumors that Sprint will add Apple's iPhone to its lineup are accelerating.
[vii]
CEO Dan Hesse has long laid the foundation for a Sprint iPhone, working aggressively to establish Google's (NASDAQ:
GOOG
) Android operating system as a competing platform while simultaneously praising the iPhone.
[viii]
Moreover, a Sprint iPhone would increase the perception of competition AT&T is promoting to close the merger, so AT&T is not likely to play hardball if any rights in its original agreement with Apple might get in the way of adding another iPhone carrier.
5. Eventually gaining concessions so the AT&T merger can close. Sprint has been running a sharp campaign against the AT&T-T-Mobile merger, with full page national newspaper ads sounding the mantra: "Competition keeps us all from returning to a Ma Bell-like, sorry-but-you-have-no-choice past." Anyone old enough to have used a phone before the 1982 AT&T breakup gets it. Sprint has been pushing in earnest to stop the merger, but if it does go through Sprint is positioned to get significant concessions as part of the deal to ensure the "Ma-Bell" history doesn't repeat itself.
The Headwind: Advertising
Sprint apparently pays a high price to get the story about its quality out. A January 2010 report is said to have concluded that Sprint spent 4.4% of its revenues on advertising, double the level of competitors.
[ix]
This would have come to a $1.42 billion advertising budget in 2009 (4.4% of revenue of $32.260 billion), or $710 million more than Sprint would have spent if in proportion to the competition. Last year, revenue was about the same, so if the proportion remained constant, 2010's ad budget was also in the $700 million range. And now with the anti-merger campaign Sprint's 2011 ad spending might even be higher.
There is a silver lining here: An advertising budget is much easier to cut than bloated infrastructure. So when the company rebuilds its subscriber base far enough beyond the tipping point that it's ready to cut back, Sprint will be well positioned to profit by bringing its ad spending back to Earth.
Conclusion: Sprint's Qualitative Factors Are Very Strong
There are a lot of quantitative unknowns on Sprint. In the short term, the company doesn't disclose all the numbers associated with the new $10 smart phone fee, so it's hard to know exactly how much of a difference this pricing improvement will ultimately have. In the long term, it's hard to predict when Sprint will be able to reduce its advertising budget, especially when it's tied to fighting a drawn out anti-trust battle likely to continue well into 2012.
But Sprint's qualitative story is compelling, with the chance of more good news down the road in terms of new offerings and favorable merger-related concessions. When the market will fully recognize this good story is hard to say, but with the recent pullback now may be a good time to get in.
[i] Roger Cheng, "Sprint to Pump $1 Billion Into Clearwire," April 19, 2011, click here.
[iii]
See "Sprint Recognized as a J.D. Power 2011 Customer Service Champion," February 17, 2011, click
here
.
[iv]
See in particular the Wall Street Journal's June 16, 2011 review of the Evo 3D, " The Evo 3D: More than Meets The Crossed Eye," p. D1 & D3.
[v]
See Nadia Damouni and
Paritosh Bansal
, Reuters, May 12, 2011
here
.
[vii]
See, e.g., Joe Aimonetti, "Rumor: Apple doing advanced testing for Sprint iPhone," CNET, June 13, 2011, located
here
.
[viii]
Hesse notably praised the iPhone and the Apple brand in a 2009 Charlie Rose interview you can
view here
.
[ix]
See Olga Kharif, "Sprint Nextel's Ad Spending Skyrockets," The Tech Beat, January 22, 2011, located
here
, which attributes the report to which discusses a report attributed to Sanford C. Bernstein analyst Craig Moffett and TNS Media Intelligence.
Disclosure: I am long S, T.
Additional disclosure: I may add to long positions in S over the next 72 hours. This disclosure includes holdings of immediate family members. Disclaimer: The information provided in this post does not constitute professional investment advice, and should only be used in consonance with all available information, including the opinion of a professional adviser, to make an investment decision.