Google Inc. (GOOG, GOOGL) is quickly becoming an interesting investment opportunity after a period of underperformance in 2014. Google shares are down ~6.8% this year with the S&P 500 Index up ~11.9% for a relative underperformance of ~18.7%.
Google has three main focus areas: Search from Google, other existing businesses, and new innovation businesses. In this article I focus on negative news about Google and prospects for its primary revenue driver: search.
Let's first take a look at the negatives clouding Google's horizon. There is bad news published almost weekly about Google's prospects. Google is shuttering its Russia engineering office in response to censorship requirements, similar to the 2010 withdrawal of Google.cn in China. However, the company will continue to serve the Russia market. Next, Google is shutting down the Google news service in Spain in response to pay-for-content requirements there. Then, Facebook is developing some search functions especially for mobile and competing with Google for online ad dollars. Recently, a Bank of America analyst downgraded the shares, and a JP Morgan analyst issued a price target cut. And finally, European lawmakers dislike Google's dominance and are attempting to find ways to raise taxes while diluting its influence.
As if all that wasn't enough, Google missed earnings estimates in the third quarter and operating margins declined from 27% in Q3 2013 to 23% this year. The reason for the decline in operating margin is that Google has been spending heavily this year on hiring, infrastructure data centers, and research and development. Capital outlays are expected to top $10B in 2014 which is triple that of two years ago. If Google executes well behind this spending, the payoff will come in future quarters.
Sometimes it takes bad news to create a buying opportunity in a great company.
The Search Business
Let's take a look at the fundamentals of the search business since it currently represents 68% of Google's total revenues. I think it's easy to determine that the search business is not a good business, but a great business. Receiving revenue from millions of advertisers on a pay-per-click basis as a result of billions of individual searches for information is the very definition of diversified, stable, and dynamic. Once the engine is built, as a percentage of revenue it costs little to maintain this high-margin, efficient business.
While the most authoritative online statistics gathering source, Comscore, typically reports Google's share of search in North America at around 65% to 68% of search volume, I believe it is actually closer to 90%. I base this on my own experience of tracking keywords results for incoming traffic to sites that I publish.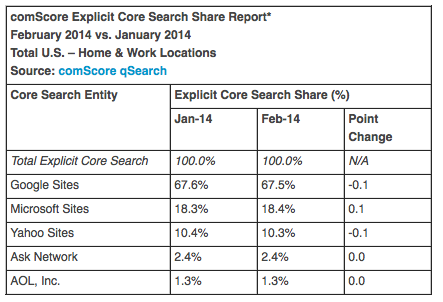 Google is and has been the preferred search engine most simply because they produce the best results and continuously reinvest in developing superior results. The primary competition in North America, Bing (NASDAQ: MSFT) and Yahoo! (NASDAQ: YHOO), are inferior in my opinion. Yahoo!'s results are actually driven by Bing's technology, so they closely resemble each other's results. Google's local search capability is more detailed with more options. For instance, a quick local search for, "Atlanta Washing Machine Repair," yields seven relevant active local repair shops for washing machines, while Bing only gives me one.
There are a few important trends impacting Google's search business: one headwind and three tailwinds.
The headwind is the transition of search to mobile devices/smart phones as Google receives lower pay per click revenue and margins from this business, and paid click-throughs tend to be lower quality. Eliminating accidental clicks and lower quality clicks to paid advertisers sites is understandably very important to Google and the company is spending heavily in this area. I see the transition to mobile as the number-one threat to Google's revenue and earnings growth and I believe it's one reason the stock has been underperforming. Google is working hard to get it right and I believe they will. It is functionally more difficult for an individual to place an order for a product or service on a smart phone than it is a laptop, desktop, or tablet. However, I believe it will get easier with technologies like one click ordering and more streamlined payment options.
Interestingly though, Google appears to have an even more dominant lead in mobile search. Currently in the US (according to StatCounter) the following is the mobile search market share breakdown (smartphones and tablets):
Google: 87.1 percent

Yahoo: 7.3 percent

Bing: 5.2 percent

Others: 0.4 percent
The second trend has been a tailwind over the past few years, but is less important in my opinion going forward. Google's sites generate much higher operating margins from ad clicks than do shared revenue Adsense clicks through Google's member network web sites. Over the past few years, the positive trend here is that Google's sites are growing traffic and ad clicks faster than the Adsense program, thus the tailwind in operating margin and profits. For example, paid clicks during the nine months ended September 30th, increased by 31% on Google's web sites compared to 7% for Adsense related clicks. Simply put, Google's search results ads are becoming more popular than its Adsense program ads.
A third (little-talked-about) trend is the growth in search queries overall: a tailwind. Worldwide internet use is growing although it's difficult to put a number on the growth. Internet World Stats estimates the percentage of penetration worldwide Internet usage at 42.3%.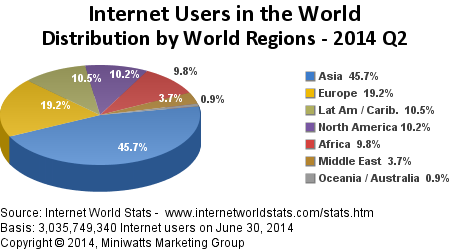 And lastly, another tailwind is the transition from traditional advertising dollars from TV and Radio moving to Internet and Mobile. Google is smack in the middle of this big, slow-moving trend. Granted, with social media companies like Facebook and Twitter also vying for those dollars it has gotten more competitive, but there is enough to go around. Based on my own experience, I believe Google's conversion rates/dollar on ads are far superior to Facebook and Twitter.
Valuation
One thing I like about Google is that I believe management can increase earnings anytime they so desire. All they have to do is turn off the spending spigots. Google's operating margins have been somewhat depressed in recent years as capital spend and hiring has increased. In 2012, 2013, and 2014, operating margins were 26%, 24%, and 23% respectively. Google is capable of better performance in this area. In 2005, 2006, and 2007, Google's operating margins were 32%, 33%, and 30% and peaked at 35% in 2009, 2010 (see Morningstar ratios). Currently, Google is sporting the lowest return on equity (14%) and return on invested capital (13%) that it's had in the past 10 years. The stock price is understandably reflecting some consternation about this, and it could get worse before improving.
While I certainly do not believe all the investments Google has been making will pay off, I do believe some will pay big (more about that in the next article). The market appears to be skeptical. In the Fast Graphs chart below, the earnings line is represented in green or orange line. The green or orange line should represent fair value. Google's stock price has been lagging the line since 2008, and is now well below the normalized P/E line (blue line).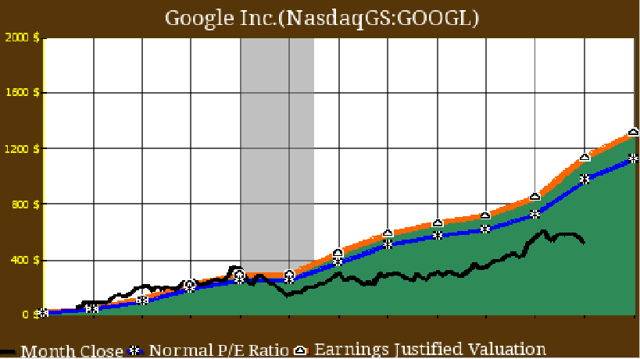 Source: Fast Graphs
Google trades at ~17.4X forward P/E and 20X 2014 P/E according to Morningstar's valuation. A 17X forward P/E may seem optimistic based on recent spending, but it's also a historically low P/E for this quality company. The balance sheet is in exceptional shape with ~$59B in net cash (cash and short term securities - debt) and the company trades for ~3.5X Price/Book Value. With all of Google's acquisitions, I was surprised to find that there is nothing exceptional about the intangibles on Google's balance sheet which represent just 16% of total assets. Google's Price/Sales ratio is 5.2X. In comparison, Baidu (China's top search engine) trades for 10.3X Price/Book ratio and 11.3X Price/Sales ratio. Baidu's return on equity is around double that of Google. Google does not pay a dividend, nor does it have a share buyback program. Due to their significant share-based compensation, Google dilutes current shareholders by about 2% per year which is definitely unpleasant.
In my next article, I will cover Google's existing businesses other than search, their new business category, and recent acquisitions and divestitures.
Disclosure: The author is long GOOGL.
The author wrote this article themselves, and it expresses their own opinions. The author is not receiving compensation for it (other than from Seeking Alpha). The author has no business relationship with any company whose stock is mentioned in this article.