Part of the reduction in ConocoPhillips' (NYSE:COP) 2015 capex budget comes from the start up of its Surmont 2 facility in Alberta, Canada. The Surmont facility produces bitumen (heavy oil) from oil sands, which it extracts through the SAGD process. SAGD stands for steam assisted gravity drainage, which involves pumping steam into the ground to heat up the bitumen so it can move to a production well. ConocoPhillips is the operator and owns 50% of the Surmont project, and Total (NYSE:TOT) owns the rest.
Surmont expansion
Initially, Surmont produced 25,000 bpd of bitumen, which will be ramped up to 136,000 bpd of bitumen once Surmont 2 is operational. Surmont 2 will begin first steam sometime in the middle of 2015, with first oil coming online by the end of next year. Part of ConocoPhillips plan to reduce spending next year comes from construction on the Surmont 2 coming to an end.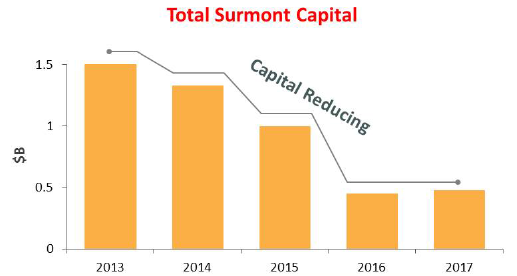 Source: ConocoPhillips Presentation
Farther out there is the possibility of the Surmont 3 phase, which would add 135,000 bpd of bitumen production capacity. The Surmont 3 expansion is really three phases of growth. Each phase will add 45,000 bpd of bitumen output to the Surmont facility. Whether or not ConocoPhillips and Total decide to go through with the Surmont 3 expansion largerly depends on oil prices.
Growth probably delayed until prices rise
New SAGD projects have a breakeven cost that ranges from $75 USD - $85 USD a barrel, which is substantially above current prices. With WTI at $55 a barrel and WCS (Western Canadian Select) trading at ~$42 per barrel, a hefty differential to WTI, it is hard to justify the large upfront costs of expansion. Unless prices rise, I would expect ConocoPhillips and Total to put off the Surmont 3 expansion.
That doesn't mean current Surmont production isn't profitable, as SAGD operations have one of the lowest production costs in the oil sands industry. The full-cycle F&D cost at the Surmont is ~$20 per BOE according to ConocoPhillips. When ConocoPhillips assumed that WCS would be $70 a barrel, it guided to make a $30/BOE - $40/BOE gross margin on its oil sands operations. That gives existing Surmont production a rough breakeven cost of $30/BOE - $40/BOE, just under current prices.
In order to reduce the massive ~$20/barrel differential and enhance drilling economics, companies like ConocoPhillips and Total need new pipelines to be built.
Keystone XL, maybe soon
TransCanada's (NYSE:TRP) Keystone XL pipeline has become a very politicized symbol in the debate on climate change and the North American energy renaissance. Members in the Republican leadership, including incoming Senate Majority Leader Mitch McConnell, have stated that the first bill they plan to push forward would authorize the construction of the Keystone XL pipeline. President Obama has voiced opposition to the pipeline and has said that he would veto the pipeline, specifically because he doesn't want the pipeline to contribute to climate change. Republicans have countered that the Keystone XL would create thousands of jobs, generate much needed tax revenue, and reduce America's reliance on crude imports from volatile sources.
Now that Republicans have taken control of 54 Senate and 247 House seats, there is a greater chance that the Keystone XL could be approved. Polls show that a majority of Americans support the construction of the pipeline, with support ranging from 56% to 68%. When the new Congress convenes on January 3, 2015, investors should see if McConnell follows through on his promise.
If built, the Keystone XL pipeline would initially carry 700,000 bpd of bitumen/oil down from Alberta to Cushing, Oklahoma. Eventually that would be ramped up to 830,000 bpd. More takeaway capacity would reduce the WTI-WCS differential, and create a way for rising production levels to reach refiners. Moving forward with the Keystone XL is about far more than the pipeline itself. Allowing construction to begin would be a signal to other midstream operators that other pipeline projects capable of carrying crude out of Alberta would be approved.
Final thoughts
Even if the Keystone XL pipeline was built, or other large pipelines were brought online to carry crude out of Alberta, current WCS prices aren't high enough to justify expanding output. Prices are high enough (before factoring in hedges) to cover the cost of production, meaning ConocoPhillips and Total still stand to gain once the Surmont 2 is operational. Less spending combined with production coming online is a bullish catalyst for both ConocoPhillips and Total. The drop in Surmont spending couldn't come at a better time, as ConocoPhillips had to either cut spending next year or put itself in a bad financial position.
Investors should consider ConocoPhillips for their portfolio as it is guiding to grow its production by 3% next year even as it spends 20% less. While investors ride out low oil prices, they can pocket a strong 4.1% dividend yield. Low oil prices will hold the oil and gas industry back, but ConocoPhillips has been able to reduce costs to cope with $55 WTI and $40 WCS.
To read more about how ConocoPhillips' 2015 capex budget or how its shale operations will fare with sub-$70 WTI, take a look at these two articles.
ConocoPhillips: Even With Capex Cut, Production Growth Continues
ConocoPhillips' Shale Operations In The Face Of Sub-$70 WTI
Disclosure: The author has no positions in any stocks mentioned, and no plans to initiate any positions within the next 72 hours.
The author wrote this article themselves, and it expresses their own opinions. The author is not receiving compensation for it (other than from Seeking Alpha). The author has no business relationship with any company whose stock is mentioned in this article.