Investors continue to bet on the potential of gambling and biotech as the best-known small cap stock indexes finished in positive territory for the week.
The Russell 2000 Index finished Friday down slightly for the day, but was up 2 percent for the week. Similarly, the S&P Small Cap 600 Index was down slightly from Thursday, but rose 0.6 percent over the five-day period.
The federal government just changed its rules on tribal casinos, and Empire Resorts (NYNY) has been moving. It announced plans to work with MSEG, which is developing a casino in Davenport, Iowa, on bringing back to life Concord Resort with gambling. Entertainment Properties Trust owns what was the largest resort in the Catskills of New York, which closed in 1998.
Friday's Top Performing Small Cap Stocks (Data provided by Capital IQ)
| | | | |
| --- | --- | --- | --- |
| Ticker | Company Name | Closing Price | %Change |
| Nasdaq: NYNY | Empire Resorts | $1.06 | 24.7% |
| AMEX: NBS | Neostem | $1.72 | 23.7% |
| Nasdaq: BRID | Bridgford Foods | $8.99 | 19.2% |
| Nasdaq: NYMX | Nymox Pharmaceutical | $8.90 | 17.9% |
| NYSE: BXC | Bluelinx Holdings | $2.75 | 17% |
Empire Resorts (Nasdaq: NYNY):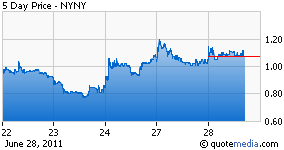 The resort manager's stock shot up after announcing an agreement with Entertainment Properties Trust and MSEG to develop a casino on a former resort. Entertainment Properties owns the 1,400-acre Concord Resort site.
Neostem (AMEX: NBS):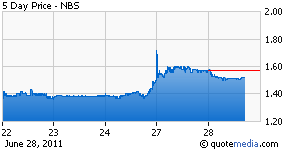 The stock of this biopharmaceutical company whose services include the harvesting and storage of stem cells for future personal use is up 22 percent this year. NBS has operations in the U.S. and China, where it holds majority interest in an antibiotics maker.
Bridgford Foods (Nasdaq: BRID):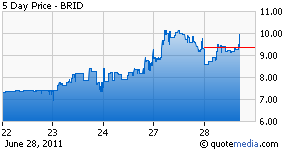 Shares of this manufacturer and distributor of frozen and refrigerated foods rose 26 percent last week but remain down 37 percent year-to-date.

Nymox Pharmaceutical (Nasdaq: NYMX):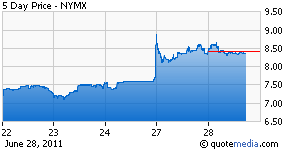 The Canadian biopharmaceutical developer closed at a 52-week high and is up 26 percent this year – all of which came on Friday. It markets tests to diagnose Alzheimer's and nicotine exposure and has other promising products in the pipeline.

Bluelinx Holdings (NYSE: BXC):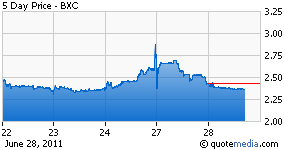 The Atlanta-based building materials distributor has suffered from soft construction demand. The stock, which was above $4 in April, used to trade in the $14 range before the real estate market bubble popped.