Dear readers,
We launched the Outstanding Performance awards in July of 2014 with an aim of shining a light on some of the best calls made on Seeking Alpha. We've picked 42 winners so far, each winning $2,500 for their efforts. We've got many more great articles and great contributors to call out in 2015.
This week's picks both come from Q1 of this year. They share a couple other similarities - both were alpha-generating ideas on stocks in the tech space, and both had a thesis focused on the company's gross margins. One call highlighted a company with a cheap valuation and expanding margins that would lead to big gains, while the other focused on a company with an expensive valuation and declining margins. While they took different paths, each call paid off big for readers this year, and we're excited to highlight them for that reason.
This week's Outstanding Performance Award winners are:
Helix Investment Research for his Top long idea on RF Micro Devices (RFMD) published in February 2014. Return to date: +199.4%
Sniper Fund for his short idea on Benefitfocus (NASDAQ:BNFT) published in March 2014. Return to date: +51.3%
Both authors have updated their thesis, Sniper Fund in a comment on the original article, and Helix Investment Research in a full article. Both articles are part of the SA PRO equity research archive, available exclusively to SA PRO subscribers, but will be made available to all readers for 48 hours.
About the winners
Helix Investment Research is the handle for Ivan Deryugin, whose investing approach is to leverage secular trends to drive outperformance. Since starting his writing career on Seeking Alpha in 2011, he has found outperformance with many of his ideas. One of his early successes was Clearwire, as he correctly identified Clearwire's value to Sprint long before Sprint got into a bidding war to buy out the firm. He also got behind Illumina after it fended off Roche, with that working out as a near quadruple for readers. More recently, he ventured off the beaten track to highlight DTS Inc's positive operating trends, with the Top idea returning 40% in short order.
Helix Investment Research's RFMD article found RF Micro Devices at a perfect time. Highlighting the company's past challenges, Helix explained that the company's competitive position and focus on improving margins and earnings (rather than just revenue) would drive upside. He also pointed out that revenue growth would likely be better than analysts forecast, and that the company's balance sheet would enable it to deploy capital. A few weeks later, the company announced a merger with TriQuint, strengthening its position. But with that merger still not closed, RFMD's results have spoken for themselves: revenue growth has tracked at 12% through the first half of FY 2015 rather than analysts' (at the time) predicted 8%; gross margins have risen from 37.3% to 46.2% in the three quarters since the article; and GAAP net income has increased 10-fold year over year. It made RFMD one of the stand-out stocks for 2014, even amidst a very hot peer group.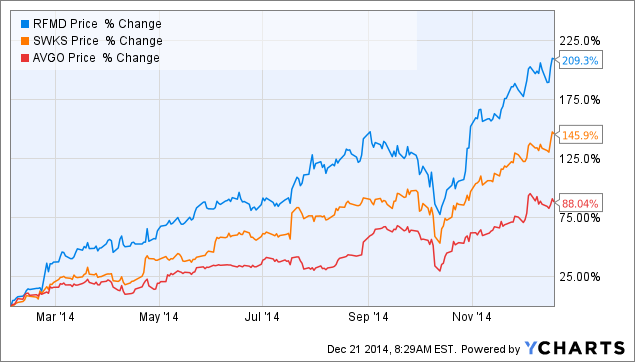 Note: Ycharts figures differ from our calculations for RFMD based on closing price for Jan. 31.
Sniper Fund is an Australian-based investor who has "an investment objective to generate alpha with an overarching philosophy of capital protection." He has only been writing for Seeking Alpha this year (Benefitfocus was his first article, in fact), and his focus so far has been on newer technology companies, a space which in the current market offers some good opportunities for alpha on both sides.
Sniper Fund's article on Benefitfocus focused on how the company was lumped in with cloud computing despite having a few idiosyncratic disadvantages. For one, the company's reliance on a heavily regulated market - employee benefits - was likely to be a limit on its growth, as seen by its relatively slow growth rates compared to peers. A bigger problem, Sniper Fund pointed out, was that in this case gross margins were declining, as BNFT's growth was coming from a lower-margin business. Along with the high valuation (a price of 16x 2013 Sales) and the looming sell down by Goldman Sachs, who owned nearly half the company, the shares were vulnerable, and Sniper Fund suggested they could trade under $20 (they were in the mid-60s at the time). In the three quarters since, growth has stayed at a roughly 30% YoY rate, but gross margins have declined every quarter on a sequential basis, and by at least 600 basis points on a YoY basis in each quarter. Goldman unloaded a quarter of its position. Even with a 35%+ move last week, BNFT shares are still down 50%+ from where they were when Sniper Fund put a target on them, bottoming at $20.82/share.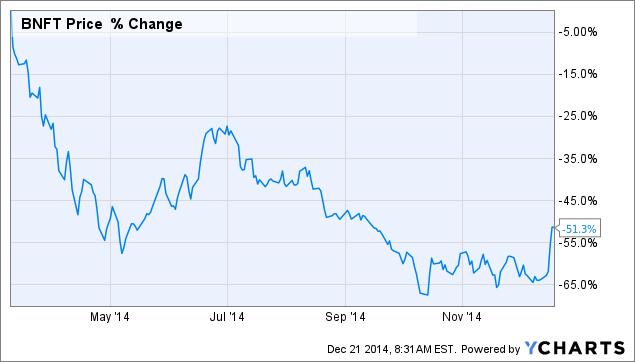 Congratulations to this week's winners! Look out for a new pair of Outstanding Performance award winners Monday, January 5, and each Monday following. We're also planning to make an announcement about the awards next week, December 29th, so watch for that. And here's a page with all previous winners.
More about Outstanding Performance awards
Seeking Alpha aims to help investors outperform the markets. In awarding authors of outstanding stock ideas that played out, we hope contributors will be motivated to share more outstanding long and short ideas with our readers - which benefits everyone.
Every week, we'll be searching through our long and short ideas archives looking for outstanding stock ideas that played out, and awarding two $2,500 "Outstanding Performance" prizes.
Here's what we'll be looking for:
Performance: Above all, we're looking for ideas that made SA readers money. Risk matters, so we'll be looking at the stock's market cap, Sharpe ratio, etc. as well.
Confluence: Every idea has a thesis. Did the idea play out for the reasons proposed or not?
Compelling: For an idea to be outstanding, it needs to be sufficiently convincing that a reader would have been compelled to take a deeper look at the stock and potentially take a stake. In assessing compellingness, we'll be looking at a number of factors including article comments (how did readers react?), historical performance (does the author have a track record of well-thought-out stock ideas?), voice of expertise (does he/she come across as someone who has unusual insight into the stock?), and how thoroughly the article covered key issues (reasons for market mispricing, catalyst(s), competitive landscape, company management, key risks, etc.). In other words, we'll be looking for the same things readers look for when assessing an idea.
To qualify for an award, the idea needs to have been submitted exclusively to Seeking Alpha. We will also be asking award winners to publish an update to their thesis, either as a comment to the article or as a standalone article.
Generally, we'll be looking for longer-term ideas that offered meaningful upside to readers. We'll be going back as far as two years or even further. We may also reward ideas that played out outstandingly over a shorter timeframe. But we will not be using Outstanding Performance awards to reinforce extreme short-term price volatility.
To get exclusive access to these articles after they are selected, as well as early and archival access to many of our top performing ideas, subscribe to SA PRO.
We'll be announcing Outstanding Performance award winners in Wall Street Breakfast, in the Today in SA PRO newsletter, and in a standalone article like this one.
If you have great stock ideas, why not become a Seeking Alpha contributor yourself? Colin and his contributor success team will make it easy to share your ideas with tens of thousands of readers.