It is no secret that crude oil has been falling hard lately, but a less known fact is that another commodity has fallen with it. Palm oil has been hit hard together with the decline in crude oil prices (see chart below created by Correlation Economics). The correlation between palm oil and crude oil is not so apparent before 2007. It was only when the biodiesel and ethanol industry became important after 2007 that we began to see the emergence of this correlation. When you look closely, the palm oil price moves first, while the crude oil price moves several months later. This can be an important tool for investors to predict what's going to happen with the crude oil price (NYSEARCA:OIL). But let's focus on palm oil here.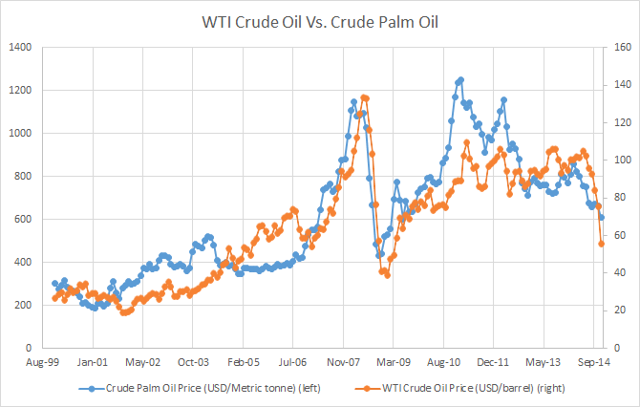 As we all know, palm oil is mainly produced in Malaysia and Indonesia (85% of global production). China and India are the largest consumers of vegetable oil and consumption is going to keep growing in the future. Since 1970 we have seen an exponential increase in the use of palm oil (see chart below from USDA). This rate of increase will not disappear as China and India will keep increasing their consumption of vegetable oils. Second, the need for clean energy like biodiesel and ethanol will keep growing in my opinion. So the demand side seems positive, now let's look at the supply side.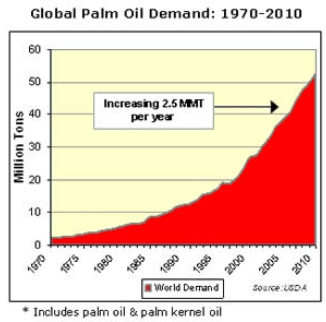 Palm oil in particular is the most widely used in the world next to soybean oil. So palm oil is very much correlated to the soybean oil price (see chart below created by Correlation Economics). This year, we saw that soybean farmers in South America and North America had record harvests in 2013 and 2014. They recorded a 20-30% increase in soybean production from the previous highs in 2009. That explained the recent price drop in palm oil because many palm oil importers switched to soybean oil, which dropped in price since May 2013. Palm oil output has also been on the rise this year.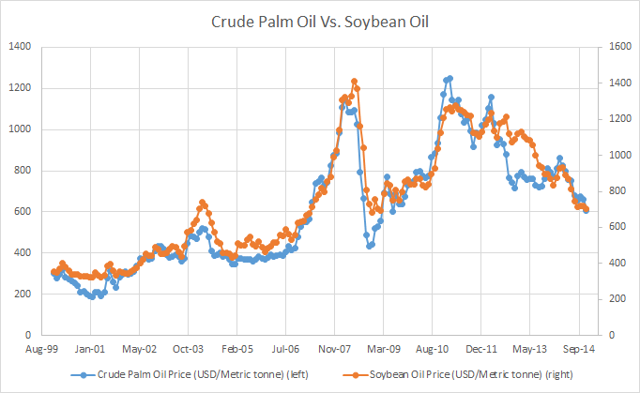 To add insult to injury, the drop in palm oil price was exacerbated even more by the drop in crude oil, related to declining global demand for oil. With WTI crude oil currently at $55/barrel, a lot of oil producers (and especially shale gas producers) cannot be profitable anymore. Deals are being cancelled and workers are being laid off as we speak. So I believe we will see a bottom in the oil price soon. It is said that $30/barrel will be the ultimate bottom and we are not far from that number.
So basically, we had a strong increase in soybean oil supply, leading to a drop in palm oil price. And we had a drop in demand in oil, leading to a drop in palm oil used for biodiesel.
The good news is that we are seeing price reversals in agriculture at this moment. For example, when we look at the overall agriculture commodity index (NYSEARCA:RJA), it is showing a bottom. Also, potash prices (which are correlated to food prices) are finally on the rise (see chart below from InfoMine.com). We have seen the first uptick move in over more than 3 years and potash companies have seen rebounds as well.
Investors can invest in palm oil via plantation companies. The problem is that many of these companies are located in Southeast Asia like Golden Agri-Resources (OTCPK:GARPF). In a recent Barron's interview with Marc Faber, names like Wilmar International Limited (OTCPK:WLMIY) pop up. These are all Asian companies, but you can buy them at the over-the-counter market. I like European companies like Sipef (OTCPK:SISAF), because they are at a discount to Southeast Asian plantation companies. When we compare their acreage, we see that for the Southeast Asian counterparts one acre is valued at approximately $8000-9000 U.S. dollars. Sipef on the other hand is valued at $4000/acre, half of the normal market price, because Europe isn't famous for their plantation companies. Nevertheless, these profitable companies pay dividends of 2%-4%, way higher than what you get in U.S./European bonds and cash. On top of that, their P/E ratios are very cheap at the moment and is around 6, which is much less risky compared to the financial sector with P/E ratios at 16.
Disclosure: The author has no positions in any stocks mentioned, and no plans to initiate any positions within the next 72 hours.
The author wrote this article themselves, and it expresses their own opinions. The author is not receiving compensation for it (other than from Seeking Alpha). The author has no business relationship with any company whose stock is mentioned in this article.
Editor's Note: This article covers one or more stocks trading at less than $1 per share and/or with less than a $100 million market cap. Please be aware of the risks associated with these stocks.