A review of Encana's (NYSE:ECA) operating and financial guidance for 2015 provided by the company last week highlights the magnitude of the challenge that the current oil price presents for the Oil & Gas industry. It also illustrates that for the time being many E&P operators are likely to view the $55 per barrel price as transitory and base their 2015 budgets on an expectation of a price recovery throughout the year (effectively, a "wait and see" approach).
While the pace of drilling activity in North America's shale oil plays will slow down substantially in 2015, production growth momentum is likely to carry on (albeit at a declining rate) for at least the first half of the next year.
Encana has sufficient resources to execute on its business plan even under a most severe downturn scenario for at least a year. However, the low-price environment puts to a test the company's asset base. The company would need to prove that its drilling results and cost structure can be competitive from a return perspective in the event lower oil prices are here to stay.
While oil price may remain very volatile and difficult to predict until this downcycle resolves itself (which may take over a year, in my opinion), the long-term average price of oil and Encana's drilling returns are the most important factors that will drive the stock's intrinsic value.
Liquids Production To Grow In 2015
Encana's guidance for 2015 is based on Nymex price assumptions of $70 per barrel for WTI and $4.00 per MMBtu for natural gas. Encana believes that using these assumptions, and "roughly aligning" capital investments with cash flow, enables a capital budget of ~$2.7- $2.9 billion for 2015.
Due to a series of transformational acquisitions and divestitures this year, comparing Encana's 2015 operating and financial metrics to the prior years is challenging. In 2015, Encana's total production will be about 18% less than in 2013. However, the company's more favorable production mix will more than offset the impact of lower volumes on the cash flow. The company estimates that crude oil and NGLs will represent over 35% of its production in 2015, compared with just 10% in 2013, and will account for ~75% of its total cash flow in 2015. Due to the higher proportion of oil and liquids in the production base, Encana's 2015 overall operating margin is expected to be down just ~15% versus 2014, despite a more than 25% drop in WTI to the $70 level assumed in the guidance.
Liquids production is forecast to average ~160,000-170,000 barrels per day in 2015, a ~70% increase over 2014 (due in significant part to acquisitions).
Natural gas production, on the other hand, is expected to decline by ~30% year-on-year (due in significant part to divestitures).
Total expected production of 405,000-440,000 boe/d in 2015 would be down ~12% relative to 2014, based on the midpoint of the guidance (the guidance assumes no contribution from the Clearwater disposition that is expected to close in the first quarter of 2015).
Encana expects cash flow from operations in 2015 in the $2.5-2.7 billion range, which reflects a positive impact of higher margin production and cost efficiencies and a negative impact of anticipated lower commodity prices. Of note, in 2013, Encana's operating cash flow was similar, $2.6 billion, but reflected a lower average Nymex natural gas price of $3.65/MMBtu and a higher Nymex oil price of ~$100 per barrel. Of note, in 2013, Encana was predominantly a natural gas producer.
Only ~10% Of 2015 Oil Production Is Hedged
Encana is going into 2015 with a weak hedge position on the oil side. As of December 16, the company had only ~12,300 b/d of oil production (which represents ~10%-11% of projected 2015 volumes) hedged. The weighted average hedge price is $92.88 a barrel. Encana did not report any NGL hedges.
On the natural gas side, hedge protection is more substantial. As of December 16, Encana had 1.062 Bcf/d (~70% of projected 2015 volumes) hedged at $4.29/Mcf.
Drilling Carries Provide A Cushion
It is important to note that in 2015 Encana will continue to receive significant benefits from the drilling carries related to its Joint Ventures in the Montney and Duvernay plays. Based on my estimate, in 2015 Encana's will fund ~$600 million in net capex, net to the company's interest, via drilling carries. This spending is in addition to the company's planned $2.7-$2.9 billion budget figure for 2015.
$350 million is expected to be invested through Encana's Cutbank Ridge Partnership with Mitsubishi Corporation, in which Mitsubishi owns a 40% non-operated interest.
$800 million is expected to be invested in the play through Encana's joint venture with PetroChina (NYSE:PTR), in which PetroChina owns a 49.9% non-operated interest.
Based on my estimate, after taking into account the drilling carries, Encana's planned capital spending in 2015 will effectively exceed its operating cash flow before hedges by ~$1.0 billion, using the company's $70 oil/$4 gas commodity price assumption.
2015 Capex Is Fully Funded
Encana expects to generate net proceeds of ~$800 million in the first quarter of 2015 through the completion of the previously announced divestiture of the majority of its Clearwater CBM assets as well as the proceeds from an anticipated midstream transaction in the Montney.
Encana has disclosed that it is in advanced negotiations on a Montney midstream transaction that is expected to reduce the company's future infrastructure capital requirements. This transaction is intended to unlock value from the company's existing midstream infrastructure while maintaining facility operatorship.
In combination with the drilling carries and hedges, Encana's 2015 spending plan is well supported by available liquidity.
Sensitivity Analysis
Encana did not provide a cash flow sensitivity to a change in the price of oil. Obviously, the company will probably make deeper cuts to its drilling program if oil and gas prices remain weak (or decline further) as the year progresses. Encana would also see some relief on the cost side. Still, sensitivities under the assumption that Encana's operating plan and cost structure remain unchanged, irrespective of the commodity price, may be useful.
Under the assumption that Nymex oil price averages $55 per barrel and NGL pricing represents 40% of the oil price, Encana's cash flow for the year would see a negative impact of ~$0.6 billion relative to the company's base case projection.
Under the assumption that Nymex natural gas price averages $3.50 per MMBtu, Encana's cash flow for the year would see a negative impact of ~$0.1-$0.2 billion.
Encana pledged that it would not assume any incremental debt in 2015. Assuming the expected receipt of $800 million in Q1 2015, it appears that the company does not need to significantly curtail its drilling program even under a $55 oil/$3.50 gas price assumption.
It appears that Encana is reasonably well positioned to weather a cyclical downturn for at least a year. However, more important question relates to the assets' return potential in a reduced longer-term price environment. Breakeven analysis would be particularly helpful in this regard.
Breakeven Price
Encana commented that four of its highest margin assets - the Montney, Duvernay, Eagle Ford and Permian - have "low supply costs averaging $35 to $55 per boe" and are "capable of delivering quality returns in a lower commodity price environment." The company also made the following comment:
We have tested our growth areas against lower, longer-term price environment, and they continue to deliver good returns and strong margins. But clearly the business generates less cash flow.
Encana has traditionally used a 9% cost of capital to derive its "cost of supply" estimates. I would argue that a higher return threshold for new drilling - 20%, for example, - would be of a greater practical interest.
Even using the 9% effective return threshold, some of Encana's operating areas appear uneconomic at today's commodity prices. For example, Encana estimates its cost of supply in its Permian area at $45-$55 per boe. Assuming an oil/NGLs/Natural Gas production mix or 65%/20%/15% and current commodity prices (~$59 per barrel of WTI and ~$3.45 per MMBtu Henry Hub, based on December 19, 2014 futures settlements, and assuming NGL price equal to ~40% of WTI), the current price per boe for the Permian comes out at ~$44 per boe, which is below the cost of supply at 9%.
Obviously, it would be incorrect to conclude that the Permian "does not work" at $60 per barrel oil. The asset is still very early in its life cycle. In the event of persistently low commodity prices, the drilling inventory will likely be high-graded, with only the most attractive locations receiving capital, and well costs will likely decline materially. Still, Encana (similar to many other producers) has a lot to prove with regard to the viability of its asset base in a low-price commodity environment.
Hopefully, the company will introduce a cost of supply sensitivity grid that would show drilling returns not only at 9% cost of capital but also at higher thresholds (up to 20%), even if the data turns out not flattering.
Spending by Area
In its operating plan for 2015, Encana has prioritized four most strategic areas: the Montney, Duvernay, Eagle Ford and Permian, which will receive about 80% of total capital. The company expects them to contribute ~60% of total production and ~70% of total upstream operating cash flow in 2015.
The other three "growth assets" - the DJ Basin, San Juan Basin and TMS - will receive ~15% of the capital in 2015, but will likely be the first to see budget cuts in the event the price of oil remains weak.
The Permian will be the most active area for Encana in 2015, followed closely by the Eagle Ford. Continued active drilling in the Montney and Duvernay plays will be fueled in significant part by JV drilling carries.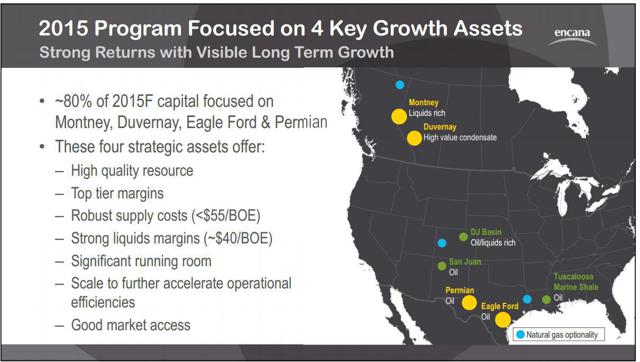 (Source: Encana, December 2014)
Permian: The Permian will be the key driver of Encana's liquids production growth in 2015. In 2015, Encana plans to invest $850-$950 million in the play. Projected volumes are expected to grow to ~50,000 boe/d, on average for the year, which compares to ~30,000 boe/d at the time of acquisition. Encana expects to have four to six horizontal rigs running delineating the play and five to six vertical rigs continuing land retention program. The company plans to drill 180-200 net wells during the year. Encana estimates that the Athlon acquisition provides it with a more than 10-year drilling inventory.
Eagle Ford: Encana plans to invest $650-$750 million in 2015, running three to five rigs and drilling 75 to 85 net wells. Liquids production is expected to average 44,000-49,000 b/d. According to Encana, its acreage offers "premium oil netbacks and good market access." (A reference to a netback is a bit surprising, given that the decision to drill a new well should be driven by the expected return, not a netback.) Encana's 2015 development focus will be in the Kennedy and Panna Maria areas of the basin, where the company expect to run three to five horizontal rigs.
Montney: In 2015, Encana plans to invest $250-$350 million and expects to run two to three rigs and drill between 20 and 30 net wells. An additional $350 million is expected to be invested through Encana's Cutbank Ridge Partnership with Mitsubishi Corporation, representing a total gross investment of between $600 million and $700 million. Liquids production is expected to grow 5% to 19,000-20,500 b/d while low-cost, high rate of return natural gas production is expected to be 580-620 MMcf/d.
Encana views Montney as the second best natural gas play in North America after the Marcellus. Management estimates that its go-forward supply cost in the play is less than $2/Mcfe, before the effect of the drilling carries (as a reminder, Encana defines its cost of supply as the flat price yielding a 9% pre-tax rate of return). Encana believes that the Montney gives it a more than 25-year drilling inventory and large contiguous land positions with the potential of more than 2 Bcf/d of natural gas and 50,000 b/d of liquids production.
In 2014, Encana successfully piloted a new high-intensity completion design, reporting IP-30 rates 100% above type curve. The pilot project, initially launched in the Dawson area in Cutbank Ridge, was introduced across all of Encana's Montney lands, with similar encouraging results in Pipestone and in Gordondale. Given the success of the pilot, Encana now believes that the Cutbank Ridge partnership can reach its longer-term production target of 1.5 Bcf/d of gas by spending about $1 billion less in drilling dollars. In 2015, Encana plans to increase frac size and reduce the well spacing.
Duvernay: In 2015, the company plans to invest $250-$350 million and continue to accelerate development in the Simonette area where it expects to run about three to five rigs and drill 15 to 25 net wells. An additional $800 million is expected to be invested in the play through Encana's joint venture with Brion Duvernay Gas (a wholly owned subsidiary of PetroChina), representing a gross investment of between $1.0 billion and $1.2 billion. Net liquids production from the Duvernay is expected to grow to an average of 6,000-7,000 b/d.
In the immediate term, the operating plan is focused on completing and bringing on stream two eight-well pads and one nine-well pad. Completion activities should be finished on the nine-well pad by mid-January, and on the first of the eight-well pads about a month later. Encana then expects to bring on the third eight-well pad by the second quarter.
Encana expects two new midstream facilities to support its planned growth to come online in the second half of 2015, bringing its total capacity to 150 MMcfe/d of natural gas processing and 30,000 b/d of condensate handling. Encana has secured additional firm transportation capacity on the Alliance pipeline, and Aux Sable's deep-cut facility, which ramps up over time, matching the company's rich gas growth profile. For its condensate volumes, Encana secured firm capacity on the Pembina Peace pipeline for transport to Fort Saskatchewan.
DJ Basin, San Juan and Tuscaloosa Marine Shale: Encana is scaling back its DJ Basin, San Juan Basin, and the TMS programs. Collectively, the company plans to invest ~$350-$450 million in these assets in 2015 with combined total liquids production expected to be 25,000-28,000 b/d.
In Conclusion…
At the current price of $14.15 per share, Encana's enterprise value stands at ~$14 billion (pro forma for the Clearwater divestiture). Given the quality and scale of the company's four "strategic growth" assets - the Permian, Eagle Ford, Montney and Duvernay - in combination with a vast portfolio of other assets and drilling carries, the stock's valuation appears attractive, assuming a strong cyclical recovery in the price of oil. The stock deserves a closer analysis.
The company has a deep asset portfolio that it can draw upon for the funding for its "core" program. It would be natural to expect that the DJ Basin, San Juan and Tuscaloosa Marine Shale assets, along with select assets that are not viewed as "growth" such as the Deep Panuke and Haynesville, may become sources of capital for growth in Encana's four strategic areas.
However, monetizing any of these assets at attractive prices in the current commodity price environment may be very challenging and, arguably, not timely.
On a streamlined basis, the "core" looks attractive from a quality perspective.
Disclaimer: Opinions expressed herein by the author are not an investment recommendation and are not meant to be relied upon in investment decisions. The author is not acting in an investment advisor capacity. This is not an investment research report. The author's opinions expressed herein address only select aspects of potential investment in securities of the companies mentioned and cannot be a substitute for comprehensive investment analysis. Any analysis presented herein is illustrative in nature, limited in scope, based on an incomplete set of information, and has limitations to its accuracy. The author recommends that potential and existing investors conduct thorough investment research of their own, including detailed review of the companies' SEC filings, and consult a qualified investment advisor. The information upon which this material is based was obtained from sources believed to be reliable, but has not been independently verified. Therefore, the author cannot guarantee its accuracy. Any opinions or estimates constitute the author's best judgment as of the date of publication, and are subject to change without notice.
Disclosure: The author has no positions in any stocks mentioned, and no plans to initiate any positions within the next 72 hours.
The author wrote this article themselves, and it expresses their own opinions. The author is not receiving compensation for it (other than from Seeking Alpha). The author has no business relationship with any company whose stock is mentioned in this article.