As a retiree, I am always searching for sources of high income but lately I have worried about rising interest rates. Floating rate loans Closed End Funds appeared to offer the best of both worlds, providing over 6% income plus a hedge against increased rates. However, about six months ago I wrote an article advising caution when investing in this asset class. The reason was that interest rates had unexpectedly dropped. Now, interest rates have dropped even more, putting more pressure on these loans. Thus I decided to revisit my analysis to see if it was now time to buy floating rate loans.
For those that have not read my previous article, I will summarize some of the more important characteristics of floating rate loans (also called senior loans).
First off, these are loans usually made to below investment grade companies to support business purposes, such as expansion. The loans are typically large, with sizes in the $50 million to over a billion dollar range. They are called "senior" loans because they are backed by real assets and are the first to be paid when a company pays its debts.
The loans are also known as "floating rate" because the rate of interest is adjustable and moves higher or lower based on a benchmark, usually the London Interbank Offer Rate (Libor). The Libor is the rate banks pay one another to borrow funds and the rate depends on when the loan is due, either 30, 60, or 90 days. The interest rate paid by a floating rate loan is calculated as a "spread" over the Libor. The spread on the loan does not change but the Libor can change daily in response to market conditions. Floating rate loans have a "reset period" that determines how frequently the interest rates are synced with the Libor. The reset varies from loan to loan but a diversified portfolio of loans will typically have a reset period that averages about 60 days. Thus, the interest earned on floating rate loans is responsive to changes in short-term interest rates.
Floating rate loans are different than high yield bonds. When interest rates go up, the price of a high yield bond go down but the amount of interest paid is always the same. The opposite happens to a floating rate loan. When interest rates change, the interest on this type of loan is adjusted but it seldom impacts the price of the loan. Also since these loans are secured by assets of the company, senior loans recover an average of about 70% of face value if the company files for bankruptcy. This is much better than the 44% average recovered by high yield bonds.
The bottom line is that floating rate loans have a number of characteristics that make them well suited if interest rates are expected to rise. However, the following are some observations investors should think about before investing.
Floating rate loans are tied to short-term rates, usually the 3 month Libor, which has barely moved over the past year. Today the Libor is 0.24% which is same as it was a year ago. The Libor will likely not rise until the Fed begins to actively raise rates, not likely until the middle of 2015 or later.
Even when rates begin to rise, floating rate loans may not immediately follow suit. The reason is that many floating rate loans have a floor, for example, the rate may be stated as 2% above the Libor but with a floor of 3%. In this case, if the Libor increases from 0.24% to 1%, the 3% floor will still be in effect at and the interest paid of the floating rate note would not have changed.
In recessionary environments, floating rate loans funds can lose significant value. For example, floating rate loans funds had a terrible year (along with most other assets) in 2008, with Net Asset Values (NAVs) falling on average by about 50%. (Note: The group rebounded strongly in 2009.)
In 2013, the NAV of floating rate CEFs remained relatively stable but the fear of tapering spooked the market, caused the prices to fall. This resulted in wiping out premiums and increasing discounts associated with these funds. Many of the funds that were selling at premiums in early 2013 are now selling at substantial discounts.
With these caveats in mind, let's look at the performance of floating rate loans. The easiest way to invest in floating rate loans is by either a closed end fund (CEF) or an exchange traded fund (ETF). Floating rate loans ETFs have a relatively short history (the first was launched in 2011) so I will focus primarily on CEFs. The website www.cefconnect.com lists 26 CEFs that invest primarily in senior loans. To reduce the number of funds to be analyzed, I selected candidates based on the following criteria:
At least 7 years of history (since I wanted to include the bear market of 2008 in the analysis)
Market Cap greater than $400 million.
Average trading volume greater than 100,000 shares per day.
Distributions of at least 6%.
The following 6 funds satisfied all of these conditions. When reviewing funds that I wrote about in my previous article, I will compare the current discounts to the discounts that I observed six months ago.
For comparison with bonds, I also included the following ETF in the analysis:
iShares iBoxx $ High Yield Corporate Bonds (NYSEARCA:HYG). This ETF tracks the performance of high yield corporate bonds. It yields 5.7% and has an expense ratio of 0.5%.
The six CEFs summarized above have an average distribution of over 7% so they definitely satisfy my desire for high income. In addition, the CEFs are selling on average at a discount of over 9%, which is substantially higher than the 3 year average discount of 1.8% associated with these funds. So based on just discounts, these CEFs would appear to be bargains. However, I still wanted to analyze the risks and return so I used the Smartfolio 3 program based the past 7 years of data (December, 2007 to December 2014). The results are shown in Figure 1, which plots the rate of return in excess of the risk free rate of return (called Excess Mu on the charts) against the historical volatility.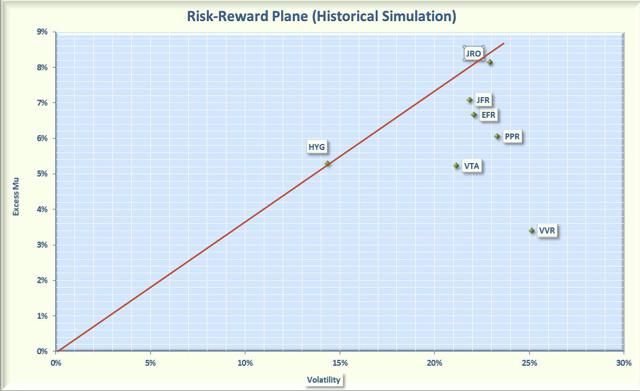 Figure 1. Risk versus reward over past 7 years
As is evident from the figure, floating rate funds had a wide range of returns and a relatively narrow range of volatilities between 20% and 30%. Are the returns associated with floating rate funds commensurate with the risk? To answer this question, I calculated the Sharpe Ratio.
The Sharpe Ratio is a metric, developed by Nobel laureate William Sharpe that measures risk-adjusted performance. It is calculated as the ratio of the excess return over the volatility. This reward-to-risk ratio (assuming that risk is measured by volatility) is a good way to compare peers to assess if higher returns are due to superior investment performance or from taking additional risk. In Figure 1, I plotted a red line that represents the Sharpe Ratio associated with HYG to facilitate comparing floating rate funds with high yield bonds. If an asset is above the line, it has a higher Sharpe Ratio than HYG. Conversely, if an asset is below the line, the reward-to-risk is worse than HYG.
Some interesting observations are apparent from Figure 1.
Over the turbulent times between 2007 and today, floating rate loans were more volatile than high yield bonds.
Generally, the returns from floating rate loans were as good as or higher than high yield bonds but when volatility was considered, the floating rate loans had poorer risk-adjusted returns.
The only exception was JRO, which had a risk adjusted return equal to HYG.
Among the floating rate CEFs, JRO had the best risk-adjusted performance with JFR, and EFR close behind.
The worst performance were booked by VVR.
Floating rate loans have also been touted as providing portfolio diversification. To be "diversified," you would choose assets such that when some assets are down, others are up. In mathematical terms, you want to select assets that are uncorrelated (or at least not highly correlated) with each other. To assess the diversification potential of floating rate loans, I calculated the pair-wise correlations associated with these funds. The results are shown in Figure 2.

Figure 2. Correlation matrix over past 7 years
As shown in the figure, none of the assets were highly correlated with each other or with high yield bonds. Most of the senior loan funds had correlations with each other in the 60% to 70% range. The correlation with high yield bonds was a little lower, ranging from about 50% to 60%. So overall, floating rate loans funds did provide excellent diversification.
I next wanted to see which of the floating rate funds performed the best during bullish times. I chose a 2 year look-back period between December, 2008 and December, 2010 for the analysis. During this period, floating rate bonds were generally in a bull market. The results are shown in Figure 3.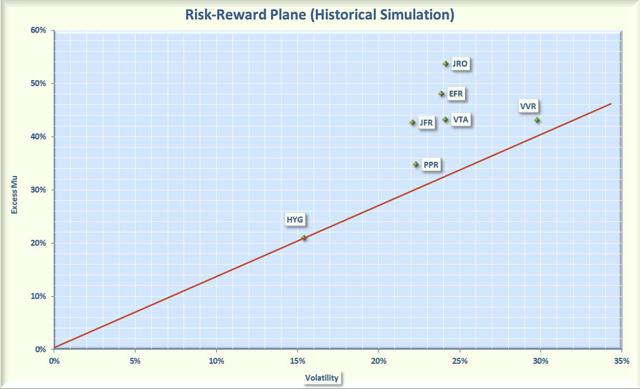 Figure 3. Risk versus reward from December 2008 to December 2010.
During this period, floating rate bonds handily outperformed high yield bonds on both an absolute and a risk-adjusted basis. The floating rate CEFs were still more volatile than HYG but the increased return more than compensated for the increased risk. During this period, JRO continued to lead the pack with EFR not far behind. All the floating rate CEFs performed well but PPR and VVR had the poorest performance (although they both outperformed HYG).
To round out the analysis, I looked at the past 3 years, which contained both favorable (2012) and unfavorable (2013, 2014) periods for floating rate loans. For completeness, I also added the following floating rate CEFs and ETFs:
Nuveen Credit Strategy Income (NYSE:JQC). This CEF sells for a discount of 13.5%, which is below the 9% six months ago. The average discount over the past 3 years has been 5.7%. The fund has a distribution of 6%, none of which was from ROC. The fund has 371 holdings, with 73% in floating rate loans and 16% in high yield bonds. All securities are from U.S. based companies. JQC utilizes 30% leverage and has an expense ratio of 1.8%, including interest payments. This fund was launched in 2003 as a multi-sector fund but the strategy changed in early 2012 to a floating rate fund. Thus, this fund was only included in the 3 year look-back period.
PowerShares Senior Loan Portfolio (NYSEARCA:BKLN). This ETF tracks S&P/LSTA U.S. Leveraged Loan 100 Index, which is an index designed to mirror the market-weighted performance of the largest institutional leveraged loans. This ETF was launched in March, 2011. The portfolio consists of the 100 largest loans in the senior loan space. This fund has a yield of 4.1% and a low expense ratio of 0.65%.
iShares Floating Rate Bond (NYSEARCA:FLOT). This ETF tracks the Barclay's Capital U.S. Floating Rate Note index, which contains investment grade securities with a maturity of 5 years or less. The ETF was launched in June, 2011 and has 348 securities. This fund is unusual in that the portfolio is investment grade, which reduces the yield. The expense ratio is 0.2% and the yield is only 0.33%.
The results of the analysis are shown in Figure 4. As you might expect, the volatilities during the past 3 years were much smaller than those over the 7 year period. Most of the floating rate loans CEFs had volatilities in the 16% to 18% range, but this was still over double the volatility of high yield bonds. In contrast to the CEFs, BKLN and FLOT had exceedingly small volatilities that was significantly less than that of high yield bonds. The return from BKLN and FLOT were commensurately smaller so the risk-adjusted performances were similar to that of HYG.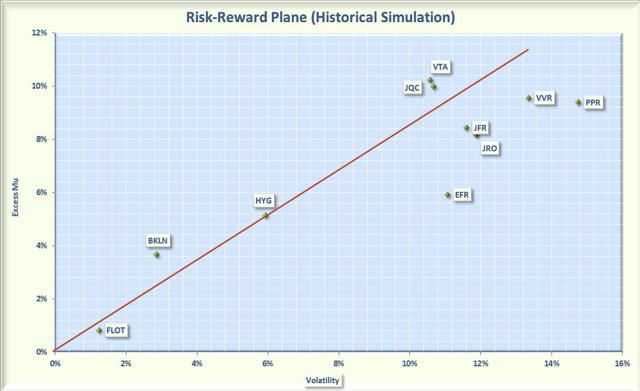 Figure 4. Risk versus Reward over past 3 years
On an absolute return basis, the CEFs beat the ETFs but the risk-adjusted performance was not that clear cut. JQC was one of the best performers indicating that the change in strategy of this fund was working. VTA also moved to the top of the pack. With the exception of JQC and VTA, the performance of the CEFs tended to lag that of high yield bonds.
Bottom Line
In summary, floating rate CEFs are a unique asset class that provides investors with current income and diversification. However, with the exception of JRO, over the past 7 years, these floating rate CEFs have not provided rewards commensurate with risk. In fact, high yield bonds have outperformed floating rate loans on a risk-adjusted basis. The new kids on the block, the floating rate ETFs, generated relatively small absolute returns but did so with low volatility so the risk-adjusted returns were good. On the plus side, floating rate CEFs have experienced a sell-off over the last 2 year and discounts have expanded.
The Fed has announced that they may be increasing interest rates as early as next year. If this comes to past, I believe it will bode well for floating rate CEFs and that the current depressed prices represent a buying opportunity. I would recommend looking at JRO and JQC. But make no mistake, these are highly volatile assets and are not for the fainthearted. If you are more risk adverse, then BKLN would also be worthy of consideration.
Disclosure: The author is long JRO.
The author wrote this article themselves, and it expresses their own opinions. The author is not receiving compensation for it (other than from Seeking Alpha). The author has no business relationship with any company whose stock is mentioned in this article.