How Rife Is Complacency in the Stock Market?
As we have noted in the course of the past few weeks, the stock market's decline and the evolving panic in the euro area's peripheral bond markets have produced some short term sentiment readings that would normally suggest that a retracement bounce is imminent. We tempered that observation by pointing out that the medium term indicators – foremost among them the mutual fund cash-to-assets ratio and the amount of margin debt in the system (and the associated lack of free credit) – are in fact in "red alert" territory and have been there for quite some time. In addition, the "smart money" OEX option traders have rarely expressed as much bearishness as they have in the course of the first few months of this year.
In any event, one would normally expect that the frequent warnings uttered by leading lights of the financial world, such as those by the Speaker (CEO) of Deutsche Bank (NYSE:DB), Josef Ackermann (DB is after all Europe's largest banking institution), that a disorderly Greek default would be "worse than Lehman" and should keep people on their toes. According to Reuters:
Governments across the single bloc are pushing the banks, pension funds and insurance firms that hold Greek sovereign debt to play a role in a second rescue package for the heavily indebted eurozone nation.

Josef Ackermann cautioned against any steps that could spread the crisis to other vulnerable countries in the 12-year old currency bloc.

"If it is Greece alone, that's already big. But if other countries are drawn in through contagion, it could be bigger than Lehman," the Deutsche Bank chief said at a Reuters banking event on Monday.

…

While many economists believe some form of debt restructuring is inevitable, European banks are eager to avoid a disorderly process that could trigger a Lehman-style meltdown of inter-bank lending markets and undermine other eurozone debt.

"We see the first signs of a stiffening of the money market," Ackermann said.

Ackermann said the lack of transparency on who holds credit default swaps (CDS) on Greek sovereign debt – instruments that protect investors against a default – prevented more radical action, such as a haircut on Greek debt. The prices of CDS move depending on perceptions about a borrower's creditworthiness, and the prospect of a forced or voluntary restructuring.

"We don't know whether these are in the hands of only a few players, which could then end up in trouble," Ackermann said."

…

Ackermann said investors were not prepared to "throw good money after bad," but made clear the private sector was prepared to play its part.

"It is better for us to have some bleeding than for us to have a complete meltdown," Ackermann told Reuters Insider Television in an interview after the conference. Before investors give up hope on Greece, the country must given a chance to boost tax collection and sell privatized assets, Ackermann said.

"Imbalances that have been built up over 20 years cannot be fixed in a matter of months," he told Reuters.
(our emphasis)
It is of course clear that Mr. Ackerman has every reason to paint as terrifying a picture as he can, in order to see the looming private creditor haircut postponed or averted. So we have to maintain a certain critical distance when considering his words. Nevertheless, he does make a number of points that clearly have merit. The dangers he outlines may be well known by now, but that does not mean that they are fully "priced in."
We are inclined to go along with the view of German economist Stefan Homburg, who argues that there is contagion across the euro area precisely because the eurocracy has averted a default/debt restructuring for Greece. We don't agree with every one of his conclusions (for instance, we'd be more careful with regard to making assumptions of how safe it is to buy Greek bonds), but he makes an important point that we wholeheartedly agree with. Says Homburg:
In a market economy, even in the case of a plumber whose customers don't pay their bills, it's never a question of getting creditors "involved" (in helping to deal with a bankruptcy). Instead, when push comes to shove, it is creditors, and creditors alone, who have to write off their loans. Only then do they have an incentive to carefully choose who they lend money to. A market economy with no personal liability cannot function. The government bailout initiatives create misdirected incentives that continuously exacerbate the problems on the financial markets."

... and further ...

"If the bankruptcy of little Greece were actually to trigger a global financial crisis, new bailout programs couldn't solve the problem: They would actually exacerbate it. If no more states or banks are allowed to go bankrupt because this might precipitate a financial crisis, then we're finished. Then the problem continuously escalates and leads to a much greater crisis."
(our emphasis)
Amen. Evidently this is however the course the eurocrats have set the euro-Titanic on: a policy of continual bailouts that keeps exacerbating the crisis. This brings us back to Ackermann's point that contagion poses potentially a huge problem for the euro area's banking system. The contagion, as we have pointed out many times, is happening already, in spite of the constant assurances from the likes of EU commissioner Olli Rehn that we "should not underestimate the commitment of the EU's leadership to save the euro." In short, the effect described by Homburg above, the unintended consequence of the current policy, is precisely what is now in train.
Having said all that, should stock market investors not be fearful as a result? Recall what happened in the summer of 2010. "QE1" had just ended, and the euro area crisis made its spectacular entrance. The market was terrified. We had the infamous "flash crash," followed by a steep correction in stocks that managed to drive the fear gauges markedly higher. From an anecdotal standpoint, many market participants became convinced that the market's rebound from the 2009 low had ended. Similar to today, the U.S. economy began exhibiting signs of weakness following the end of the Fed's monetary pumping program (QE1). So how does the current situation compare, always keeping in mind that the euro area's debt crisis has now reached a far more critical juncture?
The first thing that jumped out at us yesterday was a Reuters article entitled "Bulls ready to charge into a wall of worry." By definition, if the "bulls are ready to charge," then it isn't a "wall of worry," but more likely a wall of concrete. A wall of worry is clearly defined as a situation in which the market is rising in spite of ostensibly bad news and a great deal of skepticism on the part of the majority of market participants. According to this article, which discusses the merits of buying the dip, the "vast majority is now bearish," although one analyst concedes that "at times the majority is right."
Alas, is this really true? It is certainly the case that market surveys and put-call ratios have recently exhibited growing bearishness. However, as we have noted before, this bearishness tends to unwind very fast on even the slightest signs of market stabilization. This is telling us that there are still many market participants "eager to buy the dip." This is not exactly "wall of worry" type behavior.
So what about the Wall Street analyst community? A recent CNN Money survey shows us the year end targets for the S&P 500 index and the earnings per share estimates for the index that analysts are currently forecasting. The most bearish one among them expects the index to rise by 6%. You read that right – there is in fact not a single bear among the most prominent WS analysts, in spite of the economy's growing troubles, the end of QE2 and the European debt crisis. Whatever this is, it is not a wall of worry. What worries us is that these analysts are similarly sanguine about the outlook for oil and gold, because we are gold bulls ourselves. Alas, as the 2008 crisis has shown, when the margin clerks show up, no asset is safe – including gold. It is also noteworthy that every single one of these analysts expects the yield of the 10-year note to be higher at year's end than it is today. This is of course the corollary to their optimistic view on the stock market and commodities and it makes us think that the U.S. treasury's debt paper may well turn out to be "safe" for far longer than many people think possible – in spite of the paltry return it offers. Note in this context that the t-bill discount rate recently went briefly negative – i.e. people were prepared to pay the treasury for the privilege of lending it money, just so they could park their money in what is considered to be the safest "near cash" instrument.
Next we came across an article in the Wall Street Journal entitled 'Stocks Fall. Optimism Stands Tall'. This is not exactly what a stock market bull wants to hear. The article looks at the strange case of analyst optimism in the face of a deteriorating economy as well. A few pertinent snips follow below:
Stock analysts have a reputation for their rosy outlooks. But to many investors, that optimism may have just scaled new heights. The U.S. economy has slowed noticeably in recent weeks, prompting economists to ratchet down their estimates for growth and investors to drive stocks down 7% since late April. Market strategists started reducing their year-end forecasts for the Standard & Poor's 500-stock index.

But individual stock analysts have remained noticeably upbeat. As a group, they have not only kept their estimates for corporate earnings for the current quarter intact, but they have raised them.

Analysts expect S&P 500 companies, in aggregate, to earn $24.24 a share in the second quarter, according to Birinyi Associates. Those estimates have increased from $22.18 at the end of March and reflect a 16% rise from the same quarter last year. Skeptics warn that analysts have set the bar too high, increasing the chances companies may disappoint, triggering more market turmoil."

…

"Robust earnings have underpinned the stock market's rise from the depths of 2009. U.S. companies have expanded margins to record levels in recent quarters, helping the market overcome flare-ups in Europe and periodic worries about global economic growth. "If earnings disappoint, the market will disappoint as well," says Jerry Webman, senior investment officer with OppenheimerFunds. "There's going to be a limit to margin expansion, and we may be there already in terms of productivity improvements."

...

Analysts have been notoriously inaccurate when it comes to projecting profits. In recent reporting seasons, analysts significantly overshot or undershot earnings estimates for about 90% of the S&P 500 companies, according to Birinyi.
Click to enlarge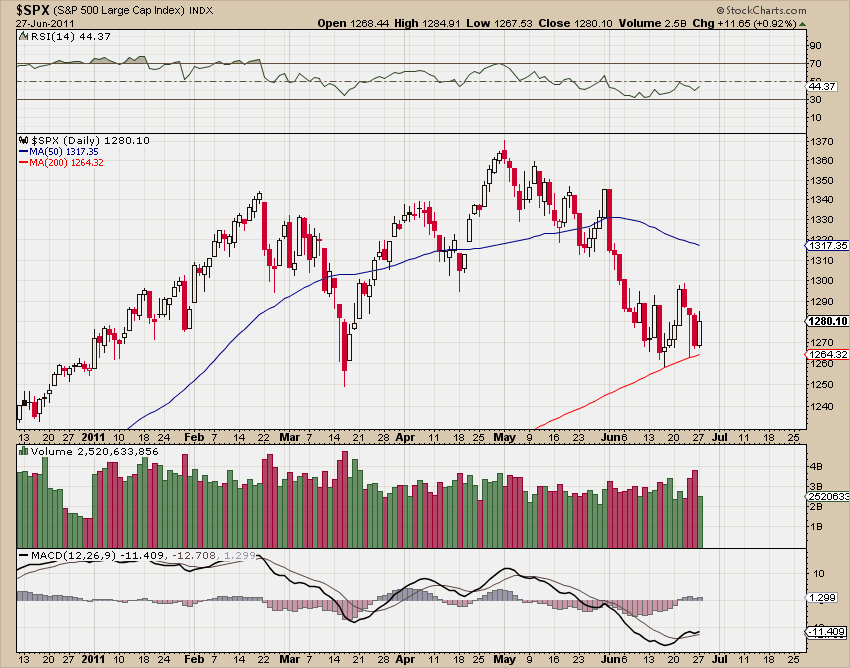 The S&P 500 Index has bounced off its 200 day moving average and a slight RSI divergence and a tentative MACD buy signal indicate that a short term bounce may still be in the cards. In all likelihood the news flow from the euro area will determine the short term outcome. Alas, we continue to believe that the medium to longer term outlook for stocks is quite negative. A secular bear market remains in force and we have not yet seen the kind of revulsion for stock market investments that would indicate it has ended.
Click to enlarge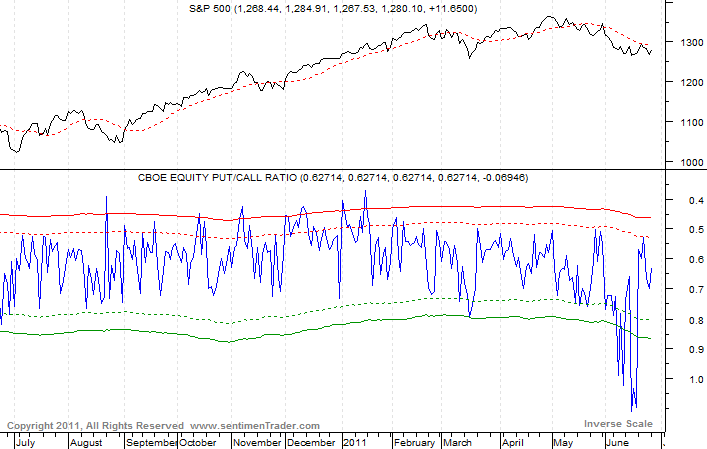 After a brief spike into "fear territory," the equity put-call ratio has quickly recovered back into "complacency territory."
Click to enlarge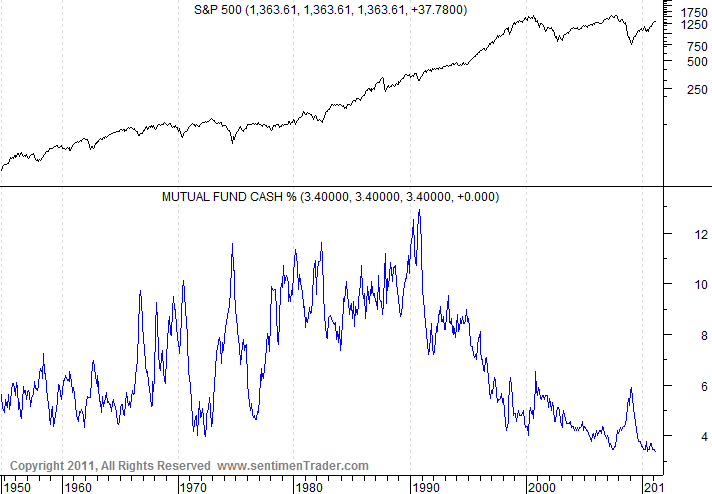 The mutual fund cash level is at an all time low of 3.4% of assets. This means mutual fund managers have never been as bullish as they are now. Where's the wall of worry?
Click to enlarge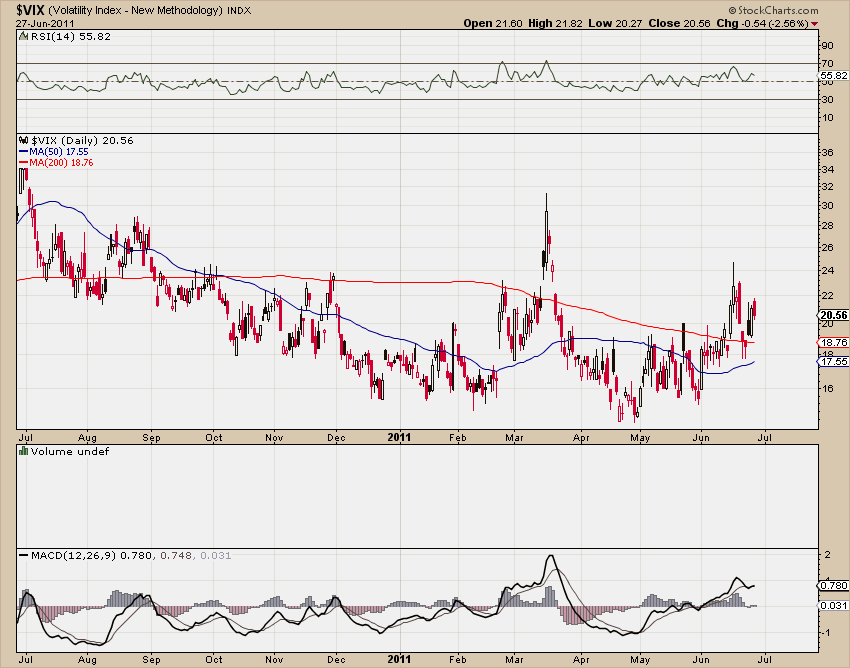 The VIX Index, which measures the volatility premia paid on SPX options, which makes it a popular "fear gauge," has increased, but its rise has been remarkably subdued considering the recent market weakness.
In summary we would say that the stock market's near term outlook – always provided the wheels don't come off the EU wagon completely this week, which certainly remains a possibility – is probably better than its medium to long term outlook. This is another way of saying: if there is a short term bounce, one should probably use it to reduce one's exposure to stock market risk.
Gold and Gold Stocks
In recent years, whenever analysts published optimistic price targets on gold, they most of the time underestimated the bull market's strength. Perhaps they are doing so again, but we confess to be slightly uneasy over their recent show of optimism. After all, gold is the asset that normally everybody loves to hate. Gold has rallied for 10 years running, so gold investors should at some point expect a correction that will make it look as though the bull market had ended.
We had only one such correction to date, the decline during the 2008 liquidity crunch. Note that we are not forecasting that such a correction is imminent – we are merely stating that there will be such a correction at some point in the future and gold investors must be mentally prepared as to how they intend to deal with that eventuality. What worries us most is the blow-off that was experienced in the silver market this year and the choppy action in this market since then. It looks so far almost exactly like what happened after the 1979-1980 blow-off move, as Tom McClellan notes here. Of course this is no guarantee that things will continue to play out as they have in 1980, but commodity price blow-offs and the subsequent declines often show a great many similarities. We don't think the correction in silver is over, and currently it seems dangerously poised right at an important level of lateral support.
However, we have also noticed that there is now a slight positive divergence shaping up between the gold stock indexes and gold itself. Whether this will prove meaningful is not clear as of yet, as it requires confirmation by subsequent price action. However, it is certainly worth noting and may be a sign that a near term bounce in gold and gold stocks is close.
Click to enlarge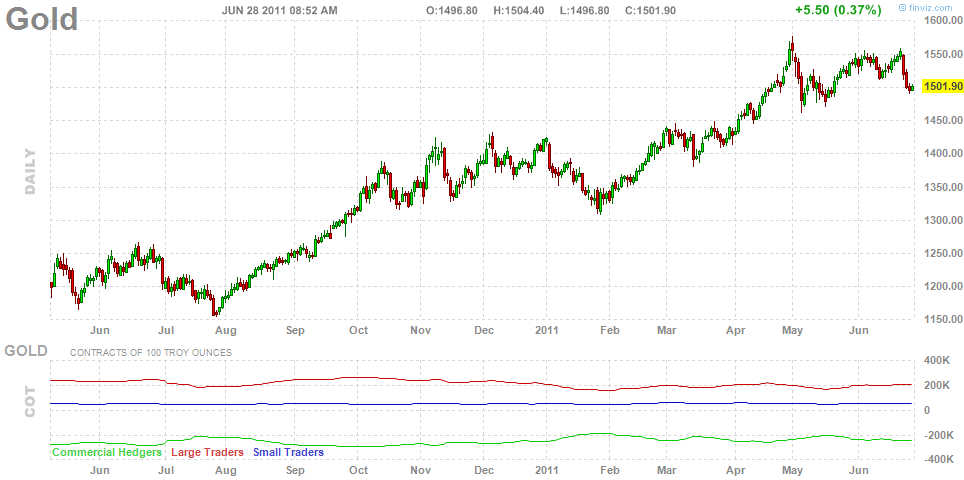 Gold has begun to correct, finally following the gold stocks lower, which have been in correction mode since December (or April, depending on the index one uses – the XAU has peaked back in December already, the HUI in April).
Click to enlarge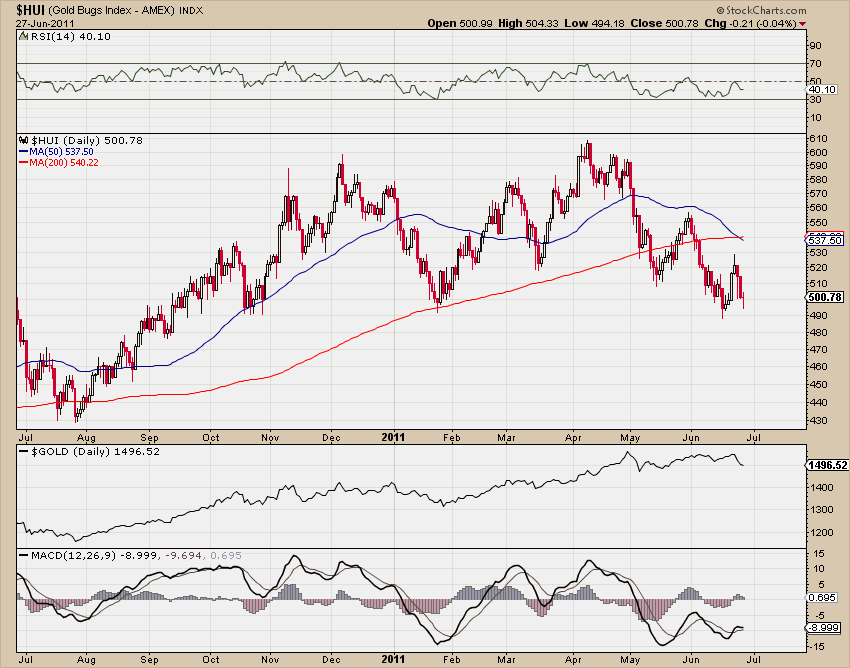 The HUI index of unhedged gold stocks – as can be seen, in the most recent move lower, gold has made a slightly lower low (solid line below the index), while gold stocks have made a slightly higher low. A similar divergence (only vice-versa) was in evidence at the late April high and presaged the subsequent sharp decline. If the HUI index manages to hold above its mid June low, then the current divergence may indicate that there is retracement bounce in the works.
Click to enlarge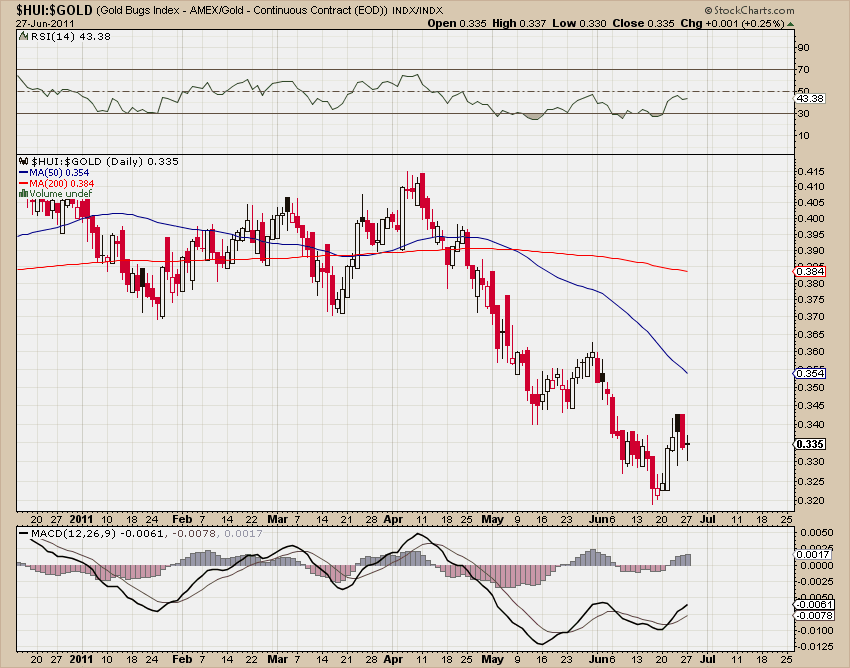 The HUI-gold ratio has been rising of late and there is now an MACD buy signal in evidence. This jibes with the observation made above.
Click to enlarge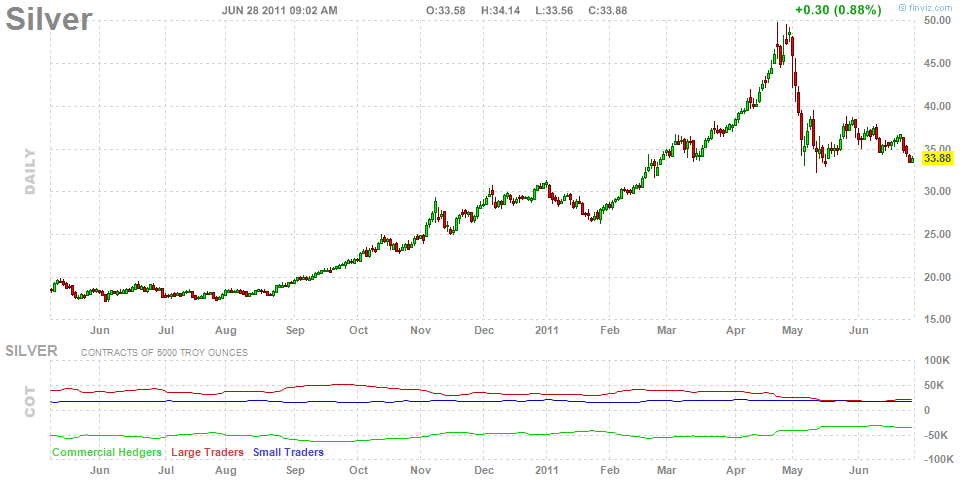 The one chart in the precious metals arena that worries us most is that of silver. It has come perilously close to important lateral support in a sequence of lower highs. We expect it will eventually be broken, but given the recent divergence between the metals and the miners there may be another "stay of execution" in the short term.
In summary, our opinion is that the corrective phase is not over yet, but there is now some preliminary evidence that a short term bounce for the precious metals sector may be close. This will be confirmed if the June lows in the gold stock indexes hold and a rally manages to overcome the most recent interim high made last week.