For his part, Tesla (NASDAQ:TSLA) CEO Elon Musk has remained cautious throughout this latest historical stock market run, going so far as to describe Tesla shares as "kind of high right now," as recently as September. In all, Tesla stock has rocketed, posting approximately 1,065% in gains ever since its 2010 IPO. However, as TSLA falters, some bears now seem to be treating the stock as an ideal short candidate.
Tesla may appear overvalued, when comparing market valuations against underlying business performance. Aggressive bears, of course, should be willing to debate the idea that Tesla shares carry a built-in put, largely through the implicit backing of government officials. In the near-term, Federal Reserve, Treasury, Department of Energy and localized tax boards will all provide support for the Tesla business model and, consequently, its share price.
The Mechanics Of Shorting Tesla Stock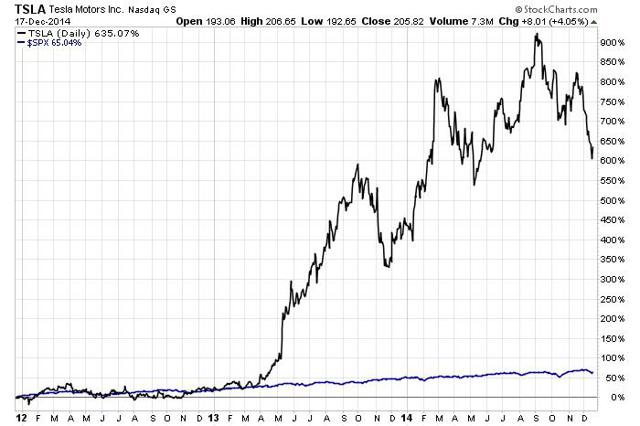 Recent weakness in Tesla shares has largely coincided with sharp corrections in global oil prices and the S&P 500 over the past quarter. For the sake of comparison, TSLA, Brent crude and the S&P 500 have lost a respective 31.8%, 39.4%, and 1.3% in value, between September 16 and December 16. From there, TSLA rallied sharply off quarterly lows toward $220, as of Friday's close, on news the Federal Reserve Board would likely extend its loose monetary policy through 2015.
Bears, of course, often cite weakening oil prices as their rationale behind denigrating the Tesla business model, which has promised an alternative to gasoline and the internal combustion engine.
On December 15, the U.S. Energy Information Administration reported a $2.55 price for U.S. regular gasoline, which was 69 cents off the year-ago mark. The Tesla Model S, with its 85 kWh battery, retails for $79,900. For the sake of comparison, the BMW 528i sedan begins at a $49,950 manufacturer's suggested retail price (MSRP). Bearish Wall Street traders may be placing bets that Tesla and its sales pitch lauding long-term fuel savings will implode amid the recent collapse in prices at the pump. The Tesla Model S, however, did take home the 2013 Motor Trend Car of the Year award. Going forward, Tesla vehicle demand may be more related to quality and cachet than a simple negative correlation to oil prices.
As of November 28, traders had sold 22.2 million shares of Tesla stock short. For the sake of comparison, Tesla now operates with 123 million shares of common stock outstanding on the balance sheet. Much of this common stock is now restricted, as part of executive compensation, and not available for trading. At these levels, roughly 25% of Tesla's tradable shares, or float, was sold short. Legions of Tesla bears may therefore be setting themselves up to face a violent short squeeze. A squeeze, of course, occurs when short sellers promptly reverse course amid a stock market rally and "buy to cover," to avoid deepening losses. At any moment, fresh government policy may support renewed strength in Tesla shares, as a backdrop to another short squeeze.
Government Support For Tesla
In Q4 2008, the Federal Reserve Board dropped its federal funds rate to an unprecedented zero, amid the housing bust and credit crisis of the time. From there, the Federal Reserve installed a sweeping crisis response program that included a commitment to monthly purchases of $85 billion in long-term Treasuries and agency-guaranteed mortgage-backed securities, beginning in January 2013. By December 18, the Federal Reserve balance sheet had ballooned to $4.5 trillion. The expansion of the Fed balance sheet has largely come in conjunction with record highs in the Dow Jones Industrial Average, the S&P 500 Index and Tesla shares.
More specifically, in terms of government support, Tesla did take down a $465 million Department of Energy loan facility in 2009. Of this amount, Tesla was to spend $365 million to bring the Model S to market and another $100 million for a powertrain manufacturing plant. This government support package also included $7,500 in Federal tax credits awarded to consumers who would purchase the Model S. On the local level, various state houses have offered up incentives of their own. Colorado and California offer respective $6,000 and $2,500 credits toward Tesla vehicle purchases. As an added bonus, Tesla owners may also make full use of high-occupancy vehicle (HOV) lanes in California, without meeting the riding occupancy requirements.
Tesla repaid the $465 million DOE loan in 2013, which was 9 years ahead of schedule. To do so, Tesla issued a combination of new equity and debt that year. Going forward, however, it will be the implicit government guarantees that largely back Tesla and improved shareholder value. The 85 kWh Tesla Model S, again, begins at $79,900. Certainly, the production and installation of 7,000 batteries beneath each Model S will account for a significant amount of cost of sales. For its part, Japan's New Energy and Industrial Technology Development Organization, a public-private partnership, has put more than $400 million toward cheaper and more efficient battery technologies. Panasonic does supply Tesla with its Model S batteries out of Kasai and Osaka-based manufacturing plants.
Tesla has scheduled its Model X, a crossover utility vehicle, for Q3 2015 production and delivery. Although Tesla has yet to announce an exact MSRP for this new vehicle, it is assumed the Model X will retail near the more affordable $40,000 price point. To do so, Elon Musk and Tesla have already negotiated with the State of Nevada to build a $5 billion lithium-ion battery plant referred to as the "Gigafactory." The Gigafactory will be the world's largest battery plant and directly employ 6,500 workers. To sweeten the deal, Nevada granted Tesla $1.3 billion in tax incentives that span the next 20 years. In time, the ability of Elon Musk to negotiate government contracts may emerge equally as impressive as his technical know-how.
The Bottom Line
On September 30, 2014, Tesla closed out its Q3 2014 books with $5.4 billion in assets above $4.4 billion in total liabilities on the balance sheet. The liabilities side of the ledger includes $415.9 million in deferred revenue, which will ultimately be recognized on the net income statement. After the fact, Tesla would then operate with $1.4 billion of intangible book value, after subtracting out $4 billion in liabilities. These positions would break down further to roughly $11.50 per share in intangible book value. Tesla shares last changed hands at $219.29, at the end of the December 19 trading session, which also calculated out to roughly $27 billion in market capitalization.
In any event, Tesla has yet to turn an annual GAAP profit as a publicly-traded corporation, despite its relatively high valuations. Last quarter, Tesla slogged through $74.7 million in losses off $851.8 million in revenue. For the year-over-year period, Tesla posted $430.2 million in revenue and $38.5 million in losses. Interestingly, Tesla revenue and losses both roughly doubled through this recent year-over-year period. Meanwhile, cash flow from operating activities declined significantly from $130.8 million to $29 million, through the first nine months ended September 30, when comparing 2014 against 2013.
Tesla, of course, is literally capable of "floating the note" through sweetheart government deals until the business begins to show signs of positive cash flow and profits. For its part, Tesla does collect and maintain California Air Resources Board credits at its disposal for sale to other automobile manufacturers. Analyst Alberto Zaragoza Comendador has published estimates that Tesla has already pocketed more than $100 million in revenue through complicated CA Zero-Emission-Vehicle credit swaps with other automakers.
Short sellers may find themselves totally routed if Tesla were to begin posting solid profits, largely through government support. Conservative investors, of course, may be better served opting to avoid Tesla stock, altogether. The Tesla business model appears to rely on government benevolence, which is anathema to advocates of free-market principles.
Disclosure: The author has no positions in any stocks mentioned, and no plans to initiate any positions within the next 72 hours.
The author wrote this article themselves, and it expresses their own opinions. The author is not receiving compensation for it (other than from Seeking Alpha). The author has no business relationship with any company whose stock is mentioned in this article.