LA QUINTA'S FOLLOW THROUGH OF OPERATING EXCELLENCE AND FREE CASH FLOW GENERATION MAKE IT A GROWTH FAVORITE IN 2015
La Quinta Should Have a Blowout 2015, Delever, and Return Capital to Shareholders
SUMMARY VIEW: In a follow up article to what have been bullish recommendations since IPO, I continue to recommend a long position in La Quinta Holdings, Inc. (NYSE:LQ). LQ continues to outperform peers in the hospitality industries most important financial and non-financial metrics and will look to significantly drive EBITDA, margins, and FCF generation in 2015. LQ stands to continue its concentrated efforts to deleverage and will look to return capital to shareholders via a dividend or share buybacks in Q3/Q4 2015. I view LQ as the most attractive name in hospitality to own for the next 4 quarters.
CHART: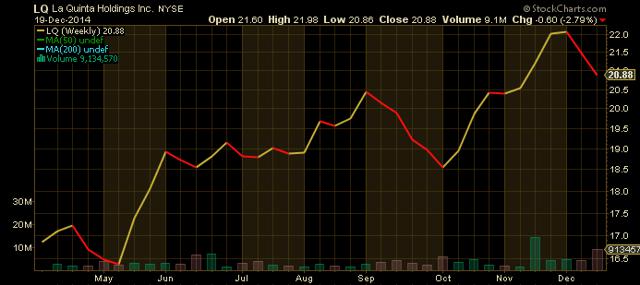 STOCK DATA: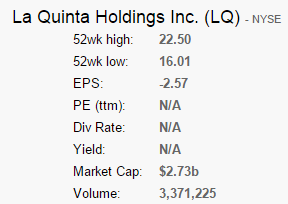 KEY POINT 1: LQ'S operating performance showed another quarter of consistency in growing key financial and non-financial metrics. I look for this to have an easy path for follow through as LQ will be operating in "like" economic environments, as they can be viewed currently, and stands to have the potential for generally deflationary food and commodity environments to provide a tailwind for overall industry growth.
Non-Financial:
LQ was able to show productive growth across the board for all non-financial metrics. During Q3 it grew RevPar 8.9% as a result of occupancy and daily average rate increases which were up 282 basis points (to 71.7%) and up 4.6%, respectively. Year to date RevPar is up 7.9% driven by a 195 basis point increase to occupancy and a 4.8% increase to average daily rate.
In my opinion the most important metric is average daily rate which LQ can control and speaks to the supply demand relationship in its markets. As occupancy floats higher and lower seasonally and on a Y/Y basis average daily rate should continue to creep higher year over year as LQ can build its brand and continue to be selective about market entry for new locations, mostly the franchise variety. I don't see any reduction to daily average rate or flattening of increases in the near-term as I don't believe LQ will reach a market by market saturation for quite some time.
Financial:
LQ also stands to benefit from lower food and commodity costs which traditionally drive leisure traveling, an important segment of LQ's total revenues. I'm looking for sustained deflationary tailwinds to add incrementally to margins during Q4/14 and especially Q1/15. Generally, consumer spending picks up in-trend with falling commodity prices (tracked by the CRB index) with a four to six week delay as that's generally how long it takes lower priced commodities (especially refined gasoline) to work through the supply chain and re-price at the pump. LQ didn't' see much contribution from this in its Q3 numbers and I'm looking for upside lift to numbers in Q4.
During Q3 LQ grew total pro forma revenue 10% Y/Y and grew pro forma operating income 11.6%. Pro forma Adjusted EBITDA grew 13.6% for the quarter and pro forma Adjusted EBITDA margin grew 130 basis points Y/Y to 40.3% partially as a result of operating leverage increases and further growth of the higher margin franchise business segment. While impressive, especially when compared to peers, I look for margin expansion and general revenue growth to accelerate into 2015.
DEBATABLE POINT:
LQ has 29% of its current pipeline locations and a concentrated amount of its current locations in Texas. Should the Texas economy slow as a result of lower oil pricing this would have a defined effect on LQ's Texas segment. While CAPEX reductions have been announced by major players in the industry there was already a significant demand overflow from supply. I don't anticipate this having an effect on LQ, more on non-hotel lodgings like apartment rental and other longer term lodgings, but if it does that would be a significant hit to operations.
While not pricing in a greater travel frequency and duration from lower commodity pricing this is a significant driver to my upside scenario for shares. Assuming lower commodity environments persist, if Americans choose to use extra income from lower pricing to deleverage or to save and not to travel this would effectively remove this tailwind from my thesis.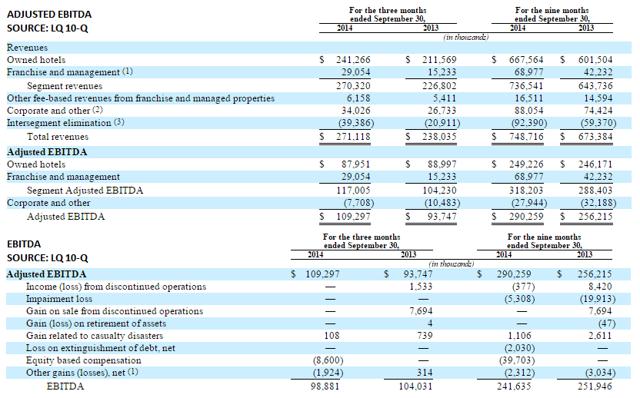 KEY POINT 2: LQ's franchise growth will continue to drive operations and allow the company to grow into higher margins. This greater size helps the company in several different obvious ways but also from the less obvious avenues of helping expand the LQ brand, helping LQ realize economies of scale from a supply and delivery logistical infrastructure standpoint, and helping LQ realize economies of scale from other OPEX channels. I expect LQ's franchise growth to be a major contributor to share price growth in FY15.
The primary initiative in LQ's growth strategy is further weighting its composition of total locations to more franchise weighted - franchise weighting currently sits at 59% of locations and 48% of rooms. These locations are higher margin and are extremely capital light, allowing LQ to leverage its balance sheet more when weighting shifts to franchise owned. Longer term LQ has a stated goal to have 80% of locations and 80% of rooms be of the franchise variety.
LQ's current pipeline of 196 hotels is almost exclusively franchise based and predominately new construction, again funded entirely by the franchise owner. LQ feels like this positions it offensively as its base of hotels will continue to grow and grow younger. LQ's owned hotels have an average age of 26 years and franchise locations have an average age of 13 years. Having a younger base of hotels doesn't just have aesthetic and structural benefits (up to date building design) but also allows LQ to benefit from the realization of up to date efficiencies such as having energy efficient lighting structures, heating and A/C flow structures, and technology based infrastructural advancements on a hotel by hotel basis. Also, according to Smith Travel Research this has allowed LQ to have a lower cost of maintenance on its portfolio - one of the lowest in the industry. The all-in costs to operate its hotels should also be benefitted by growth in overall size. To be specific, the overall growth of the company and the growth into newer and more diversified markets has allowed the company to renegotiate contracts for toilet paper, trash cans, and trash bags in just the last 4 quarters. I expect LQ to further leverage size into savings.
It should also be noted that LQ, as a part of this strategy and a way to further create shareholder value, post-IPO has restructured its existing and new agreements away from an older agreements that only charged 2% in aggregate fees to a new one that charges 6.5%. This should help drive margins in this already higher margin channel.
DEBATABLE POINT:
Should macro-credit environments substantially deteriorate to the point that LQ's franchisees can't fund or complete new builds this would create what would be an insurmountable obstacle for 2015 operations to overcome.
Should there be any major shifts in geographical open plans, taking into account any longer term economic implications from crashing oil pricing, etc., this could potentially alter the cannibalization rate of LQ new franchise opens. Currently, considerable white space exists in the LQ opening strategy to avoid this from happening.

KEY POINT 3: LQ being able to generate FCF and deleverage while still in high growth mode will lead it to return capital to shareholders in Q3/15 or Q4/15, at which point it will be below a 4X net leverage ratio.
Quite possibly the most bullish attribute of LQ is its ability to generate FCF. During the 9M/14 LQ generated ~$162 million in FCF which it used to make voluntary principle payments on debt of ~$155 million, including $75 million in Q3. LQ plans to make another $20 million in prepayments during Q4 on its way to breaking 4X net debt mid-way through 2015. Deleveraging efforts so far have lowered net interest expense to ~$97 million for the 9M/14 from ~$111 million in 9M/13.
While this isn't expressed as a growth strategy of the company, and it isn't a growth strategy directly, the decreased interest expense as a percentage of revenues will most certainly stretch net income and help bring LQ closer to breakeven with EPS. Not only that but should LQ see an opportunity to raise a long bond or a some form of managed level of dilutive debt instrument the lower levels of outstanding debt will go a long way into securing cheap financing. There is simply nothing negative to say about the debt situation at LQ.
Management has alluded that once breaking the 4X leverage ratio that it has targeted since pre-IPO that it will have to find more productive endpoints for FCF - this would mean either special dividends, accelerated growth, or share buybacks. Normally not a fan of share buybacks I agree with management that if technical metrics hold where they are another two quarters that share buybacks would be the obvious first answer for FCF. I believe investors should front run this by getting long shares into Q4 announcements ~60 days from now.
DEBATABLE POINT:
Should Key Points 1 and/or 2 not be executed as expected this would change the cash flows generated by LQ and delay the 4X net debt breakeven point, furthering the return of capital plans and slowing the deleveraging efforts.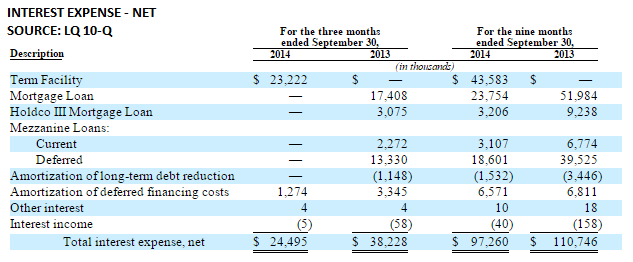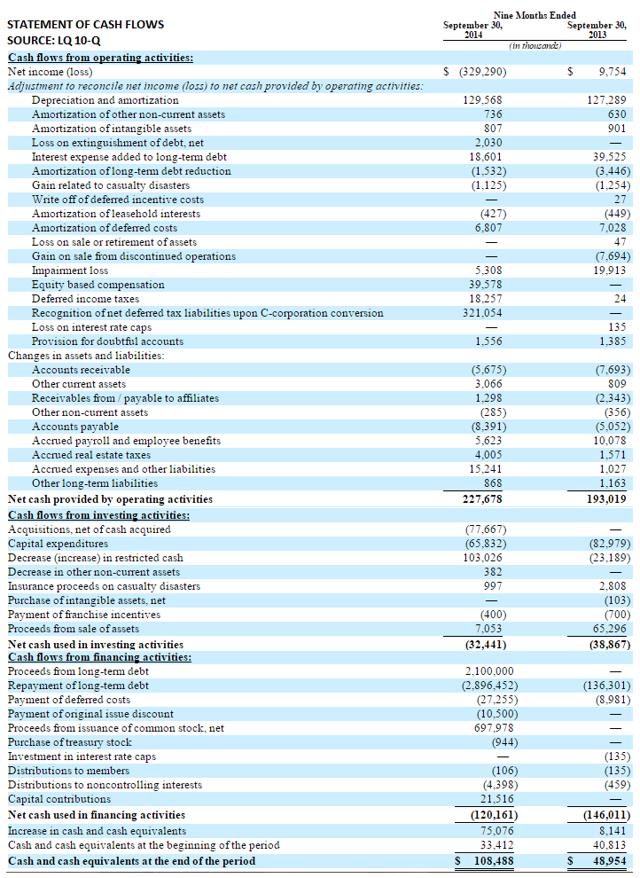 UPSIDE SCENARIO: I believe LQ is significantly undervalued when compared to peers using comparable company analysis of valuation, profitability and income statement, and cash flow statement metrics as benchmarks.
COMPARABLE COMPANY ANALYSIS - PROFITABILITY AND INCOME STATEMENT 1

METRIC:

OPERATING MARGIN

EBITDA MARGIN

REVENUE PER SHARE

Q REV GROWTH Y/Y

CHH

28%

30%

12.8

(1%)

IHG

33%

37%

7.8

(3%)

HLT

19%

28%

6.8

8%

LQ

18%

36%

7.0

14%
1Data provided by Capital IQ.com
COMPARABLE COMPANY ANALYSIS - CASH FLOW STATEMENT1

METRIC:

CASH PER SHARE

OPERATING CASH FLOW

LEVERED FREE CASH FLOW2

CHH

$4.24

$185.8M

$61.5M

IHG

$1.51

$603M

$394M

HLT

$0.55

$1.98B

$1.21B

LQ

$0.83

$267.5M

$329M
1Data provided by Capital IQ.com
2 Formula: (EBIT + Interest Expense) x (1 x Tax Rate) + Depreciation & Amort., Total + Other Amortization + Capital Expenditure + Sale (Purchase) of Intangible assets - Change in Net Working Capital + Pref. Dividends Paid + Total Debt Repaid + Total Debt Issued + Repurchase of Preferred + Issuance of Preferred Stock
COMPARABLE COMPANY ANALYSIS - VALUATION METRICS1

METRIC:

PSR

EV/R

EV/EBITDA

MARKET CAP:

CHH

5X

5X

17X

$3.3B

IHG

5X

6X

15X

$9.6B

HLT

4X

6X

20X

$25.8B

LQ

3X

5X

13X

$2.7B
1Data provided by Capital IQ.com
LQ performs well from a margin standpoint even not at a perfect economy of scale and even not having the maturity to be lower in leverage. LQ is the fastest growing of the compared companies, which are Choice Hotels International, Inc., InterContinental Hotel Group, PLC., and Hilton Worldwide Holdings., by almost double its closest comparison with two of the three competitors showing revenue contraction Y/Y. LQ also has a measured share base, which could shrink as a result of buybacks, showing an in-line performance when it comes to revenue per share.
I believe this should warrant LQ a PSR multiple of at least 5X, which is the multiple it's larger but contracting in growth competitors are receiving, even with higher EV/revenue and EV/EBITDA multiples. In an extreme upside scenario that I believe would price in LQ's total story and some front running of future quarter performance I believe LQ could warrant a 6X multiple.
If LQ were to be valued at a 4 multiple this would value the company at ~$4 billion, or 45% higher.
If LQ were to be valued at a 5X PSR multiple this would value the company at ~$5 billion, or 83% higher.
If LQ were to be valued at a 6X PSR multiple this would value the company at ~$6 billion, or 118% higher.
DOWNSIDE SCENARIO: With LQ already trading at a significantly smaller multiple to peers I believe its downside scenario is limited. Should any of the major risks to the bull thesis outlined in the Key Points sections come to be realized I believe that LQ already trading at a discount would only allow minimal downside to share price before larger institutional buyers would step in. LQ is one of those rare opportunities that has the size, the daily volume, the easy to tell story, and the fairly high visibility growth story to model companies that an institution can load in size and hold for the longer term. I believe shares could trade as low as ~$18, which is 10% lower and is more a technical target than anything, in such a scenario. I don't believe the downside scenario has a high percentage of playing out.
FINAL TRADE RECOMMENDATION: I recommend a long position in LQ for at least a 12 month hold. I look forward to providing continuing coverage in the future. Good luck to all.
Disclosure: The author is long LQ.
The author wrote this article themselves, and it expresses their own opinions. The author is not receiving compensation for it (other than from Seeking Alpha). The author has no business relationship with any company whose stock is mentioned in this article.