There are several resources on the internet that allow you to keep your eye on initial public offerings. Much like spin-offs are often overlooked by institutional investors it is certainly possible to find something underappreciated in the world of newly listed public companies.
That being said, I have no love for financial projections that are based on hope and promise. I like assets and cash flow, things that I can value.
I will make an exception however for companies that have one particular attribute, a management and Board of Directors that have history of building companies and shareholder value.
I'm talking about entrepreneurs who live to build companies. Guys who don't drag themselves to work for a paycheck, but rather jump out of bed and can't wait to get started.
It is management and the Board of Directors of newly IPO'd Medovex Corporation (MDVXU) that made me take a second look.
Medovex Corp announced last week the pricing of its IPO units. I believe it is worth putting on your watch list.
An Unusually Accomplished Leadership Group
Rather than going with a long winded wind up as I'm prone to do, I'm going to cut right to the chase. This company has a Board of Directors that is disproportionately qualified to steer a company of this size. That brings with it all kinds of advantages including:
- Much improved access to capital
- A huge stamp of approval for the company business plan
- The ability to get the company's foot in the door with potential customers
Steve Gorlin is co-founder of Medovex. He was involved in founding the four companies listed below: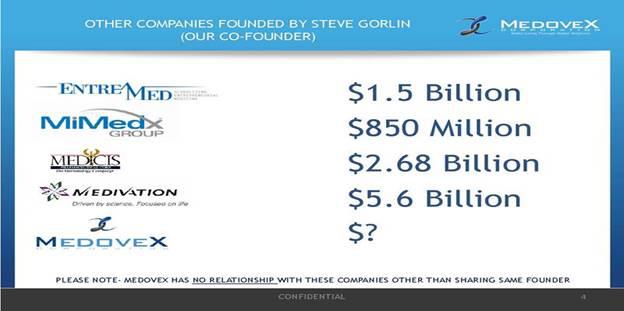 That is almost $11 billion worth of market capitalization.
I've found that in investing you can have success by betting on both the horse and the jockey. You just need to make sure that at least one or the other are high quality.
A business like Coca-Cola is a horse that you know is going to do well over long periods of time. A leader like Gorlin is a jockey that you can trust to create value for you.
Without Gorlin's involvement I likely wouldn't be looking at Medovex. I would have skimmed the IPO documents and quickly moved on to the next.
With his involvement and track record of success this company is considerably more interesting.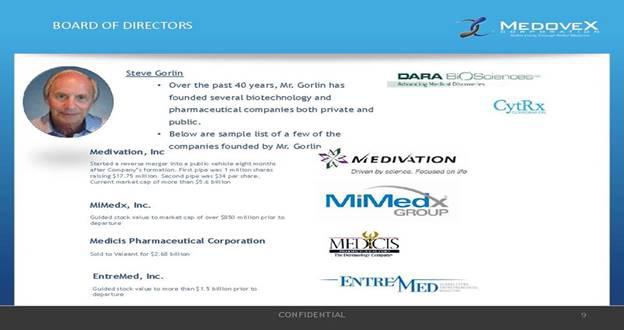 Medovex The Business
The goal of the Company is to obtain, develop and commercialize various intellectual property rights (patents, patent applications, knowhow, etc.) in the medical technology area, with particular focus on the development of medical devices.
Medovex's first acquisition is something called the DenerVex device. The reason for Medovex going public to raise capital is the pursuit, with appropriate governmental approvals and clinical trials the commercial development of that device.
Medovex acquired the DenerVex patent on January 31, 2013 from Scott Haufe, M.D. in exchange for 750,108 shares of common stock in the Company and a 1% royalty on all sales of any product sold based on the patent. Haufe is now a director of Medovex.
The DenerVex is designed to provide long lasting relief of pain associated with Facet Joint Syndrome (FJS), a condition in which the joints in the back of the spine degenerate and subsequently cause back pain.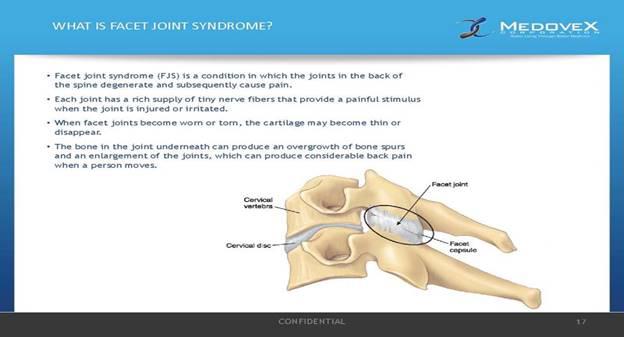 Approximately 31% of chronic lower back pain is attributed to FJS, a condition in which joints located at the back of the spine degenerate and subsequently cause pain.
Each joint in the spine has a rich supply of tiny nerve fibers that provide a painful stimulus when the joint is injured or irritated. When such joints degenerate due to wearing or tearing, the cartilage separating the joints in the spine may become thin or disappear. The bone in the joints underneath the cartilage can then produce an overgrowth of bone spurs and an enlargement of the joints, which can repeatedly send pain signals through the nerve fibers in the spine. Such pain signals can result in considerable back pain, especially when a person is in motion.
Currently, initial treatment of FJS includes a number of non-invasive, non-surgical techniques or therapies. Examples of such therapies are activity modification exercises, over-the-counter medication, chiropractic intervention and physical therapy.
If those non-invasive, non-surgical approaches fail to provide long-term relief to a patient, there are currently six approaches used to remedy FJS: spinal injections, radiofrequency ablation (also known as radiofrequency rhizotomy or radiofrequency neurotomy), cryodenervation, pulsed radiofrequency, manual tissue scraping and electrocautery performed separately and spine fusion surgery.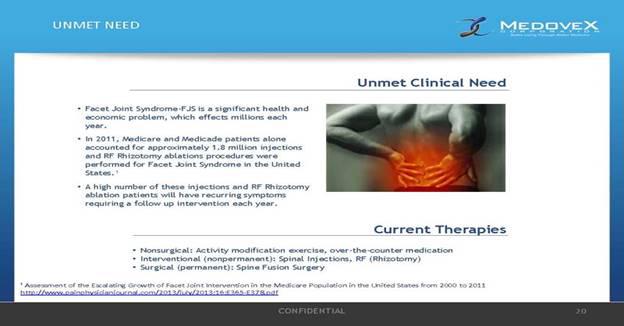 Management of Medovex believes that the primary downsides of the current surgical approaches are as follows:
Temporary relief. Spinal injection, cryodenervation, RF (radiofrequency) ablation, and pulsed RF therapies are non-permanent, such that patients must return for repeated treatment over the course of the patient's lifetime. Spinal injections and cryodenervation effectiveness only lasts a few months, while RF ablation, and pulsed RF have generally been shown to be effective for approximately 6 months to 2 years.
Difficult to learn and teach. Manual tissue scraping and electrocautery performed separately and spine fusion procedures are specialized procedures that require a highly skilled specialist that is well-versed in endoscopy and surgery skills to administer.
Surgical mechanisms are bulky and difficult to use. Spinal injections require large, painful needles. Manual tissue scraping and electrocautery requires four separate devices to be used that cannot be deployed simultaneously. Spinal fusion surgery is a very invasive and significant surgical procedure.
High cost. Spinal injection, cryodenervation, RF ablation, and pulsed RF therapies must be repeatedly applied to be effective, and the cost of such repeated visits to healthcare facilities can aggregate significantly over the course of a lifetime, not to mention the cost of lost productivity due to lower back pain in between treatments.
High cost. Spinal injection, cryodenervation, RF ablation, and pulsed RF therapies must be repeatedly applied to be effective, and the cost of such repeated visits to healthcare facilities can aggregate significantly over the course of a lifetime, not to mention the cost of lost productivity due to lower back pain in between treatments.
Invasive with long recovery time. Spinal fusion surgeries are potentially risky, highly invasive surgeries that require significant recovery time with an average cost per client of up to $108,000 per patient, plus an estimated 3 to 6 months of lost productivity in the workplace.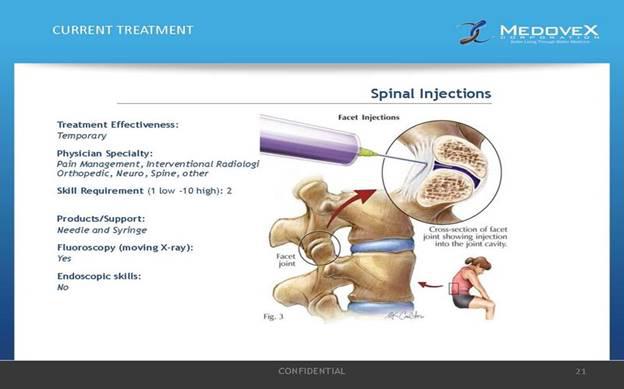 Obviously Medovex believes that its Denervex device offers a better solution.
The concept is simple: remove the affected nerve endings sending pain signals to the brain in such a way that they won't grow back. A current treatment for this pain removes the nerve endings, but the nerve endings regenerate and the pain returns. A patient is forced to return again and again to seek pain relief at a substantial cost over time.
Medovex believes the DenerVex will be the first device of its kind intended to combine tissue scraping and electrocautery simultaneously in order to achieve a long lasting solution to FJS. The DenerVex is being designed as a single use device that will be provided to health care practitioners in a package that contains all of the items necessary in the sterile field of the operating room to carry out the surgery necessary to address FJS.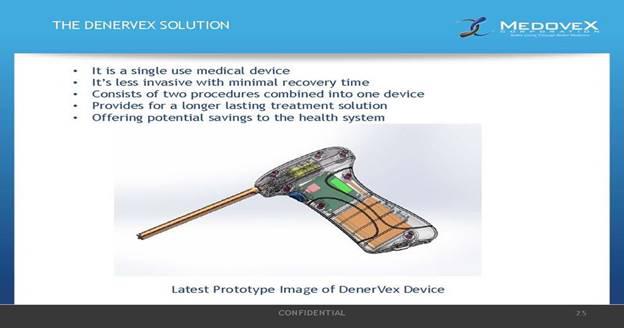 Medovex believes DenerVex is an improvement on the current standard of care in the following ways:
Longer lasting. The DenerVex is designed to provide long lasting relief to patients that would otherwise be required to undergo repetitive therapies such as spinal injection and RF ablation.
Easy to teach and intuitive to use. The DenerVex will combine two procedures that are currently carried out in the manual tissue scraping and electrocautery performed separately into one procedure that does not require a specialist to conduct. Medovex intends to offer a simple one-day or weekend course featuring a cadaver lab to train physicians in usage of the DenerVex.
Compact, next generation design. The DenerVex is designed to be an all-in-one solution that comes in a sterile, single use package.
Cost efficient. The DenerVex is designed to be a single use device, so there are no sterilization or repair costs that are associated with many medical devices.
Less Invasive with minimal recovery time. Use of the DenerVex will represent a less invasive solution to FJS than spinal fusion surgery and can be carried out through an out-patient procedure that does not require follow-up surgery to be effective.
To be clear, the DenerVex is currently in the prototype development phase. In order to commercialize the device, Medovex still needs to:
| | |
| --- | --- |
| 1. | Conduct additional research to further refine the product. |
| 2. | Submit the final version to regulatory agencies for their approval, including conducting additional studies as they may require. |
| | |
| --- | --- |
| 3. | Finalize reimbursement, marketing and distribution strategies. |
| 4. | Source vendor(s) for production and marketing/distribution partners (we currently do not plan to manufacture or distribute the product ourselves). |
Size Of The FJS Market
Medovex estimates that there are 6,200 pain management specialists in the United States. These people will be the primary users of the DenerVex, as well as clinicians who currently utilize interventional procedures to treat chronic back pain. Secondary targets for the DenerVex device are orthopedists and neurosurgeons, in addition to the 4,000 interventional radiologists, and 8,672 spine surgeons using one or a combination of the techniques now currently in use to treat FJS.
Medovex believes that the market for DenerVex is the $11.5 billion global spine surgery device market.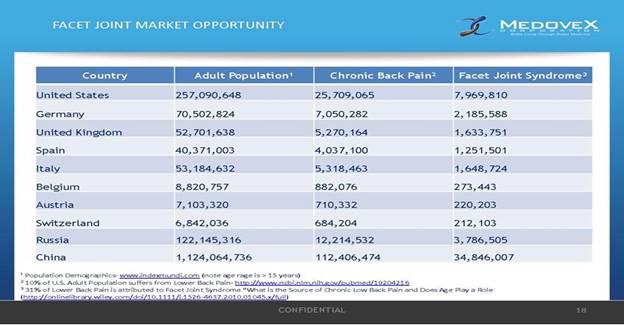 The technique behind the DenerVex Device has been proven through a study on 174 patients with three to six years of follow up. These patients were treated using a two-step procedure that the DenerVex now combines into a single procedure.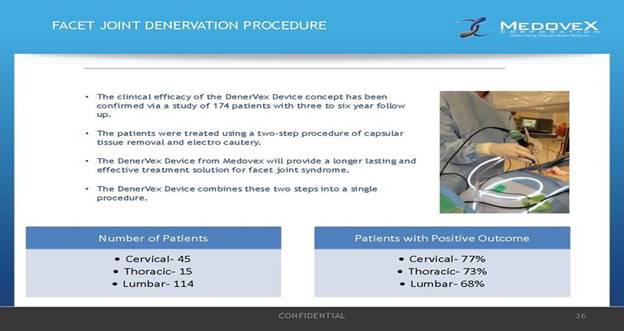 These results would seemingly be the reason that Steve Gorlin would have come on board. I would suspect given his track record that he would have a pretty good eye for the potential of something like this. I'm sure he has no shortage of opportunities cross his desk, this is the one he has chosen to participate in.
Financials, Valuation and Shareholders
As you might expect given the recent IPO, insiders here have a big stake in the company.
Percentage of Shares

Beneficially Owned

Number of Shares Beneficially Owned(1)

Before Offering

After Offering

Scott M.W. Haufe, M.D., Director

775,108

(2),(4)

10.0

%

8.5

%

Renee Honig

575,000

7.4

%

6.3

%

Jarrett Gorlin, Director and Officer

559,478

(3)

7.2

%

6.1

%

Larry W. Papasan, Director

198,576

(4)

2.6

%

2.2

%

John C. Thomas, Jr.

75,400

1.0

%

0.8

%

Patrick Kullmann, Officer

193,576

(5)

2.5

%

2.1

%

Charles Farrahar, Officer

193,576

2.5

%

2.1

%

Major General C.A. "Lou" Hennies, Chairman

101,788

(4)

1.3

%

1.1

%

James R. Andrews, M.D., Director

101,788

(4)

1.3

%

1.1

%

Thomas E. Hills, Director

101,788

(4)

1.3

%

1.1

%

Steve Gorlin, Director

417,414

(6)

5.4

%

4.6

%

Randal R. Betz, M.D., Director

101,788

(4)

1.3

%

1.1

%

Dennis Moon, Officer

193,576

2.5

%

2.1

%

Officers and Directors as a Group (12 persons)

3,013,856

38.7

%

32.9

%
Subsequent to the offering there will be 9,172,480 shares outstanding and with the share price most recently at $5.84 the company has a market cap of $53.5 million. The balance sheet now holds $7.5 million of working capital so Medovex is cashed up for the near and medium term.
Risks
Medovex is clearly a publicly traded company that still must be considered speculative. This is one for a diversified portfolio.
Gorlin's involvement here not only makes the company more interesting but gives it numerous advantages given his connections and the credibility he adds. But the risks are many and include:
- A short operating history
- This is still a development stage product and the company does not generate cash flow
- Further capital raises are a certainty
- The share price is apt to be volatile given the small float
- The DenerVex device still needs regulatory approvals
Note that all images in this article come from this Medovex presentation.
All references to Medovex Financials and company supplied statistics can also be found through that link which takes you to the S-1 filings.
Disclosure: The author has no positions in any stocks mentioned, and no plans to initiate any positions within the next 72 hours.
The author wrote this article themselves, and it expresses their own opinions. The author is not receiving compensation for it (other than from Seeking Alpha). The author has no business relationship with any company whose stock is mentioned in this article.