Oil prices have tanked. In June, NYMEX active month crude oil traded to the high price for 2014 of $107.73. Since then the price has gone south, trading down to a low of $53.94 basis February futures on December 16 and settling on Friday, December 19 at $57.13 - a drop of $50 or more than 46%. Those are the numbers that we see in snippets in the press, the numbers that most investors watch. However, understanding oil and uncovering opportunities in the crude oil market requires looking deeper.
Backwardation versus contango
Understanding crude oil, or most commodity markets for that matter, requires an understanding of term structure. Term structure is the relationship of the price of nearby crude to the price of deferred crude oil. Two terms used by commodity traders, backwardation and contango, describe the state of term structure.
Backwardation describes a term structure where nearby prices are higher than deferred prices. Contango is the converse, a term structure where nearby prices are lower than deferred prices. The term structure of prices in any commodity market yields important clues as to whether markets are in surplus or in deficit.
June-December 2014 - a huge shift
While the price of crude oil dropped steadily from June through December, the move in the term structure for NYMEX crude oil has been even more staggering. As an example, when the price of active month July 2014 NYMEX crude traded at $107.73 in June, the price of deferred crude oil for delivery in July 2018 was trading at $87 - a discount of $20.73. The crude oil market was in backwardation. As of Friday, December 19, nearby February crude oil futures traded at $58.13, while July 2018 settled at $68.35. The nearby prices dropped by $49.60, while the July 2018 price dropped by $18.65. The spread moved from a backwardation of $20.73 (versus the nearby contract in June) to a contango of $10.22 - a move of $30.95 in the spread.
A graphic illustration of the move in crude oil spreads shows the extent of the change in term structure: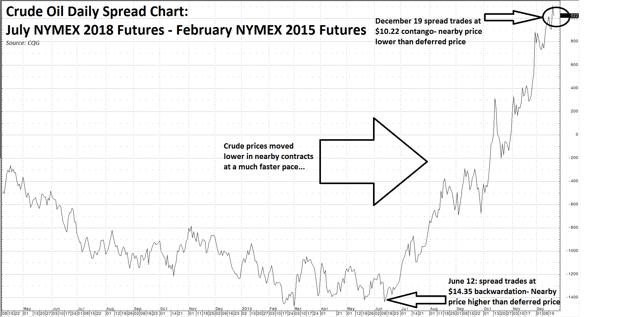 February 2015 crude oil futures moved from a $14.35 backwardation in June to a $10.22 contango on December 19. For crude oil traders the shift in term structure says a lot more about crude oil than the move in nearby prices.
Cheap financing and storage = opportunity
With February NYMEX crude oil futures trading at $58.13 the difference between nearby and July 2018 is around 17.6% (10.22 divided by 58.13). The period between the two futures contracts is 41 months. This works out to a simple annualized rate of 5.15%. Interest rates are currently much lower than this level.
Therefore, it all comes down to shipping and storage rates. Financing, shipping and storing physical crude oil for less than 5.15% on an annualized basis for the period between February 2015 and July 2018 will yield a risk-free profit. Crude oil traders know that there is more. Doing this trade has another kicker - if spreads tighten and crude oil moves toward backwardation during the life of the trade, the profit potential becomes enormous. Consider if term structure moves back to where it was in June. This trade would become golden. With cheap financing and the ability to ship and store crude oil economically, any trader who puts this cash and carry trade on at flat or for a profit gets a free call option on backwardation and that is a beautiful thing.
Oil tankers set for a big year
While oil equities have reflected the move in crude oil, a certain sector has done much better. Stocks of oil tankers began to rally in October as the backwardation in crude disappeared and turned into a contango structure. Nordic American Tankers (NYSE:NAT) moved from $7.19 per share on October 13 to close at $9.89 on December 19 - an increase of 37.5%. Shares in Frontline Ltd. (NYSE:FRO) rallied from $1.22 on November 26 to close Friday at $2.61 - the stock more than doubled. Shares of Tsakos Energy Navigation Limited (NYSE:TNP) have rallied from $4.99 on October 14 to close Friday, December 19 at $6.98 - an increase of almost 40%.
Not all shipping stocks have done well. Those shippers involved in bulk shipping continue to suffer from depressed commodity prices, particularly prices for bulk commodities like iron ore and coal. However, those shippers that operate supertankers that can ship and even store crude oil are seeing a resurgence - due to the change in the term structure of the crude oil market. So long as the term structure of crude oil remains so juicy, the contango so wide, prospects for these operators are looking good.
The big trade for 2015: risk- reward
On a risk-reward basis buying nearby crude oil, taking delivery and financing, shipping and storing crude oil is a no-brainer trade. As crude oil prices move lower and term structure widens (the contango goes higher), expect this trade to become more popular. While lower oil prices will weigh heavily on companies that explore for and produce crude as well as those who provide services to the oil sector like drilling rigs, a sector is set to profit from current price structure. There is a direct correlation between the contango in crude oil and demand for supertankers and storage. You can bet your bottom dollar that daily tanker rates and storage rates will rise as contango widens.
Recent reports are that there are many supertankers steaming toward Asia, more specifically, China. China is the largest consumer of commodities in the world. China consumes a lot of crude oil. At today's prices for crude oil, the Chinese can put on this cash and carry trade with little or no risk and guaranty supplies of crude oil in case of future shortages. Add to that the traders around the world who understand the ins and outs of the physical crude oil market and the opportunity that the current term structure offers.
Many traders and oil consumers may have already started piecing into what promises to be the big trade in commodities for 2015. The wider the contango goes in crude, the more demand we will see for supertankers and storage. Companies involved in this sector will be able to boost prices as demand for their ships and facilities will boom. The story of 2015 may become a shortage, not of crude oil - there is plenty of that around. That shortage will be for places to store the black gold by cash and carry traders who are set to make money regardless of price direction. If the crude oil market tightens, those with these trades on as well as the tanker and storage owners will print money.
Disclosure: The author has no positions in any stocks mentioned, and no plans to initiate any positions within the next 72 hours.
The author wrote this article themselves, and it expresses their own opinions. The author is not receiving compensation for it (other than from Seeking Alpha). The author has no business relationship with any company whose stock is mentioned in this article.