eBay (NASDAQ:EBAY) issued the following press release Tuesday:

(Click to enlarge)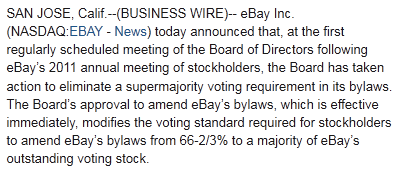 This push to move from a supermajority to simple majority vote came after shareholder activists, led by John Chevedden, got the proposal on the ballot at eBay's recent annual meeting of shareholders. If you follow the link to the official SEC filing of eBay's proxy statement, you'll see that the company opposed the proposal. eBay shareholders, however, voted in favor of it, prompting the eBay board to adopt the proposal just two months after it held the meeting.

This move by eBay puts considerable pressure on Netflix (NASDAQ:NFLX).

Because I have been the only person covering what happened ahead of and at Netflix's shareholder meeting, which took place on June 3rd, 2011, you might have missed it. In a nutshell, Chevedden got the same proposal up for a vote at the meeting. The Netflix board opposed it. The company's shareholders had other ideas, voting, overwhelmingly, in favor of a proposal to do away with supermajority vote.

For complete context on the story, see the following Seeking Alpha articles:

A Shareholder Activist Takes Aim at Netflix (April 28, 2011)

Shareholders Win Round One in Netflix Transparency Battle (June 9, 2011)

After about two weeks of asking Netflix Investor Relations for a comment, I finally received the following statement via email, after making a personal appeal to CEO Reed Hastings:

(Click to enlarge)




The first paragraph of Netflix's reply amounted to little more than a cut and paste of its statement against the shareholder proposal. The second paragraph provided additional color as to how the company intends to proceed.

As far as I know, Netflix has made no other public statement on the issue. This eBay news, however, puts pressure on Netflix to heed the will of its shareholders and do the right thing by amending its by-laws to require a simple majority on all corporate governance and related matters. While I am more than willing to defend Netflix when the company gets unfairly attacked, the media dropping the ball on coverage of the shareholder proposal story does not provide an out for Netflix when it comes to acting in the interest of its shareholders.

It took eBay only two months to bring the issue to the board and for the board to adopt it. Netflix notes it "will consider" ratifying the proposal " in due course." Like an online auction, the clock is ticking. It will be interesting to see if what eBay did has any influence on Netflix going forward.

Disclosure: I have no positions in any stocks mentioned, and no plans to initiate any positions within the next 72 hours.