A few weeks ago we recommended that investors buy the recent dip in the large cap diversified MLPs. We continue to believe that MLPs represent solid income-generating assets with great industry fundamentals. MLPs generally offer stable yields that are typically higher than those of common stocks. In addition, MLP returns have traditionally had low correlations with stocks and bonds, making them good portfolio diversification assets. This article is specifically focused on the natural gas pipeline and storage MLPs.
Misconception About Commodity Sensitivity
In general, most MLPs have limited direct commodity sensitivity, since a significant amount of their revenues are derived from fee-based contracts that are largely insensitive to commodity price fluctuations.
However, MLPs do have some secondary commodity exposure. For example, the prevailing level of natural gas prices influences the level of drilling activity surrounding MLP assets that gather, process, and transport natural gas. A sustained decline in natural gas prices would discourage drilling activity, which would depress volumes supporting gathering, processing, and transportation infrastructure.
That said, as shown in the chart below, natural gas prices have traded in a pretty tight range the past 12 months.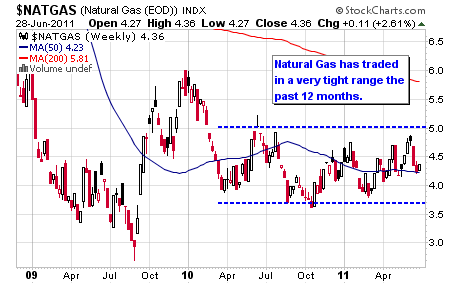 We believe that natural gas prices will continue to be range-bound for the foreseeable future and that short-term price fluctuations will not have a meaningful impact on natural gas pipeline and storage MLPs.
Comparing Natural Gas Pipeline and Storage MLPs
Below is a list of natural gas pipeline and storage MLPs, which have an average dividend yield of 6.8%. In addition, all of these MLPs have a cash distribution coverage greater than 1.0x, which generally indicates adequate reserves to cover cash distributions.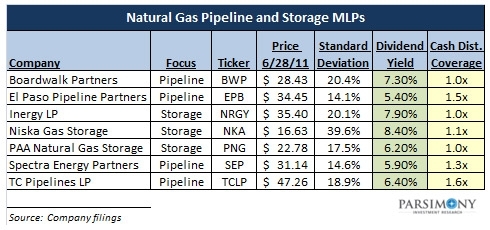 Of the 7 MLPs in the table above, we think that Inergy LP (NRGY) and Boardwalk Partners (NYSE:BWP) currently offer investors with the best risk/reward profile. As shown in the chart below, these MLPs are above the trendline in the risk/reward spectrum (i.e., yield should increase as unit price volatility increases). Also, we would advise investors to stay away from Niska Gas Storage (NYSE:NKA) due to its recent volatility.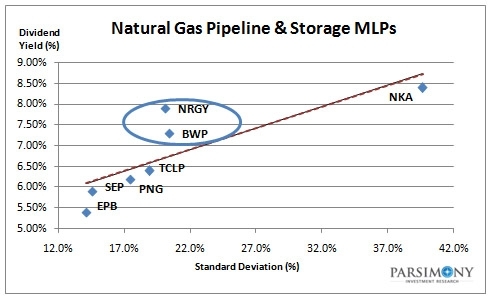 Disclosure: Author is long NRGY.