Not What I Thought It Was
SUMMARY VIEW: Investar Holding Corp (NASDAQ:ISTR) has failed to evolve its business model as promised during its IPO roadshow. With this realization I am forced to sell ISTR at a 0% performance from trade inception 7/14/2014. For clarity, I remain long shares as of right now but will be selling shares at market open.
ISTR was expected to enter the securitization business and/or begin selling away large portions of what should have been a robust non-farm, non-residential loan book and pipeline. It has failed to do this. Because of this lack of model evolution, I'm forced to evaluate ISTR as a traditional bank - as which it is a subpar option for allocation of funds heading into 2015.
CHART: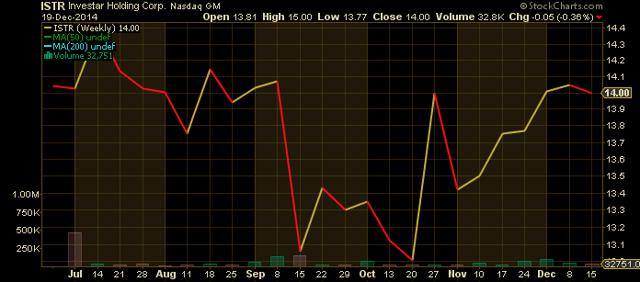 STOCK DATA: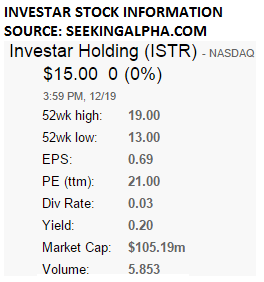 KEY POINT 1: ISTR's loan book should be viewed as high risk despite excellent loan performance and credit quality testing. This should lead to exaggerated negative performances in rising interest rate environments.
ISTR has a substantial portion of its loan book comprised of non-farm, non-residential loans - ~36% of loans (~$209 million of ~$581 million total loan book). It is my belief that ISTR only concentrated itself to this extent to that particular loan vertical in an effort to build a base for the proposed model change pre-IPO. Now it has apparently abandoned this strategy, or so I conclude because ISTR has had multiple quarters to ramp into this strategy and hasn't. I think ISTR's book is higher risk than comparable peers and runs the risk of quickly seasoning should general macro-economic growth continue to slow and should commodity prices in its region continue to deflate. With ISTR being located in Louisiana, these prices would primarily refer to oil but also natural gas; oil is down to ~$55 with the CRB index down ~24% since June.
For clarity, ISTR's loan book isn't showing the signs of being higher risk currently because it is unseasoned at this point and because I believe it to be operating in ideal environments (high employment in its area, up to this point not horrible commodity pricing, up to this point no CAPEX reduction announcements made by oil and gas companies which would lead to layoffs, etc.).
ISTR's loan book is in fact higher risk from a statistical average standpoint when compared against more balanced loan books at other banks, and speaking of major categories of lending (1-4 Family, Multi-Family, Farmland, etc.). I am basing my "statistical average" reasoning off well-documented and generally accepted average impairment and charge-off rates of each loan category.
COUNTER POINT:
It should be noted that for the most part the auto loan segment loans, the largest sub-segment of the non-farm, non-residential general loan segment, are not sub-prime and have excellent both LTV and FICO scores as a whole. This may negate my risk thesis and negate any accelerated seasoning from a deteriorating economic backdrop in the region. However, to be perfectly clear, this loan book is in fact higher risk from a statistical standpoint when compared to more balanced portfolios and the above facts don't ensure that this segment of the non-farm, non-residential allocations will perform well in stressed scenarios.
With a majority of US refining capacity located in the region, this may allow the micro-economy to continue without large disruption despite the falling price of commodities. This is a unique defensive characteristic of the area. This would negate my risk thesis of underperformance of loans.
Loans in general have yet to show an increase in risk and in fact have actually showed improved performance and quality overall. ISTR has essentially zero impairments and zero TDR's for the 9M/14. This data is contradictory to my commodity based thesis increasing risk.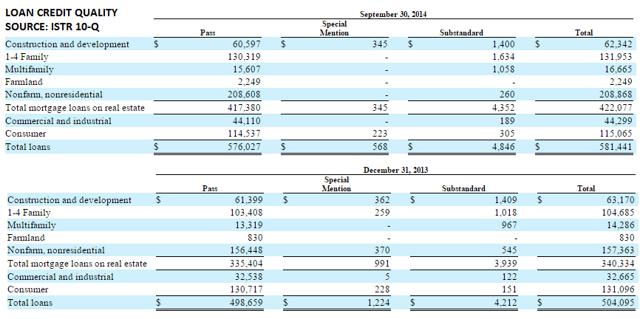 KEY POINT 2: ISTR's AFS investments are highly exposed to rising rates and ISTR has essentially zero hedging to protect against devaluation. I believe the investment portfolio at ISTR to be high risk unless sold down in the near-term.
ISTR grew its AFS investments ~50% for the 9M. It substantially increased its MBS holdings from 59% to 66% of total holdings. Of the MBS build, ~$49 million have stated maturities of longer than ten years in duration. While this has driven investment performance and helped hold NIM largely flat - NIM contracted for Q3 from 4.15% to 3.86% and for the 9M from 4.11% to 3.85% - it is my opinion that with UST.10 trading at multi-year lows (in terms of yield) and monetary policy intended on increasing interest rates, that this portfolio has reached peak valuation and peak performance. I believe that if interest rates should begin to rise, as is consensus expectation for Q1/15, that ISTR will have to sell its MBS holdings at a loss or at a discount to the current premiums.
I also think that in the transition period from Q1/15-Q4/15, should interest rates move higher in the near-term, that ISTR would not be able to replace the contribution to NIM from its MBS holdings without taking pricing drawdowns. Specifically, if ISTR were to sell down its AFS investments it would suffer from lost contributions to NIM; if it holds its largely MBS AFS investments it will suffer deterioration of value for the portfolio and OTT impairments; and if it sells away parts of the portfolio now and buys in tranches as interest rates rise in an effort to help contribute to NIM it would suffer value deterioration in tranches, assuming interest rates rise at a 45 degree angle over time. I believe that this portfolio has peaked in performance and that ISTR cannot duplicate its contribution to NIM.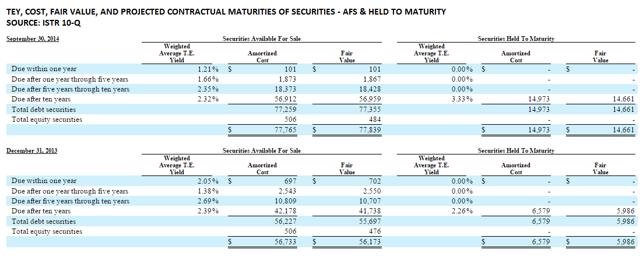 COUNTER POINT:
Interest rates have been expected to rise dating back as far as 24 months, although not to the point of consensus as they are now. Despite a significant uptick in rates from Q2/13-Q4/13 rates now sit at multi-year lows - UST.10's performance has been detailed above. Speculating the direction, the speed, and the overall timing of interest rates is difficult and could lead to inaccuracies in determining the risk of the AFS profile in the near-term.
KEY POINT 3: Under ideal circumstances ISTR only drove net income $768,000 for Q3 and $398,000 for the 9M. This simply isn't enough net income expansion when considering the bank has ~$575 million in loans and $80 million in AFS investments. I believe this, and the previously mentioned growth of AFS investments, to be a result of a lack of productive exit opportunities for capital.
With substantially zero net income derivation for the 9M despite a growing book of loans, deposit accumulation - in reference to capital available for distribution - and a reversion to historically low rates of cost of capital, I believe ISTR has evidenced to investors that the less than ideal region that it operates in has few bottom line driving outlets.
For clarity, the one large and obvious drawback to ISTR pre-IPO was its primary market's lack of population, wage, and employment growth when compared to other newly public or coming public banks. The big fear, which was put to bed by management alluding to the growth in its loan selling business, was that it would have little if any room to expand operations in its market. Apparently, this has been realized. While loans did grow 13.3% for the 9M and deposits grew 16.7% for the 9M ISTR grew its AFS investments portfolio 37.1%. This indicates to me that ISTR viewed its MBS outlet via its AFS more attractively than it did local, fee generating opportunities it could underwrite itself. With ISTR's failure to evolve its model bringing back the reality of the lack of attractive market I feel this will lead to slowing growth sequentially starting in Q4/14.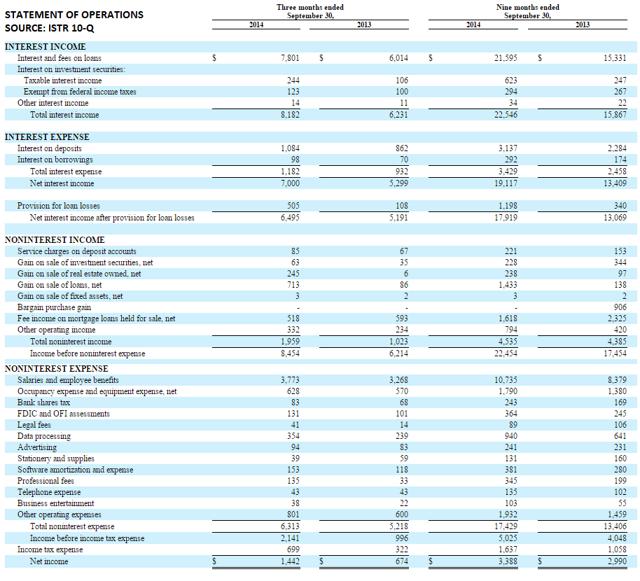 COUNTER POINT:
ISTR's market is highly cyclical and economic activity in the region is based primarily around energy. As noted several times prior, this particular segment of the economy has been under pressure since ISTR's IPO. This could be leading me to misread the local economic prospects which could greatly improve should oil and natural gas experience a pricing boom. Also, the general Louisiana area has been diversifying its top-end economy away from energy and into financial services - although it should be noted the financial services are energy infrastructure-based. With that being said, the region in which ISTR operates could see immediate and marked economic expansion with just one of many factors taking place. This would cause my market based thesis to be inaccurate.
UPSIDE SCENARIO: In general the upside scenario to ISTR includes interest rates remaining flat, allowing ISTR to maintain a still attractive NIM and full value of its largely MBS based investments, and allowing ISTR to continue to benefit from its higher risk book of loans. This would most likely move ISTR to higher levels of TBV and move ISTR equity to over $15/share, which would be a near term technical-based trading target as shares have been moving higher the last 90 days from a floor of $13/share. $15/share has acted as a trading ceiling since IPO. That would imply 7% upside from today's trading close.
DOWNSIDE SCENARIO: In general the downside scenario to ISTR includes interest rates rising, a contraction of the local economy being driven by commodities pricing decreases, impairment to ISTR's MBS holdings or at least a reduction in premium, and a significant contraction of NIM. This would lead to a projected price of $13/share which is more technical based than valuation based. This has acted as a floor for trading since IPO.
FINAL TRADE RECOMMENDATION: I recommend readers sell ISTR and avoid until further notice. I will be selling at first chance on Monday morning. I look forward to providing continuing coverage in the future. Good luck to all.
Disclosure: The author is long ISTR.
The author wrote this article themselves, and it expresses their own opinions. The author is not receiving compensation for it (other than from Seeking Alpha). The author has no business relationship with any company whose stock is mentioned in this article.