CareTrust REIT Inc. (NASDAQ:CTRE) completed its spinoff from The Ensign Group Inc. (NASDAQ:ENSG) in June of this year when the Mission Viejo-based company became a separate publicly traded REIT. The spinoff enabled The Ensign Group to separate its healthcare business from the remainder of its real estate business and resulted in the creation of a $310 million-market-cap healthcare REIT with a portfolio of 97 healthcare properties scattered across 10 states.

Since CareTrust listed - around 7 months ago - the shares have fallen off by over 46%.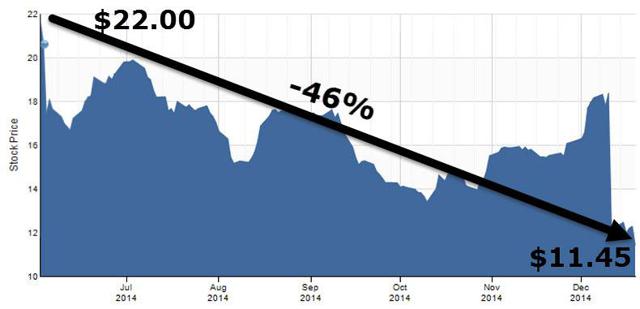 That's troubling, especially when you consider how well most other healthcare REITs have performed - the average 1-year Total Returns for the healthcare REITs below is 32%.

What Could Be Causing the Panic?
As noted above, Ensign Group split into 2 publicly traded companies through a tax-free spin-off transaction (on June 1st). CareTrust owns 97 assets with all but 3 properties leased to Ensign, a skilled nursing care and assisted living operator.

CareTrust commenced as a REIT with around $80 million in cash and a $150 million senior secured credit facility (with $84 million available). Most of the facilities are located on the west coast with strong exposure in Texas and California.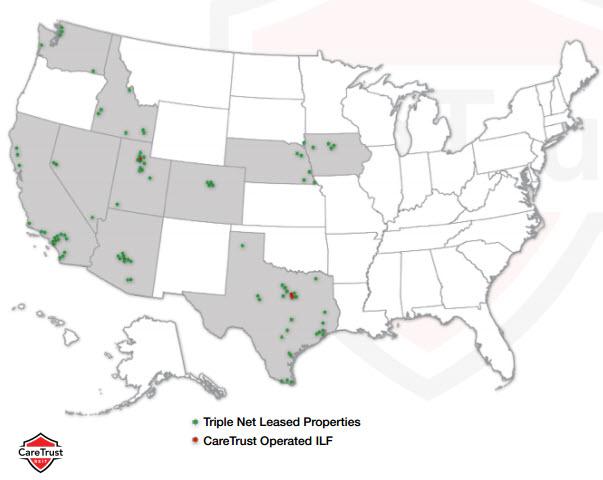 The big risk with CareTrust is the fact that the REIT has SIGNIFICANT concentration with one tenant, Ensign, a diversified healthcare provider with 125 facilities in 12 states. Here's a snapshot of Ensign's revenue history: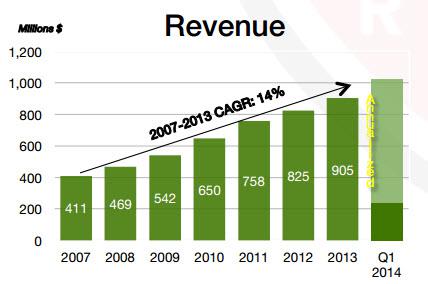 Here's a snapshot of Ensign's Adjusted EBITDAR history (through Q-14):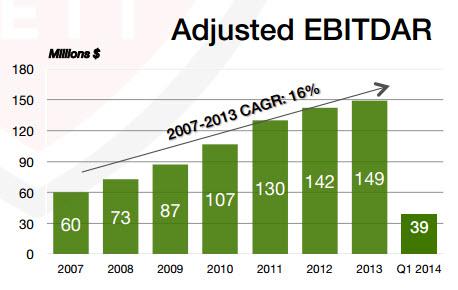 Ensign's third quarter results included record quarterly revenues of $260.8 million on a GAAP basis, or a 13.8% increase. The company's same-store occupancy increased 156 basis points to 81.9%, which resulted in overall diluted earnings per share on a non-GAAP basis of $0.44.
On the Q3-14 earnings call, Ensign reaffirmed its annual 2014 revenue guidance of $1.01 billion to $1.025 billion, adjusted net income of $50.1 million to $51.2 million, and $2.16 to $2.21 per diluted share. (2015 guidance is $2.44 to $2.53 per diluted share). The FAST Graph below provides a better illustration of Ensign's corporate performance.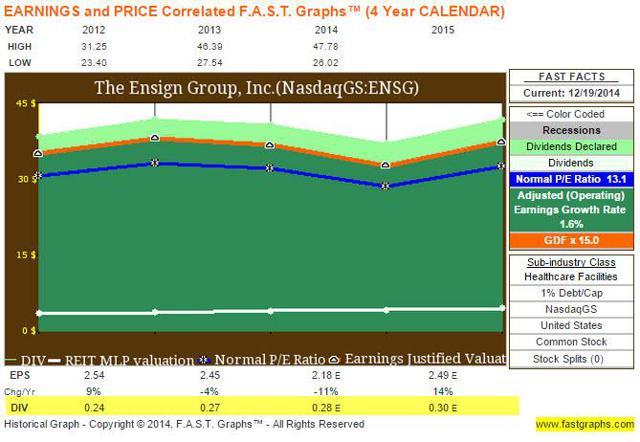 Ensign recently declared a quarterly dividend increase of $0.075/share, up 7.1% from the prior dividend of $.07 per share. The company has modest debt (less than $4 million) and it appears that the company's dividend history has been impressive.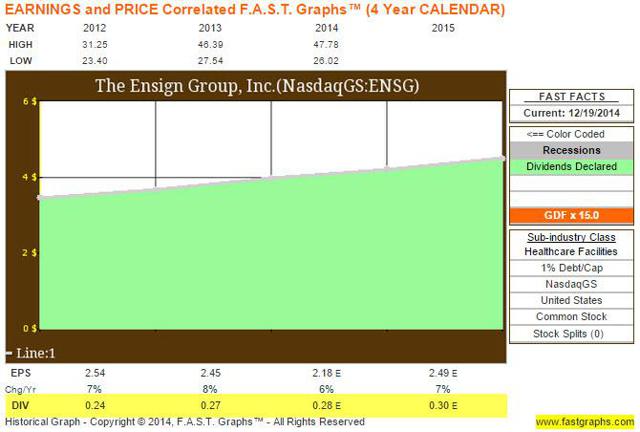 Even though CareTrust has the risk of having all of its eggs in one basket, the REIT's Tenant Rent Coverage is solid. Here's a snapshot of the peer group that includes coverage for skilled nursing (i.e. LTC).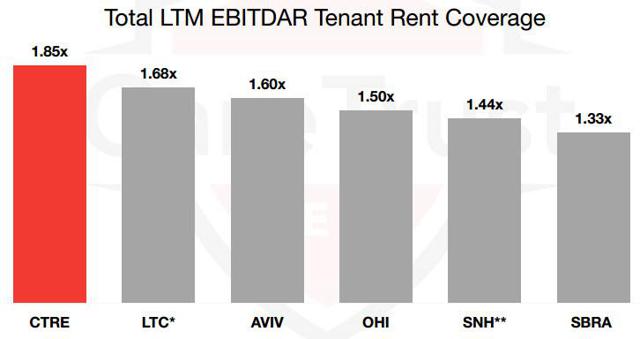 Coincidentally, CareTrust by comparison and based upon the most recent third quarter results is paying out around 50% in FAD (Funds Available for Distribution). While the (ONE) tenant concentration is alarming, the REIT's payout ratio is interesting. (see guidance below: mid-point Normalized FAD is $1.34).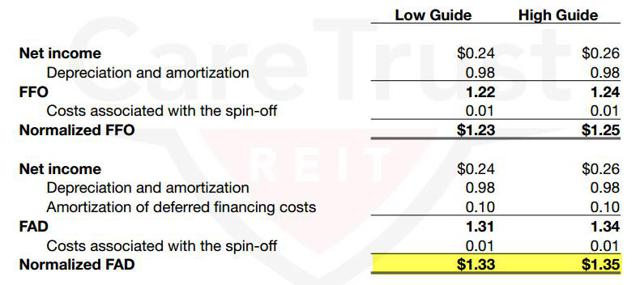 Upon examination of CareTrust's current dividend yield, we see no sign of a sucker yield: current dividend yield is 4.4%.

Here's what CareTrust's CEO, Greg Stapley, said recently regarding the 2015 dividend:
We currently anticipate that next year's quarterly dividends will see us in approximately that same 50% payout range, with correspondingly competitive yields.
Stapley added that the company has accumulated a compelling pipeline of potentially accretive acquisition targets that are expected to provide ample opportunities to use undistributed FAD to create additional shareholder value.
In shepherding our cash…we intend to strike a competitive balance between dividend payouts and accretive growth, all of which benefit shareholders and add value over the long run.
CareTrust shares fell by over 25% over a week ago and they closed on Friday at $11.45 per share.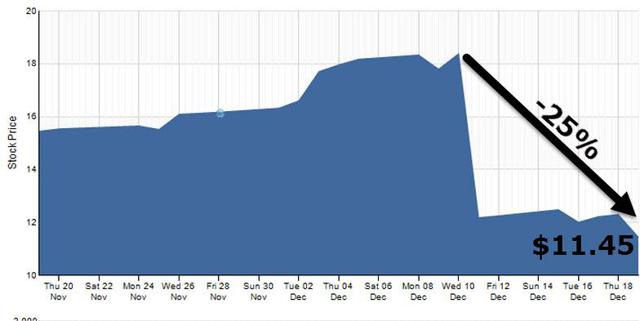 The strong concentration with Ensign is a risk; however, I believe that Mr. Market has given CareTrust less credit for the sound rent coverage and successful track record of Ensign. Another risk is the micro-cap coverage related to the security holders and owning this stock is not going to give you that "sleep well at night" feeling.
Finally, keep in mind that CareTrust is rated "B" by S&P meaning the company is "more vulnerable" for default. This may be a good opportunity for share price appreciation; however, I must warn you of the potentials risks noted.

My recommendation: Slow and steady wins the race. If you are a more conservative investor, I would proceed with caution and carefully examine the risks that I have noted. While the dividend appears moderately safe, there is a tremendous risk in the highly concentrated (one tenant) revenue stream. CareTrust is NOT a SWAN (sleep well at night) stock.
Conversely, Mr. Market has become alarmed and while I consider the harbinger call justified, I believe there is potential for significant share price appreciation. In other words, for the higher risk investor (note I did not say gambler), I believe CareTrust could become a small-cap jewel - or a "diamond in the rough" that offers a satisfactory reward for a skilled and patient investor.
There are clearly safer alternatives and while CareTrust has a shorter history than most REITs, I'm intrigued by the 50% discount (based on the opening price in June) being offered and following the principles of value investing, maybe I should take advantage of this stock on sale. At the end of the day, finding attractive dividend-paying stocks is one piece of the puzzle… buying them is another.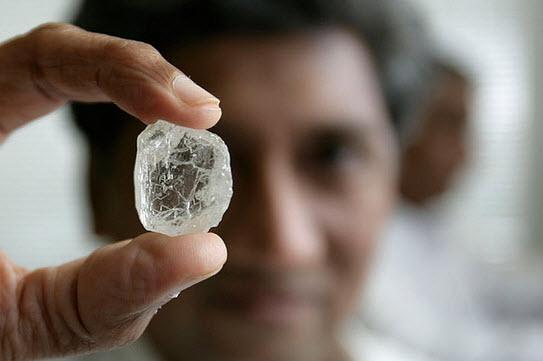 In my REIT newsletter, I provide high-level analysis so that investors can attempt to find an adequate margin of safety. Remember the number one rule of investing: Protect Your Principal at ALL Costs. Subscribe here.
Sources: SNL Financial, FAST Graphs, CareTrust Investor Presentation.
REITs mentioned: Ventas Inc. (NYSE:VTR), National Health Investors Inc. (NYSE:NHI), Sabra Health Care REIT (NASDAQ:SBRA), Healthcare Realty Trust Inc. (NYSE:HR), Healthcare Trust of America, Inc. (NYSE:HTA), HCP, Inc. (NYSE:HCP), LTC Properties Inc. (NYSE:LTC), Health Care REIT, Inc. (HCN), Universal Health Realty Income Trust (NYSE:UHT), Aviv REIT (NYSE:AVIV), Omega Healthcare Investors, Inc. (NYSE:OHI), Medical Properties Trust, Inc. (NYSE:MPW), Physicians Realty Trust (NYSE:DOC), and Senior Housing Properties Trust (NYSE:SNH).
Disclaimer: This article is intended to provide information to interested parties. As I have no knowledge of individual investor circumstances, goals, and/or portfolio concentration or diversification, readers are expected to complete their own due diligence before purchasing any stocks mentioned or recommended.
Disclosure: The author is long O, DLR, VTR, HTA, STAG, CSG, GPT, ROIC, HCN, OHI, LXP, KIM, WPC, DOC, UDF, EXR, MYCC, BX, TCO.
The author wrote this article themselves, and it expresses their own opinions. The author is not receiving compensation for it (other than from Seeking Alpha). The author has no business relationship with any company whose stock is mentioned in this article.