Around 90 days ago, I wrote an article on Medical Properties Trust (NYSE:MPW) in which I offered a neutral sentiment regarding my view of owning shares in the "pure play" Hospital REIT:
I see no compelling catalysts that support my decision to invest additional capital in Medical Properties Trust. I do see signs of improvement (deleveraging, diversifying, etc…) however, I believe there's greater opportunity with the REITs that are steadily increasing their dividends.
More recently, S&P said that it was bumping MPW's credit rating to BB+ from BB, with stable outlook. While that isn't the only catalyst that gives me comfort, I believe this Healthcare REIT deserves closer examination.
Is Medical Properties Trust a "Wide Moat" Model?
Earlier this year, I sold MPW and redeployed my capital into Physicians Realty (NYSE:DOC). That proved to be a good move on my part as evidenced below.

However, my instincts are now telling me that MPW could make me some dough, not just because of the high dividends being offered (MPW's dividend yield is 6.2%) but because of the company's long-term growth potential.

MPW has operated as a REIT since April 6, 2004, and this REIT is the only healthcare REIT that focuses exclusively on hospitals. Over the last four years, MPW's assets have grown by an average of 33% (based on CAGR) - Total Assets today are in excess of $4.45 billion.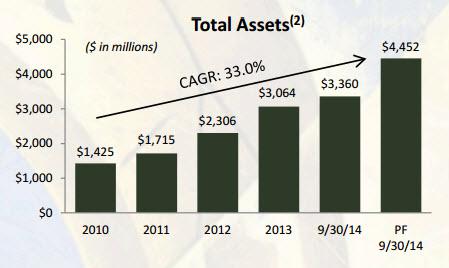 Although not the size of the trio of Diversified healthcare REITs, MPW has grown into a more diverse platform differentiated by its focus on critical healthcare needs.

Hospitals are truly specialized buildings that require a keen understanding of operational details and accordingly MPW's wide moat has been its strategic focus on assembling a strong management team with a breadth of healthcare experience.
Strong healthcare, finance and real estate backgrounds would be invaluable components, but the healthcare operations component - and the contacts such experience cultivates - became the cornerstone of the MPW financial model.
As the only healthcare REIT focusing exclusively on hospitals, MPW brings to its clients considerable experience in both healthcare real estate and healthcare operations.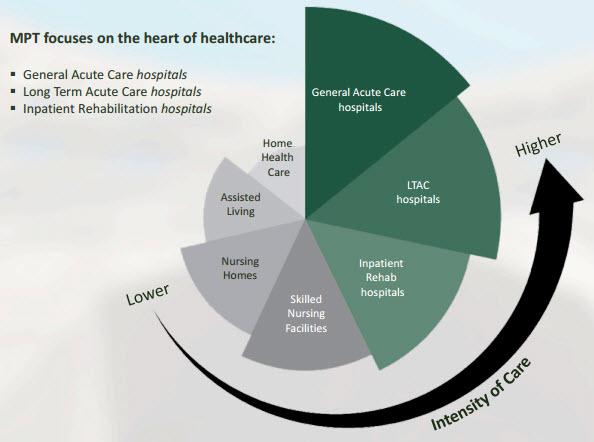 A critical component for every community is an area hospital, which provides essential services. There are over 5,000 hospitals in the U.S. and less than 1% closes in any year (source: MPW Oct. 2012 Investor Presentation).
In addition, hospitals have exceptionally long life spans - many decades old. Accordingly, hospitals have tremendous "barriers to entry" as a new hospital today requires various regulatory approvals, permits, certificate-of-need, and of course, funding.

One other unique characteristic with hospital properties is that the license goes with the facility, not the operator. Consequently, other service providers and doctors cluster near the facility making relocation extremely difficult. Conclusively, MPW's lease structure provides for a "wide moat" protection of earnings and dividends.
Top of the Food Chain
MPW's properties are critical-mission oriented and as a result of the focus on the hospital model, the REIT has become a top for-profit owner of hospital beds.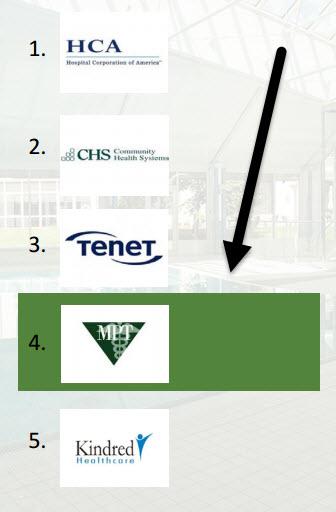 MPW has diversified internationally and today the company owns facilities in the US (72% exposure), Germany (27% exposure), and the United Kingdom (1% exposure).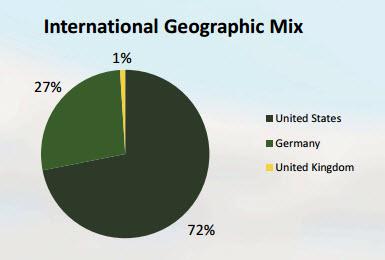 Within the US, MPW owns properties in 27 states with the largest concentration in Texas (29%), California (17%), and New Jersey (7%).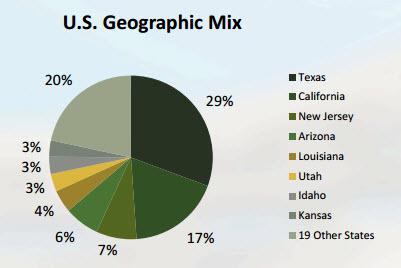 MPW also has a well-balanced platform consisting of general acute care (49%), long-term acute care (36%), and inpatient medical rehabilitation (10%), and others. Accordingly, the well-balanced investment strategy produces increasing diversification that increases predictability of cash flows and dividends.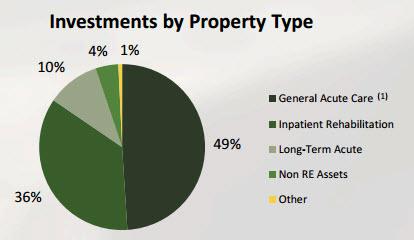 MPW has grown its focused hospital-driven platform from one operator to becoming a landlord for many of the nation's leading hospital operators, including MEDIAN (20%), Prime Healthcare Services (16%), IASIS, RMH, and others. Many of these top operators enjoy a "stable outlook" from the rating agencies.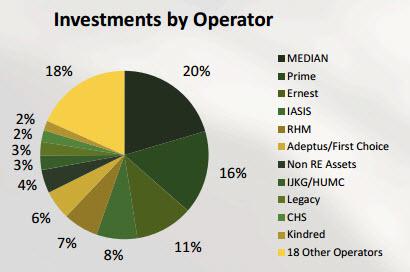 Here's a snapshot of the company's top US operators: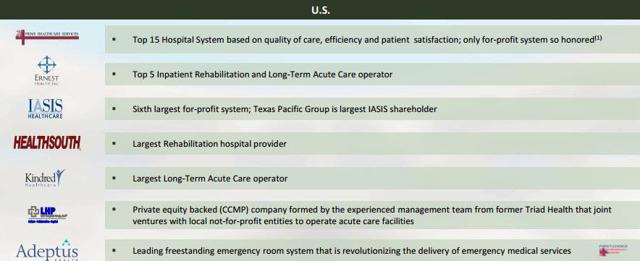 Here's a snapshot of the company's top International operators:

By investing in multiple jurisdictions, MPW is able to lower the risk that would otherwise exist from investing in only a single health system (i.e. the United States system of reimbursements and payments). In addition, country diversification smoothes the volatility that sometimes results when a particular region's investment environment is impacted by local economic conditions. Here's a snapshot of MPW's U.S. payor mix: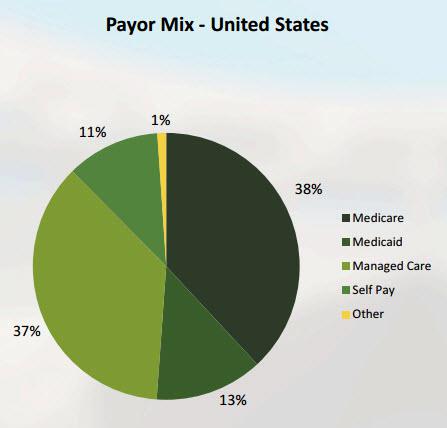 MPW invests in the most predictable and stable type of cash flow generated by the healthcare business; hospitals that form part of a community's infrastructure such as those in MPW's portfolio provide long-term, inflation adjusted assurance of continued rental income. Here's a snapshot of MPW's U.K. payor mix.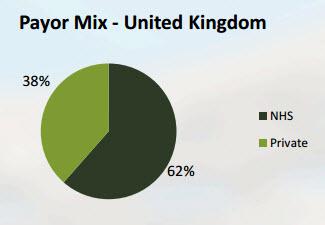 And here's a snapshot of MPW's Germany payor mix: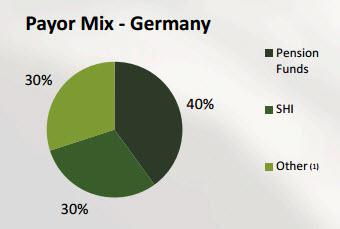 Sprechen Sie Deutsch?
One of my recent concerns with MPW was the company's move to invest in Germany. I don't have anything against Germany; however, I was nervous that MPW was fishing in a market where it had no experience.
It seems that MPW has now become heavily exposed to Germany, one of the strongest markets in the world. Here's how Ed Aldag Jr., MPW's CEO, summed it up on the recent earnings call:
Germany has one of the strongest balance sheets in all of the world. It is certainly and has been throughout the recession the backbone of the Eurozone and that the German healthcare in particular is well funded with a very large surplus with not the deficit issues that other countries such as the U.S. is seeing.
Recently, MPW announced the acquisition of a 40 hospital sale/leaseback deal in Germany. The $900 million transaction closed earlier than expected and MW expects to fund and begin accrual on up to $500 million of the purchase in 2014.
The tenant, MEDIAN Kliniken, is the largest private provider of post-acute rehabilitation in Germany and the company is now MPW's top tenant. The 27-year master lease transaction has annual lease increases based on 70% of German CPI with no ceiling (and a 1% floor). According to MPW's investor presentation, the MEDIAN portfolio was "highly marketed" with "strong competition including U.S. REITs."
As I alluded, MPS is no longer experimenting in Germany. As the snapshot illustrates below, MPW has achieved considerable scale now in Germany (11,270 German hospital beds in the portfolio by Q1-15).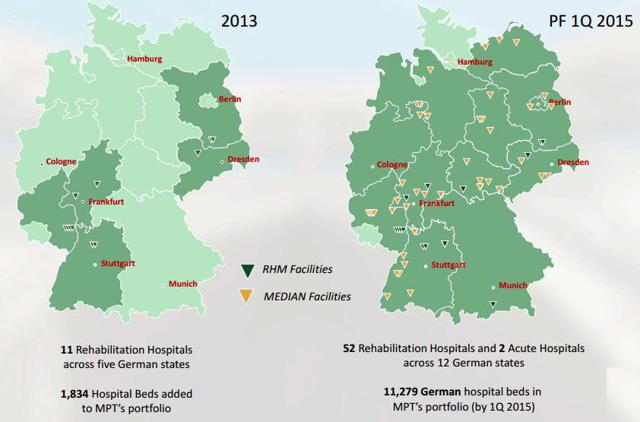 The Improved Balance Sheet
As mentioned above, S&P recently upgraded MPW from BB to BB+ and S&P rated MPW's unsecured debt as Investment Grade (BBB-). It's quite clear that S&P's upgrade was a result of MPW's steady and prudent growth - Gross Assets increased from $1.4 billion in 2010 to $3.4 billion (as of Q3-14).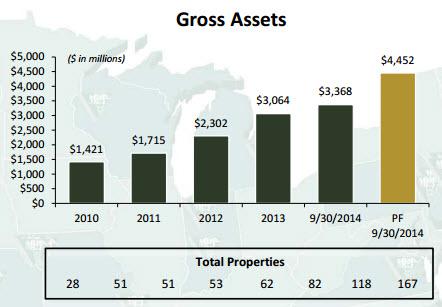 For each of MPW's 3 sectors of hospitals, the EBITDAR coverage for the third quarter was essentially flat to slightly down trailing 12 months quarter-over-quarter. When comparing same-store coverage for MPW's acute care hospitals, recoveries declined from 4.9x to 4.82x. For the LTACs, the coverage dropped from 1.87x to 1.81x. And for the rehabs, the coverage dropped from 2.71x to 2.68x.
In order to close the MEDIAN deal, MPW exercised its $250 million accordion feature to increase its committed availability to over $1 billion. The company negotiated a new accordion that provides an additional $400 million of capacity for a total of $1.5 billion.
These modifications allow MPW to complete all aspects of the MEDIAN transactions without additional capital-raising activities. Here's a snapshot of the company's Total Debt to Total Capitalization compared with the peer group:

While leverage is a tad high today, MPW said that it intends to "revert to its long-established balance sheet practices of moderate leverage," that is 40% to 45% debt to gross assets and net debt of around 5.5x normalized EBITDA.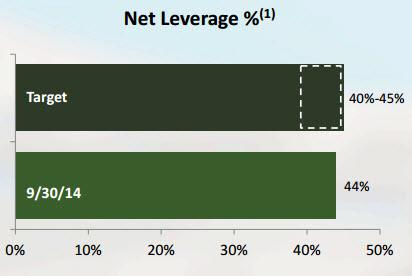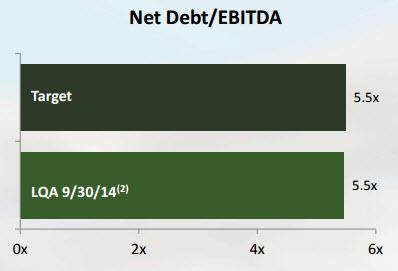 One other important balance sheet metric worth noting is MPW's financial flexibility. As evidenced below, MPW has less than 1% of secured debt with only 1 asset with a mortgage. The company's fixed charge coverage is 2.9x.

Finally, here's a snapshot of MPW's well sequenced debt maturities (93% of debt is fixed-rate with an average rate of 6.17%):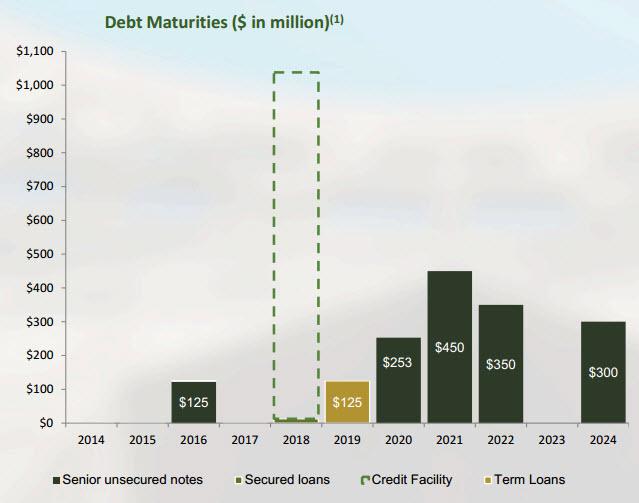 A Durable REIT Model
As mentioned previously, MPW has a REIT model that is differentiated by long-term "critical mission" lease contracts. Because of the less than generic structures, most tenants elect to extend the leases and occasionally they purchase the buildings. It's rare that hospital tenants vacate. Accordingly, MPW's near-term lease maturity level provides the company with stable and predictable cash flow.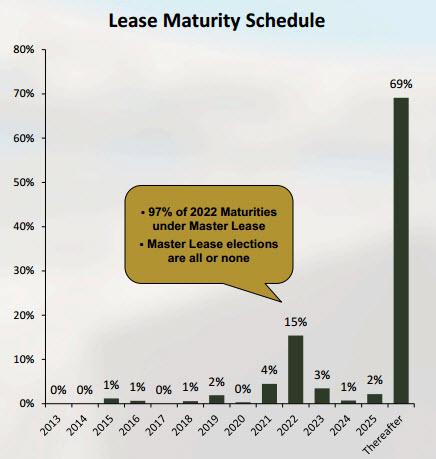 No one property accounts for more than 2.6% of MPW's portfolio. In addition, concentration will continue to decrease as the portfolio grows.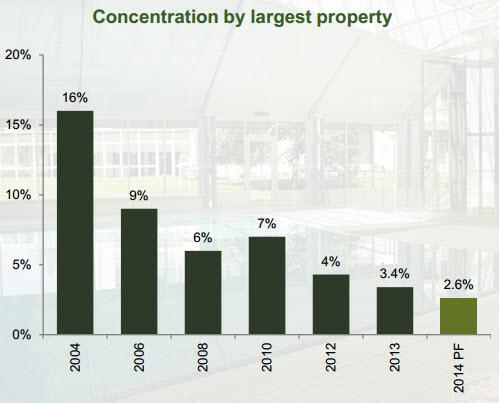 Most of MPW's lease contracts have rental increases with just around 2% of the portfolio contracts are considered "flat" rent escalations.

That durable critical-mission model translates into steady profits - as evidenced by the 33% CAGR Adjusted EBITDA chart below: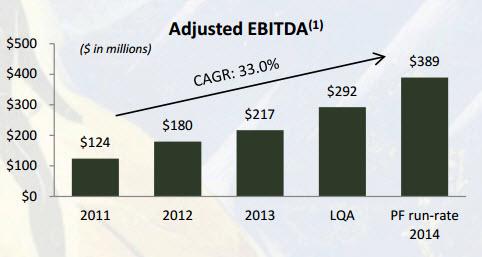 MPW's Normalized FFO (Funds from Operations) per share for the third quarter was $0.27 per diluted share, an 8% year-over-year increase compared to 2013. MOW's year-to-date FFO per share was up 8% over 2013 results to $0.79 per diluted share. Here's a snapshot of the company's AFFO per share history: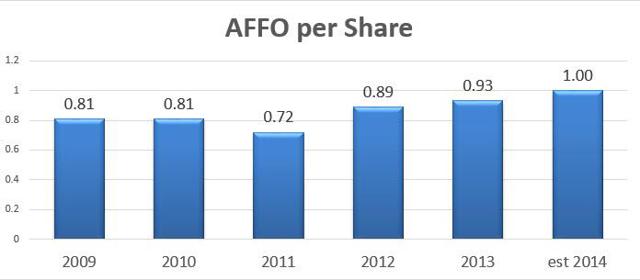 One of my concerns with MPW previously was the company's modest dividend growth. Here's a snapshot of the historical growth: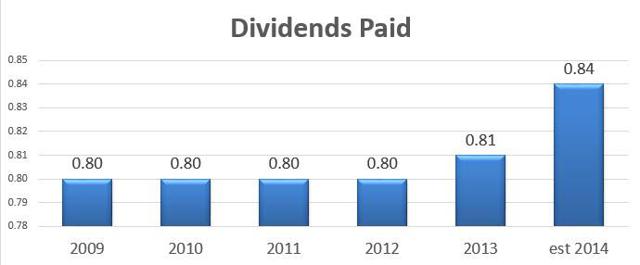 Compared with many other healthcare REITs, MPW's dividend growth record was less impressive.
However, MPW's payout ratio is getting much better and it appears that the company will soon be in a better position to squeeze out more dividend juice.

KeyBanc recently upgraded MPW to Hold from Underweight and I'm moving in lock-step with KeyBanc: I'm recommending a move from HOLD to BUY. Here's a FAST Graph of the company's dividend history (note: the new dividend color on FAST Graph is lime green).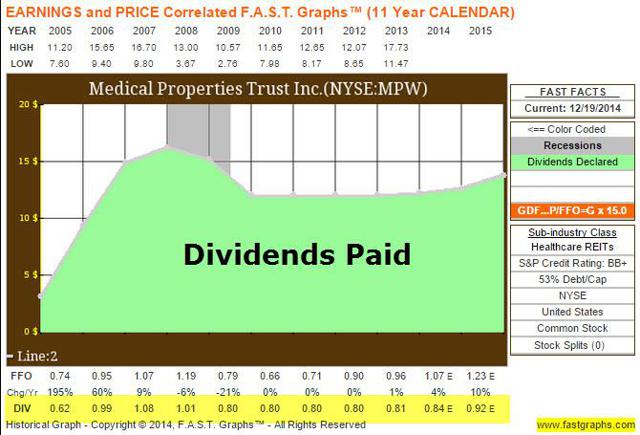 The MEDIAN portfolio (and other recently announced transactions) once permanent financing is completed, should generate incremental FFO per diluted share of between $0.09 and $0.12. Compared to the previous run rate estimates at the mid-range of $1.12 per share, this represents an increase of between 8% and 11% on a go forward basis. That translates into a run-rate of $1.19 to $1.26 per share.
MPW is trading at a P/FFO multiple of 12.6x (source: FAST Graphs) and using the mid-point run-rate of $1.23 per share, I would expect to see the company hit around $16.00 (price point). Furthermore, I anticipate that MPW will inch closer to the peer P/FFO multiple in 2015 and that translates into a projected price target of $18.00 (using a forward P/FFO multiple of 14x). Since I consider the $16 target conservative and the $18 target optimistic, I suggest using a $17 price target.
That's 26% (capital appreciation potential) plus a 6% dividend = 32% total return potential. I think there's a better than realistic chance that MPW can break through its under-performing record (in 2014) and become a meaningful REIT in 2015. I'm officially putting MPW on the varsity team: This REIT's a BUY.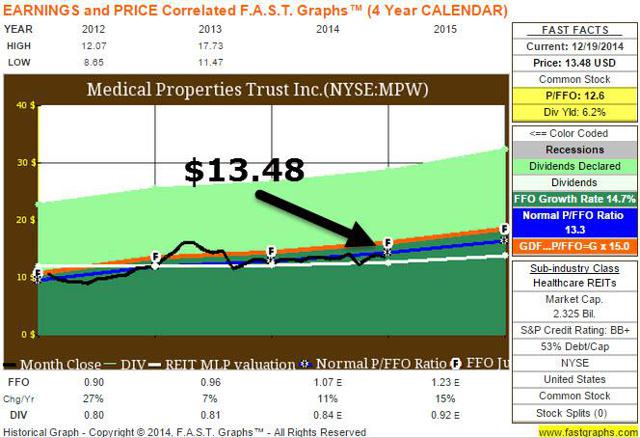 In the December edition of my newsletter, I have included an exclusive Q&A with MPW's Director of Investor Relations (Tim Berryman).
Also in the REIT newsletter, I provide high-level analysis so that investors can attempt to find an adequate margin of safety. Remember the number one rule of investing: Protect Your Principal at ALL Costs. Subscribe here.
Sources: SNL Financial, FAST Graphs, MPW Investor Presentation.
REITs mentioned: Ventas Inc. (NYSE:VTR), National Health Investors Inc. (NYSE:NHI), Sabra Health Care REIT (NASDAQ:SBRA), Healthcare Realty Trust Inc. (NYSE:HR), Healthcare Trust of America, Inc. (NYSE:HTA), HCP, Inc. (NYSE:HCP), LTC Properties Inc. (NYSE:LTC), Health Care REIT, Inc. (HCN), Universal Health Realty Income Trust (NYSE:UHT), Aviv REIT (NYSE:AVIV), Omega Healthcare Investors, Inc. (NYSE:OHI), Senior Housing Properties Trust (NYSE:SNH), and CareTrust REIT (NASDAQ:CTRE).
Disclaimer: This article is intended to provide information to interested parties. As I have no knowledge of individual investor circumstances, goals, and/or portfolio concentration or diversification, readers are expected to complete their own due diligence before purchasing any stocks mentioned or recommended.
Disclosure: The author is long O, DLR, VTR, HTA, STAG, CSG, GPT, ROIC, HCN, OHI, LXP, KIM, WPC, DOC, UDF, EXR, MYCC, BX, TCO.
The author wrote this article themselves, and it expresses their own opinions. The author is not receiving compensation for it (other than from Seeking Alpha). The author has no business relationship with any company whose stock is mentioned in this article.