Shares of Array BioPharma (Nasdaq:ARRY), the biopharmaceutical company focused on the discovery, development and commercialization of targeted small molecule drugs, appear to be bouncing off the bottom, for both technical and fundamental reasons.

As you look at the chart below (click to enlarge), you'll see that the indicators and latest candlestick formation appear to be bullish, but it also helps that there has been some insider buying from CEO Robert Conway in recent days. Insider trading often occurs when employees or management believe that the public is not valuing their stocks properly. Because insider transactions are public information, knowing that insiders are purchasing stock can signal future stock appreciation.
The stock has had a 52 week range between $2.05 and $3.60 and Tuesday's trading action saw shares rise 4.55% to $2.30 +0.10 on very bullish action.
Array BioPharma's proprietary drug development pipeline is primarily focused on the treatment of cancer and inflammatory disease and includes several small molecule drug candidates that are designed to regulate targets in therapeutically important biologic pathways. Its discovery platform includes: structural biology, predictive informatics, high throughput screening, cell biology, lead generation, lead optimization, drug metabolism, pharmacology, process research & cGMP and clinical or regulatory technologies.
Earlier in the month, Array announced that it was reducing staff by another 20 percent, or 70 positions, as part of a "restructuring to extend its financial resources." In recent months, the drug research company has been cutting payroll and R&D costs as it has narrowed its research focus mainly to experimental drugs for which it has licensing deals.
As we look at the BioMedReports Trade Catalyst Calendar, we see that ARRY had three milestones listed this year. One Pahse Ib trial result for ARRY543 with Docetaxel (Advanced Solid Tumors), Another Phase Ib trial result, this time for ARRY543 with Gemzar for the treatment of Solid Tumors and finally a Phase I trial end status update for ARRY 403 for the treatment of Type II Diabetes. We began to track these events after they were discussed in previous press releases issued by the company.
| | | | | |
| --- | --- | --- | --- | --- |
| Date | Product Name | Status | Treatment Indication | Event |
| 2011 | ARRY543 with Docetaxel | I | Advanced Solid Tumors | Phase Ib trial result |
| 2011 | ARRY543 with Gemzar | II | Solid Tumors | Phase Ib trial result |
| 2011 | ARRY403 | I | Type II Diabetes | Phase I trial end |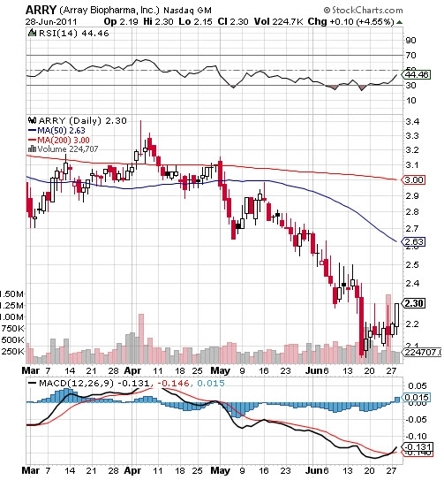 Disclosure: I have no positions in any stocks mentioned, and no plans to initiate any positions within the next 72 hours.