Buy when there's blood on the streets.

- Baron Rothschild
The classical quote has become the mantra of many contrarian investors. The rapid decline in oil prices has caused many investors to limit their exposure to the energy industry, and now seems like the perfect time to search for opportunities in a bloody sector.
Currently, long-term investors have the chance to acquire wonderful companies at a fair price. In the following, I've selected three high-quality stocks that the long-term investor might want to add to their watchlist or portfolio.
About the selection
In general, I searched for companies that have:
Exposure to the energy industry
Consistently high ROE of minimum 10% minimum over a 5-year period
A competitive advantage
Increasing revenue and EPS
Seen its stock decline at least 10% since July
The criteria were used as a starting point, and companies were afterwards selected based upon a mix of positives/upside and negatives/downside.
In the end, the three companies were selected based upon my subjective opinion and what I would feel comfortable owning as a long-term contrarian investor.
Core Laboratories NV
Following the rapid decline in oil prices, Core Labs' (NYSE:CLB) stock has suffered severely. The stock is down nearly 40% YTD because investors fear that major oil companies are about to cut back on capital spending which implicitly suggests lower revenues for CLB.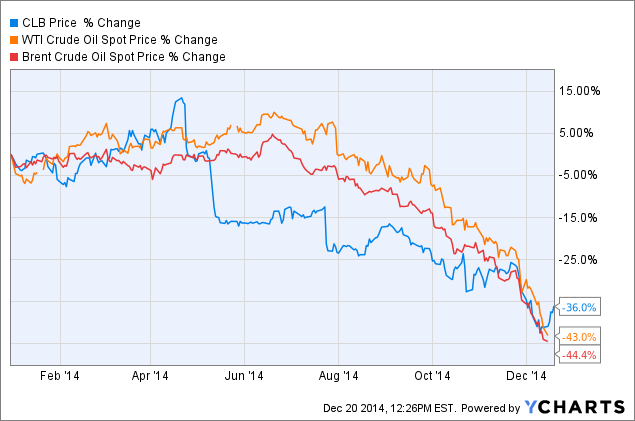 CLB data by YCharts
Why CLB Is interesting
CLB is one of my favorite oil & gas service companies. The company is engaged in core- and reservoir analysis, and helps energy companies improve production efficiency.
CLB has valuable intangible assets consisting of geological data and samples that provide unique insight to specific reservoirs around the world. The data is used for descriptive analysis of reservoirs that give the company an unmatched ability to improve production volume and efficiency. CLB's intangible assets has earned the company a "wide" moat rating at Morningstar who argues that it would be nearly impossible for new entrants to replicate the assets.
Core Labs has impressed by growing revenue and EPS rapidly over the last 10 years: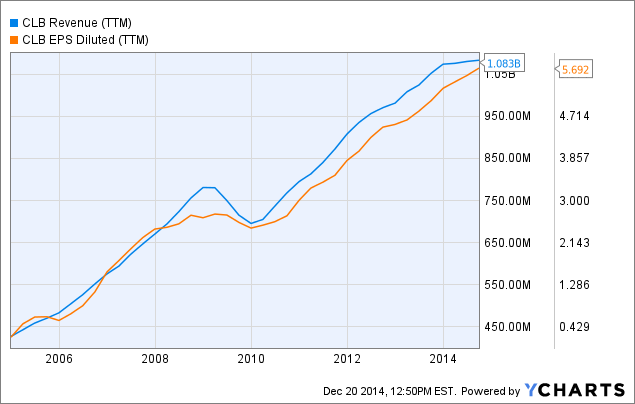 CLB Revenue (TTM) data by YCharts
Apart from being able to grow revenue and earnings, CLB is also well-run and management is very diligent with investors' money. The company has produced industry-leading shareholder returns by following 3 tenets:
Maximize FCF through fiscal discipline
Maximize ROIC
Return excess capital to shareholders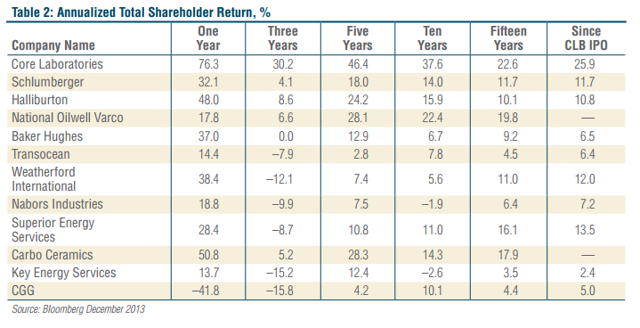 Source: CLB Annual report 2013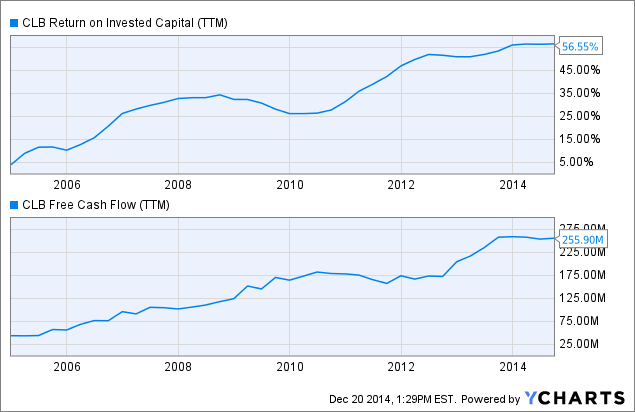 CLB Return on Invested Capital (TTM) data by YCharts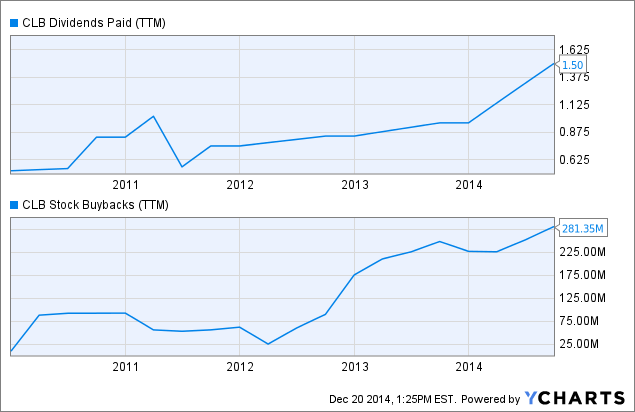 CLB Dividends Paid (TTM) data by YCharts
In short, CLB is a high quality company that consistently creates value for its shareholders.
Positives & Upside
Well-run with high margins, high ROE (although somewhat skewed), high ROIC, and growing revenue and earnings.
Debt free and financially stable. Has a current ratio of 2.45. Can withstand a downturn.
Wide moat rating due to intangible assets.
Shareholder friendly.
If oil stabilizes, CLB's stock is likely to appreciate in value.
Negatives & Downside
Although CLB's stock has declined, the company still trades around a P/E of 21.
If capital spending is cut, CLB is likely to be adversely affected.
Likely to depreciate further if oil does not stabilize.
Chicago Bridge & Iron Company
Another company that has been dragged down by declining oil prices is Chicago Bridge & Iron (NYSE:CBI). The energy infrastructure company has seen its stock decline severely since the Prescience Point report was released in June, but falling oil prices has taken its toll as well.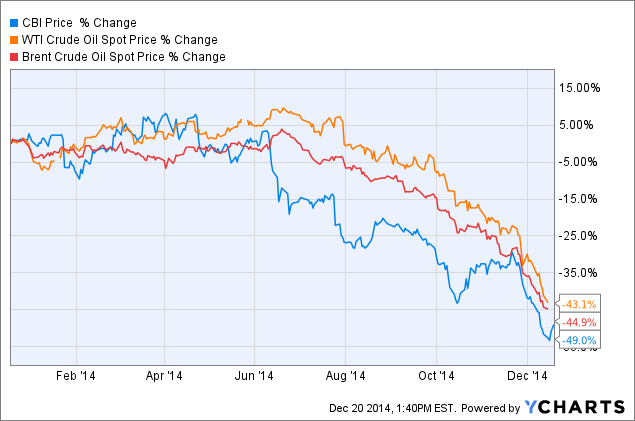 CBI data by YCharts
Why CBI Is Interesting
CBI is one of the world's largest engineering, procurement and construction (EPC) companies in the world. The company has extensive experience with designing, building and servicing very large projects such as nuclear plants, infrastructure and oil rigs. CBI is very interesting due to its size and experience with large-scale projects. This ensures a dominant position in the industry that are unlikely to be threatened by new entrants due to high barriers to entry.
When considering the company's backlog of $30.7 billion, CBI's valuation is currently ridiculously low: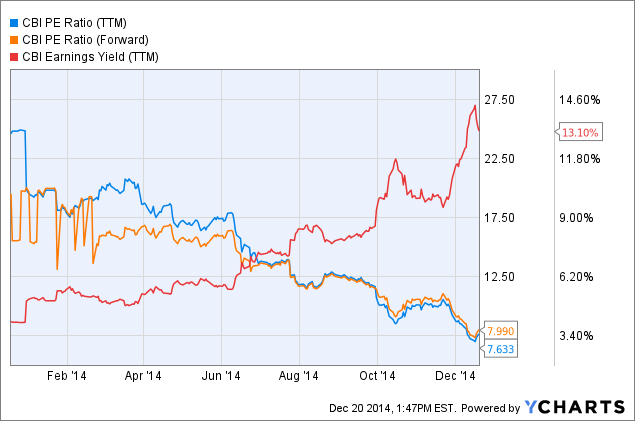 CBI PE Ratio (TTM) data by YCharts
The company has managed to maintain very satisfactory levels of ROE and ROIC over an extended period of time. This suggest a dominant position in the industry: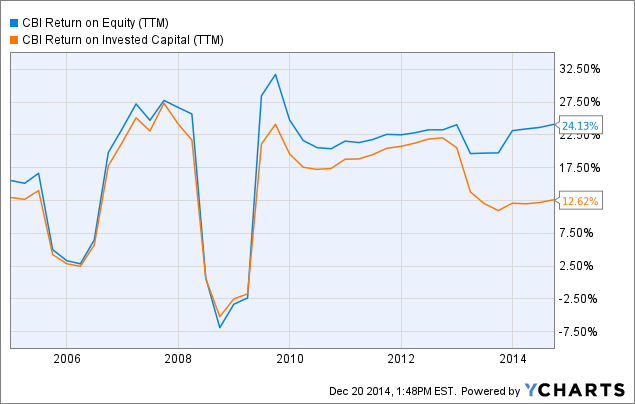 CBI Return on Equity (TTM) data by YCharts
For 2015, management has guided EPS of $5.75-$6.05 and revenue of $14.8-$15.2 billion which, if all goes according to plan, will continue the company's growth: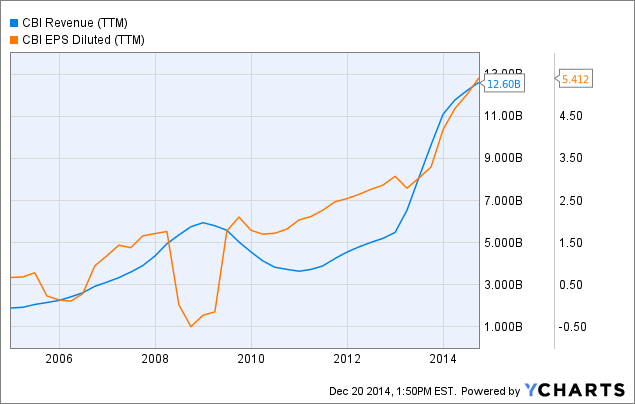 CBI Revenue (TTM) data by YCharts
In comparison, CBI expects revenue and EPS to amount to respectively $12.6-$13.2 billion and $4.80-$5.65 in 2014.
As mentioned, the stock has declined due to falling oil prices that causes anxiety about CBI's exposure and sensitivity to energy companies possible cut of capital spending. While there is great disagreement about how exposed CBI really is, I believe it to be fairly small:
Now while we're always working with fundamentals, we are certainly tuned in to the macro impacts to our business, particularly the geopolitical implications of various trouble spots around the world and, of course, the volatility of oil prices, which may affect capital spending. (...) And as to the potential impact on our business from the volatility in oil prices, we haven't had any cancellations of offshore projects or refinery upgrades. And given our concentration on natural gas and petrochemical opportunities, we believe that it's unlikely that oil prices will drop to levels that would affect shale basin production. So we see that the near-term effects are negligible, nor do we anticipate material impact in our current outlook for 2015.

(...) I think if we had any of our backlog having any exposure could be things like offshore engineering or perhaps refinery expansions, perhaps in some places, but that's not a large part of our backlog.

- Philip K. Asherman, CEO, Earnings Call Q314
This does indeed suggest that investors have misjudged the potential effects of lower oil prices on CBI's earnings, which makes it a great candidate for a substantial rebound.
Positives & Upside
Low current and forward valuation.
Substantial backlog of $30 billion.
High ROE and ROIC.
Likely to appreciate in value if oil rebounds or sentiment changes.
Negatives & Downside
Potential further decline if Prescience Point report is correct. This situation is, in my opinion, already factored in at current levels.
While exposure to the oil industry appear insignificant, it is uncertain how a prolonged environment with low oil prices will affect revenue and earnings due to reduction of capital spending.
Low current ratio of 0.77, still carrying debt from Shaw acquisition, negative cash flow.
Schlumberger NV
Lastly, we have the leader of the oil-field services sector. Schlumberger (NYSE:SLB) has not suffered as greatly as e.g. CLB from the decline in oil prices, which most likely can be contributed to the company's size of operations and level of integration with its customers.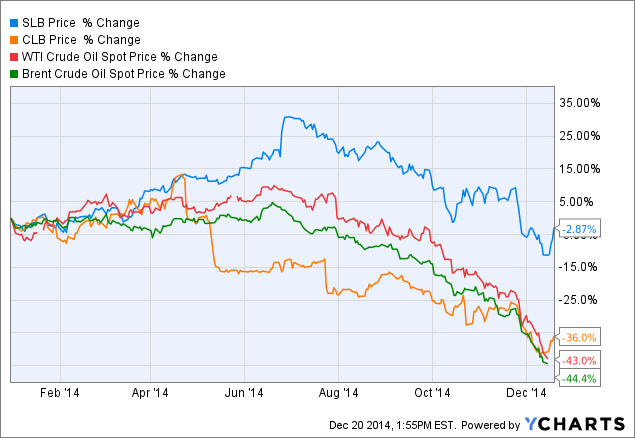 SLB data by YCharts
Why SLB is interesting
It is not often that an industry leader comes on sale. Schlumberger is no exception. In fact, it is very seldom to see SLB trading at current PE/EV levels: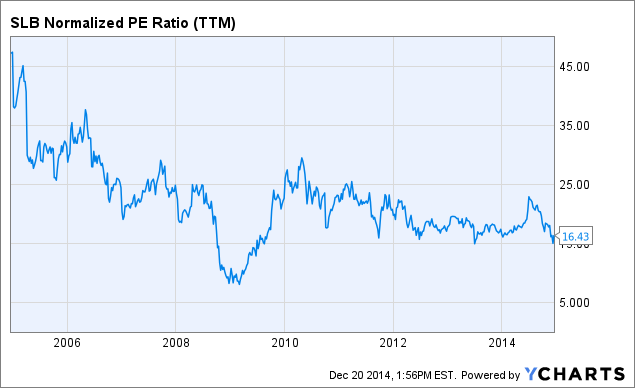 SLB Normalized PE Ratio (TTM) data by YCharts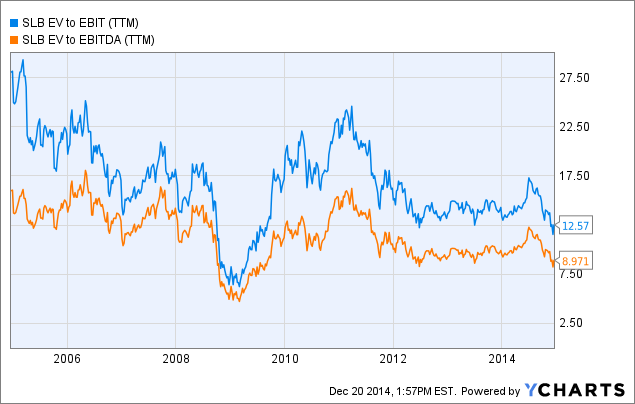 SLB EV to EBIT (TTM) data by YCharts
The great thing about SLB is that the company manages to leverage its size, reputation, and integrative abilities to provide stability and growth in revenue. This means that SLB is likely to be the last company to suffer from a cut in capital spending. This becomes apparent when comparing revenues to oil prices: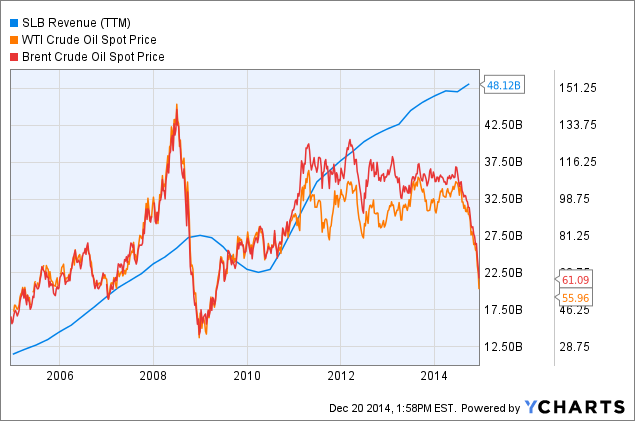 SLB Revenue (TTM) data by YCharts
With that being said, nobody knows if oil prices are staying low for a prolonged period of time, which could affect the company as it did in 2009-2010. For a long-term investor, however, this should not matter as much as acquiring a part of a wonderful company at a fair price.
Positives & Upside
Industry leader with a vast product- and services portfolio.
Likely to appreciate to historical valuation levels if oil prices rebound.
Currently trading at historical "cheap" levels
Well-run with consistently high ROE and ROIC. Conservative balance sheet with D/E of 0.29 and current ratio of 2.06.
Returning value to shareholders through dividends and stock repurchases.
Negatives & Downside
It is uncertain that oil has bottomed, which could provide a lower entry point.
The negative effect on revenue of lower oil prices over a prolonged period of time.
Exposure to Russia.
Conclusion
I takes courage to buy when there's blood on the streets and the future seems dire. Investors with a long-term investment horizon are likely to benefit from acquiring companies in the energy sector because of the cyclical nature of prices and sentiment. And let's face it, the world is not going to stop consuming oil any time soon, so investors should take advantage of this temporary slump in prices. I can highly recommend reading Howard Marks' annual memo from Oaktree Capital in which he provides excellent perspective on the cyclical nature and effects of oil.
Please feel free to leave a comment about other high-quality companies that you think are likely to rebound when oil stabilizes.
Disclosure: The author is long CBI.
The author wrote this article themselves, and it expresses their own opinions. The author is not receiving compensation for it (other than from Seeking Alpha). The author has no business relationship with any company whose stock is mentioned in this article.