Over the past few months, several major offshore Gulf of Mexico operations started up that Chevron Corporation (NYSE:CVX) is invested in. In mid-November, Hess (NYSE:HES), as the operator of the Tubular Bells project with a 57% stake, announced that the Tubular Bells was now producing oil. At its peak production rate, the Tubular Bells will pump out 44,000 BOE/d. Chevron has a 43% interest in the project.
Shortly after the Tubular Bells started up, Chevron brought the Jack and St. Malo fields online. Chevron has a 50% and 51% interest in the Jack and St. Malo fields, respectively, and is the operator of both. It also is the operator (with a 40.6% interest) of the floating production facility that is supporting production from the fields, which has the capacity to handle 170,000 bo/d and 42 MMcf/d of natural gas.
Initially the Jack/St. Malo fields will produce 94,000 bo/d and 21 MMcf/d of natural gas, which can be expanded over time as market conditions allow. Over the course of the next thirty years, Chevron will pump out over 500 million BOE from the two fields. To support future production growth, Chevron has an active exploration program testing out several different prospects in the Gulf of Mexico.
The Guadalupe discovery
To uncover new resources, Chevron has two drills ships dedicated to exploration and appraisal in the Gulf of Mexico. Last October, Chevron (42.5% stake), BP (NYSE:BP) (42.5% stake), and Venari Resources (15% stake) found oil in the Guadalupe discovery. 180 miles off the cost of Louisiana in the Keathley Canyon Block 10, Chevron (as the operator) located "significant oil pay" in the Lower Tertiary Wilcox Sands. Well No. 1 was drilled thorough 3,992 feet of water to a total depth of 30,173 feet.
Another well that was completed close by was in the Keathley Canyon Block 93, which also found "significant" amounts of oil. BP is the operator with a 80% interest in the Gila prospect, and ConocoPhillips (NYSE:COP) owns the remaining 20%. Below is a map of the two discoveries.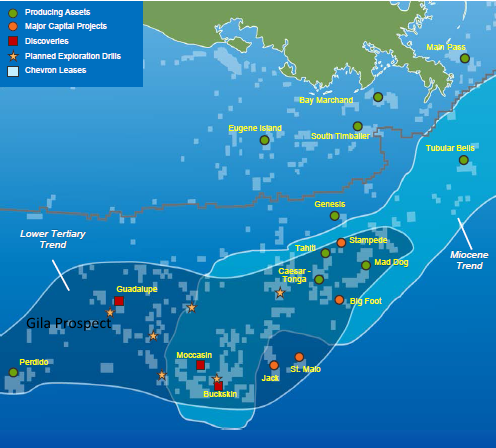 Source: Chevron Presentation (Gila Prospect text added)
Chevron, as the operator, also discovered oil at the Moccasin (43.75% interest, BP also has 43.75% stake) and the Buckskin (55% interest) discoveries. Investors should note that the upside from these prospects could be limited until Chevron gives investors a better idea of what to expect. According to upstreamonline, lackluster appraisal results from its wells is prompting Chevron to not build a standalone production facility to develop the Moccasin-Buckskin prospects. Instead, Chevron is reportedly going to tie-back production from the discoveries to an existing facility, limiting the production potential. It remains to be seen what Chevron plans to do, but in light of low oil prices, Chevron and its partners will probably delay the development of the two fields.
New discoveries that are followed by solid results from appraisal wells create future projects that Chevron and its partners can develop. Big Foot and Stampede are two examples of how Chevron is turning discoveries into production growth.
Big Foot and beyond
Sanctioned in 2010, the Big Foot development was initially supposed to produce first oil in 2014. This was later pushed back to 2015, and is currently on track to start up next year. Chevron is the operator with a 60% interest in the development, which is targeting over 200 million BOE of resources in the field. Once operational, Big Foot will pump out 75,000 bo/d and 25 MMcf/d of natural gas.
Recently Chevron, Hess, Statoil (NYSE:STO), and Nexen, sanctioned the $6 billion Stampede development, and each partner has a 25% interest. When Hess took over as operator of the Tubular Bells, it was able to bring the project online and on time. As the operator of the Stampede project, there is a good chance Hess will be able to replicate its success. Drilling will commence in Q4 2015, with first oil expected in 2018. When the Stampede starts producing, it will pump out 80,000 bo/d as Hess and its partners target 300 million BOE of resource potential.
Final thoughts
By developing oil and gas fields in the Gulf of Mexico, Chevron is attempting to kick-start growth once more. Management is guiding to grow Chevron's output to 3.1 million BOE/d by 2017 versus the 2.568 million BOE/d it pumped out in Q3 2014. To get there, Chevron is betting big on the Gulf of Mexico and so far its strategy has paid off. Investors have yet to see the impact of the start up of the Tubular Bells and Jack/St. Malo projects, which should boost Chevron's oil output by ~73,400 bo/d at peak capacity. The Big Foot and Stampede developments will add an additional ~65,000 bo/d to Chevron's production base. Far off in the distance, discoveries like Guadalupe offer plenty of production upside.
While investors wait for Chevron's growth story to materialize, they get to pocket a solid 3.8% yield. It doesn't look like oil prices are going to go much lower, making this the perfect time to buy into Chevron. To read more about Chevron, take a look at the article below.
1. Chevron's Permian and International Shale Assets
Disclosure: The author has no positions in any stocks mentioned, and no plans to initiate any positions within the next 72 hours.
The author wrote this article themselves, and it expresses their own opinions. The author is not receiving compensation for it (other than from Seeking Alpha). The author has no business relationship with any company whose stock is mentioned in this article.