Due to the recent plunge in crude prices, Russia has experienced significant capital flight that has devalued the ruble by almost 50% year to date.
Given that Russian company Uralkali is the world's largest potash producer, many investors are wondering if Russia's geopolitical troubles will negatively affect Potash Corp's (NYSE:POT) dividend.
There is the fear that Russia could dump additional potash onto the marketplace in a bid to get more dollars. The additional supply could create a bear market for potash, and thus negatively affect Potash Corp's dividend.
Below are three reasons why Potash Corp's dividend is safe:
Uralkali is already producing at maximum capacity
Uralkali has been producing at maximum capacity ever since it left the BPC marketing cartel in July 2013. Because there is no additional Russian production that comes into the marketplace, potash prices are not in danger of going lower due to Russian induced oversupply.
A stable potash price translates to a stable/rising Potash Corp dividend.
Potash Corp's earnings should increase in 2015
While Potash Corp currently pays out 87% of its earnings in the form of dividends, Potash Corp's earnings should increase substantially next year. Analysts estimate that Potash Corp's earnings per share will increase from $1.60 per share in 2014 to $2.11 per share in 2015.
The increased earnings will give Potash Corp more room to support/increase its dividend.
Potash Corp should continue to reduce costs
Potash Corp is committed to cutting costs. According to the Citi 2014 Basic Materials Conference, Potash Corp management plans to reduce operating costs by $20 to $30 per metric ton by 2016 (from 2013 levels). That cost savings of ~$160 million to ~$240 million should go straight into Potash Corp's bottom line and support Potash Corp's dividend.
Similarly, Potash Corp is 95% done with its decade long $8.3 billion dollar potash expansion program. After Potash Corp completes its expansion capital expenditure program, it will have more free cash flow to increase its dividend or do buybacks. (Given that FCF = Operating Cash Flow - Capex, and given predicted 2015 operating cash flow of ~$3.4 billion, Potash Corp should have FCF of ~$2 billion next year, which easily covers the dividend cost of ~$1.16 billion.)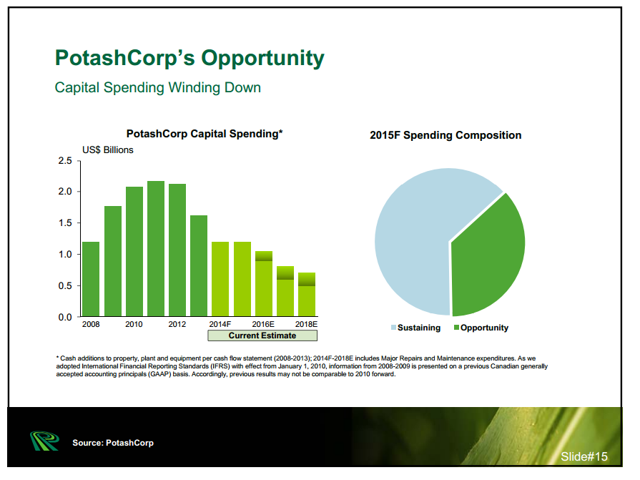 Conclusion
Potash is an essential fertilizer nutrient that the world cannot do without. Given the rising world population and increasing fertilizer usage, potash demand will only increase going forward. Given the limited quality potash mines around the world, Potash Corp has high barriers of entry.
Even if the ruble continues to depreciate, Potash Corp's dividend is safe.
Disclosure: The author has no positions in any stocks mentioned, and no plans to initiate any positions within the next 72 hours.
The author wrote this article themselves, and it expresses their own opinions. The author is not receiving compensation for it (other than from Seeking Alpha). The author has no business relationship with any company whose stock is mentioned in this article.