American Capital Agency Corp. (NASDAQ:AGNC) is a blue chip mortgage REIT. Its President and CIO, Gary Kain, is considered to be one of the gurus of the MBS world, especially the Agency RMBS world. AGNC invests in Agency RMBS. Its goal is to preserve its net asset value while providing risk-adjusted returns for distribution to shareholders. It provided a total economic return (book value appreciation plus dividends) of 206.1% from January 1, 2009 through June 30, 2014. By comparison, its peers have provided an average total economic return of only 86.0% over the same period.
With a $0.20 per common share gain in book value so far in Q4 2014 as of November 30, 2014, and a $0.66 per common share quarterly dividend for Q4 2014, AGNC is well on its way to an approximate 4% total economic return for Q4 2014. For those interested, the ex-dividend date is December 29, 2014. The external manager/adviser of AGNC is American Capital AGNC Management LLC, a subsidiary of American Capital (NASDAQ:ACAS) - a publicly traded private equity firm and asset manager. It helps to have a highly experienced manager/adviser.
On November 28, 2014 (a Friday), the 10-year US Treasury Note yield was at 2.16%. It is at 2.15% today on December 21, 2014, after a large two-day rise earlier in the week from 2.06%. One might surmise this rapid rise was mostly due to the Fed essentially deleting its "considerable time" before it raises its rates language from its information statement. Many market pundits are taking this to mean it will raise rates sooner in 2015 than some were anticipating. However, on more reflection many of those pundits will likely conclude that any US Fed rate increases will more likely be dependent on ECB actions in Europe and the states of the EU economies. At the moment, the rates of the biggest PIIGS countries seem to be pulling down the yields on the US Treasury bonds. The Spanish 10-year Note yield has been trending strongly downward for the last year (see below).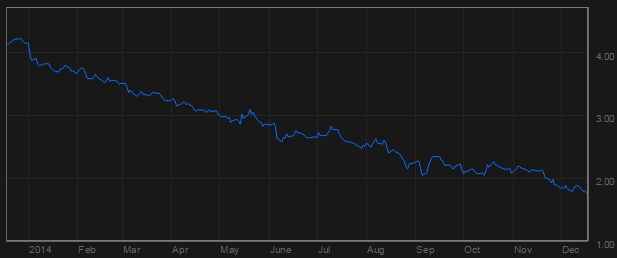 This has not blipped up on the Fed announcement. Thus, it will probably continue to pull the US Treasury Bond yields downward as it goes further downward.
The Italian 10-year bond yield shows the same kind of pattern.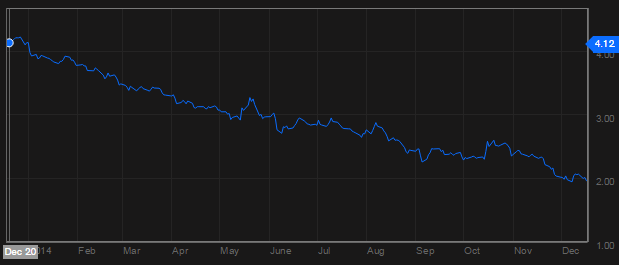 With both of these major PIIGS bond yields still heading strongly downward, it seems most likely that the US Treasury bond yields will eventually follow as long as these trends continue. The US Treasuries are considered by many to be stronger. If they are also cheaper (and higher yielding), many investors will prefer the US Treasuries; and that extra demand should bring the US Treasuries' yields down.
The big question then becomes, are the Spanish and Italian (and other EU countries) bond yields going to continue to stay low or trend lower in 2015? The answer almost certainly depends on whether the ECB's proposed €1 trillion QE program is implemented as Draghi proposed in early November 2014. In early December 2014, Draghi called this into question by acknowledging the Germans had not yet agreed to it. However, in a recent Bloomberg survey of economists, 90% thought that the program would go through. They believed that Draghi would eventually talk the Germans around. This should mean that US Treasury Bond yields will continue to follow the above mentioned ECB member bond yields downward (or at worst remain relatively flat).
The above means that both US equities and US fixed income markets will probably perform at least okay until the economists are proved wrong. However, if the ECB doesn't announce that Germany has agreed to the new QE plans by sometime in January 2015, the markets may well decide to start what some consider an overdue BEAR market at that point. Once a BEAR market gets started, it may be hard to stop. Investors in AGNC and other mortgage REITs should keep this in mind. An article that reviews some of the recent world economic weakness is, "All Around The World The Sky Is Falling... Will It Hit You?"
AGNC may have lost about -2.7% in book value in Q3 2014; but it seems likely to gain about $0.20 per common share in Q4 2014. With a book value of $25.54 as of September 30, 2014, this amounts to a gain of +0.78% on the quarter. In other words, it did not gain back what it lost in Q3 2014. However, for FY2014, AGNC has seen its book value rise from $23.93 as of December 31, 2014 to $25.74 as of November 30, 2014. This $1.81 per common share increase over eleven months amounts to about +7.6% in book value. AGNC will have paid dividends of $2.61 for FY2014. Together the above two items will amount to a total economic return of approximately 18.5% for FY2014, although the final book value number is still a bit in question. Most income investors would be happy with this number, especially when AGNC is considered by many to be one of the more stable (blue chip) mortgage REITs.
In Q3 2014, the net interest spread and dollar roll income was $0.85 per common share. This included $0.43 per common share of dollar roll income. The $0.85 per common share is a good number in terms of paying the $0.66 dividend declared for Q4 2014 ($0.22 per month). However, it also means that the dividend is less stable since a large portion of the income used to pay the dividend was dollar roll income versus net interest spread income, which is more reliably there every quarter.
Investors should also consider that the decrease in the 10-year US Treasury Note yield from 2.49% on September 30, 2014 to 2.15% as of this writing on December 21, 2014 (-34 bps) will likely decrease the net interest spread. This was 1.90% for Q3 2014, including dollar roll income. If this goes down to approximately 1.65% for Q4 2014, AGNC will have less money to pay the dividend with. It will have to have guessed well with its dollar roll operations in order to be able to cover the dividend. It more than did this in Q3 2014 with an $0.85 per common share of net interest spread and dollar roll income (and a $0.65 per common share dividend in Q3 2014). However, $0.43 per common share of the $0.85 per share was dollar roll income. The good news is that Gary Kain et al have a great track record, and he is thought to be one of the gurus of the mortgage REIT industry.
The portfolio as of September 30, 2014 consisted of $69.5B in Agency MBS. The leverage was down a little at 6.7x (down from 6.9x as of Q2E 2014). It was 4.8x excluding net long TBA positions as of September 30, 2014. The average CPR (constant prepayment rate) was 10% for Q3 2014, which was up from 9% in Q2 2014. The long-term expectation is for a portfolio CPR of 8%. The company expects the increase in CPRs in Q3 should be mostly done for the near term. Ditto the basis widening. The tables and charts below show the portfolio as of September 30, 2014.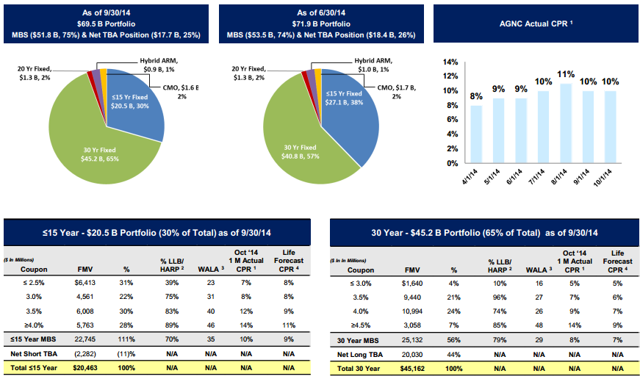 A new %LLB (low loan balance) or HARP category has been added to AGNC's statistics. Loans in these two categories are much less subject to prepayments. The roughly 75% of Agency MBS that fall into one of these two categories should keep AGNC's amortization costs down. AGNC also notes that it is not concerned about the prepayment speeds on the lower coupon rate MBS in both the 15-year and the 30-year categories. It is the higher coupon rate MBS that are more likely to see people refinancing as mortgage rates possibly go lower. AGNC says it will try to manage around these sorts of problems through active trading.
The notional value of hedges was also down to $48.3B as of September 30, 2014 from $59.6B as of June 30, 2014. This will tend to save AGNC and investors money if interest rates continue to decline as they have been so far in Q4 2014. However, it does represent significant risk in the case of an interest rate spike. Still AGNC "guessing correctly" for most of 2014 should make it a buy.
The two-year chart of AGNC provides some technical direction.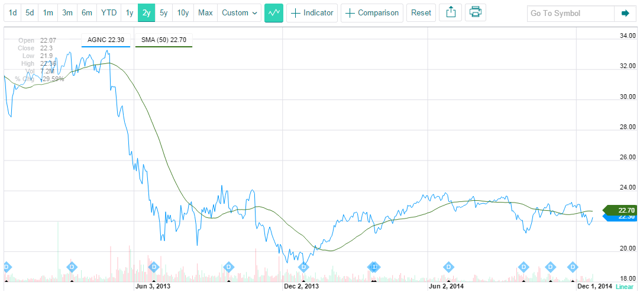 The chart shows that AGNC has been consolidating sideways for over one year. The Q3 2014 results seem likely to let this pattern continue. The book value of $25.74 as of November 30, 2014 is about 15.4% above the December 19, 2014 closing stock price of $22.30. This provides for upside much more than for downside. AGNC is a buy. I am encouraged by the dividend increase (to $0.66 per quarter for Q4 2014 from $0.65 per quarter for Q3 2014 per common share). I am encouraged by the recent move to monthly dividends ($0.22 per month per common share) and to monthly book value statements. AGNC is a buy.
NOTE: Some of the above fundamental fiscal data is from Yahoo Finance.
Good Luck Trading.
Disclosure: The author has no positions in any stocks mentioned, and no plans to initiate any positions within the next 72 hours.
The author wrote this article themselves, and it expresses their own opinions. The author is not receiving compensation for it (other than from Seeking Alpha). The author has no business relationship with any company whose stock is mentioned in this article.