On December 18, Goldman Sachs lowered its rating on Seadrill (NYSE:SDRL) to a "Conviction Sell" based on balance sheet concerns. GS further said, "we believe that the company would breach covenants in a $70 oil environment, and do not believe that the market is currently discounting this risk." The market reacted strongly to the GS report, and though SDRL finished up for the day, it underperformed its peer group by 7%.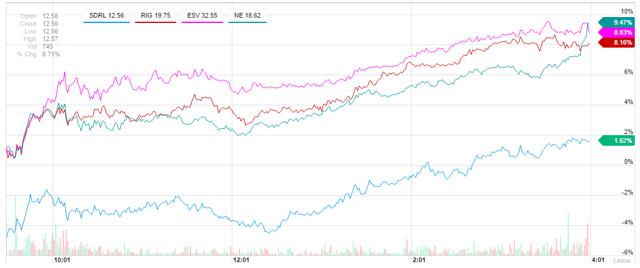 Source: Yahoo!
Interestingly, the December 18 downgrade occurred after GS upgraded SDRL to Neutral from Sell on November 27.
Future Financing and Refinancing Requirements
SDRL had discussed, as recently as November 26, the company's requirements with respect to financing new rigs and refinancing existing debt. Through 2016, funding obligations are $5.5 billion. Cash and securities on hand as of September 30, exceeded $1.5 billion, with another $0.2 billion subsequently raised from SDRL's portion of the West Vela dropdown (in October the West Vela was sold to Seadrill Limited (NYSE:SDLP)) and another $0.2 billion supplied by the November $950 million credit facility (used to finance the West Carina and refinance the West Eclipse).
Total refinancing requirements through 2016 are $1.6 billion, comprised of a $350 million bond and four jackups in 2015 and one ultra-deepwater floater and four jackups in 2016.
Total financing requirements for new rigs are $1.6 billion in 2015 and $2.3 billion in 2016.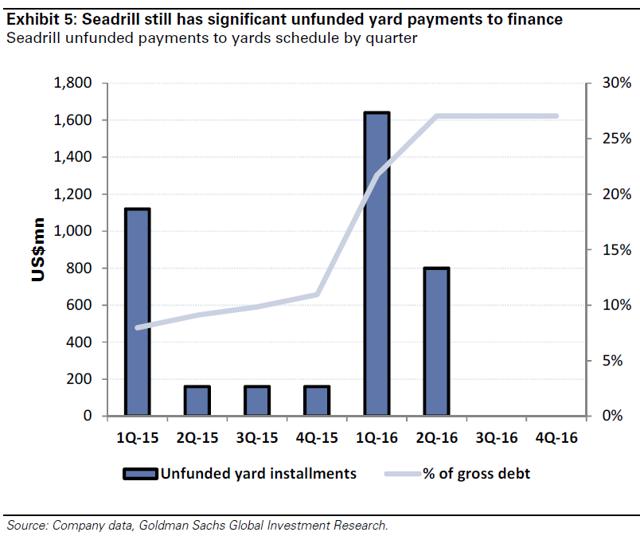 Covenants, Forecasts and Technical Language
In making its case for covenant violation, GS dramatically reduced its earnings estimates to $2.55 and $2.47 for 2015 and 2016, respectively.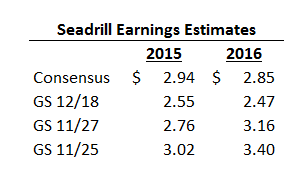 Source: TDAmeritrade and Goldman Sachs
According to GS calculations, SDRL will breach Net Debt/EBITDA requirements in 2016 (see pages F-43 and F-44 of SDRL's 20-F filing, dated December 31, 2013). The covenants are identified in the SDRL filing as stating: Leverage ratio: to maintain a ratio of net debt to EBITDA no greater than 4.5:1. Net debt is calculated as all interest bearing debt less cash and cash equivalents excluding minimum liquidity requirements. Included in the EBITDA calculation is the "inclusion of cash coming from associated companies" and "a rig delivered with a contract for a year or longer . . . will continue to be included in the adjusted EBITDA figure under the revised definitions." (Source: Seadrill Limited - Third quarter results).
What Do The Bonds Say?
The yield on SDRL's 2020 bond has increased to 11.1% on December 18 from 10.6% on December 8. Given recent changes in the market, not a dramatic move, but a negative move nonetheless. On December 18, the bond actually appreciated, with the last trade at $81.50, up from $81.00 the preceding day.
Seadrill Contracting, Covenant and Financing Flexibility
GS ignores the financial and covenant flexibility argument SDRL made in its November statement, where the company noted two separate multi-bank transactions for 5 year term loans (secured in November), including one where the facility contemplated that a rig "would be delivered without a contract". SDRL noted, "having worked through the process with our banking group (the Company) intend(s) to apply the structure going forward." GS also ignores the contracting flexibility argument SDRL made, in discussing 50.1% Sevan Drilling. In this example, SDRL noted that the shipyard (Cosco) had agreed to defer delivery of rig for twelve months with options to extend delivery for up to 36 months.
Risks Are Real, But So Are Opportunities
So, what does it all mean? At the end of the day, I think GS brings up a good point about the potential for covenant default in 2016. GS's fears of an increasingly negative dayrate environment appears confirmed as demonstrated by the December Fleet Reports of several industry participants. However, to makes its case, GS slashes already reduced estimates and assumes SDRL will struggle to find financing. GS ignores any financial and contracting flexibility SDRL could (and will) exercise.
At the end of the day, GS further highlights that SDRL is a highly levered company with material commitments at a time when financial flexibility is at a premium and the market is weak. To make its case, GS ignores the demonstrated ability of SDRL to positively and proactively work with its financial and construction partners as well as the ability to utilize its complex subsidiary network to create "optimal structures".
Disclosure: The author is long SDRL.
The author wrote this article themselves, and it expresses their own opinions. The author is not receiving compensation for it (other than from Seeking Alpha). The author has no business relationship with any company whose stock is mentioned in this article.