As the United States and other nations release the largest amount of crude ever from world strategic reserves, one has to stop and analyze the event to judge what might be the best course of action for investors. Another way to phrase this is to ask what the reasons for such an action are and where does this fit into the overall trend for the energy markets. As reported, the release of 60 million barrels of crude was done in conjunction with the International Energy Agency (IAS), which is a group of more than two dozen countries. The release of the crude was said to be done to address the high oil demand and shortfalls of oil production caused by unrest in the Middle East and North Africa, which will undermine the recovery of the global economy. What is interesting is that even though 60 million barrels seems like a great deal, it will only cover the planet's use for less than a full day.
That being the case, one must assume that a better explanation might be to apply pressure to Organization of Petroleum Exporting Countries (OPEC) for its refusal to increase oil production to bring down prices. In June OPEC released a statement stating that demand for the oil that member countries produce will be expected to increase by 500,000 barrels a day. This would make the average about 29.8 million barrels every day for this organization. Iran and Venezuela want to keep production levels stable, thereby keeping prices high to fill their coffers. On the other hand, Saudi Arabia wants to increase production to avoid another oil price crash like the nearly 70% drop that occurred in the second half of 2008.
As both IAS and OPEC jockey for position and the various political systems debate, investors are left debating the best course of action. As the IAS made their decisions, they also release statements, which revealed major concerns about the ability of oil producers to meet growing world demand in the future. The basic fear here is that if our demand for oil in this sluggish world economy is outstripping supply, what will happen when growth returns in full force. The answer here is obvious and we will see crude prices move higher. The question is: What companies will benefit with higher crude prices and have a location that is in a relatively safe investment and political environment? One possible answer is the oil sand of Canada.
Oil sands, or tar sands, are a type of petroleum deposits made up of mixtures of sand, clay, water, and a dense form of petroleum bitumen. Oil sands are actually common throughout the world, but nowhere will one find bigger deposits than in Canada, and Venezuela. Venezuela being an unfriendly country for investors leaves Canada as the obvious choice. Within Canada the Athabasca Oil Sands, located in northeastern Alberta, have the largest deposits. Locked away in those sands are said to be over 175 billion barrels of proven oil reserves, which is second to Saudi Arabia's reserves. That number can and will change as new extraction technologies come into play and more oil sand deposits are discovered deeper underground. The question is how investors should try to capitalize on the oil sands. The answer is to invest in the companies that have a direct involvement with sands in either a production or support roll. Listed below are some of the best companies to consider.
Canadian Oil Sands (
OTCQX:COSWF
): If one is looking for a pure play on the oil sands then one must consider COSWF.PK. Canadian Oil Sands is the largest joint venture owner (36.74%) in Syncrude Project. The
Syncrude Project
is a Joint Venture undertaking among Canadian Oil Sands Limited, and six other companies.
(Click charts to expand)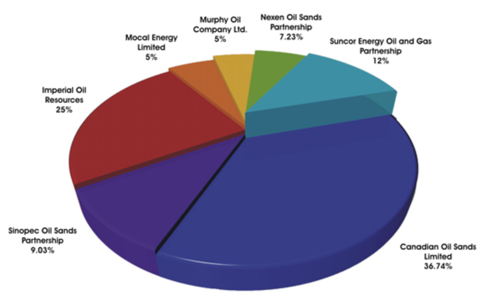 The project's main goal is to produce crude oil and other substances from the mining and processing of the oil sands, located on leases within the Athabasca Oil Sands Region. Syncrude has approximately 5.1 billion barrels of proven and probable reserves situated on 8 leases over 3 contiguous sites. On the prospective side, it is thought that the total reserves are probably double the proven figure. Syncrude is not publicly traded so for the retail investors the best way to invest is via a company like COSWF.PK. Unlike other companies mentioned here, COSWF.PK is a pure play on the oil sands and the crude it produces. Net income for the first quarter of 2011 rose to C$324 million compared with C$176 million in the first quarter of 2010. The improvement was credited to an increase in production totals and higher crude prices. Sales for the first quarter averaged 121,000 barrels per day compared with 99,000 barrels per day for 2010. As investments in better utilization and efficiency continue, the total barrel count for COSWF.PK will continue to rise for the foreseeable future.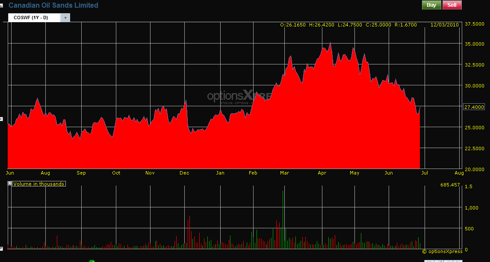 Canadian Oil Sands price per share has been on the decline. For a one-year time frame, COSWF.PK hit a high of $33.75 on April 8, 2011, and has been on a decline. The price per share should be nearing some lines of resistance in the mid $20s so investors should be patient and wait for a sign of stabilizing before buying.
Suncor (NYSE:
SU
): Suncor operates as an integrated energy company located in northeast Alberta. While the company has several different business sectors, it is its oil sands business that is the mainstay of the company and will be the engine that drives the growth of the company.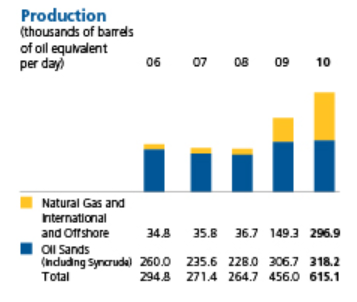 SU is the third largest joint venture owner (12%) in Syncrude Project Current estimates put the reserves for the company at 6.1 billion on hand. The company supports its oil sands business with conventional natural gas production, which offsets energy consumption. To help fund the growth in future oil sands the company has invested in several international and offshore assets, which provide stable and low cost cash flows. The company owns and operates four refineries with a capacity of 433,000 barrels per day. SU also has a lubricants plant, and a large network of retail businesses, which number more that 1,500 outlets. Many of these secondary businesses were obtained when SU acquired Petro-Canada in 2009. For the first quarter of 2011, the company had net earnings of C$1.028 billion compared with net earnings of C$779 million for the first quarter of 2010. If oil prices remain high and the economy continues to improve, SU will continue to grow its business and become one of the largest energy companies in North America.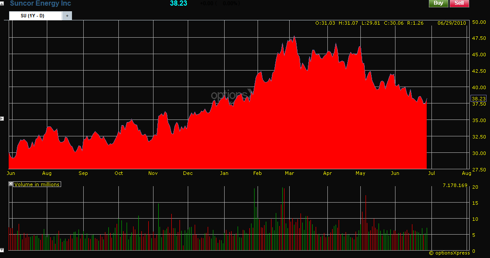 For a one year time frame, SU hit a high of $48.53 on March 7, 2011, and has been on a decline. The news of economic uncertainty, unrest in the Middle East, and the fluctuation of oil prices have all played their part in the stock's price. The price should be nearing some lines of resistance in the low $30s so investors should be patient and wait for a sign of stabilizing before buying.
Imperial Oil Ltd. (NYSEMKT:
IMO
): Imperial Oil in an integrated company that not only explores and produces crude oil and natural gas, but also is involved in the transportation, refining and distribution of end-stage products. IMO holds a 25 percent interest in Syncrude, which makes it the second largest holder in the partnership behind COSWF.PK. Imperial's share of the production in the first quarter was 80 thousand barrels a day, versus 67 thousand barrels in the first quarter of 2010. Increased production was primarily the result of improved mining and upgrading reliability as well as lower planned maintenance activities. Imperial's share of proven reserves for the Syncrude project is 800 million barrels. For 2010, the company's total daily production of crude oil and natural gas liquids before royalties was 247,000 barrels. Imperial's production from oil sands in 2010 totaled more than 217,000 barrels a day from the company's wholly owned Cold Lake Project and its 25 percent share of Syncrude. Needless to say, IMO's bottom line is heavily influence by the oil sands.
A new catalyst for the company is the Kearl Oil Sands Project, which is expected to produce 110,000 barrels of bitumen a day, with a startup date sometime in 2012. The project is expected to produce up to 345,000 barrels a day for several decades. The company boasts that when fully developed, Kearl could produce about one in every eight barrels of oil in Canada based on today's production levels. Imperial holds a 70.96 percent interest in the Kearl project and is acting as the operator in this joint venture with ExxonMobil (NYSE:
XOM
). The project's initial production at 110,000 barrels of bitumen a day before royalties would mean Imperial's share would be about 78,000 barrels a day. Initial production is expected to start in late 2012. The project has an estimated lifespan of more than 40 years of sustained production.
The company's net income for the first quarter of 2011 was $781 million compared with $476 million for the same period last year. Earnings in the first quarter were higher than the same quarter in 2010 due to stronger industry refining margins of about $175 million, higher Syncrude and Cold Lake volumes of about $100 million and lower refinery planned maintenance activities of about $85 million.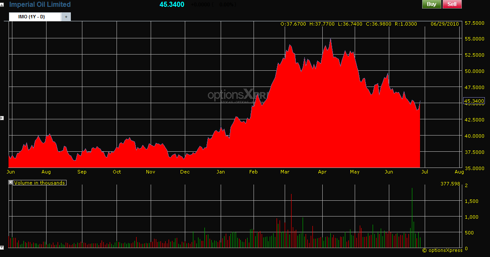 Canadian Natural Resources (NYSE:
CNQ
): CNQ is a company that engages in the exploration, development, production, marketing, and sale of crude oil and natural gas. The company operates in North America, the United Kingdom, and Cote d Ivoire/Gabon in offshore West Africa. The company is involved in oil sands through its Horizon oil sands project in Alberta. The company estimates that the project holds 14.3 billion barrels of bitumen and proved and probable gross reserves of 2.9 billion barrels of synthetic crude oil. Needless to say, the company has long-term plans for a major expansion of this project to increase the productive capacity. In 2010, CNQ reported an average daily production of about 91,000 barrels per day from the Horizon project. The company will continue to spend its cash to expand the project to get to the final goal of 500,000 barrels per day. One note to take into consideration is that in January 2011, the project was seriously damaged by a fire that started in the coker unit. CNQ estimates that repairing the damage at the project will cost between $350 million and $450 million and hopes it can restart operations in the third quarter of 2011. Needless to say this will not help the bottom line of the company.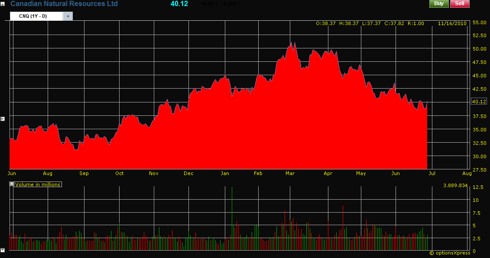 Sinopec Shanghai Petrochemical Co. Ltd. (NYSE:
SHI
): For a more intriguing investment in the oil sands one needs to look no further than China's SHI. Sinopec Shanghai Petrochemical Company Limited is engaged in the production of a variety of petrochemical products, synthetic fibers, resins, plastics, and petroleum products in China and internationally. The company was founded in 1972 and is based in Shanghai, the People's Republic of China. The Chinese company's first purchase into the oil sands came by multiple purchase from Total S.A and Synenco Energy (
OTC:SYEYF
). As a result the Northern Lights Partnership (NLP) is equally owned by both Total Canada and Sinopec.
More recently, SHI purchased from ConocoPhillips (NYSE:
COP
) a large stake in the Syncrude project. The value of the purchase was estimated to be $4.65 billion and marked one of the largest Chinese investments ever in North America. ConocoPhillips' stake was a 9.03% interest in the Syncrude project, so assuming the project can generate 350,000 barrels a day, roughly 31,000 barrels would belong to the Chinese company. With these investments, SHI joins another Chinese oil company, PetroChina (NYSE:
PTR
), which acquired a majority stake in the lease, held by Athabasca Oil Sands Corp for $1.9 billion in 2009. To show Sinopec's continued interest in the investment, the company recently agreed to provide early funding for Enbridge Inc's (NYSE:
ENB
) planned C$5.5 billion ($5.5 billion) Northern Gateway pipeline project. The planned pipeline would carry 525,000 barrels of oil sands crude from Alberta, to a tanker port at Kitimat, British Columbia, on the Pacific Ocean. From this line Sinopec would have the means to transport the products out of Canada to elsewhere around the Pacific Rim.
Under the China Accounting Standards, the group's operating income for the first quarter of 2011 amounted toRMB24.634 billion, representing an increase of 31.45% over the corresponding period of the previous year.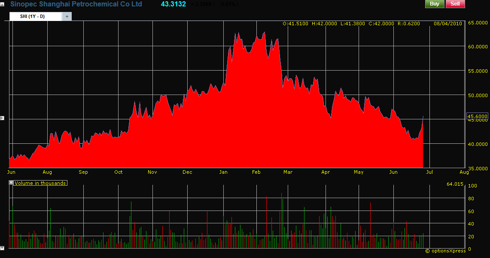 Nexen Inc. (NXY): Nexen is an independent, Canadian-based global energy company that has assets focused on oil sands and shale gas in Western Canada, conventional exploration and development primarily in the North Sea, and offshore units in West Africa and deepwater Gulf of Mexico. Of all the companies mentioned, NXY is the one with the most issues. The company has a 7.23% investment in the Syncrude and also is the operator of the Long Lake oil sand project with a 65% working interest, while OPTI Canada Inc. holds the remaining 35% interest. The first quarter 2011 loss from continuing operations was $0.19 per share, which was well off from the year-earlier profit of $0.20 per share. The loss was blamed on lower North Sea production and limited progress at its Long Lake oil sands project.
The oil sands lag was determined to be interference by upkeep and maintenance issues. The hope for NXY is that its Long Lake project will finally get on track. Long Lake is designed to produce 60,000 bbls/d (39,000 bbls/d net) of premium synthetic crude. Couple this with newer technology for processing and NXY just might find its way into the black again. The company has a Steam Assisted Gravity Drainage with an upgrader that uses proprietary OrCrude™ technology as well as gasification. This energy efficient process yields a Premium Synthetic CrudeTM oil while substantially decreasing the use of costly natural gas required in other oil sands applications. Add to this the ever increasing Syncrude holdings and revenues should increase.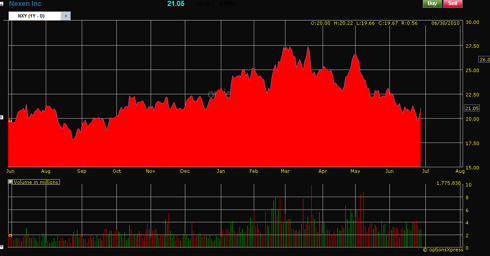 In summary, there are many different companies that invest in the oil sands. Above are just a few of the larger ones that stand to make a real impact on their financial statements with current holdings. Of course one might find it easier to make an investment in an ETF like Guggenheim Canadian Energy Income (NYSEARCA:
ENY
). This fund gives you much more exposure than just the oil sands, but ENY's top holdings are the largest of the oil sand companies like SU and COSWF.PK.
Disclosure:
I have no positions in any stocks mentioned, but may initiate a long position in
SU
over the next 72 hours.