The Commerce Department has recently approved a number of tariffs targeting solar imports from China and Taiwan, ending a saga in the prolonged U.S./China solar trade war. This decision imposes anti-subsidy rates of 38.72% and anti-dumping duties of 53.13% on the majority of imports of solar panels from China, in addition to anti-dumping rates of 19.5% of the majority of solar imports from Taiwan. The decision to impose these steep tariffs will undoubtedly stunt solar industry growth, as the majority of solar panels are currently being made in China. This has been met with much criticism from Chinese solar experts and even U.S. solar advocate Jigar Shah, president of the Coalition for Affordable Solar Energy, has stated that "these unnecessary taxes inhibit competition and put upward pressure on solar panel prices needed by U.S. homeowners, installers and utilities."
What This Means for the Solar Industry
As has been pointed out by Shah, these tariffs will slow down solar adoption in the U.S. as the pure cost of Chinese panels is dramatically cheaper than that of U.S. solar panels. With these tariffs, many Chinese solar businesses will essentially be crippled in the U.S., and prices for solar panels across the board will likely rise in the U.S.
Although these tariffs are terrible for downstream solar businesses, and for solar adoption in the U.S. in general, this is great news for U.S. solar manufacturers. With these tariffs in place, U.S. panel manufacturers like First Solar (NASDAQ:FSLR) or SunPower (NASDAQ:SPWR) will be much more competitive, as they will competing with significantly marked-up Chinese panels.
This form of protectionism is certainly a boon for U.S. solar manufacturers, as it shields these businesses from foreign competition. Regardless of its positive impact on U.S. solar manufacturers, these tariffs are an especially divisive issue in the U.S. solar industry since this would also harm the downstream solar sector and slow solar's growth prospects. Despite this, a few solar companies, namely SolarCity (SCTY), have already prepared for this scenario and have plans to start manufacturing their own panels to replace the Chinese panels lost to the trade taxes.
There is little doubt that the Department of Commerce's decision will hurt Chinese solar companies prospects. Already, we have seen many Chinese solar stocks such as Yingli (NYSE:YGE) fall because of this trade decision. The company has made a formal statement, saying:
We are deeply disappointed in the U.S. Department of Commerce's decision to accept such a broadly defined scope for this ruling, and to levy harsh, protectionist tariffs. It's well known that our customers, partners, and other stakeholders represent the majority of the solar industry and U.S. jobs. We will continue our vigorous defense on their behalf with the hope that national efforts to increase solar powers cost-competitiveness are not derailed further.
Whether or not these Chinese solar companies are intentionally selling their products below market price to kill competition (as is the claimed reason behind the tariffs) is highly debatable, as many -- even in the U.S. solar industry -- see this as a blatant form of U.S. protectionism.
Yingli's Decline on News of the Tariffs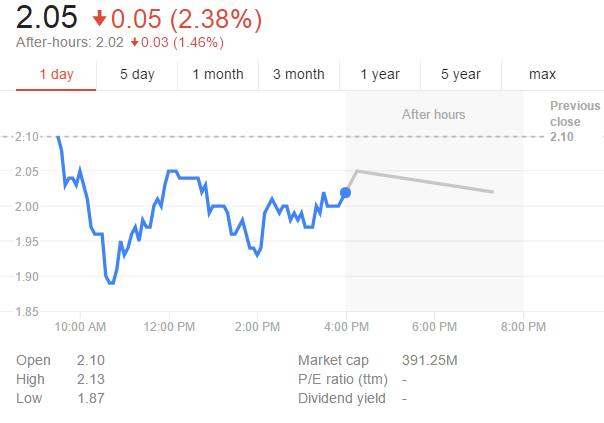 Source: Google Finance.
Possible Benefits
Despite the criticism that these new tariffs will harm the solar industry, there are reasons to believe that these tariffs could ultimately improve solar prospects over the long term -- especially in the United States. While this may be counterintuitive at first, a closer look at the solar manufacturing industry will help explain why this could be the case.
While the Chinese are notoriously competitive when it comes to commodity goods, the U.S. usually has an edge in the high-technology arena. With the entrance of the Chinese solar manufacturers, the Chinese companies had effectively made panels into low-cost/low-efficiency commodity panels. In Elon Musk's (chairman of SolarCity) own words, "making standard efficiency solar panels is about as hard as making drywall. It's really easy. In fact, I'd say drywall's probably harder." The U.S. companies, which had been more focused on R&D and making higher-tech panels, were forced into bankruptcy because they could not immediately compete with the commodity-like Chinese panels.
Although the stunning price drop, resulting from the Chinese entrance into solar manufacturing, has been great for solar adoption in the short run, it actually may have been harmful to the long-term prospects of solar given that so much attention was focused on quantity/cost rather than pushing for technological innovation. With the decision to impose a fresh round of tariffs on Chinese panels, this might actually once again spur solar panel innovation in the U.S. We are, for instance, already starting to see U.S. companies push the solar efficiency frontier, which would not have been possible if the companies focusing on R&D were being bankrupted by Chinese commodity panels.
So while solar costs decreased drastically upon the entry of Chinese solar firms, due to their massive economies of scale and cheap labor, progress in the technological has been found wanting over the past decade for this exact reason. The argument that these tariffs would slow solar adoption in the short term is certainly true, but its impact over the long-term prospects of solar is a bit more unclear, as was just explained.
Despite the complexity of this issue, some of the staunchest supporters of the U.S. solar industry believe that the tariffs will be overwhelmingly negative for the U.S. industry as a whole. For instance, Rhone Resch (CEO of SEIA) has been quoted as saying:
Unfortunately, today's ill-advised and unprecedented decision will harm many and benefit few. We remain steadfast in our opposition because of the adverse impact punitive tariffs will have on the future progress of AMerica's solar energy industry. It's time to end this costly dispute and we'll continue to do our part to help find a win-win solution.
Conclusion
No one knows for sure how these tariffs will play out for the solar industry, as the tariffs act as a double-edged sword. On the one hand, these tariffs will absolutely slow solar adoption in the short term. But on the other hand, it will prop up U.S. solar companies, which are generally better technological innovators than their Chinese counterparts.
At this point, only time will tell if the U.S. Department of Commerce's decision to enact these large tariffs on Chinese and Taiwanese solar companies will be worth the short-term damage. Partly as a result of the solar trade war between the U.S. and Chinese solar industries, it is likely that U.S. manufacturing companies such as First Solar and SunPower offer more upside than Chinese solar companies such as Yingli or Trina. With the U.S. companies now more fully able to focus on pushing solar's technological frontier, they could potentially hold a significant competitive edge over Chinese manufacturers in the future.
Disclosure: The author is long SCTY.
The author wrote this article themselves, and it expresses their own opinions. The author is not receiving compensation for it (other than from Seeking Alpha). The author has no business relationship with any company whose stock is mentioned in this article.