Author's Note: This article discusses a microcap stock. Please be advised of the risks associated with microcap stocks. The text of the interview is an edited transcription of a conversation between Lazarus Investment Partners LLLP and SuperCom Ltd. SuperCom had no input into the selection of the title of this article nor into the commentary and analysis that precede the interview. Lazarus is a shareholder of SuperCom and received no compensation for this article. Please see additional disclosures below.
Opening Comments. One of the challenges of publishing articles is that you stick your neck out telling the world what you own and why you own it. We don't get them all right, but one of our better calls was our SuperCom (NASDAQ:SPCB) article last year. From the day before the article was published to the highs of this year, SuperCom more than tripled in value. Measured on the same basis, SuperCom underperformed our call on Aero Grow (OTCQB:AERO) which quintupled in value but outperformed our call on Coastal Contacts (NASDAQ:COA) which was acquired for a 67% gain. It also outperformed our call on Cbeyond (NASDAQ:CBEY) which gained 41% when our prediction - Cbeyond Won't See Beyond 2014 - came true when it merged with Birch Communications.
Yet, here we are once again, sticking our necks out, explaining why we still own millions of dollars of SuperCom and are bullish on the company's prospects. We are not alone in this regard. The Trabelsi family took over in 2010 and have since turned around the company and set it on a growth trajectory. Sigma Wave Ltd., the family's investment vehicle, owns about 29% of the outstanding shares. Even though they are up tens of times on their investment, they are holding on to their shares, confident that the company's best days lay ahead.
"I can say that right now I see no reason to believe that the years 2015 or 2016 are going to be weaker than 2014."

-Arie Trabelsi, SuperCom's CEO
Business Overview. If you are new to SuperCom and want background, we point again to our prior article. Here we'll quickly review the company and why we like its business model but use the bulk of this article to provide an update and to share an interview with SuperCom executives.
The SuperCom refresher is as follows: the core business division provides electronic identity [EID] solutions to governments worldwide. This includes hardware, software, and services that manage passport, driver's licenses, voter registration, and other national identity-related programs. The company's emerging machine-to-machine [M2M] division uses proprietary RFID technology to track and locate assets and individuals. Electronic monitoring of offenders is one example. This past summer, SuperCom announced its entrance into the mobile payments space. The idea here is to leverage the company's security technology and existing platform within government infrastructures to provide innovative and secure mobile pay solutions.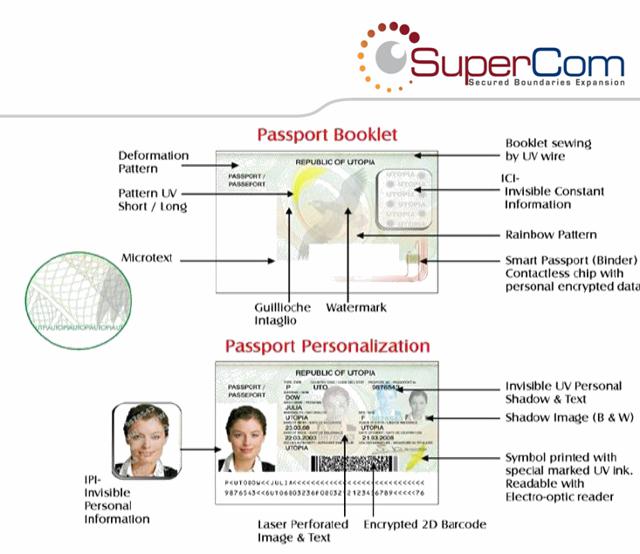 SuperCom detailing some of the security features in its passports.
Show Me A Company With A Better Business Model. We think SuperCom's business is uniquely attractive. Here are some of the attributes that stand out:
SuperCom has an unfair advantage in its EID business because you need to already have experience managing national identity programs to have a chance to win a new one. Incumbents have a competitive moat and SuperCom has served over 20 governments.
Customers for both the EID and M2M business are extremely sticky. Yes, it can take a long time to win and deploy a contract, but once you are in, customers are loath to switch to new systems because of the cost, time, and training involved.
Once you are in with a government - and SuperCom has added some new ones recently - you also have a huge edge in competing for incremental business. A government that uses SuperCom's ID-card platform would often rather just add SuperCom's driver license module instead of adding a new platform from a separate vendor, for example.
Both the EID and M2M businesses have recurring revenues. After the initial deployment phase, SuperCom earns monthly revenues in the form of service fees, maintenance, and consumables. Recurring revenues does not mean that the repeating portion is always contractually guaranteed, but that customers have a need to return, the way you buy toner for your printer and blades for your razor.
SuperCom's business has high margins. Gross margins this year have been north of 75% and EBITDA margins have been 39.8%. Since SuperCom's deployment-related revenues typically are lower than the recurring revenues that follow, with the growth of recurring revenues over the long term, we think margins could rise even further. (In the near term, one downside to SuperCom's winning new contracts is that they may temporarily depress the company's margins, even though they are the basis for growth with a terrific long-term payoff).
Unlike other companies that struggle to get foreign governments to sign contracts, SuperCom has successfully signed agreements with governments ranging from Tanzania, to Ecuador, to European nations. This is because SuperCom's EID systems generate revenues for these countries. The M2M solutions offer huge cost savings; for example, using electronic monitoring instead of housing an inmate can save 85% or more.
Each of SuperCom's businesses is in a growing market. The EID division taps into countries' pressing needs for greater security. Analysts predict that the biometric ID market will more than triple from 2010 to nearly $15 billion by 2019. The M2M division is part of the Internet of things revolution. Just the electronic monitoring of offenders is estimated to grow nearly thirteen-fold from 2010, to $6 billion by 2018. The mobile pay segment is another area that has attracted bullish calls from analysts. Gartner is predicting 30% annual growth for the space through 2018.
SuperCom has differentiated technology with seven patents and more pending. The EID division offers biometric passports and visas. In the below interview, you'll hear SuperCom's CEO state that the company's M2M segment may have the best technology around and the mobile pay segment has security advantages over competitor solutions, including Apple (NASDAQ:AAPL).
Progress Over the Past Year. SuperCom's share price having tripled over the past year is a good hint that the company has been doing something right. One key accomplishment was the acquisition of the Smart ID division from On Track Innovations (NASDAQ:OTIV). This division used to be part of SuperCom, so this transaction was about buying it back. SuperCom paid 3.5x pro-forma EBITDA and for that it tripled the company's revenues, absorbed its #1 competitor, gained new technologies, and added a pipeline of active bids.
SuperCom didn't waste any time executing on its expanded pipeline. It announced $4 million in contracts in February, $25 million in March, $4 million in April, and $22 million in August. These contracts include new governments which will position SuperCom to add additional modules over time, beyond the initial installation. In just the third quarter of this year, SuperCom reported more revenue than it had in all of 2013.
"We believe the strategy SuperCom employs has the potential to drive substantial growth for the firm."

-Aegis, September 2014
In addition, if history is any guide, 20-30% of the new contract amounts should become annual recurring revenue after their deployment phase. Taking the midpoint of this range implies about $14 million in recurring revenue. SuperCom's recurring revenue is some of the highest gross margin revenue the company produces, so we think it can have EBITDA margins of 40% or higher, or about $5.5 million in recurring EBITDA. Value that at a 10x multiple and you have $55 million in value for the recurring revenue portion of SuperCom's new contracts this year. That equals more than a third of the company's market cap.
This past July, SuperCom announced that it would be entering the mobile payments space with the launch of a suite of payment solutions. When we first heard the news, we were skeptical: yes, it's a hot market but what advantage does SuperCom have here? Only after talking to management did we understand why this move makes sense.
SuperCom's customers were requesting solutions to handle payments on the same EID platforms they already purchased from SuperCom. In addition, in the emerging markets where SuperCom does much of its business (and to some extent even in developed markets), many of today's mobile pay technologies aren't good solutions because the phones and the readers don't have the latest technologies these solutions require. SuperCom developed a mobile pay solution that works with any mobile phone on any carrier. Mobile pay was not part of the story we originally invested in with SuperCom but with customers asking for it and potential partners expressing interest in SuperCom's technology, we welcome the possibilities here.
"SuperCom's [payment] solution is based entirely on software and does not require additional hardware. From a technical standpoint, SuperCom's technology has a much wider applicable user base than the much hyped Apple Pay, in our view."

-Aegis Capital, November 2014
The Hardest Part About a 10-Bagger. Let's talk investment psychology for a minute. When we first met SuperCom, it had a market cap of just $12 million. Today, it's over $150 million. When you have a huge gain, it's hard not to think about the paper profit and how tempting it is to take money off the table. We think, however, that better investment decisions are made by focusing not on what happened yesterday, but on what will happen tomorrow.
As the saying goes, the hardest part about a 10-bagger is not selling when you have a 2-bagger. It's likewise very hard to pay up for something that just yesterday was so much lower. But our experience with SuperCom is that the story keeps getting better. We force ourselves to reevaluate our investment thesis as the business develops. The stock price is certainly not as low as it once was, but the company has also created incredible value through the OTI acquisition and through more than $50 million in new contracts. With an eye to the future, we've been able to not only hold on to our low cost SuperCom shares, but to add materially to our position at prices several times our initial purchases. Yes, we paid a higher price per share (which is emotionally hard to do), but those shares came with more value behind them.
What's Ahead. We discussed the company's recent accomplishments, so now let's turn to what's ahead. First, the pipeline remains robust. You'll read in the below interview management's view that:
There was nothing special about 2014 - next year and beyond are just as promising
SuperCom is working on bids of ever-larger size
The company has increased six-fold its capacity for bidding on new contracts
SuperCom graduated from tendering for small bids and now is working exclusively on larger ones (which we believe means multi-million dollar opportunities)
Let us be very clear: we have no omniscience here and the company has not disclosed the nitty-gritty of the pipeline. But we have visited the company's headquarters in Herzliya, Israel multiple times and we meet with management in the US on a regular basis, and we see its excitement and confidence in the pipeline.
Because the EID division is currently most of SuperCom's revenues, the company gets little credit for its technology or opportunities in M2M or mobile pay. Management is fond of highlighting its M2M technology which features ultra-long range functionality and a battery life vastly superior to competing products. SuperCom's PureSecurity tracking solution, for example, uses a battery that lasts as long as 5 years, compared to a life of 1 day for competing solutions. Management has said that M2M can be half of company revenues in 3 years, and that we should see meaningful progress next year.
"Every day that passes we are even more excited about M2M."

"Some of our M2M technology is probably the most advanced in the market."

-Arie Trabelsi, SuperCom's CEO
Regarding its mobile pay solution, SuperCom has said that it is pleasantly surprised by the number of inquiries it has been receiving from prospective customers and partners, including governments, banks, and merchants. Here too, management has indicated that this is not some exploratory science project, but that near-term revenues are in the works.
We see huge optionality in both of these areas, yet no premium in the stock for these opportunities. Moreover, looking at these opportunities as only options is likely too conservative given the guidance that they should soon start contributing to revenues. That said, one critique of SuperCom is that despite the company's recurring revenues, it is hard to forecast or model new contract wins in M2M, mobile pay, or even in EID. We think this is part of the reason the stock is so cheap - Wall Street hates uncertainty. Our view is that we won't let the lack of a perfect crystal ball for earnings get in the way of making money on a stock with a full pipeline and a strong competitive position.
"The company may generate revenues from these two new segments in 2015."

-Aegis Capital, November 2014
One more way to win in SuperCom is if the company performs another smart acquisition. We agree that many M&A transactions don't fulfill their promise, but feel that management has earned the benefit of our doubt with its superb execution of the OTI acquisition. The idea of an acquisition is not just theoretical. The Israeli business publication Globes reported that SuperCom is nearing another acquisition which, if it closes, will triple the company's sales. According to SuperCom's CEO, who in the past has expressed a strong preference for accretive transactions, this acquisition candidate is "very profitable."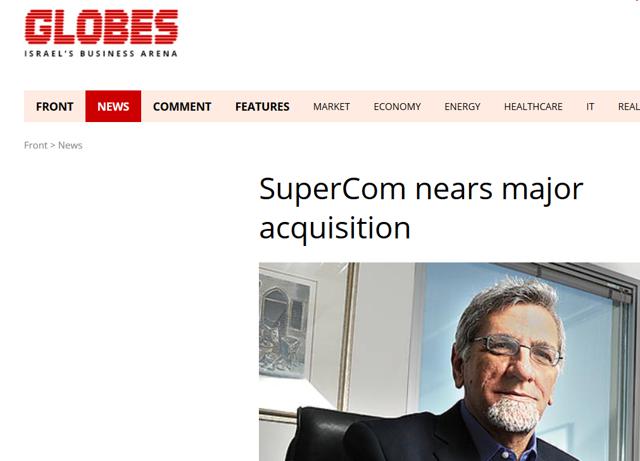 The possibility of SuperCom tripling its revenues once again via acquisition is more than just conjecture.
On the topic of acquisitions, we think SuperCom itself could become an acquisition target. The company's recurring revenues, high margins, and high switching costs should make it desirable to others. One comp to consider: L-1 Identity Solutions was acquired by Safran (OTCPK:SAFRY) for $1.6 billion in enterprise value, a 66% premium (vs. the price prior to the announcement of strategic alternatives). The cash component was over $1 billion, about 2.4x sales. If SuperCom hits its 2018 target described below and gets the same multiple, that makes the shares worth about $44, or over 400% of their current price. Our research has indicated that SuperCom is beginning to be noticed by larger players in the industry - especially as the company wins more and more tenders. Assuming continued growth in revenues, we think SuperCom will become an increasingly attractive target.
Why SuperCom is Better Positioned Now Than Ever Before. The Globes article referenced SuperCom's goal of hitting $250 million in sales by 2018. This compares to revenues of $24 million for the trailing 4 quarters, so hitting $250 million is a rather bold target. If management didn't have the record of execution that it has, it would be hard to believe that such a thing is possible. As Globes wrote, "SuperCom's share price has soared, and its market cap has jumped from less than $10 million to $167 million in less than two years." This year's contract wins of $57 million make the $250 million target seem all the more possible.
"We believe we'll reach it, maybe even earlier. Growth will be both organic, by winning large tenders, and through acquisitions, which will shorten time-to-market."

-Arie Trabelsi, SuperCom's CEO, as quoted in Globes regarding the company's aim of reaching annual revenue of $250 million in 2018
Beyond faith in management, it's worth considering how SuperCom's future is brighter than ever because the company is better positioned than it ever was. Two years ago, it was a scrappy upstart with grand ambitions, but a small footprint. Add the OTI division and more than $50 million in new contracts, and you end up in a different place. Today, SuperCom is able to attract and retain some of the most talented people in the industry. Additionally, with more scale, the company can better compete for the larger bids out there; it now has the infrastructure and balance sheet to do so. Size is a competitive advantage in SuperCom's industries so the recent growth has improved the company's competitive positioning.
"As we keep winning more contracts, we grow the base and balance sheet of our company, so we can bid on larger tenders. Many of these larger tenders ... are similar to what we're bidding on now. It's just the numbers are bigger and you have to have some scale to properly compete for them."

-Ordan Trabelsi, SuperCom's President, North America
Best Yet, the Stock is Cheap! Despite SuperCom's business model, track record, and growth opportunities, the stock is still exceedingly cheap. We love that even though SuperCom is a growth tech company, to value it one need not resort to a price/sales multiple as is so common for growth tech, and not even to adjusted EBITDA or another non-traditional metric. The company has good, old fashioned earnings to look at.
Aegis is forecasting $1.08 in 2015 earnings per share, giving the stock a P/E ratio of 9x. Imperial Capital is predicting $1.19 and consensus is $1.23. Both these estimates bring the P/E ratio to 8x. Newspaper companies in secular decline trade at higher multiples than that. Kroger, a grocer who reported 6% sales growth last quarter, trades at 17x forward earnings. There's no reason for SuperCom to be at less than half the multiple of a low growth company. Even better: we are expecting the company to beat the Street's projections next year. All together this is a high growth company in a hot industry available for a single-digit P/E multiple.


Headlines from SuperCom's past 2 earnings reports. Despite incredible growth, the company has a lower valuation than newspaper companies and grocers.
The universe of public comps for SuperCom is pretty thin. Competitor Oberthur is private. One comp to look at is Zetes Industries. Zetes trades at 38x trailing earnings and 22x forward earnings. At those multiples, SuperCom is worth $47 and $27 respectively, or 4.6x and 2.7x the current stock price. Another comp is Gemalto (OTCPK:GTOMY), which trades at 26x trailing earnings, below its 5-year P/E high of 29.5x. At 26x 2015 earnings, SuperCom is worth $32, or 3.2x the current stock price. Even if you discount by 20% the lowest of these price targets for SuperCom, it still implies that the stock is more than a double; and we see upside of up to 4-5x if a few things come together for the company.
Conclusion. Despite the stock's appreciation, we think SuperCom remains a compelling investment opportunity. With a competitive moat, high margins, recurring revenues, and high switching coats, we stand by our assertion in our last article that SuperCom's business is the type that Warren Buffett would love. The company has a full sales pipeline and is better positioned than it ever has been to execute on that pipeline. The M2M and mobile pay divisions offer significant upside, potentially as early as 2015. The company has a clean balance sheet and a highly incentivized management team that is aligned with shareholders. SuperCom has proven itself through a terrific acquisition and new contract wins this year. On top of it all, the valuation is attractive - all these attributes are available at a single-digit P/E multiple. If you can find a package like this at a comparable valuation anywhere else, please send us a note.
Interview. We are pleased to share with our readers an interview with SuperCom's CEO, Arie, and its President of North America, Ordan. We extend our gratitude to them for participating in this conversation.
Congratulations on a terrific year. Since our interview a year ago, SuperCom has added $57 million in new contracts. That's very significant for a company that, last year, did under $9 million in sales. What's behind the company's recent successes?
Arie: Thank you. It's been a great year although I have to say that I am even more excited about the future. There are many reasons for what we have accomplished. Part of it is our acquisition of a division of OTI. It brought us additional technology and additional projects in different countries. We now have a more complete product line to offer our customers around the world and we grew our own pipeline and customer list by adding on OTI's existing clients and their pipeline of bids.
Even more important is that we have been able to populate our company with a group of experts, both in marketing and technology. As we are growing, it is getting easier to attract and retain this expert talent. Together with the excellent contracts that we have, we have been able to win some very exciting tenders around the world. We hope and believe that we'll continue to see similar things in the future.
The other thing that's important to mention is that the market, the demand for our product, is growing. All the national security issues that are going on in the world are leading to growth in our markets. More and more countries around the world view a solution like ours as a must-have as they look to increase their national security. We see this pattern of growth in the number of requests for proposals and the direct requests we get from governments around the world for our solutions.
Even in that context, could 2014 turn out to have been a fluke year? Meaning, when we look at next year and beyond, won't it be difficult to repeat the success that we've seen this year?
Ordan: We can't guarantee what will happen and we'll save any formal guidance for our earnings calls, but here's why we think that this is just the beginning. First of all, we've announced a few new governments that we won. Every time we start with a new government, we win a few modules initially. But governments many times need much more than just an ID system, for example. They'll need a passport system, then a voting system, and then a payment system.
These are complex systems that require significant time to train the workforce and to integrate into the government's infrastructure. Once we have deployed our system and have the training and integration behind us, when countries want additional modules and capabilities, it's quite simple to layer them on to our exact same platform, the Magna Platform, which is one of our key competitive advantages.
So, at least historically and I believe going forward, it's very natural for us, once we are in with a new government, to add more and more modules, which will lead to more revenues and, in turn, more recurring revenues. We work very hard to get the first sale but after that we have a huge advantage on incremental systems and features.
Also, our competitive position has improved. The acquisition of OTI has alleviated some competitive pressures and it's also given us relationships in many areas around the globe. We have our workforce spread out in these regions deploying contracts and on the ground understanding what's going on. So, our reputation is getting out there and not only is our brand getting stronger, but we're also able to learn more about what the customers are looking for in different countries. That helps us offer more specific and more tailored proposals, which leads to higher win rates.
Arie: One more thing, our capabilities have grown and we can now handle more bid capacity. Previously we were only able to bid on maybe one tender every two months. Now we're up to around three tenders a month in capacity. As we said, our bids are becoming more strategic and more tailored to the customer and our reputation is growing. So, not only do we have more shots on goal but they are also more targeted, which we think will lead to strong growth over time.
On the topic of new bids, how does the pipeline look currently?
Arie: First of all, we see a growing pipeline; now we have more and more proposals and bids out there. We also see more proposals that are getting to late stages. So, we are very optimistic.
The new thing that we see in our pipeline: I am getting more and more requests for proposals from the other areas of our business, from M2M and even for our payment solution. So, definitely, from quarter to quarter, our pipeline is growing and getting more valuable. Although, like Ordan said, these are competitive bids and there is no certainty that we will win any new awards.
Have you shared any numbers regarding the pipeline, for example the number of RFP's you have bid on and the size of the RFP's, or what you might expect to hear back on over the next 12 months?
Arie: Not at that level of detail but we have said in the past that the size of the proposals we are bidding on goes up to $200 million. Historically, we haven't concentrated on bids larger than that because there were bigger companies bidding that were hard to overcome. But we have grown as a company and we have unique technology and we may decide in the near future, maybe in 2015, to break through this threshold. Sooner or later, that is what I would like to see happen and I think there is a good chance of us competing there.
I also want to mention that we raised the bottom limits of our tender. Right now, we are working only on proposals above certain level. We are no longer trying for some of the smaller proposals we used to go after. There are many opportunities out there and we have to focus and put our best people on the larger proposals to win.
Ordan: To give color on the high end of our range - as we keep winning more contracts, we grow the base and balance sheet of our company, so we can bid on larger tenders. Many of these larger tenders, in terms of complexity, are similar to what we're bidding on now. It's just the numbers are bigger and you have to have some scale to properly compete for them. But, in terms of strategy and our capabilities, it's the same whether it's a 4 million population or a 40 million population country.
Last month, the Israeli business publication, Globes, published an article which said that SuperCom was considering a major acquisition, one that could potentially triple the company's revenues once again. Could you comment further on that?
Arie: We have said it in the past that part of our strategy is growing organically which you have seen this year and I hope you'll continue to see next year. Another part is growing by acquisitions. In general we are looking at companies that have a geographical presence or technology that complements our existing base. Beyond bringing strategic and cost synergies to SuperCom, we want them to have revenues and profits. We've identified companies that meet those criteria. We are seriously considering some of them. At this point we are unable to comment more about that. But, it was mentioned in the article, there is at least one potential acquisition that may triple our revenues. And I must say that we are looking almost exclusively at acquisitions that are going to be accretive.
There is an author on Seeking Alpha that published a bear thesis on SuperCom. Do you care to respond to his articles?
Arie: In general, we do not reply or comment about articles. But, since you are asking, I will comment briefly. I read some parts of his articles and I was really shocked because there is no connection between the truth of what's going on with our company and our market to what was written. I have no idea where this author gets his information from, but I think he has his facts wrong. He has publicly stated that he has a short position in SuperCom.
We added $57 million in new contracts this year, so it's very clear that we are growing. Our contracts include license, maintenance fees, and consumables, so we, like other players in our industry, have recurring revenue. We talked before about our growing pipeline and the proper industry data is out there, so it's just wrong to argue that the opportunity is not growing, especially in our addressable markets.
The year 2014 was not a special year in my mind. It's part of our growth path. There is increasing demand for our products and there's a big difference between SuperCom today compared to years ago in that right now we are better able to address the market. We are winning more contracts. I can say that right now I see no reason to believe that the years 2015 or 2016 are going to be weaker than 2014.
Did the author contact either of you in his research?
Ordan: No, he did not, which is unfortunate as he has a clear misunderstanding of our company and the industry. We are very accessible - our door is always open to talk to investors.
The corporate presentation for SuperCom states that at least 20% to 30% of revenue from new contract deployments tends to become annual recurring revenue. Could you add some color on what that means and maybe include an example?
Ordan: Yes. The types of revenue in our EID division are several forms. First is the deployment and that includes hardware, training, systems and server set up, software development, and so forth, all during the initial deployment phase. This phase can last nine months, a year, or even two years, depending on many factors.
Then afterwards, there's a very recurring nature to our revenue because the government will have to continue to print out cards, or passports, or some other document which are the consumables we sell. In addition, the governments will continue to pay for maintenance and for licensing the software.
As an example: we have currently at least two contracts with governments that have each been running for years at a rate of over $4 million annually, primarily in consumables, maintenance, and software fees, and that represents over 30% of their initial deployment amounts.
To confirm, when we say that 20% to 30% tends to typically become repeat revenue, are we referring to 20% to 30% of the full initial deployment amount or of the deployment amount that is spent within the first 12 months?
Arie: Of the full amount. Typically, to describe it, if the full amount of the deployment is $100 million, that means 20% to 30%, or $20 million to $30 million, every year will recur, after the deployment, hopefully for many, many years. Contracts can run as long as 25 years.
Now, remember that for a project of that size, the original deployment is probably not 100% in one year, so let's look at an example over two calendar years. We may recognize 50% of the deployment revenue in the first year but the part that's interesting is that the deployment gross margins tend to be high but the recurring portion can be even higher. So, when you look at actual contribution margin on gross profit, there is not a significant decline over time when you go from the deployment stage to the recurring revenue stage, assuming that everything is done and planned properly. Of course every contract is different and we are speaking here of what is common.
And within that 20% to 30% is there part of it which is contractual, or guaranteed in some form, and another part that is more usage-based, perhaps with some customer guidance?
Ordan: Every contract is different. Sometimes you contractualize maintenance or licensing or the consumables. Sometimes they pay us per document printed. So, one way or another, you are supplying their needs for the systems and the systems by nature have recurring revenue needs. Also, keep in mind, that governments can't make changes overnight. The process of running a bid for a new provider and then switching systems takes years. So even when we don't have a long term guaranteed minimums, we still have really good visibility.
It's basically the razor and the razor blade model. We know that for every document they print, they're going to have to pay us in one way or another, in most cases. We get estimates and various assurances from the governments of what they're going to do to maintain a certain stream of document issuance and what their rates of document issuances have been in the past. Using that, we're able to put the project together and get a forecast of what we think will happen in the future. We've been doing this for over 25 years, and with much of the same personnel so by now we've become fairly good at building the project and forecasts properly. We are very focused on providing excellent service and strong technology because that helps maintain customers, which is what retains and grows the recurring revenues.
Let's shift to mobile payments. Investors have noticed your entrance into this space. Some might say it seems to be a crowded field where you have the likes of Apple competing. How come you chose to enter this field and how will SuperCom compete against some much larger companies?
Ordan: At SuperCom, we don't like to just go out on a limb for something new and high risk. This actually started with requests from our customers. When your customers tell you they want to buy a solution from you, it makes sense to listen.
Estimates say that there are 2.5 billion unbanked people globally, of which 1 billion have access to a mobile phone. Our government customers want a payment solution which utilizes the infrastructure that they have, which includes mobile phones. We started off by creating a mobile wallet to allow people with or without bank accounts to pay their government bills and to pay the government to issue new documents. In those regions of the world we're not competing with Apple or any of the large players that we would see in the US or in more developed economies.
Because we started with solutions for governments to offer their resident populations, we developed technology which will work on any phone: old phones, iOS phones, Android phones, and more. What's key is that we solved a problem in a way that doesn't require the phones or the readers to have NFC capabilities. Most people, even in the US, cannot perform mobile payments because they don't have the hardware NFC capabilities other payment solutions require.
Our technology can turn any phone into a mobile-payment-capable phone and any reader into a mobile-payment-capable reader. We can do this without any additional hardware, just deploying our software capabilities. We are doing it in a way which collaborates with the players in the payments ecosystem instead of competing with them. We're just an additional transaction method for mobile payments. So, we are doing something that helps Visa (NYSE:V) and MasterCard (NYSE:MA), the banks, the consumers, and the entire ecosystem. What we've been seeing thus far is that people are excited to partner with us.
I want to reiterate that this is not about entering a new market just because it's a hot space. We have customers that requested a solution, we have a very important advantage because these customers are already running processes on our platform, and we were able to create proprietary technologies for which we applied for patents. It simply makes good business sense.
In the past you've communicated a lot of excitement around the M2M business and you thought that it may be as large as, if not larger than, the EID business eventually. Do you still feel that way? And what can you tell us about the timing of M2M revenues?
Arie: Every day that passes we are even more excited about M2M. What we are seeing is that more and more countries understand and want to adopt what was done in the US and in some Western countries. This is especially true in the public security arena where there is a large and growing demand for electronic monitoring systems. This is true in Europe, in the Far East, and even in some African countries.
We have spent many years investing in technology for this space. Some of our M2M technology is probably the most advanced in the market. That's the feedback I have heard from governments around the world.
We are very excited about the business model here because it is similar to what we are doing in EID. We are working directly with the governments and providing them a total M2M solution, and we get monthly revenue. In general, those contracts are for multiyear periods, for 5 to 10 years. If we do a good job, the contracts can continue for another 5 to 10 years. Without making promises and barring the unforeseen, my view is that based on the rate of demand from new tenders in this market we feel that very soon we are going to see material revenue from this division and I think it will grow at a rapid pace.
We have an important advantage here because of our security experience in EID. Cybersecurity is becoming more and more of an issue and we were always at the forefront of security in EID because of the sensitive nature of the information on our systems, passport data for example. When it comes to M2M, we are applying all our security expertise to these systems which our competitors can't always match.
Because the market is growing very fast and because of the fact that we have clear advantages in security and RF technologies, we believe that we'll eventually see a significant part of our revenues coming from the M2M market.
Arie, looking at the stock price today compared to, let's say the lows of 2011, the share price is up, unbelievably, more than 50 times. Have you any sold material amounts of shares since taking over?
Arie: No, I have not. It's not that I'm unaware of the profit. It's that I have a lot of confidence in the future of this company and believe that we have a long, long way to go. I see SuperCom getting to a very different place both in revenue and profit in the next years. So, yes the share price is up a lot but I'm working to make it continue even higher.
Is there anything else that either of you would like to share with our readers?
Ordan: I'll add that our financial results are a bit behind what we are seeing from the field. Even though in [the trailing] quarters one, two, and three we see relatively strong growth in revenues and EBITDA, the types of things that we're seeing really encourage us. I am referring to our interactions with customers, to our experiences with the tenders we work on, to where we see the market is going - it all makes us feel very confident that not only will we have financial growth continuing over the long term, but also that our strategic positioning is becoming much stronger.
Arie: When I look at SuperCom today compared to what we had a year ago, yes we accomplished a lot but I am really excited about what's next because we see more and more interest in our products. We see that we are able to attract excellent people with great capabilities that are helping us provide solutions to our customers around the world.
And it's not only in EID - we are talking about a range of products, including M2M, that are increasing the security of countries and nations. Governments are approaching us with requests for our solutions and technologies.
Looking at mobile payments, we see that our solution is good for government-related payments but that it also has a broad commercial market opportunity. Unlike other company's solutions, ours can work on any phone with any reader, and we think ours is far more secure than most. My own view is that even if we talk about Apple Pay or other mobile wallets, I think we have advantages over them in terms of security.
I did not dream that we would so quickly be in the position we are in today. Only two years ago when we entered the market and went to other companies and tried to persuade them to partner on a contract, it was very difficult to get their cooperation. This year, we see the other direction, which is amazing. More and more companies in this market, very large companies, are asking to join us in contracts and proposals. They see what we have done and where we are going. They want to be a part of it, which will greatly benefit us.
So, when we look to the future, I see that we have a much larger pipeline than before, we are better positioned than we ever have been due to improvements in our technology and expertise, we have more scale than ever which is a competitive advantage in our industry and all this should put us in position for terrific revenue growth, beyond even our prior expectations. We hope that we will be able to deliver to our shareholders what we see right now as a bright future.
Thank you both for the conversation.
Arie: Thank you.
Ordan: Thanks a lot.
Additional disclosures: Stock prices and valuation multiples referenced are believed to be accurate at the time of writing which may not coincide with the date of publication. The title of this article is neither a direct quote from any individual nor is to be construed as a guarantee, promise, or limitation of any sort with regard to future activity. Please see our full legal disclaimer which applies to this article.
This article and the interview herein may contain historical information and forward-looking statements within the meaning of applicable securities laws with respect to the business, financial conditions, and operational results of the interviewed company (the "Company"). Such statements reflect the current beliefs, views, assumptions, and expectations of the Company with respect to future events and are subject to uncertainties and risks. Many factors could cause the actual results, performance, or achievements of the Company to be materially different from those expressed or implied by such forward-looking statements. Some of these factors may include changes in the markets in which the Company operates and in the general business environment and economic conditions, the loss or gain of customers, unpredictable sales cycles, competitive pressures, market acceptance of new products, inability to meet efficiency and cost reduction objectives, changes in business strategy, and various other factors, both referenced and not referenced in this article. In addition, various risks and uncertainties, including but not limited to those described in reports filed by the Company with the Securities and Exchange Commission, may affect the Company's operational results. The Company does not assume any obligation to update its forward-looking statements.
Disclosure: The author is long SPCB, AERO.
The author wrote this article themselves, and it expresses their own opinions. The author is not receiving compensation for it. The author has no business relationship with any company whose stock is mentioned in this article.