Helmerich & Payne (NYSE:HP) is a best-of-breed onshore/offshore oil driller. The company truly sets the bar for how a company should be run. H&P has managed to develop the most advanced fleet of land rigs, while preserving their pristine balance sheet. As a result, the company has managed to increase dividends for 41 consecutive years and continue to gain market share through any type of economic environment. Investors looking to add yield to their portfolio can add H&P without worrying that they will have to cut or suspend their dividend payment through this dramatic drop in the price of oil.
Pristine Balance Sheet
Helmerich & Payne's simple strategy of not building new rigs until it has secured a contract has allowed the company to have the cleanest balance sheet of any onshore or offshore driller. The company has a miniscule total debt/EBITDA of .05x and a total debt/total capitalization of just 1.6%. This low debt load gives H&P a huge advantage going into this cyclical downturn. Comparing H&P to competing U.S. land drillers shows just how good their balance sheet really is.
| | | | | | |
| --- | --- | --- | --- | --- | --- |
| ($ Millions) | Market Cap. | Total Debt | Cash | Debt/Equity | Current Ratio |
| Helmerich & Payne | $ 7,442 | $ 80 | $ 360 | 0.01 | 2.52 |
| Nabors (NYSE:NBR) | $ 3,620 | $ 4,260 | $ 464 | 0.72 | 1.97 |
| Patterson-UTI (NASDAQ:PTEN) | $ 2,430 | $ 685 | $ 38 | 0.23 | 1.27 |
| Precision Drilling (NYSE:PDS) | $ 1,940 | $ 1,570 | $ 487 | 0.70 | 2.63 |
| Unit Corp. (NYSE:UNT) | $ 1,760 | $ 703 | $ 0.9 | 0.29 | 0.63 |
Source: Yahoo Finance.
I know onshore and offshore drilling is a completely different business and the fundamentals vary dramatically, but just for fun I'm showing H&P's balance sheet vs. leading offshore drillers. This is to illustrate the importance of a clean balance sheet and offer a view into how highly leveraged balance sheets can negatively impact a company. As a result of the decline in oil and worries over future contracts and dayrates, Seadrill has suspended its dividend and there are worries that Transocean will be the next offshore driller to cut its dividend. I believe Noble and Ensco can sustain their dividend in the short term, but any continued weakness in the price of oil continuing out into late 2015 or early 2016 will force both companies to evaluate their dividend policy.
Investors looking to add yield should understand these offshore drillers are extremely risky in the current environment and may want to consider a more fundamentally sound company with a 41-year track record of increasing dividends with a 4% yield in H&P. Had Seadrill taken a strategy similar to H&P of only building rigs with secured contracts, it wouldn't have $14 billion in debt, suspended its dividend or have 15 newbuilds scheduled to come online by 2017 without contracts in place and $5.5 billion in unpaid installments over the next two years.
| | | | | | |
| --- | --- | --- | --- | --- | --- |
| ($ Millions) | Market Cap. | Total Debt | Cash | Debt/Equity | Current Ratio |
| Helmerich & Payne | $ 7,442 | $ 80 | $ 360 | 0.01 | 2.52 |
| Seadrill (NYSE:SDRL) | $ 5,890 | $ 14,140 | $ 1,520 | 1.29 | 0.95 |
| Transocean (NYSE:RIG) | $ 6,870 | $ 10,360 | $ 2,870 | 0.69 | 1.80 |
| Noble (NYSE:NE) | $ 4,420 | $ 4,740 | $ 68 | 0.58 | 1.57 |
| Ensco (NYSE:ESV) | $ 7,380 | $ 5,960 | $ 1,220 | 0.50 | 2.68 |
Source: Yahoo Finance.
Best-in-Class Land Rigs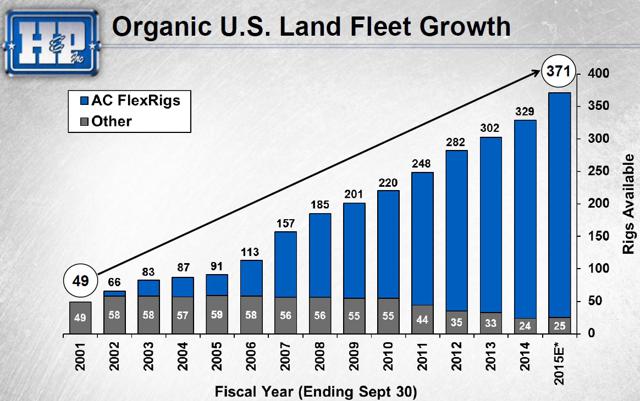 Source: 2014 Capital One Conference.
H&P is the land version equivalent of Seadrill without its debt. Just as Seadrill has the most advanced fleet of rigs in the industry, H&P has the largest and most advanced fleet of land rigs and has grown its fleet at an impressive rate. The land rig fleet has grown from 49 in 2001 to and expected 371 in 2015, which represents a 15.5% CAGR. At the same time, the company has invested heavily in AC FlexRigs, which allow for more advanced drilling techniques, such as horizontal and directional wells, that make up about 80% of wells drilled in the U.S. Because most of the easy vertical wells have already been drilled in the most productive shale plays, companies are now focusing on the more challenging horizontal wells to boost production, which puts H&P's AC drive rigs at a premium.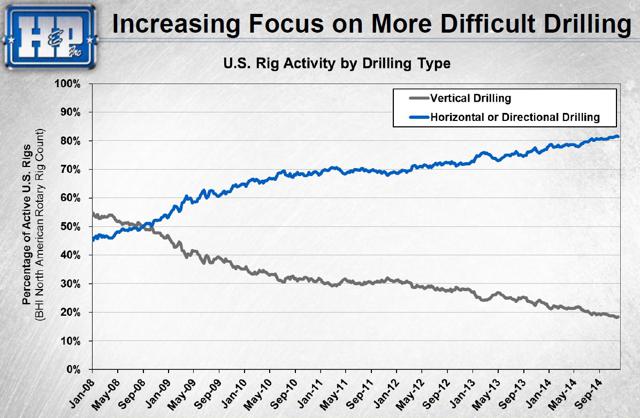 Source: 2014 Capital One Conference.
From 2008 to 2014, H&P has increased its market share from 9% to 15% because it AC drive rigs are favored for use in these horizontal and directional wells. During the same time period, AC drive rigs have gone from 15% to 41% market share in type of land rig being used in the U.S. H&P has nearly double the number of AC rigs than its closest competitor, and the company should further increase its market share as it brings on roughly 40 more FlexRigs in 2015, which have already secured contracts. Currently 95% of H&P's AC drive FlexRigs are contracted, with over 60% of these rigs working on term contracts (meaning their dayrate is locked in). The company expects to deliver around 4 contracted rigs a month next year and have already announced 89 new FlexRig contracts since Oct. 1, 2013. In total, H&P has a backlog over $5 billion.
Analysis and Takeaway
Helmerich & Payne stands to absorb market share through this downturn. As oil declines and stays below $60, the first land rigs to be cut will be the old standard rigs that aren't as efficient as the newer horizontal AC drive rigs. Because, H&P has successfully developed the largest AC drive rig fleet, the company will weather the downturn far better than competitors. In addition, because the company has expertly managed its fleet and has a high utilization rate, as well as favorable term contracts in place with investment grade oil companies operating in profitable drilling areas (nearly 70% of contracted rigs operating in the Eagle Ford, Permian Basin or Bakken) the company provides a degree of downside protection for investors.
If investors are looking to drillers to add yield to their portfolio, I'd recommend H&P over any other onshore or offshore driller. Over the past 41 years H&P has proven it can continue to increase its dividend despite the dramatic fall in oil. Because the oil and energy markets have been so volatile over the past several days, I've had to rewrite some numbers, but the current dividend yield is roughly 4%. In addition, the stock has dropped from its high around $115/share in July to around $70/share as of Dec. 19. This is only after bouncing off its low of $60/share just a few days ago.
Unfortunately, H&P has been thrown out with the bath water. Investors were absolutely terrified with the collapse in oil prices and anything remotely involved in oil saw a tremendous sell-off. However, H&P is a best-of-breed driller with virtually zero debt and the strongest rig fleet in the industry. Bottom-fishers can buy into H&P knowing that the company has no issues plaguing other drillers and E&P companies, such as huge debt loads and aging assets losing value. It's likely H&P will emerge in an even better position once oil stabilizes by gaining market share in the industry. H&P may experience some pressure on dayrates for their rigs not on term contracts, but this shouldn't be enough to significantly threaten the company's fundamentals or balance sheet.
Disclosure: The author has no positions in any stocks mentioned, and no plans to initiate any positions within the next 72 hours.
The author wrote this article themselves, and it expresses their own opinions. The author is not receiving compensation for it (other than from Seeking Alpha). The author has no business relationship with any company whose stock is mentioned in this article.