According to Yahoo Finance, Sirius XM (NASDAQ:SIRI) reports Q2 2011 earnings on August 1st. My Briefing.com InPlay service tells me the event will actually take place on August 3rd. You can keep tabs on the company's investor relations' website for an official announcement. In any case, the first week of August looks like a safe bet. Whenever the call takes place, there's no doubt it will represent a pivotal point in Sirius XM's story.

SIRI conference calls are actual events - suspense tends to build ahead of them - largely because of the stock's typical run leading up to earnings and the passion of many longs. Truly a "story stock," SIRI CEO Mel Karmazin reveals another chapter with every report. He turned in a brilliant performance on the Q1 call; undoubtedly, he will need better than a repeat performance this time around. Sirius XM sits at a critical juncture in its evolution. Beyond the company's financial performance and outlook and subscriber metrics, I will look for the following on the call.

SatRad 2.0 Details

I fully expected these details on the last call, but it did not happen. Now the stage is set: The company has to live up to the hype. It's funny, Sirius XM has said virtually nothing about SatRad 2.0. Instead, due diligence by several reporters has set expectations that the "next generation" in satellite radio could include video capability, a tiered-approach to subscriptions and advertising and Pandora (NYSE:P)-like personalization features.

It would be horribly ironic if SatRad 2.0 does not live up to its advanced billing. Given Sirius XM's silence, it could. After all, the research cited above comes from people searching patent filings. Often, those filings remain ideas. Many never see the light of day.

For instance, people are still talking about Apple (NASDAQ:AAPL) making a true push into the living room years after it filed a patent hinting such an intention. Consider this report from March of 2007. And fast foward four years; Apple still does not have the rumored presence in your living room.

While I don't necessarily believe SatRad 2.0 will under-deliver, I think it needs to overdeliver. SatRad 2.0 must be all that it has been reported to be and more.

It's always difficult to make comparisons to Apple, but, on a somewhat humbler scale, SatRad 2.0 needs to revolutionize in- and out-of-the-car audio entertainment like the iPhone did in the mobile phone space. Sirius XM has the opportunity to change the way we "listen to radio." It's a tall order. The expectations have been set. Even though the company has been mum, it needs to come through with the goods during the first week of August.

Better In-Vehicle Integration

While Sirius XM has done an excellent job penetrating the auto industry (for a long while) it does not necessarily receive very sexy placement in many cars. Changes need to come to how Sirius/XM service gets integrated into new and used cars. As of now, there's a hodge-podge of possibilities. In some cases, satellite radio shares an all-but-forgotten button with AM radio. At other times, subscribers bypass the auto point-of-sale and install their own, often clunky satellite-ready receiver. These setups, and much of what falls in between, pale in comparison to what Pandora and the iPod/iPhone have been able to achieve.

Here's a look at the impressive Pandora/Apple-integration in 2012 Scions: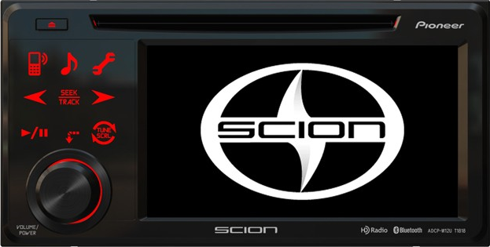 "iTunes tagging" and "the ability to stream Pandora internet radio directly from your iPhone." It sounds cool. It looks cool. It is cool. Satellite radio benefits from not requiring that extra step of hooking your smart phone up to an albeit slick interface. Like terrestrial, it's just there with a simple button push. Sirius XM, however, appears to have been lulled to sleep by this benefit. Just because it's there, at the touch of a button (and for a monthly fee), does not mean that drivers will automatically make the choice. Karmazin should know this coming from terrestrial radio, the poster child for allowing the competition to drive innovation.

Simply put, this is one area where Sirius XM has failed to innovate. In fact, it has been out-innovated. Karmazin needs to go for more than "a free promotional trial" when you buy this car or that car. He must demand from automakers that their cars scream "Sirius XM" when you open the door, not just "Pandora" or "iPhone." Ask Research in Motion (RIMM). It's all about social cachet in this business. If you don't have it, the consumer often leaves you behind.

I hope an analyst asks about this. More so, I hope Karmazin brings it up, along with news of progress being made.

A Promotional Plan

In many ways, this section ties in with the previous two. Sirius XM states the following in its latest quarterly report:

Click to enlarge




While I cannot disagree with the need to keep current subscribers happy and bring back lost ones, I have to think "existing and new distribution channels" refers to SatRad 2.0, which will hopefully coincide with a renewed online and mobile focus. Whatever it means, if Karmazin does not at least note that some form of heavy promotional activity will accompany the SatRad 2.0 launch I might lose faith.

Return of Capital to Shareholders

Here's what Karmazin said on the Q1 call when asked about how he might put Sirius XM's cash to work:

Click to enlarge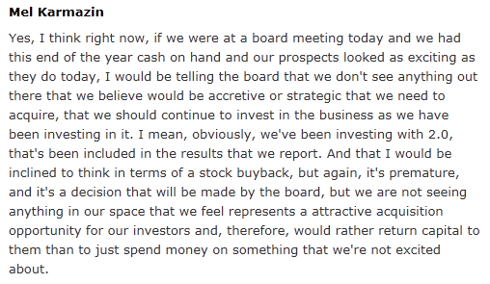 If Karmazin announces a stock buyback that will take effect some time in 2012, SIRI, assuming everything else plays out nicely, zooms to $3.00 per share by the end of the year. While it might be little more than a token gesture, this type of move could, once and for all, put concerns over Sirius XM's debt load to rest.

Liberty Media (LCAPA) Color

While I don't expect Karmazin (or CFO David Frear) to comment on speculation surrounding Liberty's proposal for Barnes & Noble (NYSE:BKS), I do hope the Q2 Q&A will include some candid discussion regarding John Malone's stake in Sirius XM.

For starters, Karmazin or Frear could provide the final say of clarification on how a buyback could affect Liberty's interest in Sirius XM. I think Karmazin could also put many investors at ease by somehow getting into what he thinks his role might be if Liberty, one day, took majority control of Sirius XM. Some SIRI longs, based on the comments that come after the many articles written on the subject, tend to fear what might happen to Sirius XM if Liberty Media took over. I, on the other hand, welcome it. I think Liberty, now and as Sirius XM's potential owner, not only views Karmazin and his company as partners, but as key catalysts to help Liberty Media reach its long-term synergistic goals. In fact, I think Karmazin's responsibilities would increase if and when Sirius XM becomes wholly-owned by Liberty Media.

In keeping with my focus on multiple revenue streams, internal and external synergies and "the story" that underlies the stock, I will look for direct conversation as well as clues about each of the points brought up in this article on Sirius XM's Q2 conference call. Ultimately, what happens in many of the areas I outline will dictate the company's subscriber growth and financial performance and, in turn, impact the stock price over the short- and long-term.

Disclosure: I am long SIRI.