This morning I decided to use Barchart to see how well Ford (NYSE:F) was doing. To my surprise I noticed it was down but starting to turn upward. As the market and the economy recovers this is your best bet on a U.S. auto maker. I know we like to think of Ford as an American automaker, but make no mistake about it: Ford is a global automaker with over 45% of its operations in foreign markets.
Click to enlarge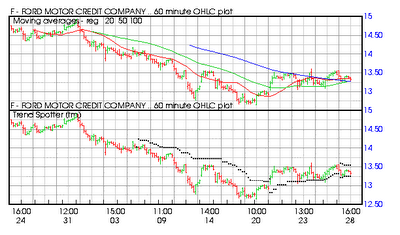 Ford produces cars and trucks. The company and its subsidiaries also engage in other businesses, including manufacturing automotive components and systems and financing and renting vehicles and equipment. The company is divided up into the following four operating segments: Automotive, Visteon Automotive Systems, Ford Motor Credit Company, and The Hertz Corporation.
Ford didn't need the bailout funds but is still a risky venture. Troubles in Japan's auto industry has left the door open and Ford has the new cars to fill that void. A new partnership with Sollers, the Russian auto maker, will give Ford access to one of the fastest growing auto markets in Europe.
Factors to Consider
Barchart Technical Factors
Barchart is a price momentum website and its indicators can signal a turning point
64% Barchart technical sell signal but sell signals are weakening
Trend Spotter sell signal - The signal is weakening rapidly
Below its 20, 50 and 100 day moving averages but the price has been in an upward trend since June 20
11 down days and 10.66% off its one month high
Relative Strength Index is 41.66 but getting stronger
Traded around 13.33 which is below its 50 day moving average of 14.45
Wall Street brokerage analysts are high on the long term prospects of this stock and have released six strong buy, seven buy and seven hold recommendations on this stock.
Sales are projected to increase by 13.60% this year and another 8.30% next year.
Although earnings are estimated to be down .5% this year they are to increase by 4.70% next year and continue at an annual increase of 8.80% for the next five years.
General Investor Sentiment
On Motley Fool of the 10,912 readers that express an opinion 78% think the stock will out perform the market.
The more experienced All Stars are more positive with a 1,567 to 334 vote that shows an 82% positive rating.
Summary: U.S. investors are very high on Ford for what they might consider a vote for American pride. I think investors could make 15% with a 5% +/- range on an annual basis over the next five years. I like the stock but all the variables make this a pick only for speculative investors. Risk adverse investors should look elsewhere.
Disclosure: I have no positions in any stocks mentioned, and no plans to initiate any positions within the next 72 hours.