Investors should be seeking to improve their risk adjusted returns. I'm a big fan of using ETFs to achieve the risk adjusted returns relative to the portfolios that a normal investor can generate for themselves after trading costs. I'm working on building a new portfolio and I'm going to be analyzing several of the ETFs that I am considering for my personal portfolio. One of the funds that I'm considering is the Schwab U.S. REIT ETF (NYSEARCA:SCHH). I'll be performing a substantial portion of my analysis along the lines of modern portfolio theory, so my goal is to find ways to minimize costs while achieving diversification to reduce my risk level.
What does SCHH do?
SCHH is one way to access the REIT market. I'll be holding the funds in a tax exempt account, so I'm not concerned about tax differences between funds unless I believe the fund could trigger an unrelated business income tax. Disclosure: I'm not an accountant and I do not know your tax situation.
Does SCHH provide diversification benefits to a portfolio?
Each investor may hold a different portfolio, but I use SPY as the basis for my analysis. I believe the SPDR S&P 500 Trust ETF (NYSEARCA:SPY), or another large cap U.S. fund with similar properties, represents the reasonable first step for many investors designing an ETF portfolio. Therefore, I start my diversification analysis by seeing how it works with SPY.
I start with an ANOVA table:

Our correlation of 62.7% isn't too bad. It would be ideal to have a lower correlation to enhance the diversification benefits, but 62.7% is still going to offer significant benefits from combining the two ETFs.
Standard deviation of daily returns (dividend adjusted, measured since early 2011)
SCHH clearly brings more risk in terms of standard deviations. For SPY, the value is 0.97%, but for SCHH it is 1.19%. In a vacuum, SCHH is clearly riskier than just holding SPY. However, an equally weighted portfolio of the two shows a standard deviation of daily returns (historically) of 1.02%. The standard deviation is still up, relative to just holding SPY, but now the increase is fairly mild.
Historical returns are a terrible predictor but…
I would suggest that historical returns indicate future returns. Chasing past performance is absurd. However, investors can still be reasonably certain that investing their portfolio in CDs that pay half of one percent is not going to be a solid strategy. The ETF needs to at least be capable of producing meaningful gains. Over the last few years, SPY and SCHH have shown relatively similar levels of gains. For the sample period I'm using SPY is up 66% and SCHH is up 62%. However, the equally weighted portfolio is up 65%, better than the average of 64%. The equally weighted portfolio outperforms because the rebalancing on investments with moderate or lower levels of correlation improves the geometric mean of returns.
In no way am I suggesting that future returns are predicated on past returns, but I do believe that historical correlation has some relevance in predicting future correlation and to the extent that the ETFs are only moderately correlated they can be combined to reduce risk. When the two are combined with 90% of the market value in SPY and 10% in SCHH, the resulting standard deviation of daily returns for the entire portfolio is 0.9705%, which is the same as if the portfolio were only holding SPY. I believe a reasonable level of exposure to a REIT index with similar exposure to SCHH is around 10 to 20% of a portfolio value.
However, absent trading costs, an exposure below 10% appears to reduce the standard deviation of the portfolio due to the correlation. Again, even historical correlations can be wrong because there can be changes in the underlying relationship.
Yield
The distribution yield is 2.27%. The SEC 30 day yield is 2.77%. That's a fairly reasonable yield for the ETF, though investors that are selecting REITs directly may be looking for higher yield rates.
Expense Ratio
The ETF is posting .07% for an expense ratio, which is significantly lower than I would have expected for a diversified investment in REITs. I'm pretty happy with that expense ratio; it's lower than the ratio for household names like SPY. It's also dramatically lower than the category average of .42%.
Market to NAV
The ETF is trading right on NAV, so no discounts or premiums to be concerned with at the moment. Of course, that can change at any point so investors considering an investment should check the comparison again immediately prior to the investment.
Largest Holdings
The biggest holding is Simon Property Group (NYSE:SPG), which is nearly 10%. After that, the exposure drops off significantly. I prepared the following chart to break it down: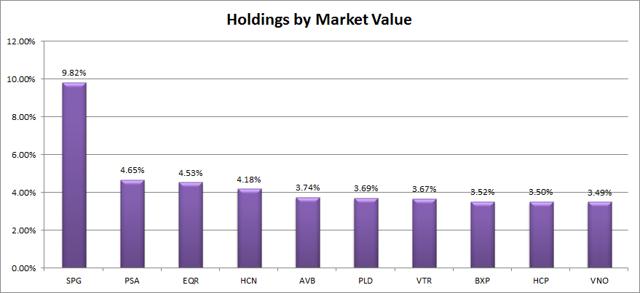 If I were building a REIT ETF, I think I would've changed quite a few of the companies or exposures, but the overall structure isn't bad. Here is a list of the top holdings, listed by market value:
Simon Property Group

Public Storage

(NYSE:PSA)

Equity Residential

(NYSE:EQR)

Health Care REIT, Inc.

(HCN)

AvalonBay Communities, Inc.

(NYSE:AVB)

Prologis

(NYSE:PLD)

Ventas Inc.

(NYSE:VTR)

Boston Properties, Inc.

(NYSE:BXP)

HCP, Inc.

(NYSE:HCP)

Vornado Realty Trust

(NYSE:VNO)
Despite my preference for a different composition, the very low expense ratio still makes the fund appealing overall. I dislike funds with high fees because I don't believe that you will always "get what you pay for." You might get it, or you might not, the only thing you are guaranteed with high fees is that you will definitely pay for it.
Conclusion
I'm currently screening a large volume of ETFs for my own portfolio. I'll do a little more digging on SCHH later and post what I find. I'm leaning towards including SCHH in my portfolio based on the acceptable level of correlation and the very low expense ratio. The portfolio I'm building is through Schwab, so I'm able to trade SCHH with no commissions.
I have not begun the process of funding the account yet, so it will be at least a couple weeks before I might put in an order.
Disclosure: The author has no positions in any stocks mentioned, and no plans to initiate any positions within the next 72 hours.
The author wrote this article themselves, and it expresses their own opinions. The author is not receiving compensation for it (other than from Seeking Alpha). The author has no business relationship with any company whose stock is mentioned in this article.
Additional disclosure: Information in this article represents the opinion of the analyst. All statements are represented as opinions, rather than facts, and should not be construed as advice to buy or sell a security. Ratings of "outperform" and "underperform" reflect the analyst's estimation of a divergence between the market value for a security and the price that would be appropriate given the potential for risks and returns relative to other securities. The analyst does not know your particular objectives for returns or constraints upon investing. All investors are encouraged to do their own research before making any investment decision. Information is regularly obtained from Yahoo Finance, Google Finance, and SEC Database. If Yahoo, Google, or the SEC database contained faulty or old information it could be incorporated into my analysis. The analyst holds a diversified portfolio including mutual funds or index funds which may include a small long exposure to the stock.