Last week, Amgen (NASDAQ:AMGN) announced a 30% increase in its quarterly dividend. Although the stock still yields less than 2%, Amgen possess a diversified mix of profitable drugs (for aiding in the treatment of cancer, rheumatoid arthritis and other autoimmune diseases), a cash rich balance sheet and is one of the few biotechnology stocks that might meet the criteria of income investors. However, there are several potential concerns that individuals should have about includes shares of Amgen in their portfolio, including a below average return on invested capital, modest long term earnings growth potential and an elevated forward price to earnings ratio (compared to its historical average). This article examines Amgen's fundamental attributes to determine whether the DRAG framework believes its shares, despite trading near record highs, are undervalued.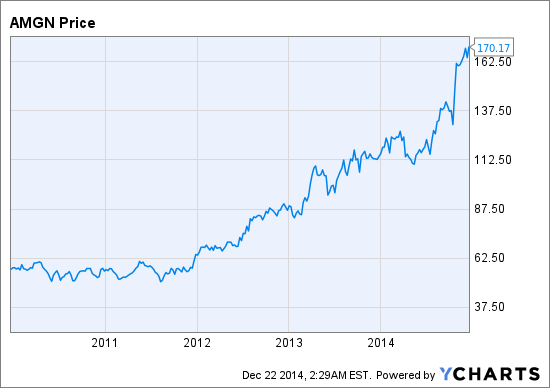 Please click here to read my article which outlines the DRAG analysis framework in more detail.
To summarize, the four variables used in a DRAG (dividend and risk adjusted growth) analysis are as follows (each company is ranked from 0 to 3 in each category):
1) How cyclical is the industry in which Amgen operates?
2) How strong is Amgen's competitive position within this industry?
3) How risky is Amgen's balance sheet?
4) What is Amgen's dividend yield and dividend growth history?
The premise is that a company that operates in a non-cyclical industry, with a strong competitive position and a clean balance sheet that pays an attractive dividend should trade at a higher earnings multiple than a company without these attributes, even if the lower quality company has higher projected future earnings growth. After adjusting for these variables, it becomes easier to compare companies in different sectors with different levels of future growth potential.
Amgen DRAG Analysis:
Amgen Industry Analysis

Industry Beta

1.12

Stock Beta

0.51

10 Year EPS Std Dev

25.2%

Industry Score

2/3
Two sources I utilized to estimate the beta of the biotechnology industry provided produced contrasting results. The iShares Nasdaq Biotechnology ETF (NASDAQ:IBB) possesses a beta of 0.82 while a research website from NYU's Stern School of Business instead illustrates that the average biotechnology stock exhibits a beta of 1.12. However, Amgen's share price has consistently demonstrated less volatility than the broader market during the previous five years: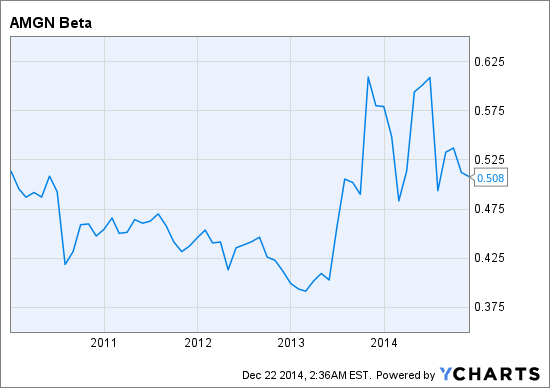 The firm's earnings results over the last decade seem to confirm that this biotechnology company has limited economic sensitivity. Its year over year earnings per share grew impressively in both 2008 and 2009 and its standard deviation of earnings is low enough to warrant an above average score on this portion of the DRAG analysis.
Amgen Competitive Position Analysis

Gross Margin

78.4%

Operating Margin

30.0%

Return on Assets

7.4%

Return on Invested Capital

9.1%

Competitive Position Score

1/3
While Amgen's margins would be considered impressive in nearly any other sector besides biotechnology, most of its largest competitors achieve operating margins significantly higher than 30%. In addition, both Amgen's gross and operating margin have been consistently narrowing in recent years. Furthermore, while firms like Biogen Idec (NASDAQ:BIIB) and Gilead Sciences (NASDAQ:GILD) have improved their return on invested capital, Amgen's has declined meaningfully since 2009 and now sits below 10%: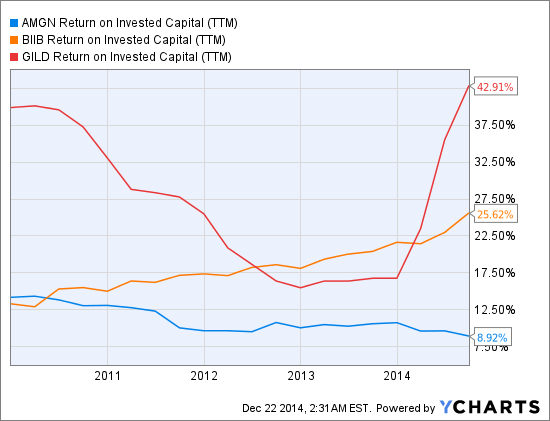 Compared to these firms, Amgen likely deserves to trade at a discounted multiple (all else equal), due to its relatively poor efficiency ratios. For this reason, Amgen earns a below average score for its competitive position despite a gross margin of nearly 80%.
Amgen Balance Sheet Analysis

Debt to Equity Ratio

1.20

Current Ratio

4.22

Interest Coverage

5.74

Balance Sheet Score

1.5/3
Amgen's balance sheet is an interesting combination of significant cash reserves and long term debt. The firm has over $28 billion in cash and cash equivalents, but also has nearly $33 billion in total debt outstanding. These two factors help explain why the company has an exceptional current ratio, but only manages to cover annual interest expenses less than six times over. Compared to Amgen's $130 billion market capitalization, this level of debt is not unreasonable and its large cash position offsets the majority of this financial risk. One other important point is that after accounting for $27 billion in goodwill and other intangible assets, the firm has a negative net tangible asset value. Nevertheless, shareholders should be comfortable with the company's financial position thanks mainly to its impressive cash balance.
Amgen Dividend Analysis

Current Yield

1.9%

Payout Ratio

36.2%

1 Year Dividend Growth

29.5%

3 Year Dividend Growth

111.1%

Dividend Score

1.5/3
Although Amgen shares currently offer investors a below average dividend yield, the firm's level of dividend growth has been admirable. Amgen first initiated a quarterly payout in the summer of 2011 and has more than doubled its dividend over the past three years. Furthermore, the firm has committed to "meaningful" annual increases through 2018 and expects to return approximately 60% of adjusted net income to shareholders in the form of dividends and buybacks during the next four years. Therefore, despite its relatively short dividend track record and modest yield, income investors should be willing to consider including Amgen in their portfolios as one of the few large cap biotechnology stocks expeced to deliver future dividend growth.
Amgen DRAG Analysis

Total DRAG Score

6

/4 = Average DRAG Score

1.5

x Projected LT EPS Growth Rate

x Projected 2015 EPS

= Amgen Target Price

$155.57
Unfortunately, despite this attractive dividend growth profile, the DRAG framework believes that Amgen's share price is currently overvalued by nearly 10%. This is partly to do with its disappointing return on invested capital, but mostly thanks to a modest earnings outlook by the analyst community, which expects the firm's earnings per share growth rate to decline over the coming five years. Of course, the company's valuation is also a factor and Amgen shares are currently trading well above their historic earnings multiple: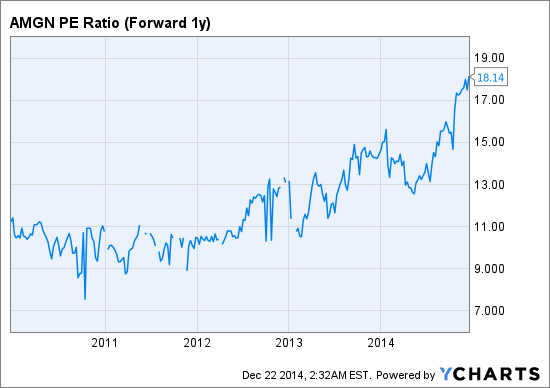 While the DRAG model suggests that Amgen's shares are currently overvalued, its $155 target price represents 16.5 times forward earnings, which would still be well above the stock's five year average valuation. Despite its impressive dividend growth and nearly $30 billion in cash, investors should avoid Amgen for the time being, due to its elevated valuation and anticipated decline in earnings growth.
Disclosure: The author has no positions in any stocks mentioned, and no plans to initiate any positions within the next 72 hours.
The author wrote this article themselves, and it expresses their own opinions. The author is not receiving compensation for it (other than from Seeking Alpha). The author has no business relationship with any company whose stock is mentioned in this article.