After discovering that shorts ramped ahead of earnings for Research In Motion (RIMM), I decided to check in again on the short interest in Lender Processing Services (NYSE:LPS). Of course, I expected to observe short interest soaring ahead of the disastrous downward guidance LPS issued on June 16th. Much to my surprise, shorts instead dropped by one million shares (17%) even as the stock's price fell by 12% over those first two weeks of June.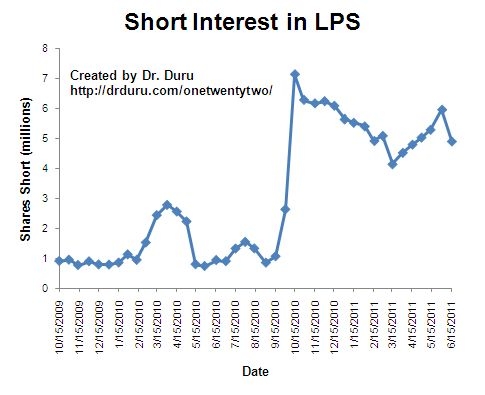 Short interest in LPS takes a surprising dip.
Source:
NASDAQ.com
So LPS caught bulls and some bears by surprise. However, the bearish reaction was swift. Not only did LPS close down 13% after the earnings and revenue warning, options players stampeded for puts. Schaeffer's Investment Research reports that the put/call ratio jumped from 2.0 to an incredible 19.2! This open interest is still heavily concentrated in September strikes.
Click to enlarge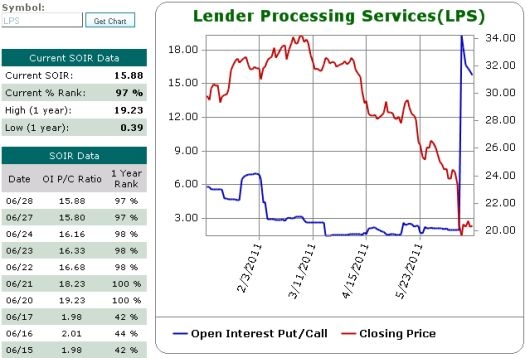 Fear of more bad news swept over LPS after downward guidance.
Source:
Schaeffer's Investment Research
I am sure vocal LPS short Cody Willard will be relieved to see that he has fewer shorts joining him in the stock, but the surge in put-buying could be even more significant for the company. This tremendous amount of put-buying must consist of a good amount of purchased protection for large holdings of shares. If so, LPS is likely to find a floor for the next few months. The stock could even begin some kind of counter-trend rally, especially as the company repurchases shares under its new $100M authorization. However, if LPS manages to crack fresh 31-month lows, I imagine even more shorts will rush in to join the renewed downward momentum.
Either way, none of this changes the grim and uncertain outlook for LPS. I will be returning to puts at lower prices (relief rally) or higher prices (new breakdown) from here. I am currently left with a small long position after closing out my puts on their June 17th expiration day. I purchased the puts following heavy activity around the $22.50 strike in late May after failing several times to "low-ball" my way into some of those extremely popular September puts.
Disclosure: I am long LPS.