Going into 2015, there will be three trends that drive significant earnings growth over at Yahoo (YHOO): the continued appreciation of Alibaba (NYSE:BABA), growing search query share and native/mobile advertising.
Alibaba
By the end of 2014, it became pretty obvious that Alibaba was worth a significant amount to Yahoo. Estimates had ranged, but when operating under the assumption that Alibaba would be worth north of $200 billion, Yahoo's investment interest in the stock skyrocketed in value.
Yahoo's current equity interest in Alibaba is worth $40.65 billion. And, if Alibaba eventually reaches my 12-month price target of $152, the equity interest will be worth $56.772 billion.
This will put a significant floor to Yahoo's valuation, because its ownership interest in the foreign e-commerce company is worth so much.
Yahoo Search
The search business will see continued growth going into 2015, as Yahoo inked a deal with Mozilla to make it Firefox's default search engine. Yahoo may eventually secure a deal with Apple (NASDAQ:AAPL) to make Yahoo Search the default search engine for the company.
With these factors in play, the number of paid clicks on Yahoo's search engine will increase drastically.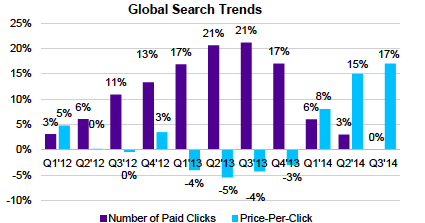 Source: Yahoo
In the most recent fiscal year, the number of paid clicks has decelerated. However, if that trend were to reverse, paired with some incremental increases in price-per-click, the search business will grow the amount of revenue it generates.
By how much isn't exactly certain. However, if over the course of a couple years Yahoo can both increase pricing and the number of paid ad clicks, I estimate that the search business will generate $4.32 billion in annual revenue versus $1.8 billion TTM.
Yahoo Native And Mobile Ads
On this front, Yahoo has been able to drive fairly significant growth, as it prioritized investment into its native ad platform, Gemini. Through this platform, Yahoo has been able to drive significant growth that will be reflected in the bottom line going into FY 2015.
According to Yahoo CEO Marissa Mayer on the company's recent earnings conference call:
In Q3 native ads had revenues across mobile and desktop of more than $65 million.


In Q4 we anticipate native ads will approach $80 million of revenue. Native ads have been experiencing triple digit year-over-year growth. And have moved from being an idea and the prototype to being a nearly $250,000 [quarter of billion dollar] business.
For those unfamiliar with native advertising, it's basically an ad that looks extremely similar to the content on the webpage. It's supposed to blend in so users are more likely to interact with the ad, or find the message less intrusive. In some cases, native ads are intended for brand uplift (create more awareness rather than direct conversion to sales).
In this area, Yahoo has been able to grow a non-existent business into one that generated $250 million. Admittedly, Yahoo isn't really doing anything really original. Facebook (NASDAQ:FB) has been displaying native ads via the newsfeed for a couple years now. So it's no surprise that the strategy is actually working.
Conclusion
Yahoo has fairly compelling growth prospects, driven by Alibaba. A good portion of the proceeds from the sale of Alibaba will be returned to shareholders via buybacks, which will boost the EPS figure significantly.
The core business shows compelling growth prospects on both the search and display front. The number of paid clicks will increase, as Yahoo is the default search engine on Firefox. Needless to say, display ads should perform better, as the cost-per-click and engagement rate on native ads are significantly better when compared to more traditional banner ads.
I continue to reiterate my buy recommendation/$56.36 price target.
Disclosure: The author has no positions in any stocks mentioned, and no plans to initiate any positions within the next 72 hours.
The author wrote this article themselves, and it expresses their own opinions. The author is not receiving compensation for it (other than from Seeking Alpha). The author has no business relationship with any company whose stock is mentioned in this article.