Entrepreneurship has recovered more quickly from the economic crisis in France and Australia than in the US and the UK, according to the OECD.
From Entrepreneurship at a Glance 2011
The impact of the crisis was particularly long-lasting in Denmark and Spain, where the number of new firms being created during 2010 was still well below the high point before the crisis, but also in Finland, Germany, the Netherlands and the United States.
At the other end of the scale, entrepreneurship in some countries, like Australia and France, and to a lesser extent the United Kingdom, has bounced back from the crisis, with the number of firms being created actually higher in 2010 than it was at the pre-crisis peak.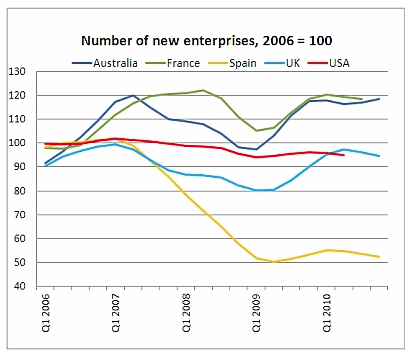 Venture capitalists in Israel allocate more financing to young companies than any other country in the OECD, with the equivalent of 0.18% of GDP dedicated to seed, start-up and early development capital. The United States, Sweden and Finland are among the other leading providers of venture capital, and are not surprisingly also among the most entrepreneurial nations.