Mountain Province Diamonds (MDM) is a Canadian diamond company developing its Gahcho Kué diamond project in the Northwest Territories, Canada. Gahcho Kué is a joint venture between Mountain Province (49%) and De Beers Canada. Construction is about half done and on budget and on schedule for full-scale diamond mining in 2017.
Mountain Province recently announced its approval to list on the NASDAQ Stock Market starting Dec. 31, following the de-listing from the NYSE MKT on Dec. 30. This transfer will broaden the company's exposure to new potential investors in the marketplace.
Our revised net asset value ("NAV") for the company stands at $8.00/share, up 83% from the current market price.
Overview: Gahcho Kué
Mountain Province is advancing the high-grade Gahcho Kué diamond project. The mine plan consists of three diamond-bearing kimberlites, which host an aggregate 53.4 million carats at a grade of 1.57 carats per tonne.
That totals 4.45 million carats recoverable annually over a 12-year reserve-based life-of-mine ("LOM") on a 100% basis.
Mountain Province owns 49% of the project, and in turn will realize 2.18 million carats per annum, or 26.17 million carats LOM, based on the planned production schedule (see Figure 1).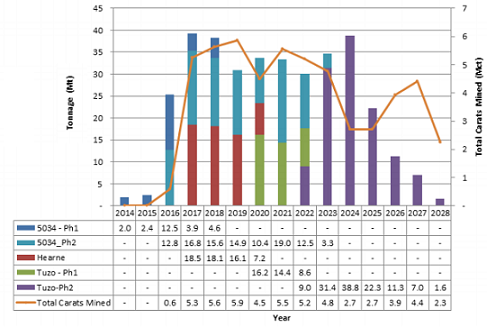 Figure 1: The chart shows the planned production schedule at Gahcho Kué (100% basis) at the three kimberlites, 5034, Hearne, and Tuzo. Source: Feasibility Study
Models and forecasts
Mountain Province expects Gahcho Kué to pull-in excellent margins of $140/ct or 77% based on revenues and costs of $182/ct and $42/ct, respectively. That is an attractive margin, all thanks to the high-grade diamond content, and continuity at each kimberlite.
High-grade diamonds add significant value to an existing project, and for that reason are highly sought-after in the industry.
Our DCF models Gahcho Kué to register just over $200 million in annual after-tax cash flows using the NWT corporate tax rate of 26.5%. We discount the cash flows using a 10% discount rate to arrive at the net present value ("NPV") shown in Table 1.

Table 1: Our DCF model uses the diamond production plan (on a 49% basis) from the most recent Feasibility Study.
It will cost Mountain Province and De Beers C$858.5 million to build Gahcho Kué. On a 49% basis, Mountain Province has to fund C$420.67 million of the capex requirement. A series of equity deals (dilutive) have helped finance construction activities to date.
Mountain Province seeks approval of the pending US$370 million debt deal expected prior to year-end to push the project into fully funded territory. This near-term catalyst should move the stock higher as the project de-risks itself (less financial risk).
Gahcho Kué will generate adequate cash flows to repay any future debt on the balance sheet. The distribution of dividends to shareholders is highly probable after debt repayments given the cash flow potential modeled in Table 1.
Our revised NAV for Mountain Province comes to $8.00/share, up 83% from the current market price. Table 2 highlights our revised NAV model for the company.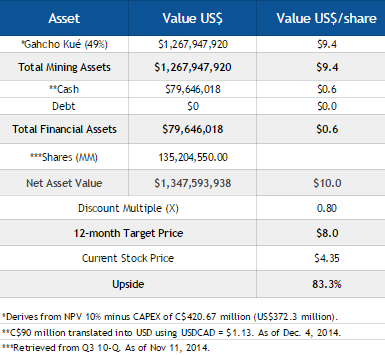 Table 2: Our NAV model.
Listing on the NASDAQ
Investors should expect Mountain Province to start trading on the NASDAQ Stock Market on Dec. 31 under the symbol MDM. Shares will continue to trade on the NYSE MKT for now, but will de-list after the markets close on Dec. 30.
Some of the benefits of Mountain Province listing on NASDAQ include a) better trading liquidity in the stock, b) increases visibility/exposure of the stock to institutional money managers, and c) greater transparency, among others.
We think the recent news about Mountain Province earning approval to list on the NASDAQ will attract new institutional and retail buyers at the current undervaluation.
The stock trades at a 46% discount to our 12-mos price target of $8.00/share.
Disclosure: The author has no positions in any stocks mentioned, and no plans to initiate any positions within the next 72 hours.
The author wrote this article themselves, and it expresses their own opinions. The author is not receiving compensation for it (other than from Seeking Alpha). The author has no business relationship with any company whose stock is mentioned in this article.