Introduction
This article is my third installment in a segment called "Buy on the Drop?" where I choose a certain stock that recently experienced a large decrease in stock price and give a recommendation on whether investors should "buy on the drop" or not. There are five simple recommendation ranks: Strong Buy, Buy, Risky Buy, Avoid and Strong Avoid. Using rankings like these leaves the door open to generalization so if you intend to actually act on any recommendations, please read the entire article as investment opportunities are rarely black and white. Additionally, the ideas that form the basis for this segment are heavily reliant on momentum and contrarian investing philosophies so it is not for everyone. If you want to see more of this segment, you can follow me and if you have any questions feel free to message me or leave a comment.
Background
First Solar (NASDAQ:FSLR) is a U.S. company that manufactures photovoltaic modules for use in producing solar energy. The stock has been very inconsistent this year and is down about 18% year-to-date. Shares closed Friday at $44.63, which is close to 40% below the stock's 52-week high, which it achieved in March. Additionally, shares are down about 10% since late November when a sell-off hit solar companies.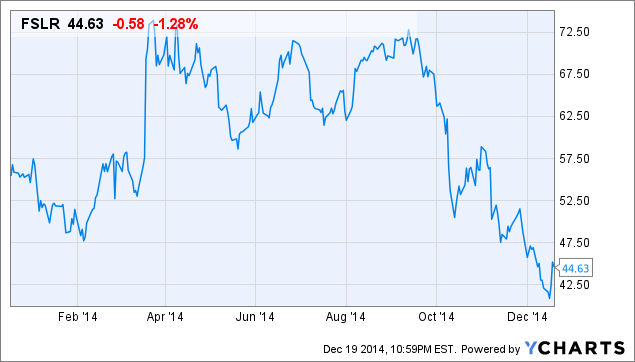 FSLR data by YCharts
SunPower (NASDAQ:SPWR) also manufactures photovoltaic cells but makes its solar panels using crystalline silicon as opposed to FSLR's cadmium telluride based panels. SPWR stock is down nearly 40% from 52-week highs and is also down about 16% since the solar sell-off.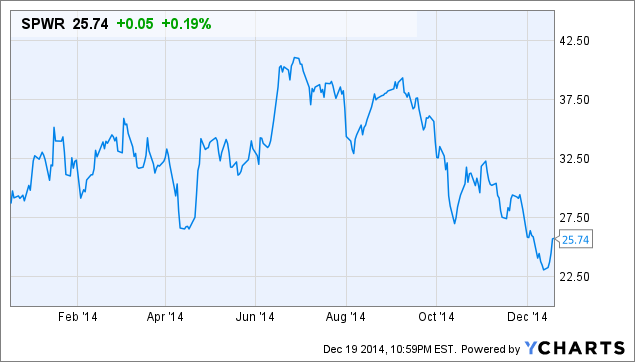 SPWR data by YCharts
FSLR and SPWR are both leaders in the solar industry and the stocks' pains represent an excellent buying opportunity for investors to benefit from the rise of solar energy.
The Drop
FSLR and other solar stocks have been suffering because of the rapidly declining price of oil caused by increased U.S. shale oil production and OPEC's refusal to cut production to boost oil prices. The negative sentiment surrounding the stock mostly stems from investors who believe that alternative energy sources like solar and natural gas will be in low demand with oil so cheap.
The main attraction of solar energy is its environmental benefits and not its cost. Therefore, solar energy will only achieve widespread use if its environmental benefits outweigh the benefit provided by the lower costs of other alternative fuel sources such as oil. Investors are probably guessing that with oil so cheap, new orders for solar companies will fall because the environmental benefits are not outweighing the financial incentives provided by the low price of oil.
It is for this reason that solar stocks are struggling. Investors are worried that low oil prices will slow down the growth of the solar industry and therefore cut into the margins, revenue and income of solar companies like FSLR. So are low prices a justifiable reason for investors to avoid solar stocks? Absolutely not.
Strong Buy on the Drop
Solar stocks dropping because of oil prices is a completely irrational cause and effect relationship. The main use of solar is to produce energy for commercial and residential applications. Oil is not popularly used to generate electricity. Solar and oil are used for completely different applications and so low oil prices should not concern solar panel manufacturers like FSLR and SPWR. These companies will not see reduced orders for solar projects because of reduced oil prices and they will not see a slower growth rate because of cheap oil. It is mainly for this reason that I believe investors should buy FSLR and SPWR now before the market realizes the mistake and solar stocks recover recent losses.
A second reason that I believe solar stocks will recover losses is that oil will not stay this cheap for long. Many OPEC members cannot fund their national budgets with oil prices below $100, let alone below $70. To maintain solidarity, OPEC will be forced to cut production, which will give oil prices a boost. Additionally, with oil prices so low, some U.S. shale producers will go out of business, which will also reduce supply and give oil prices a boost. Now I don't believe this second reason should matter when it comes to solar stocks, because oil and solar are mostly independent of each other, but I believe that it will matter because investors are making the connection regardless of whether it's justified or not.
FSLR and SPWR are the companies I recommend buying right now because the stocks still haven't recovered from the beating they took after the release of OPEC's decision to maintain production. These two companies are also well-positioned to benefit from the inevitable continued growth of the solar industry so buying now while the stocks are cheap and holding onto shares as the companies grow along with solar energy adoption could yield very healthy gains for investors.
Conclusion
FSLR and SPWR are still trading at low levels after investors were spooked by falling oil prices and OPEC added to this by deciding not to cut oil production. Both companies should remain unfazed by cheap oil and are still poised to achieve massive growth as the solar market continues to expand. After falling immensely from 52-week highs and falling even further after OPEC's decision, I rate FSLR and SPWR Strong Buys on the drop.
Disclosure: The author has no positions in any stocks mentioned, and no plans to initiate any positions within the next 72 hours.
The author wrote this article themselves, and it expresses their own opinions. The author is not receiving compensation for it (other than from Seeking Alpha). The author has no business relationship with any company whose stock is mentioned in this article.