In late October, I called Bloomin' Brands (NASDAQ:BLMN) a textbook example of how to improve a casual restaurant. At the time, the stock was running around $19. Since then the company has moved up to $23.50 and my bullishness is wearing off. It's not that the company failed to live up to my expectations; I just don't think the new price is near as attractive. I'm concerned that part of the growth reflects bullish comments from management that I consider unrealistic. While I think they do a great job running the company, I don't think the company can live up to these lofty goals unless they pump earnings up with lower quality earnings by deferring necessary expenses.
The recent presentation
Bloomin Brands recently had an analyst day. It wasn't a terrible presentation, but it seemed too optimistic. Here are the slides from analyst day. I'll highlight the parts that I think are most relevant.
How Blooming Brands plans to use cash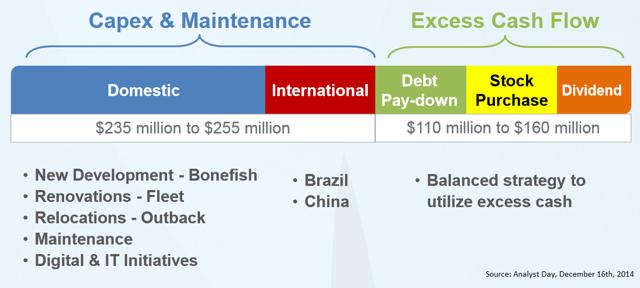 I'm fine with this plan, but relatively equal amounts of cash spent on debt reduction, stock purchases and dividends won't get BLMN to the target. Quite simply, dividends don't raise EPS. Paying down debt does increase EPS, but not substantially unless the interest rates are fairly high. Stock purchases can certainly increase EPS, but again the problem is that the target has been set way too high.
The lofty EPS growth target
This is really the part where I felt the goals went from aggressive to silly. I don't mind aggressive goals, but if analyst expectations get pumped up, I want to sell on the high expectations.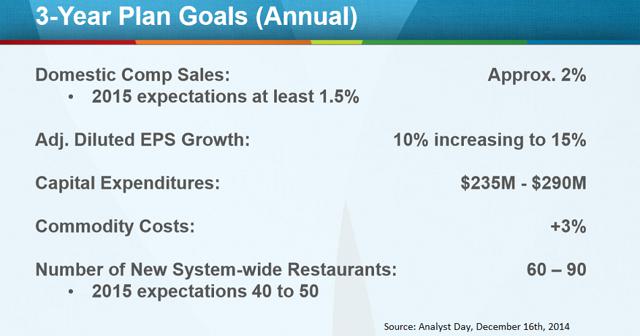 Annual growth in adjusted diluted EPS is being increased from 10% to 15%. I would believe that was possible if the company had a very feasible plan to grow sales, bring in franchise licenses fees, leverage up to establish several new restaurants in concentrated markets where existing advertising could be leveraged to enhance adoption of the new restaurants by consumers. That kind of plan could get me to believe that EPS could grow at 15% for a few years, but even that plan could not make the growth sustainable.
Remember, their plan includes paying a dividend (yield estimated around 1%) and paying down interest. To grow EPS at 15%, the company needs massive cash on cash returns. Neither dividends nor paying down debts will provide massive cash on cash returns.
It would be possible
That the company could take substantial charges in the present period and set a lower standard for EPS growth. That would be one of the least impressive ways to achieve growth in EPS.
Operating income margins could use improvement
If there is one area where the company could make some significant improvements to drive EPS with high quality growth it would be the operating income margins. The following slide shows how the company ranks compared to the peer medians: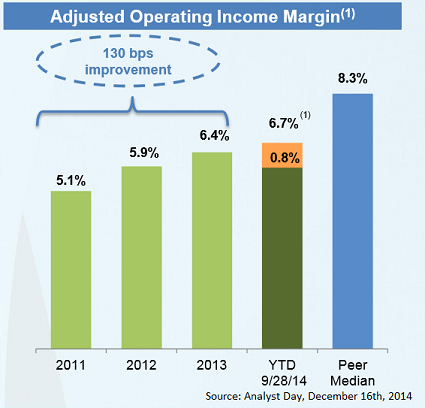 Unfortunately, I believe part of the company's strong sales growth has been because they operated on lower operating margins and offered more quality to the consumer. I believe an increase in operating margins may be connected to a reduction in the strong sales growth that BLMN has experienced over the past several periods.
Lower quality earnings are a viable option
As an investor, I don't care for low quality earnings. I'm fine with a share repurchase program, because I am concerned with earnings per share. I want to know the level of earnings that my piece of the company is producing. I don't want to see my shares have higher levels of "earnings" because the company has decided to use a "better" depreciation schedule. When the depreciation schedule is lengthened but the underlying economic activity is the same, it means the company has higher earnings (and taxes) in the earlier years because it delays using the tax shield. This is the part of the presentation I'm talking about:

Another interpretation
It is also possible to interpret those points as the company suggesting that they will start reducing wasteful capital expenditures. If the company can reduce expenses that were being capitalized that would be a very positive sign and would significantly improve cash on cash returns. However, I would rather see the company using debt leverage on individual high value properties to gain from the real estate exposure.
The company has been working on a plan to relocate several of their restaurants from less desirable areas to more desirable areas. I agree with the relocation plan, but I'd love to see them purchasing the underlying real estate in some of those areas because it would allow the company to make more long term decisions in regards to developing a location rather than having to limit capital expenditures to avoid being in a bad position when the lease expires.
Conclusion
I still like BLMN, but I'm not so thrilled with the price. I am concerned that the company may be trading in part on high expectations. The higher expectations increase the odds for a negative earnings surprise, and I wouldn't want to be stuck holding the bag if that happens.
The dividend and share repurchases may provide some stability to the share price, but if earnings miss analyst estimates or guidance has to be lowered, the share price could still take a hit. The dividend yield won't be terrible, but it sure wouldn't be enough for me to feel comfortable owning the stock for the dividend unless I believed substantial growth was just around the corner. I expect decent to good growth, but not massive growth. Therefore, I have to assume that long run EPS growth will be meaningfully lower than the current presentations are indicating. I was previously bullish on the long-term, but the price came up faster than I expected. I am now neutral on the stock, at the current price, for the intermediate term.
Disclosure: The author has no positions in any stocks mentioned, and no plans to initiate any positions within the next 72 hours.
The author wrote this article themselves, and it expresses their own opinions. The author is not receiving compensation for it (other than from Seeking Alpha). The author has no business relationship with any company whose stock is mentioned in this article.