I've been covering J.C. Penney (NYSE:JCP) for quite a while on Seeking Alpha, as shown here and here. It is one of my favorite stocks. As JCP is trading more than 40% below its 52 week high and with the end of 2014 around the corner, it's time for a more fundamental comparison between JCP and its competitors. With so much competition in retail, who will be the winner in 2015?
Largest Department Store Chain in the US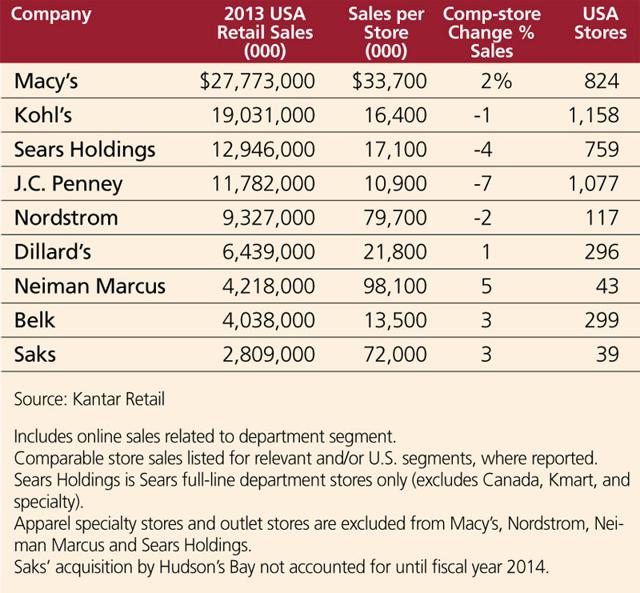 Source: Kantar Retail
In this article, I will do a like-for-like comparison between JCP, Macy's (NYSE:M), Kohl's (NYSE:KSS) and Sears (NASDAQ:SHLD) as they are the largest retail outlets as researched by Kantar Retail. With this in mind, we head into our story about revenue, margins and debt.
A story of margins
SG&A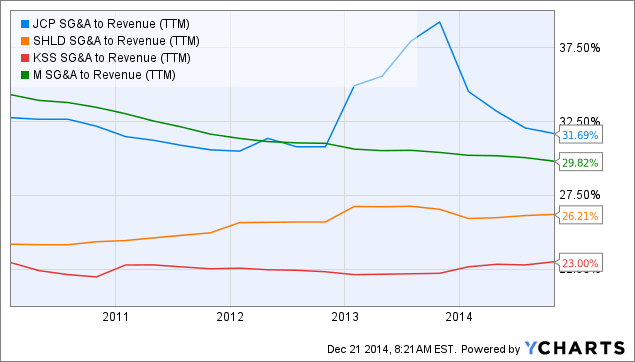 JCP SG&A to Revenue (TTM) data by YCharts
JCP runs the most costly department store per $1 of revenue as depicted in the chart above. On a positive note, JCP clearly diminished the negative trend but is still the most expensive.
Gross Profit Margin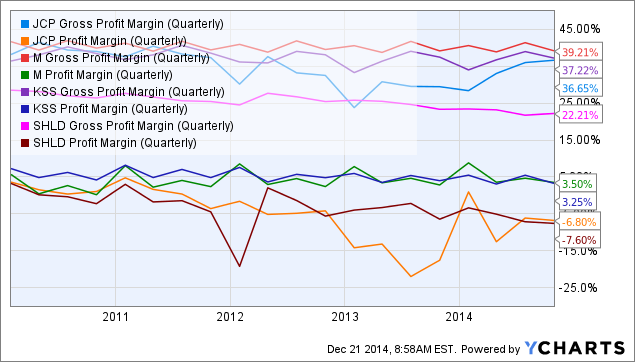 JCP Gross Profit Margin (Quarterly) data by YCharts
The upper 4 lines indicate the gross profit margin, the 4 on the bottom indicate the profit margin. Although the gross profit margin gives the "false indication" that JCP is in the same line of profitability as Kohl's and Macy's (36/37 and 38% respectively), in reality both Sears and JCP are showing loss making numbers whilst Macy's and Kohl's have been able to squeeze 3-5% per quarter. It's important to see here that JCP never performed much better in regards of profitability in comparison to its competitors.
A story of debt
Debt to Assets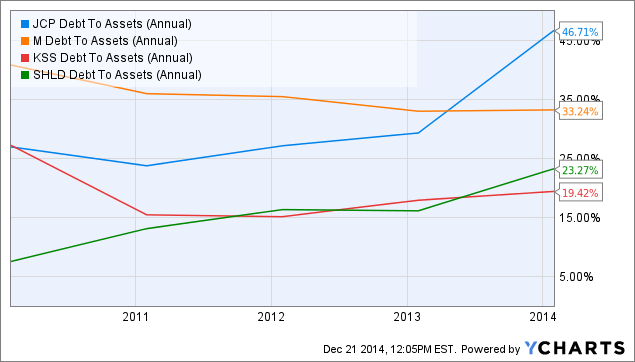 JCP Debt To Assets (Annual) data by YCharts
It's evident that JCP has got the strongest debt burden in comparison to its competitors. This also as its net debt issuance has been growing substantially.
A story of revenue
Revenue per employee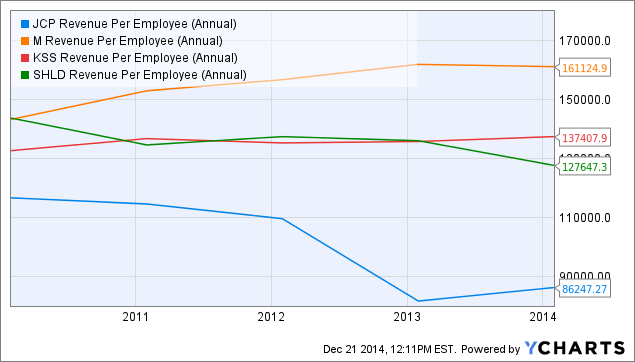 JCP Revenue Per Employee (Annual) data by YCharts
Revenue per employee is neither a good figure for JCP. If we take a look at the actual EBITDA per employee it doesn't get better.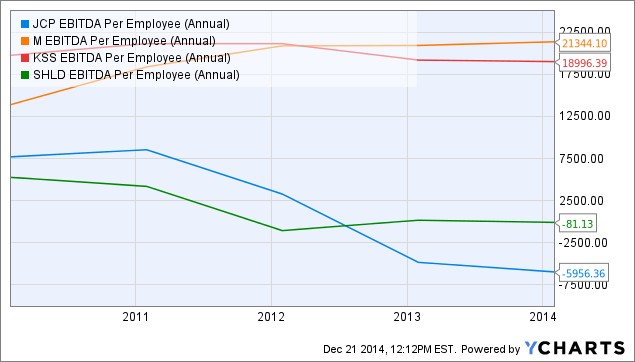 JCP EBITDA Per Employee (Annual) data by YCharts
Return on Capital Employed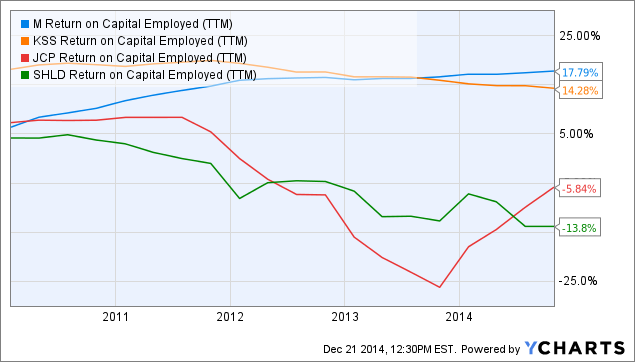 M Return on Capital Employed (TTM) data by YCharts
Last but not least, the Return on Capital Employed. This tells us how efficient retailers use their capital. As shown in the multi series line chart above, JCP is effectively working on a turn around and it must be said, they are turning the ship around. However, in their last conference call they mentioned:
In closing, we're nearing the completion of JCPenney's workaround
I tend to believe that assumption is a little far fetched. Numbers don't add up. JCP has too many employees with not enough revenue to set it off.
When we look at the cash cushion, the story is as follows:
Kohl's Corporation

JCP

Macy's

Sears

Geographical segmentation
When it comes to retail, location is an important variable. You will not sell a lot of ice cream in a country where it's freezing 24/7 nor will you sell a lot of umbrellas in a country where it never rains. Retail is no different. When it comes to comparison between retail outlets, it's evident to keep in mind the size of the wallet of the customer. One way to find out is by having a look at one of the poorest cities in America, which as qualified by 24/7 Wall Street is Sebrin in Florida. A previous reader of my articles on JCP is familiar with the geographical comparison I've done before on JCP outlets.
Here I show another geographical comparison, simply to emphasize my point that JCP is squeezed by low cost discounters and upper scale retail stores.
J.C. Penney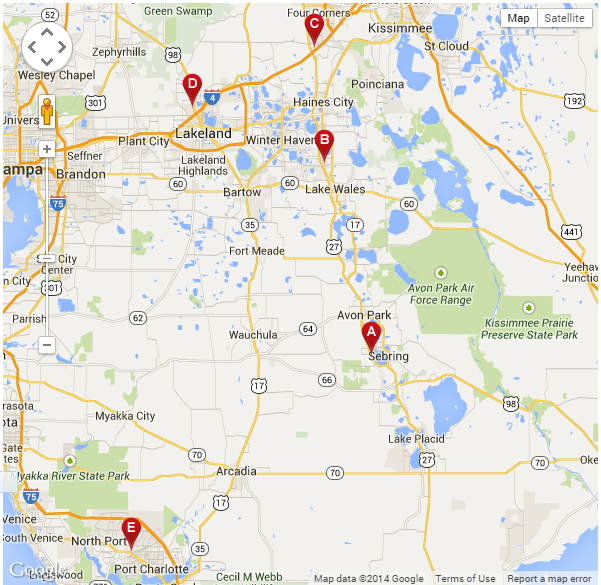 Sears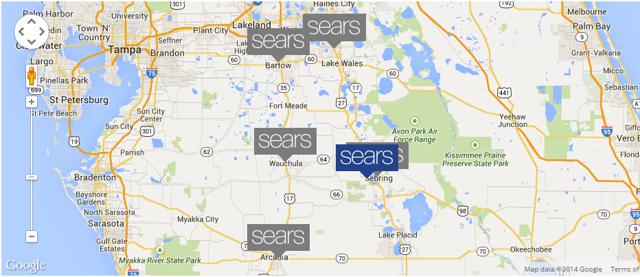 Macy's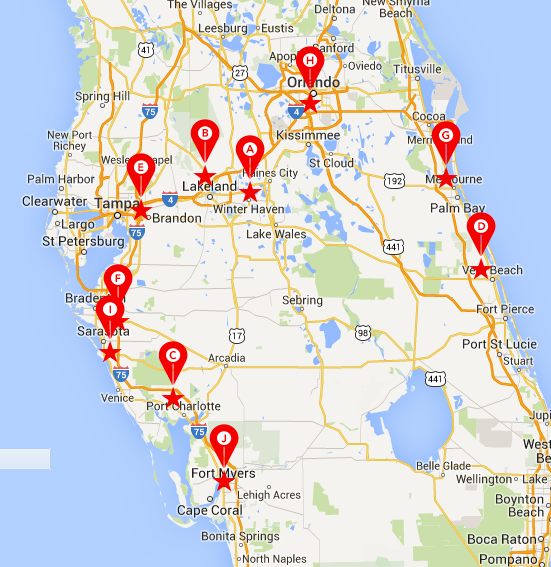 Kohl's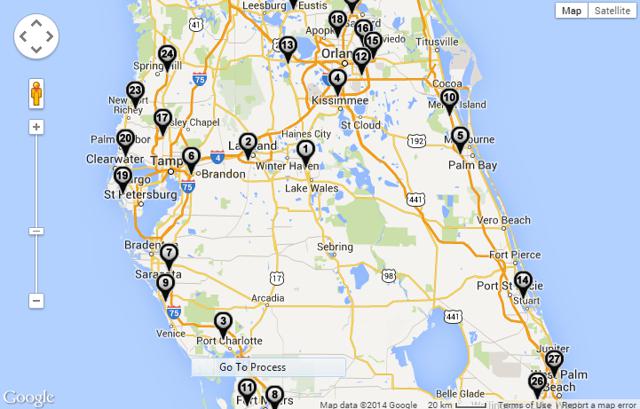 The story emerging out of these 4 maps is evident. Kohl's and Macy's are clearly having a different focus on geographical segmentation in comparison to Sears and JCP. Could this be because Kohl's and Macy's are more focusing on up-scale costumers while Sears and JCP are more focusing on people who tend to visit major discounters? To me, as investor, this sounds once more that JCP is in a position where it finds itself squeezed by low cost discounters and more upscale retailers such as Macy's and Kohl's.
Conclusion
Is JCP the typical story of a retailer being squeezed by low price discounters such as Wal-Mart and more upscale retailers such as Macy's? I tend to believe in this direction.
A quick look on the financial numbers tells me that JCP has a relative thin cash cushion with quite a substantial amount of long-term debt and not a very strong profitable retail house. That sounds like a recipe for disaster.
On the other hand, if we have to believe the fanatics and frequent users of these message boards, JCP stores are buzzing and crowded with people. Personally I believe if US retail demand will not strengthen to provide JCP the much needed push, I'm doubtful whether or not JCP will touch upon $10 or more as it did earlier this year.
Based on my financial and geographical findings, JCP will not be my favorite retail stock of 2015.
Disclosure: The author has no positions in any stocks mentioned, and no plans to initiate any positions within the next 72 hours.
The author wrote this article themselves, and it expresses their own opinions. The author is not receiving compensation for it (other than from Seeking Alpha). The author has no business relationship with any company whose stock is mentioned in this article.