I've turned from a wild (and apparently wrong) dry shipping bull and into a growling dry shipping bear the last few weeks. Rates for ships, especially the iron-ore carrying largest Capesize vessels, are spiraling downward seemingly out of control. Too much supply and too many short trips out of Australia are to blame. Or at least were to blame. Even as a growling bear, I was shocked at the bad news this past week.
I'll start with the mildly good news then touch on the bad news, but first I found it interesting that many dry shipping stocks had a great last week which I can only attribute to being a relief rally. I don't see it as due to any positive fundamental changes. A couple of them did trade some mild weakness. Dry shipping stocks such as DryShips (NASDAQ:DRYS), Diana Shipping (NYSE:DSX), Navios Maritime Partners (NYSE:NMM), Safe Bulkers (NYSE:SB), Star Bulk Carriers (NASDAQ:SBLK), and Baltic Trading Limited (NYSE:BALT) as a group were net positive in gains: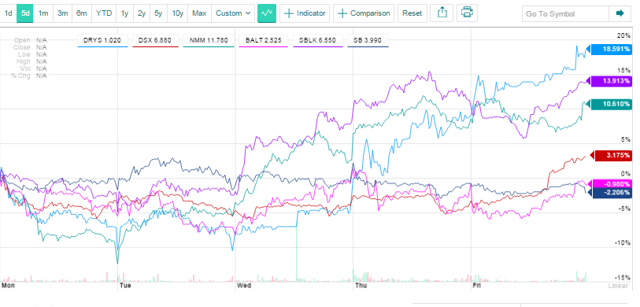 First the good news: Many investors and analysts have feared cheap oil (bunker fuel) prices would make it more practical for ships to travel faster on the high seas which would then work to further increase the global supply of available ships and depress rates even further. In a report by BIMCO, Chief Shipping Analyst, Peter Sand, said,
"When you consider the entire dry bulk fleet on a global scale, overcapacity remains substantial. In that sense, there is no overall case for increasing speed anytime soon."
According to Sands, there is an operating surplus/glut of about 25% higher supply of ships than where it needs to be for a healthy market. Another reason why cheap fuel hasn't led to much more shipping supply is that although spot rate fuel has plunged, the futures for bunker fuel haven't come down like the spot prices and remain significantly higher.
I'll throw another reason in there: the spread between ship operating costs and rates has gotten much worse despite fuel prices coming down. Many ships are already operating at a loss or at best a tiny profit at current spot prices so there is no incentive to speed up and realize even higher losses. Ship brokers use complex algorithms to figure out the most profitable speed to travel. The bigger the spread between operating costs and revenue rates, the more there is an incentive to speed up. With a tight spread that incentive vanishes. It doesn't matter if fuel costs get cut in half when revenue rates are cut by more than half.
As you can see, daily spot rates especially for Capesize ships were decimated again last week. The overall Baltic Dry Index collapsed 7.0%. Capesize rates specifically are down 86% on a year-over-year basis and were crushed 19% compared to just one week prior. Capesize rates are now so cheap it can be almost tempting to rent one, complete with fuel and a full crew, and host a Christmas or New Year's Eve party.
There were two other bad news items that caught my eye. One, according to this report, not only is the usual supply side to blame for weak rates but weak demand is now also becoming a big problem. It's gotten to the point where some ship owners are opting to just dock their ships and take them off the market because the losses are cheaper that way. According to Alex Gray, CEO of Clarkson Securities Ltd., a unit of the world's biggest shipbroker, "December might be even more disappointing than November."
Second, and along the same lines, even Australia is seeing declining export demand to China. Shipments from Brazil take about three times the length to China as shipments from Australia, thereby absorbing global supply at three times the rate. Not only has the industry had to contend with disappointing shipments from Brazil, but it is also faced with disappointment from Australia, the one place it thought it could depend on.
My conclusion: I can't find a single real reason to be optimistic about the state of the dry shipping industry at least for those with significant Capesize exposure. I plan to avoid these stocks for the foreseeable future unless I see a quick in and out opportunity, perhaps, though if I were forced to invest in one of them, it would probably be Eagle Bulk Shipping (NASDAQ:EGLE) as detailed why in my article entitled Is Eagle Bulk Shipping Now The Best Dry Shipping Stock?
Disclosure: The author has no positions in any stocks mentioned, and no plans to initiate any positions within the next 72 hours.
The author wrote this article themselves, and it expresses their own opinions. The author is not receiving compensation for it (other than from Seeking Alpha). The author has no business relationship with any company whose stock is mentioned in this article.