* All data are as of the close of Friday, December 19, 2014. Emphasis is on company fundamentals and financial data rather than commentary.
To participate in the rebounding auto market, you could invest in individual auto makers which may pay-off well, depending on how their new models are received. Of course, any major recalls - which have been happening quite regularly it seems - could send your individual auto stock for a bit of an unexpected tumble.
Surely there must be a better way of capitalizing on the recent boom in auto sales, isn't there? You bet there is. And the great thing about this play is that these companies cater to the needs of all auto makers, which is something of a diversified hedge against investing in just one or two producers.
The industry I'm referring to is the Auto Parts Wholesale industry, the largest two companies of which offer the following products and services:
• Magna International Inc. (NYSE: MGA), headquartered in Aurora, Ontario, Canada, develops, manufactures, engineers, supplies, and sells automotive products for vehicles manufactured in North America, Europe, and Asia, which parts include: body, chassis, and renewable energy systems, powertrain systems, fluid pressure gauges and controls, metal-forming, exterior systems consisting of front and rear-end fascia systems, exterior trims, modular systems, class A composite panels, structural components under hood and under body, and sheet molding. It also provides seating mechanisms and systems, interior sidewall and trim, cockpit and cargo management, vision systems comprising interior and exterior mirrors, actuators, electronic vision systems, and door handle and overhead console systems, in addition to window systems, power closure systems, latching systems, handle assemblies, driver controls, obstacle detection systems, engineering glasses, and sealing systems.
• Commercial Vehicle Group, Inc, (NYSE: CVGI), headquartered in New Albany, Ohio, manufactures and supplies cab related products and systems for markets in North America, Europe, China, India, and Southeast Asia, which parts include: seats and seating systems including mechanical and air suspension seats as well as static seats and bus seats, electronic wire harness assemblies used to provide electrical interconnections for gauges, lights, control functions, power circuits, powertrain and transmission sensors. It also supplies emissions systems, panel assemblies and cabinets for commercial vehicles and other heavy equipment, vinyl or cloth trim systems and components for the interior side of cabs including armrests, map pocket compartments, carpets, and sound-reducing insulations, as well as instrument panels, body panels, storage systems, floor covering systems, sleeper bunks, grab handles, privacy curtains, plastics decorating and other interior finishing products. It also provides external cab components including sleeper boxes, bumper fascias and fender liners, structural components, mirrors, and windshield wiper systems, in addition to control systems for window lifts, door locks, and other electric switches.
Essentially, then, these are the companies that the auto makers turn to for specific parts and control systems, making Magna and Commercial something of a general store for auto producers. As such, we can expect the demand for their products to keep on driving higher and higher as auto sales return to their healthy historical averages, as graphed below.
Since the economic recovery began in early 2009, in just the U.S. alone new vehicle sales have almost doubled from 9 million units annually to over 17 million annually, back to their long-term pre-crisis average.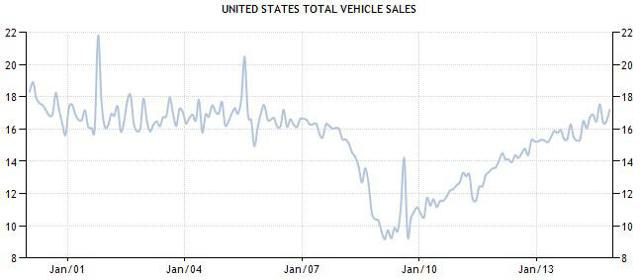 Source: TradingEconomics.com
How have our two Auto Parts Wholesalers faired during that period? Exceptionally well, thank-you, as graphed below.
Where the broader market S&P 500 index [black] has risen 205% and the SPDR Consumer Discretionary Sector ETF (NYSE: XLY) has risen 340%, Magna and Commercial have fluffed up some pretty cushiony returns of 950% and 1,200% respectively.
On an annualized basis, where the S&P has averaged 35.65% and the XLY has averaged 59.13%, Magna has averaged an electrified 165.22% while Commercial has switched itself on for 208.70% per year!
It must be noted, however, that Commercial was fairing much, much better in early 2011 when it had reached some 3,600% in less than two years since the recovery began. Since then, however, the company's stock has fallen some and then stagnated.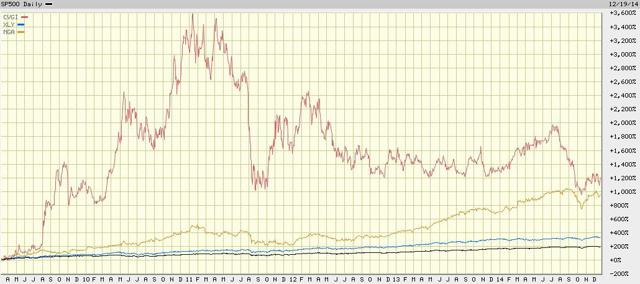 Source: BigCharts.com
Looking forward, the Auto Parts Wholesale industry as a whole looks trimmed and primed to outperform the broader market's average earnings growth considerably, as tabled below where green indicates outperformance while yellow denotes underperformance.
Over the current and next quarters, the industry's earnings are expected to outgrow the S&P's growth at some 1.89 to 2.44 times its rate, on toward an even stronger 3.13 times in 2015, before slowing to a more sustainable but still robust 1.68 times annually over the next five years.

Zooming-in a little closer, the two largest Auto Parts Wholesale companies are expected to continue their customary split performance, as tabled below, with micro cap Commercial outgrowing large cap Magna considerably over the near term.
After Magna's little miss-step in the current quarter in which its earnings are expected to shrink just a tad, the company's earnings are seen outgrowing the broader market's average from 1.24 to 1.73 times by 2015, while Commercial's growth is seen ranging from 8.47 to 40.23 times the S&P's rate over the same period.
Yet over the longer term, Magna's growth is seen outpacing Commercial's by slight 1.30 times, while both beat the broader market from 1.29 to 1.69 times.

Yet there is more than earnings growth to consider when sizing up a company as a potential investment. How do the two compare against one another in other metrics, and which makes the best investment?
Let's answer that by comparing their company fundamentals using the following format: a) financial comparisons, b) estimates and analyst recommendations, and c) rankings with accompanying data table. As we compare each metric, the best performing company will be shaded green while the worst performing will be shaded yellow, which will later be tallied for the final ranking.
A) Financial Comparisons
• Market Capitalization: While company size does not necessarily imply an advantage and is thus not ranked, it is important as a denominator against which other financial data will be compared for ranking.

• Growth: Since revenues and expenses can vary greatly from one season to another, growth is measured on a year-over-year quarterly basis, where Q1 of this year is compared to Q1 of the previous year, for example.
In the most recently reported quarter, Commercial generated the greater revenue growth year-over-year, while Magna generated the least.
Since Commercial's year-over-year earnings growth is not available, the metric does not factor into the comparison.

• Profitability: A company's margins are important in determining how much profit the company generates from its sales. Operating margin indicates the percentage earned after operating costs, such as labor, materials, and overhead. Profit margin indicates the profit left over after operating costs plus all other costs, including debt, interest, taxes and depreciation.
Of our two contestants, Magna operated with the wider profit and operating margins, while Commercial contended with the narrower.

• Management Effectiveness: Shareholders are keenly interested in management's ability to do more with what has been given to it. Management's effectiveness is measured by the returns generated from the assets under its control, and from the equity invested into the company by shareholders.
For their managerial performance, Magna's management team delivered the greater returns on assets and equity, while Commercial's team delivered the lesser.

• Earnings Per Share: Of all the metrics measuring a company's income, earnings per share is probably the most meaningful to shareholders, as this represents the value that the company is adding to each share outstanding. Since the number of shares outstanding varies from company to company, I prefer to convert EPS into a percentage of the current stock price to better determine where an investment could gain the most value.
Of the two companies here compared, Magna provides common stock holders with the greater diluted earnings per share gain as a percentage of its current share price, while Commercial's DEPS over current stock price is lower.

• Share Price Value: Even if a company outperforms its peers on all the above metrics, however, investors may still shy away from its stock if its price is already trading too high. This is where the stock price relative to forward earnings and company book value come under scrutiny, as well as the stock price relative to earnings relative to earnings growth, known as the PEG ratio. Lower ratios indicate the stock price is currently trading at a cheaper price than its peers, and might thus be a bargain.
Among our two combatants, Magna's stock is cheaper relative to forward earnings, company book value and 5-year PEG, while Commercial's is the more overpriced in all ratios.

B) Estimates and Analyst Recommendations
Of course, no matter how skilled we perceive ourselves to be at gauging a stock's prospects as an investment, we'd be wise to at least consider what professional analysts and the companies themselves are projecting - including estimated future earnings per share and the growth rate of those earnings, stock price targets, and buy/sell recommendations.
• Earnings Estimates: To properly compare estimated future earnings per share across multiple companies, we would need to convert them into a percentage of their stocks' current prices.
Of our two specimens, Magna offers the higher percentages of earnings over current stock price for all time periods, where Commercial offers the lower percentages.

• Earnings Growth: For long-term investors this metric is one of the most important to consider, as it denotes the percentage by which earnings are expected to grow or shrink as compared to earnings from corresponding periods a year prior.
For earnings growth, Commercial offers the greater earnings growth over the near term and in 2015, where Magna offers it over the next five years.

• Price Targets: Like earnings estimates above, a company's stock price targets must also be converted into a percentage of its current price to properly compare multiple companies.
For their high, mean and low price targets over the coming 12 months, analysts believe Commercial's stock offers the greater upside potential and lesser downside risk, where Magna's stock offers the lesser upside and greater downside.
It must be noted, however, that Commercial's stock is already trading below its low target. While this may mean increased potential for a sharp move upward, it may warrant a reassessment of future expectations.

• Buy/Sell Recommendations: After all is said and done, perhaps the one gauge that sums it all up are analyst recommendations. These have been converted into the percentage of analysts recommending each level. However, I factor only the strong buy and buy recommendations into the ranking. Hold, underperform and sell recommendations are not ranked since they are determined after determining the winners of the strong buy and buy categories, and would only be negating those winners of their duly earned titles.
Of our two contenders, Magna is better recommended with 2 strong buy and 9 buy ratings representing 55% of its 20 analysts, with Commercial garnering 1 strong buy and 0 buy ratings representing 50% of its 2 analysts.

C) Rankings
Having crunched all the numbers and compared all the projections, the time has come to tally up the wins and losses and rank our three competitors against one another.
In the table below you will find all of the data considered above plus a few others not reviewed. Here is where using a company's market cap as a denominator comes into play, as much of the data in the table has been converted into a percentage of market cap for a fair comparison.
The first and last placed companies are shaded. We then add together each company's finishes to determine its overall ranking, with first place finishes counting as merits while last place finishes count as demerits.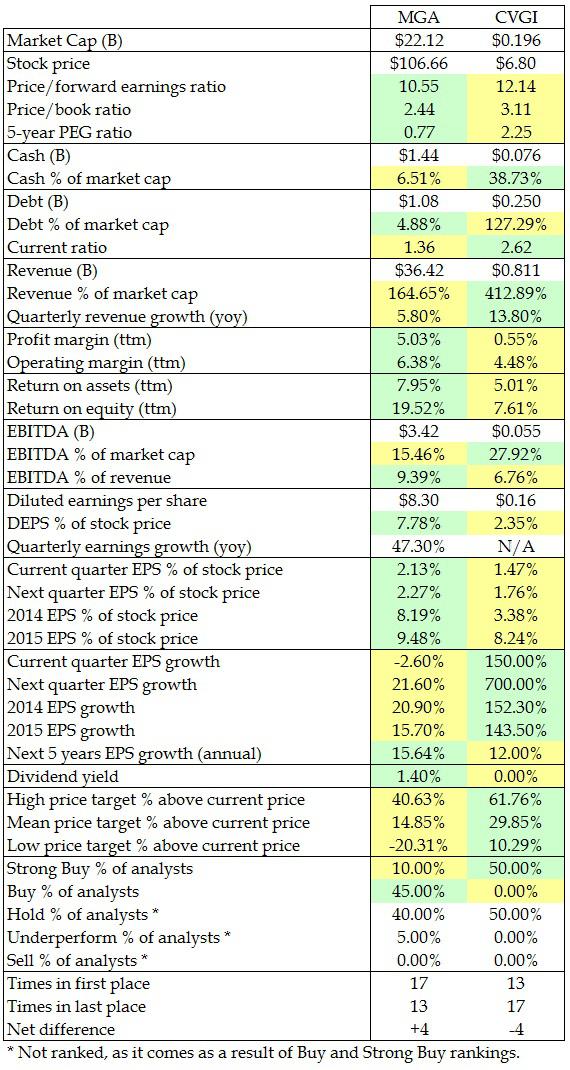 And the winner is… Magna, comfortably seated in the driver's seat, outperforming in 17 metrics and underperforming in 13 for a net score of +4, with Commercial slumbering in the sleeper cab, outperforming in 13 metrics and underperforming in 17 for a net score of -4.
Where the Auto Parts Wholesale industry is expected to outperform the S&P broader market substantially this and next quarters, significantly in 2015, and meaningfully beyond, the two largest companies in the space are expected to perform much as they have until now in as much as earnings go, with Commercial vastly outgrowing Magna out to 2015.
Yet after taking all company fundamentals into account, Magna International pieces together the superior assembly of financial stats, given its lower stock price ratios, lower debt over market cap, wider profit and operating margins, higher returns on assets and equity, higher EBITDA over revenue, higher diluted earnings over current stock price, higher future earnings growth longer term, higher dividend, and more analyst buy recommendations - handily winning the Auto Parts Wholesale industry competition.