The natural gas market is demanding attention today as prices fall dramatically. The weakness in recent sessions has been caused by the lack of winter storms, and with warm weather again this week, the bears decided to come out in force. Now there are predictions for weather to impact travel this week, but nothing on the level that the market expected this winter.
We were bullish of natural gas earlier this season as oil prices were falling and the long-term outlook for natural gas supply and demand was improving. With drillers looking to take a conservative stance and limit drilling in 2015 to keep capital expenditures in line, it stands to reason that natural gas by-product production would decrease as the rate of drilling slowed. As great as all of this sounds though, it has not been able to provide a floor for natural gas prices or natural gas equities as investors pay more attention to the short-term futures contracts than the economics of the business.
Chart of the Day:
As the chart below shows, it has been a very tough month for natural gas traders with prices having fallen by over $1/MMbtu. It would seem that the low cost natural gas producers would be a buy on this weakness, but with energy investors still reeling from the oil price collapse, a recovery may take longer than expected.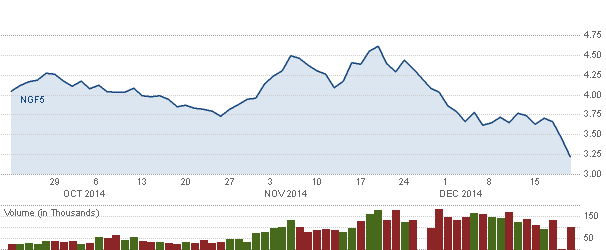 Source: CNBC
Commodity prices are as follows (at time of submission):
Gold: $1,180.60/ounce, down by $15.40/ounce
Silver: $15.595/ounce, down by $0.435/ounce
Oil: $55.70/barrel, down by $1.43/barrel
RBOB Gas: $1.5521/gallon, down by $0.0074/gallon
Natural Gas: $3.219/MMbtu, down by $0.245/MMbtu
Copper: $2.868/pound, down by $0.0165/pound
Platinum: $1,185.00/ounce, down by $12.00/ounce
US Sanctions Bite Russia Again
Russia's Rosneft (OTC:OJSCY) has had to walk away from their deal to purchase Morgan Stanley's (NYSE:MS) oil-merchanting business after failing to gain approval from regulators. The regulator, the Committee on Foreign Investment in the US, never gave the deal its blessing which caused the deal to expire. Now Morgan Stanley will have to find a new buyer for the oil-merchanting business, a division that the bank has been adamant that they would sell in order to boost returns for shareholders and appease regulators desiring banks to exit the physical commodity business.
While this could be seen as a victory for the US as sanctions prevent one of the companies they targeted from conducting business, it is a situation which has collateral damage. Morgan Stanley and US regulators want to have the business sold and not allowing the deal to go through keeps an illiquid asset on Morgan Stanley's books while lengthening the period that Morgan Stanley will remain a structurally complicated institution.
Nabors Cuts Pay
Certain executives at Nabors Industries (NYSE:NBR) will be taking pay cuts for the year ahead. The two executives taking pay cuts are CEO Tony Petrello and CFO William Restrepo. Both will take a 10% pay cut to their base salaries and this move will not affect their other benefits.
The pay cuts follow the closing of the $2 billion merger with C&J Energy Services which created the third largest oil services company. With the industry under pressure due to falling oil prices, it will be interesting to see if any other companies announce pay cuts.
Natural Gas Fallout
With natural gas prices falling further, investors are selling names associated with natural gas production such as Chesapeake Energy (NYSE:CHK), Range Resources (NYSE:RRC) and Southwestern Energy (NYSE:SWN). Natural gas focused companies had been somewhat insulated from the big losses experienced by those companies focused solely on oil, so the recent weak pricing has led to a rebalancing with oil prices having stabilized somewhat.
With this latest energy sector weakness, we are keen to allow the dust to settle before trying to move in because last week's 9% move to the upside leaves a bit of room for a haircut from current prices. We do like the low cost producers right now and would only consider them should we become buyers in the near term.
Disclosure: The author has no positions in any stocks mentioned, and no plans to initiate any positions within the next 72 hours.
The author wrote this article themselves, and it expresses their own opinions. The author is not receiving compensation for it (other than from Seeking Alpha). The author has no business relationship with any company whose stock is mentioned in this article.