The Japanese yen continues to decline as policymakers renewed support for stimulus policies, as well as pushed for more intervention in the future. CurrencyShares Japanese Yen Trust (NYSEARCA:FXY) is down 15.5% since July, as is seen in the chart below.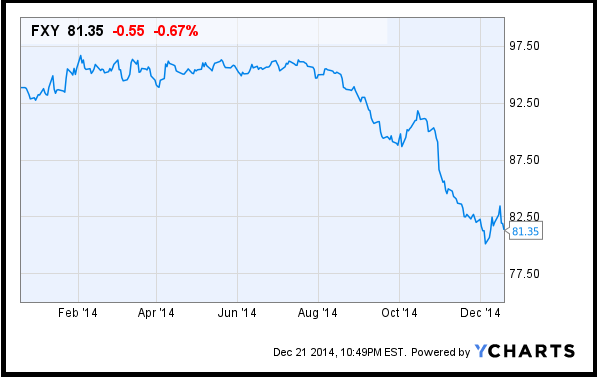 Data provided by Trading Economics
Japanese monetary policy was unchanged on Friday, but remains biased towards further easing to reflate inflation measures. The Bank of Japan voted 8-1 to keep its annual asset purchase amount at 80 trillion yen, or $673 billion, according to Bloomberg. Although the price of oil has greatly fallen over the last few months since the BOJ enacted its revised stimulus plan, policymakers did not see it fit at this time to increase purchases.
"Mr. Kuroda said while oil might drag down inflation in the near-term, 'from a slightly longer-term perspective, a fall in crude prices will work to push prices higher' by encouraging enriched consumers and companies to spend more," according to a report by The Wall Street Journal.
Another aspect of policy that Japan is trying to emphasize is the increase in real labor wages. Falling wages have weighed on both consumer confidence and spending, while a higher sales tax, imposed earlier this year, led to a drastic decline in spending as well.
Last week, Prime Minister Shinzo Abe told the media that his next policy task was to get corporations to raise wages, after winning the election held in the days prior.
"Mr. Abe acknowledged at a news conference that higher stock prices and corporate profits under his administration have yet to translate into worker gains. 'As I toured around the nation during the election, I heard the opinions of ordinary citizens who are suffering from price increases and small-business owners in difficulties due to price hikes in raw materials,' explained Abe," reports the Wall Street Journal.
As wages and the economy have suffered, consumer confidence declined. In November, the consumer confidence figure fell to 37.7, from 38.9 the month prior, as well as missing estimates for 39.6. Consumer confidence has broadly fallen from over 45 in 2012, to now under 40, as is seen in the chart below.
The composition of the survey is explained below:
"In Japan, the Monthly Consumer Confidence survey data is collected by direct visit and covers about 4,700 households consisting of more than two persons. The questionnaire covers four subjects: consumer perceptions of overall livelihood, income growth, employment and willingness to buy durable goods," according to Trading Economics.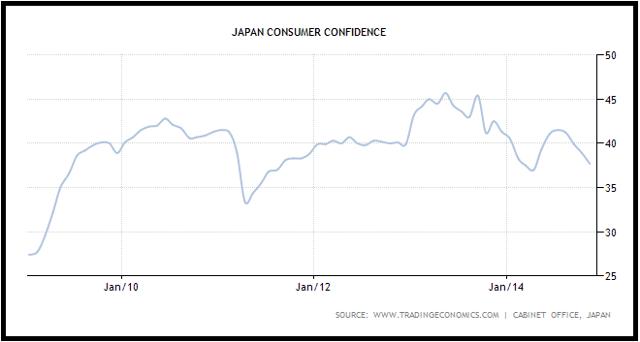 Data provided by Trading Economics
Meanwhile, the decline in consumer confidence has correlated strongly with the fall in consumer spending. The consumer spending figure, shown below, declined from over 320,000 at the beginning of the year, to 305,000 now. The fall in consumer spending represents a 4.7% decline. Abe and his cabinet are concerned that a failure to raise wages in the future, even with the large stimulus program intact, could cause to consumer spending decline even more.
"If wages don't rise as quickly as prices, households could cut back on spending, endangering an economic recovery. There have only been four months since Mr. Abe took power in December 2012 when real wages-the value of paychecks after accounting for inflation-have risen. A weaker yen has made imported food and other goods more expensive, and a rise in the national sales tax to 8% in April from 5% hit consumers further," according to a report by the Wall Street Journal.
While Abe and the BOJ have already taken great steps to increase economic activity and wages, more clearly must still be done. Inflation pressures are muted, and consumer spending is tepid, leading policymakers to be biased towards further stimulus. The yen should continue to experience selling pressure as its government works through its structural economic issues.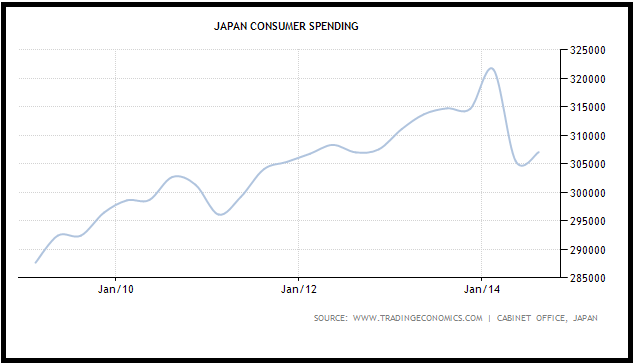 Data provided by Trading Economics
Disclosure: The author has no positions in any stocks mentioned, and no plans to initiate any positions within the next 72 hours.
The author wrote this article themselves, and it expresses their own opinions. The author is not receiving compensation for it (other than from Seeking Alpha). The author has no business relationship with any company whose stock is mentioned in this article.