Perion Network Ltd. (NASDAQ:PERI) has had a tough 2014, with the stock dropping from $14 to $5 a share. The company assists online publishers and app developers in monetizing their applications and content through search engines and other forms of advertising revenue. Those publishers can then make money while developing free content for their users. Investors appear to have written off Perion's business as it battles to keep up with policy changes from Google (NASDAQ:GOOG) (NASDAQ:GOOGL) regarding how users accept internet add-ons in its Chrome browser and how that impacts PERI's clients.
Chrome and other browsers received complaints from their users that whenever they download a free program or toolbar, malware or other unintended consequences arise. For instance, the user's home page is changed. To combat these types of issues, Chrome's default for any extension is now "do not enable" so that the user has to take the extra step of enabling an extension whether added intentionally or not. This causes the conversion rate of all applications or extensions to plummet and impacts PERI and the developer's ability to earn advertising revenue.
PERI had to lower revenue guidance from $460 million to $380 million during its Q2 call in August as a result of the Chrome browser change. The company has stated that this is a temporary setback and that changes like this are an expected part of its business. It has been flexible in the past whenever browser changes were made and after a short-term drop in revenue, it returns to a normal level after a few quarters.
The company's management appears to be doing what it needs to do in order to get through these tough times. PERI is hoarding cash, cutting expenses and is expanding into the monetization of mobile traffic. Q3 already saw the company reap the benefits as its EPS of $0.38 beat analyst estimates by 41% and the company increased net income guidance by $5-$10 million for 2014. The rise in stock price in November was a temporary one as investors saw that PERI beat estimates by cutting customer acquisition costs which will negatively impact revenue in 2015. The chart below shows Customer Acquisition Costs (CAC) by quarter for the first three quarters of 2013 and 2014.

PERI cut the CAC by about 50% or $30 million when comparing the run rate of Q3 versus the previous two quarters for 2013 to 2014. Non-GAAP net income was $26.6 million for Q3 so without the drastic cut to the CAC the company might have had marginal to negative earnings for the quarter. The company did what it needed to do until it works through the browser changes and the lifetime revenue reverts back to sustainable levels so that the upfront acquisition investment has an acceptable ROI. But shareholders recognize that the strong EPS performance was due to cost-cutting that is unsustainable and will result in revenue declines in the future if continued for several quarters.
The chart below shows PERI's valuation measures according to Yahoo Finance based on a closing price of $4.94 on December 19: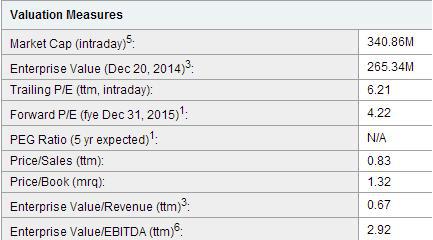 The trailing P/E of 6.2 and EV/EBITDA of 2.9 demonstrates that the stock is quite undervalued. Even when adjusting for the $30 million impact of the CAC savings in Q3 (adjustment of $25 million to net income to account for the impact of tax), the P/E is 11.4 and EV/EBITDA is 4.4. Average analyst estimates for 2014 show revenue of $392.8 million and an EPS of $1.34. For 2015 the revenue estimate is $348.8 million and $1.17 EPS, or $81 million in net income. These estimates allow for a 10-12% drop in revenue and net income from 2014 to 2015 and PERI would still have a 4.2 forward P/E.
Investors appear to be underestimating PERI's ability to survive these industry changes and feel the negative impacts are far more permanent than what the company states. If PERI manages to find a solution around the changes to Chrome's browser and has success monetizing mobile traffic like it claims it will, investors have an opportunity to buy the stock at a level 2-3 times lower then where it would be in a "normal" world. If the company is unsuccessful in adapting to industry changes then 2015 analyst expectations might be missed and suddenly a very cheap stock doesn't look quite so cheap anymore.
My guess is that the company will navigate its way through the storm. I like management's actions so far which includes guiding revenue down at the appropriate time and taking the steps needed to reduce costs through reduced headcount and being more discerning with the marketing spend. Buying Grow Mobile to expand into mobile monetization solutions and stockpiling cash for more potential acquisitions or for a rainy day also has been a good move. There is no guarantee that PERI will be successful, but the prudent management decisions so far has me leaning toward the idea that the company will succeed.
Disclosure: The author has no positions in any stocks mentioned, and no plans to initiate any positions within the next 72 hours.
The author wrote this article themselves, and it expresses their own opinions. The author is not receiving compensation for it (other than from Seeking Alpha). The author has no business relationship with any company whose stock is mentioned in this article.